2019 is just a few days behind us: as per tradition here at WP Rocket, we have taken the time to think about the best moments of the past year.
Curious to take a step back in time and retrace with us a year full of great moments?
Jump on our time machine, and let's begin!
Crunching Some Numbers
From the new customers who trusted our plugin to the websites we now have in-orbit, from the new entries in our team to the video tutorials project: we have so many impressive numbers to share!
This infographic summarizes the major accomplishments from last year: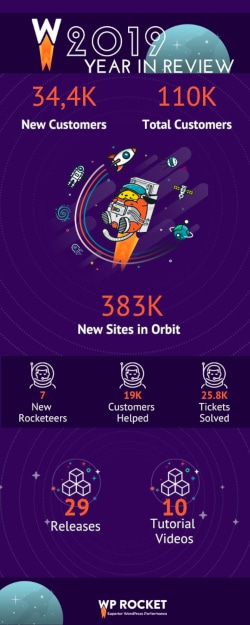 Keep reading to have a more in-depth look at each of them!
Welcoming New Customers
To put it simply, 2019 was our best year so far.
We registered incredible numbers: we saw a 26% increase in the amount of sold licenses, and we welcomed 34,4K new customers!
As a total, we reached 110K customers, and they sent on-orbit 383K websites. ?
This means that, at the moment, WP Rocket is boosting more than 960K websites in the world. ?
Among this lovely bunch of super fast websites, we are particularly proud to welcome new entries like Elementor, OptinMonster, and Google Site Kit.
Keeping Improving Our Plugin
Last year released:
two major versions
twenty-seven minor updates
You can find all the details in our changelog.
WP Rocket 3.3
WP Rocket 3.3 contained an important enhancement to our LazyLoad feature, which now applies also to background images and images on <picture> elements.
With this version, we also introduced compatibility with a new hosting provider: Pressable. Since Pressable already includes its caching system, WP Rocket's page caching feature is now automatically disabled to prevent conflict with Pressable's caching.
You can read more about the journey leading to WP Rocket 3.3 on our dedicated blog post.
WP Rocket 3.4
In November 2019, we released a new major version of WP Rocket focused on WebP images. WP Rocket 3.4 introduced the possibility for WP Rocket to create a separate cache file to serve WebP images.
We also customized access to WP Rocket settings for different user roles, improved our CDN rewriting feature, and gave a twist to our historic Cache Lifespan option. ?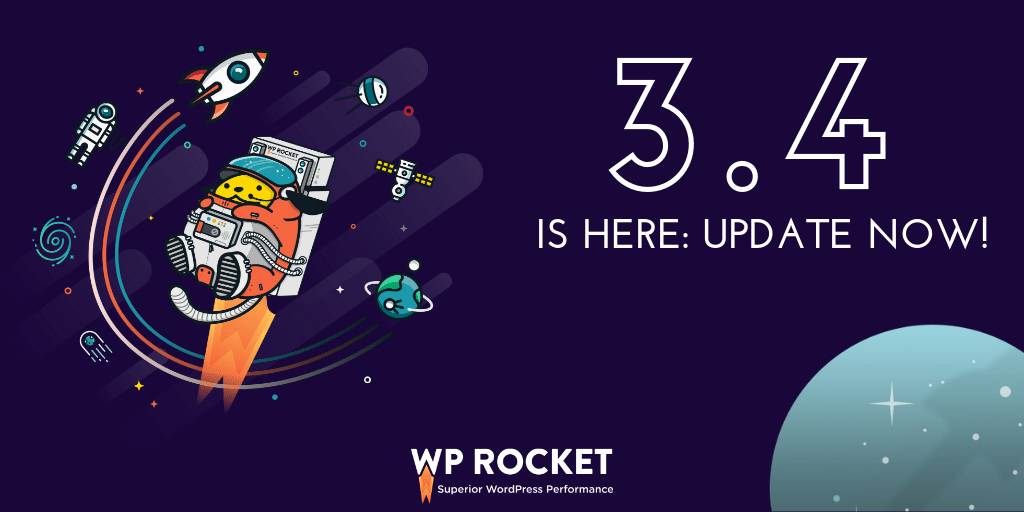 You can read more about the enhancements included in WP Rocket 3.4 on our dedicated blog post.
Despite our initial expectations and the efforts of our product and development teams, we managed to launch only two new major versions of WP Rocket.
One of our goals for 2020 is to increase the number of major releases, making sure they are more consistent and abundant in terms of features.
To learn how we intend to achieve this goal, read on!
Improved Quality, Robustness, and Reliability
Already in 2019, we began improving our processes and approach to increase the quality, robustness, and reliability of each release.
We introduced automated unit and integration testing. We began documenting our standards. We strengthened our code reviews. We improved our QA processes.
We also introduced staggered releases.
Last April, in conjunction with the launch of WP Rocket 3.3, we started rolling out the new version to a small random sample of customers (10% of them). We slowly increased the customers' sample day after day, until we reached our full customer base on April the 9th.
Launching new versions of the plugin to all our customers at once was not always beneficial to our customers, especially if unexpected problems arose.
Staggered releases proved to be a beneficial technique to add an extra level of safety to our releases: we incrementally release the new versions to a given percentage of our customers, until we are confident the changes made in the new version are not causing any issues.
This new method helps to identify unexpected issues before making the new versions available to 100% of WP Rocket customers. We love this win-win scenario because it allows customers to update the plugin safely and our team to observe the evolution of each release more closely.
With each release, we actively used customer feedback to further refine our approach.
A Stronger Development Team
To have a more robust and reliable plugin, and to be able to work on more features in the upcoming months, a stronger team is needed. ?
With this motto in mind, in the past twelve months we invested in reinforcing our development team.
First, Greg, who was already working on our sibling image optimization plugin Imagify, joined the WP Rocket adventure.
In July, we welcomed a new PHP developer: Cristina from Romania. In December, we completed the picture with our new Engineering Manager: Tonya from the US!
They all joined Remy, lead developer for WP Rocket, and they are already working together for a new year full of features and surprises!
Gathering Feedback and Reviews
Getting customers' feedback is a crucial factor for every company. We already used to collect customer opinions coming spontaneously through Helpscout (our ticket management platform) and emails.
But in 2019, we decided to take a step further and rely on TrustPilot, the platform dedicated to customer reviews.
We started to invite our customers via email asking them to leave a review through TrustPilot; we could also count on the participation of our Support Team, who encouraged satisfied customers on Helpscout to write on TrustPilot about their experience.
Since then, we have collected more than 480 reviews, and 97% of them are rated as excellent or great.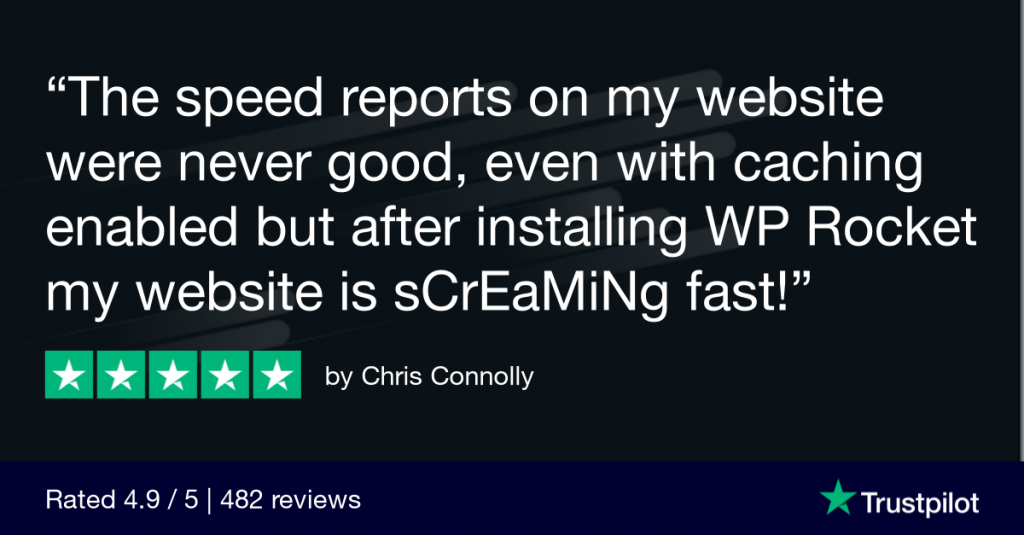 Haven't you sent your WP Rocket review yet? You can leave it now, here.
Crafting Quality Content
Part of our accomplishments in 2019 wouldn't have been possible without a robust Content Marketing strategy at the bottom.
Last year we moved our content strategy to a new level and worked hard on new projects which we are very proud of.
First came the new blog design: it was August when we revamped the information architecture of our blog, including an improved content categorization and an enhanced user experience.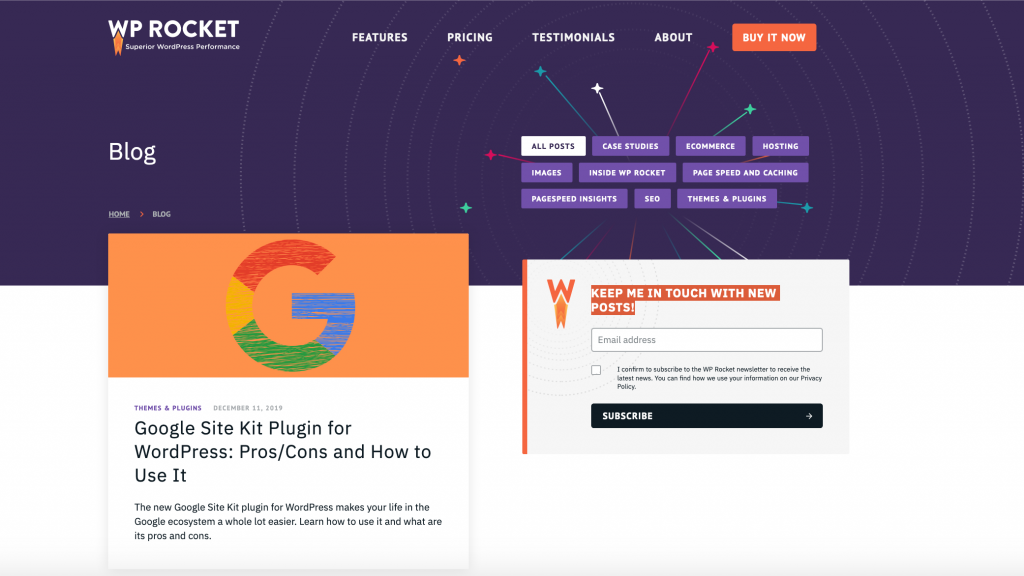 The three most visited articles of our blog in 2019 were:
How to Reduce Time to First Byte in WordPress 
The 10 Fastest Free WordPress Themes in 2019
What Is WebP and How to Use This Image Format
Speaking of content, around the end of the year, we introduced our tutorial videos project. After months of scriptwriting and with the collaboration of the people at 101Videos, in November, we published ten tutorial videos on our YouTube channel.
The same videos are also accessible from the backend of our plugin: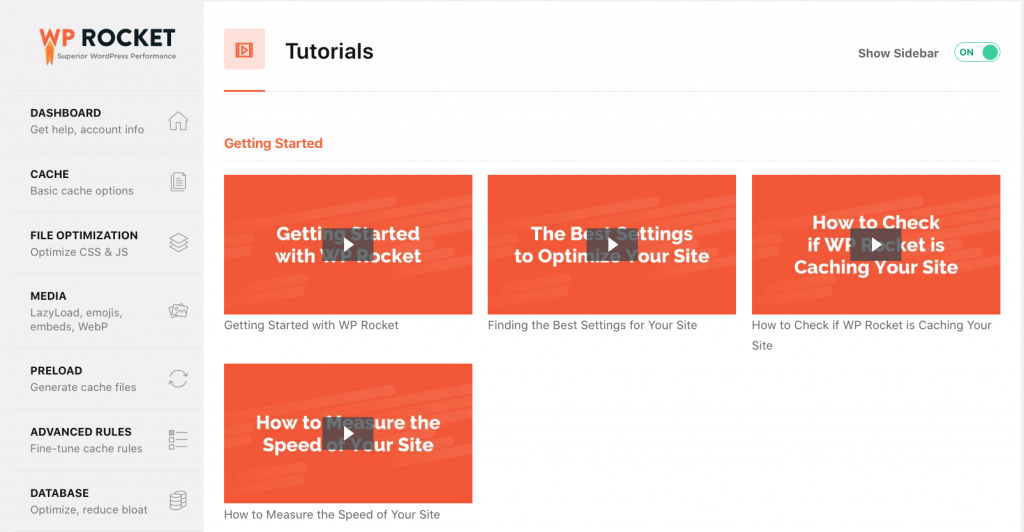 Our tutorials provide all the info you need to understand what a complete experience with our plugin feels like. From the first installation to the best settings, from measuring your website speed to more advanced customization techniques, we cover all the fundamentals of WP Rocket!
Here you can learn more about the journey leading to the publication of our tutorial videos.
As part of the strategy to make our customers' life easier, we also dedicated some of our 2019 efforts to revamp our technical documentation.
Technical documentation is a crucial resource for our customers, it's basically the WP Rocket's Bible! Over the years we have added tons of content to our documents, so we felt it was time to tidy them up a bit. The goal was to facilitate the search for answers related to the plugin and its features.
Categories needed some restructuring, so our Support Team has joined forces to reclassify the content and make it more usable.
As a result, our documents are now easier to browse and read: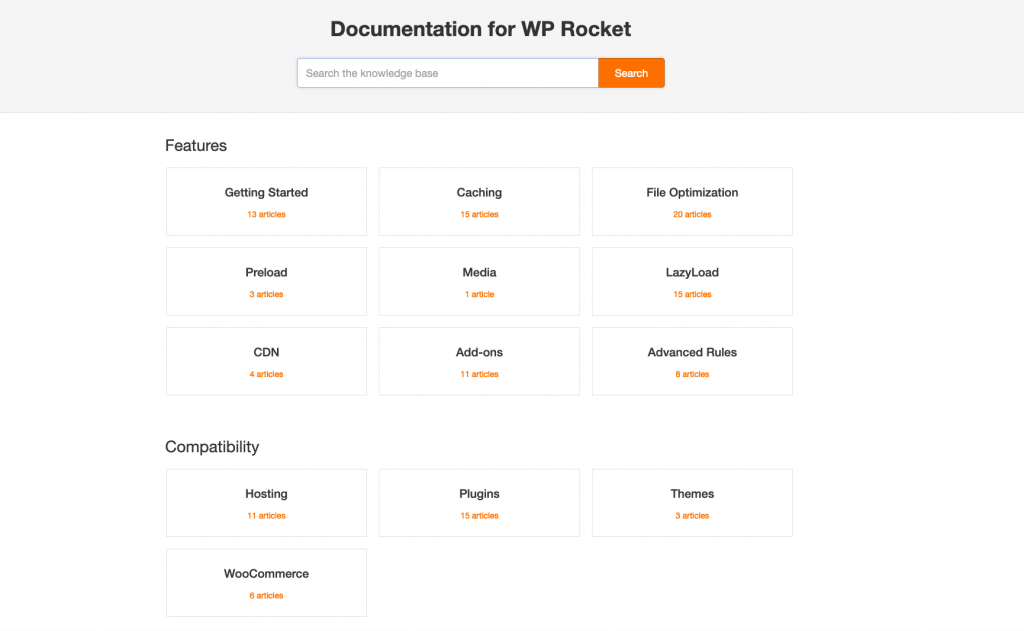 Finally, to give our customers and followers juicy resources to improve their web optimization skills, we published an ebook dedicated to the secrets of PageSpeed Insights.
We chose it to be the main free swag during our sponsorship at WordCamp US, and all the copies were sold like hotcakes!
Would you like to get a copy of our PageSpeed Insights ebook?
It's All About the People
All the efforts and numbers we mentioned so far are not a mere part of a strategy: there are passionate people behind every choice we made last year. ?
During 2019, we welcomed new teammates (and we are still looking for new ones!), gathered all together in Mexico for our annual company retreat, sponsored WordCamp US for the first time…and if you keep reading, we'll tell you more!
Welcoming New Teammates and Flying All Together to Mexico
Seven new people joined the WP Rocket team in 2019:
Alfonso from Argentina, Camila from Colombia, Kieran from the UK, Mirna from Venezuela, and Violeta from Spain joined the Support Team;
Cristina from Romania and Tonya from the USA joined the Development Team.
All the members of our team are working remotely and, even between distinct time zones, they manage to video-call every week and make progress on our projects. Despite the distance, it's always a pleasure to welcome new people from so many different parts of the world!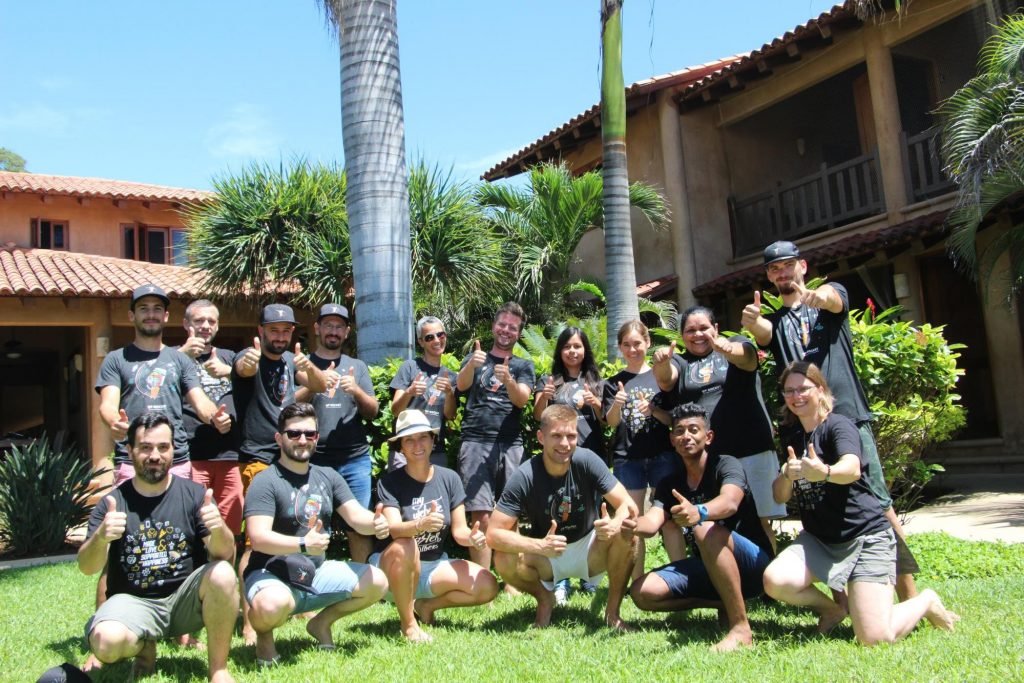 We also get to meet each other in person every year during our annual company retreat. This year we flew to Troncones, Mexico, to spend an entire week of coworking, brainstorming, and fun on a villa in front of the Pacific Ocean.
Inclusion and Diversity
WP Rocket team is diverse and inclusive: for our company, the Equal Employment Opportunity statement at the bottom of job offers is not just words but facts.
Despite the diversity within our team, we can't say the same about our customer base.
Caching and web performance are two topics that shouldn't appeal to one gender more than another. Nowadays, a huge amount of people have a website, and a caching plugin is a crucial tool that everybody should incorporate in their website strategy.
That's why one of the questions that popped up to our mind last year was: «How can we bring more women closer to the topics of WordPress caching and web performance?»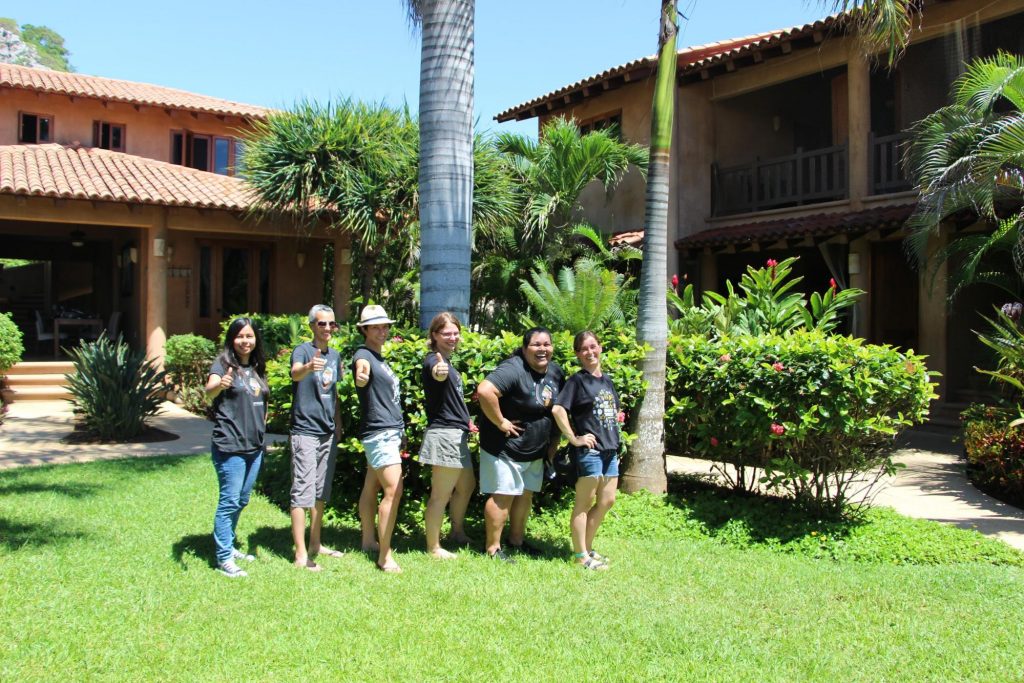 For the first time last year, we launched a Women's Day Campaign, dedicated to the women working with WordPress.
We ran a Twitter contest and ended up giving away eight WP Rocket Single licenses to eight different women. It might sound like a small step to fight the equal opportunities problem in the tech world, but we are very proud of how the initiative was received.
Here you can read more about the scope of the campaign and its final results.
Customer Support at Its Fullest
If you have been following WP Rocket for a while, you should already know that providing help to our customers, assisting them with doubts, issues, or feedback is one of our favorite activities.
After all, WP Rocket's Customer Support is one of the most appreciated features of our plugin (our last Customer Satisfaction survey doesn't lie!).
Even in 2019, our Support Rocketeers did a tremendous job, and these numbers explain why:
23,3K Customers Helped (+43% compared to last year)
79,7K Replies Sent (+38% compared to the previous year)
31,4K Tickets Solved (+39% compared to last year)
Our Support Rocketeers sent an average of 95 replies per day, and the 92% of the ratings they received from customers were rated as Great!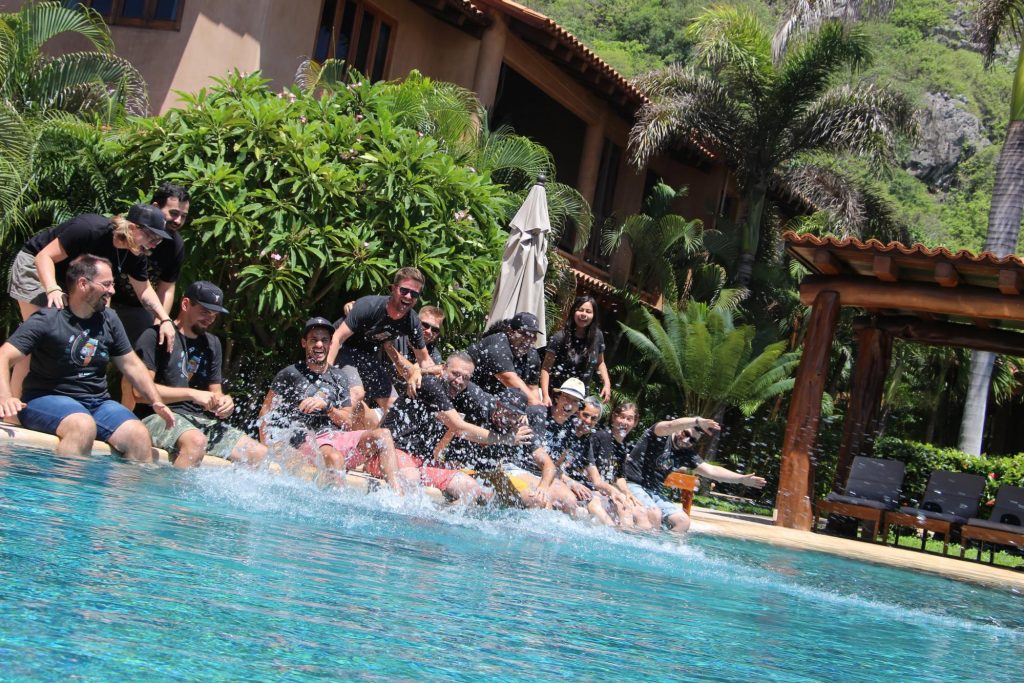 Our First WordCamp US
On a final note, 2019 has also been the year of our first WordCamp US as sponsors.
We had a blast with the WordPress community from the US! It was also an excellent opportunity to meet some of our customers, partners, and affiliates personally.
These pictures speak for themselves: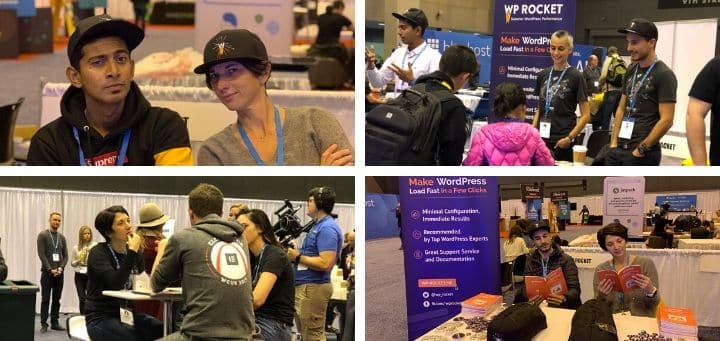 A Growing Community
WordCamps are not the only places where we can tighten our community bonds: we also have our Facebook Community to do so!
Our Facebook group is the online community where WP Rocket customers and web performance lovers gather to talk about our plugin, best practices, and optimization strategies.
This community is growing fast, and we are proud to host such a lively and vivacious place of conversation. ?
Over the past year, our WP Rocket user group has welcomed 3,560 new Rocketeers and over 6,700 members!
The stats below show how much they love to interact with each other and the real value of this community:
854 posts
6,723 comments
4.801 reactions
2020: A New Decade Is Starting
We left 2019 with satisfaction and enthusiasm for what's coming next.
The results we obtained last year make us confident once again about the quality of our plugin and the love of the customers trusting us.

During 2020, we will keep focused on delivering the best possible experience for our customers, reducing bugs, and making the web a faster place. The new features and enhancements we are working on will allow WP Rocket to stay on top of the web performance game!
What's Next?
We are working on our next major release: you will read more about it in a very short time.
In the meantime, we can advance some spoilers. ?
For the first time, a new release of WP Rocket will include a brand new product, a tool that will take your web optimization efforts to the next level!
We are also working on the implementation of a new tool that will allow you to assess the real impact of WP Rocket on your website.
Among the goals for 2020, we also include the increase on the number of major releases: we want to guarantee WP Rocket to stay consistent and web performance feature-rich.
That's right; we are cooking up super exciting stuff, here at WP Rocket's mission control! ?
Finally, a big thank you for following us: we sincerely appreciate your ongoing support! If you have feedback for us or want to request a new feature, don't hesitate to drop us a line: you know we read and answer all our emails. ?
From all of us at WP Rocket, we wish you a wonderful and prosperous 2020!
---