Our Mission
Is to Speed Up the Web.
And you can help us do that.
WP Rocket is a premium caching plugin for WordPress used by +1,500,000 websites and +170,000 customers worldwide.
Our plugin makes WordPress sites go at the speed of light in just a few clicks.
We love to make our customers' lives easier, which is why WP Rocket applies the best web performance practices right upon activation.
---
Where Will You Work?
Get ready to join a fully remote team.
Working for WP Rocket means sharing your days with more than 35 people living in the four corners of the world.
You choose where you want to work: from home, from an office, from a coworking, or your rocket ship. It makes no difference to us.
We communicate on Slack and Zoom, and organize meetings in person whenever possible.
Every year we organize a trip with the whole team and spend a week together between coworking and fun activities.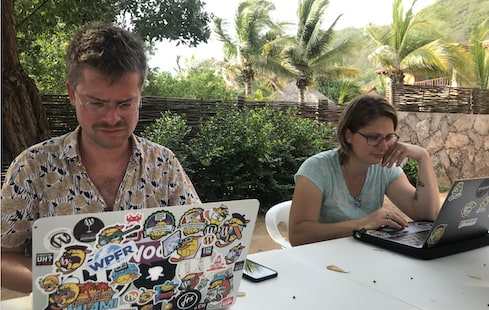 Do We Share the Same Values?
We have a robust transparency culture.
Mutual respect, collaboration, and inclusivity: these are the fundamental values that support our life as a team.
We work hard to build a product we can be proud of, a plugin that will help people create faster websites.
We encourage our employees to enjoy their family and hobbies with flexible working hours and minimum vacation policy. We care about the work you do, not about the hours you sit at your desk.
---
11 Points We Believe In
Transparency is a commitment – More information leads to better decisions.
Always be fair (and nice) – With your team, our users, partners, and competitors.
Users come first – We always do what is best for our users.
In teamwork, we trust – Our team is the key to our success, and there is no space for ego.
With trust comes liberty – You are free to choose your place and working hours, and vacation days.
We are all owners – Act as a leader and an owner.
It's OK to fail – We can make mistakes, recognize when we fail, and try not to make the same mistake twice.
Better done than perfect – It's essential to ship and release, even if sometimes it's not perfect.
Let's have some fun – We aim to be A players, but that doesn't mean that our job and attitude need to be boring!
Be humble – Yes, we are a great company with big goals, but we don't need to be arrogant.
You are important – Diversity, wellness, and work/life balance matter to us.
Perks and Benefits
We want the people on our team to feel that they always receive what they need to shine.
Here is what we offer:
Friendly team 🤗
Remote work 🏝
Public grid salary (check it out)💰
Flexible hours ⏰
Loose vacation policy ⛺️
Budget for setting up your home office 💻
🚀 Annual productivity bonus
📈 Profit-sharing plan
🍼 Bonus for parents
📒 Monthly budget for your remote-work expenses
✈️ Retreats once a year
📚 Free Kindle + budget for books
Current Job Openings
The remote job you were looking for.