The new year started with one simple but exciting resolution, here at WP Rocket headquarters: getting to know our customers even better.
Our plugin grew at an incredible rate over the last few years: we released a ton of new features, launched more than 600K websites to the stars, and opened the Affiliate and the Beta Testers programs, to name a few of our accomplishments.
It's been a fantastic ride so far, but we also realized that we needed to understand if/how our customers changed during the journey: it was time to organize a global survey and have a chat with them!
That's why, during January, we decided to interview our active customers and ask them a few questions.
How did we do it?
With a Happy New Year email!
The timing was perfect: we wanted to wish our customers a happy beginning of the year and, at the same time, get to know them closely with a little survey.
Our goal was to get to grips with the relationship between our customers and WP Rocket:
Who are our customers today?
What are their expectations when they buy WP Rocket?
What do they need from WP Rocket, and which are their favorite features?
How satisfied are they with our product and our team efforts?
The final results are pretty fascinating, and we're going to present them here below.
If you're curious, keep reading!
Who are WP Rocket customers today?
We received answers from 407 customers: most of them (around 75%) are long-time customers of WP Rocket, meaning that they renewed their yearly license at least once: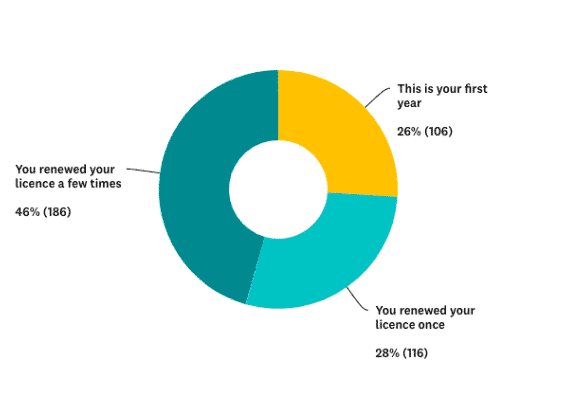 A significant portion of the customers who answered the survey (60%) contacted support at least once.
When it comes to professional profiles, our customer base is divided into four main categories:
Developers
Business owners
Marketers
Bloggers
Regarding their knowledge of WordPress, more than half of the interviewed declared an advanced understanding of WordPress, while an encouraging 41% of customers consider themselves at an intermediate level: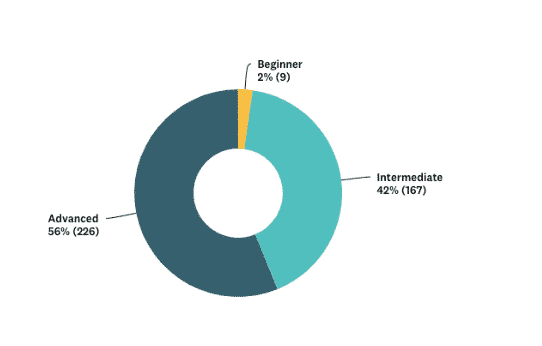 This data might be linked to the fact that almost half of those who answered (48%) found out about WP Rocket reading WordPress blogs.
Specialized WordPress blogs are a great source of information for people looking for a cache plugin!
Why do our customers buy WP Rocket?
Incredible web performance boost, ease of use, great customer support: these are the values that guided us during the first five years of WP Rocket's life.
Do our customers agree with them?
What do they expect when they approach our plugin for the first time?
What are they looking for?
This was one of the most interesting parts of our survey: we gave people the possibility to express their voice and let us know, without any limit, why they decided to trust our cache plugin.
Reading more than 400 feedback felt like a marathon, but a very fulfilling one!
Some examples of the feedback we received
Here are some of the opinions our customers left us after the question "Why did you choose WP Rocket plugin?".
Online reviews prove themselves to be an excellent tool to help people forming an opinion about the best cache plugin to use.
Great performance reviews as well as the potential to receive support for caching settings (which I used to struggle with).
A strong pre-sales service, then, reinforces the choice. Here's the magic coming from Lucy, one of the members of our Rocket Support Team:
After an explanation of the benefits by Lucy Beer, I realized this was a plugin worth investing in. I was still a bit skeptical but after a few months of use on several sites, I realize this is one of the best investments I have made in a premium WordPress plugin. It saves me so much time yet provides so much better results!
The possibility to use WP Rocket for 14 days and eventually ask for a refund, helps many of our customers to experience the real benefits of the plugin on their sites without stress.
In these cases, the speed they obtain is the crucial factor that convinces them they landed on the plugin they were looking for:
Speed. I tested it against W3TC, Comet Cache, Super Cache, Fastest Cache, Hummingbird, etc. WP Rocket beat the best of the rest by about 25%.
Getting our customers curious from the moment they enter our website for the first time, and accompanying them after the purchase with excellent functionality, support and updates is the win-win situation:
Your site convinced me you were worth reading more about (because of the badass design). Your plugin functionality made me want to explore more. Your updates and customer support made me a long-term customer.
WP Rocket vs Free Caching Plugins Alternatives: Customers Expectations
Most of our customers (around 85% of them) have tried a free caching plugin before buying WP Rocket. On average, they tested 1,3 competitors: the top 3 are W3 Total Cache, WP Super Cache, and WP Fastest Cache.
The majority of respondents used W3 Total Cache before switching to WP Rocket.
Around 100 of them (25% of total answers) had previous experience with WP Super Cache.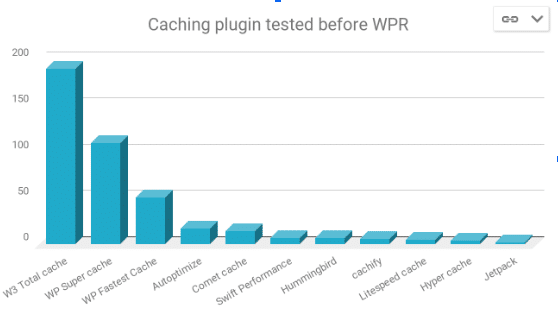 This sounds like an expected behavior when approaching premium plugins.
What surprised and pleased us the most was discovering that the people who tried our competitors, tend to recommend WP Rocket more than who bought our product as a first choice.
In terms of expectations, these are the main points driving our customers choice when buying WP Rocket:
Performance boost
Ease of setup and use
Overall reputation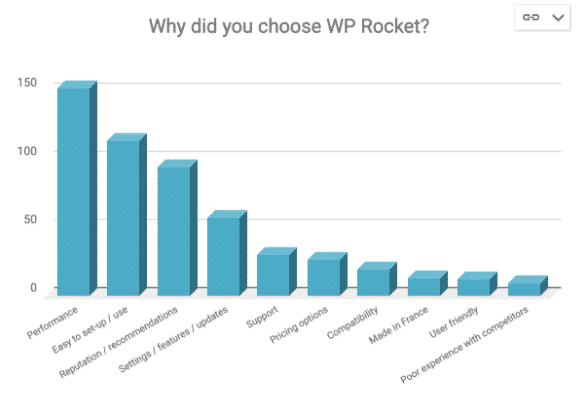 How satisfied with WP Rocket are our customers?
A point that we worked on during all these years at WP Rocket, is our customers' satisfaction. This is not a mere figure of speech for us.
All our efforts, be them on Customer Support or Product Development, have always been devoted to listening to our customers and answering their need for more performant websites.
In terms of overall satisfaction, WP Rocket reaches a very satisfying CSAT (Customer Satisfaction) grade of 8.65 over 10.
98% of our customers declared to be somewhat or very satisfied with our plugin!
We also used the NPS index, which stands for Net Promoter Score: customer NPS helps evaluate customer loyalty, and the likelihood of them recommending our product to a friend.
Our survey contained the specific question «On a scale of 1 (not at all likely) to 10 (extremely likely), how likely is that you would recommend our product to a friend or a colleague?».
This helped us obtain the NPS for WP Rocket.
The advantage of NPS is that it's an international index used in many countries, and by many industries: so it's easy to benchmark how well our product performs.
The result wowed us, undoubtedly: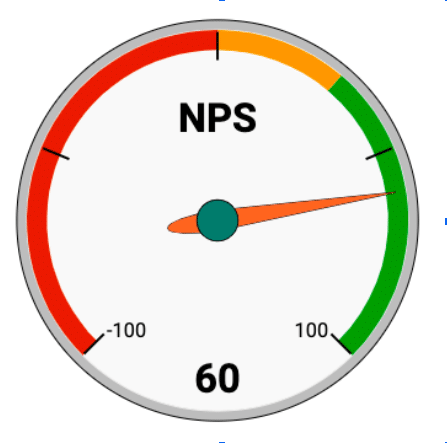 According to data gathered by Satmetrix about average NPS scores per industry, the Software and Apps category to which WP Rocket belongs, runs an average NPS of 28.
WP Rocket stands out with an amazing NPS score of 60: that might explain why we were jumping with joy when we saw this result! ?
Pain points to tackle
Our plugin is not all peaches and cream; we know that.
We specifically asked the customers who showed lower levels of satisfaction to tell us what we should change to improve their feedback.
Their answers showed us that we have more work to do in terms of communicating the benefits of the plugin:
It's sometimes hard to see if there is any performance improvement or not. If it had a way of showing before and after, it would really help to see how beneficial it is being.
More direct links to explanations (e.g., in the Knowledge Base) from the WP Rocket interface. This would be great for clients instead of forcing them to ask me to explain.
With WP Rocket 3.0 we introduced a complete revamp of our UI, including more visible direct links to our Knowledge Base and web performance notices: however, with this feedback our customers are asking us for more built-in tools and video tutorials to understand the real effect of WP Rocket on the speed of their website.
We're already on the right path, though: we're working on tutorials, onboarding process, and other areas to help our customers better understand performance and our product.
That's a challenge we're going to take seriously! ?
Wrapping up
No matter how good we believe our product, service or customer support is: asking our customers what they really think about WP Rocket was the first best decision of 2019!
Our Customer Survey helped us learn more about the composition of our customer base, and their expectations when they approach our product.
We discovered that our customers feel represented by the core objectives or WP Rocket:
Boosting WordPress sites performance
Ease of use
Keeping a high reputation in the world of web performance optimization tools
They showed us their satisfaction making WP Rocket's score a great 8.65/10 in satisfaction grade. An incredible 60 in terms of NPS, proves that they are also very keen to recommend WP Rocket to other people!
But they also made valuable comments about a few pain points we need to improve, like a better communication about the plugin's effects on their website speed.
A huge thank you! goes to all the customers that, with their answers, made this analysis possible!
---