Are you looking for the best WordPress plugins to use for your eCommerce site? To make your life easier, we have come up with a list of plugins to consider for launching your next online store. Choosing the right eCommerce plugin for your WordPress site can be overwhelming: many options are available, each with its own set of features and benefits. In this post, we'll look at four of the best WordPress eCommerce plugins currently available and help you decide which ones are right for your business.
They all have one thing in common: they will help you set up a powerful eCommerce store right on your WordPress site so you can start selling your products online as soon as possible.
Before we dive into our list of the best WordPress eCommerce plugins, let's take a look at the main features you need to think about before the launch of your online shop.
How to Choose the Best Plugin for Your eCommerce Site
eCommerce (or electronic commerce) is the activity of buying and selling products or services over the Internet. For your business strategy, you need to consider what you will be selling and what kind of features you will need.
An efficient and successful online store requires not just time management skill sets from an experienced entrepreneur – it also needs some essential tools that can help manage all aspects: online payment, customer accounts, confirmation emails, performance, security, delivery policy, logistics, etc. The list can go on. That's why I'm sharing 6 essential features you need to look for efficiently running your online business:
Customization and Responsive Design – choose a powerful platform to highlight your products with pictures and descriptions to create a great user experience on desktop, tablets, and mobile. Your customer's first interaction with your business is through the design of your store: the more customizable and easy-to-use a template, the better.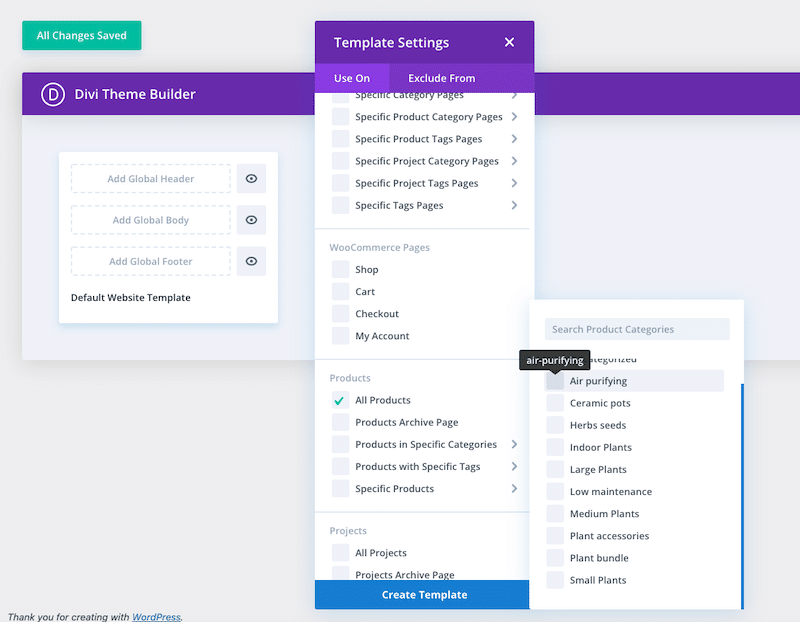 A secure ePayment gateway including several payment methods such as Paypal, Credit cards, Check, Bank Transfers, Cash delivery, or monthly subscriptions. For example, if you are interested in selling in China, you should opt for Alipay. The payments can be integrated by default to the eCommerce platform of your choice, or you can also install third-party plugins if needed.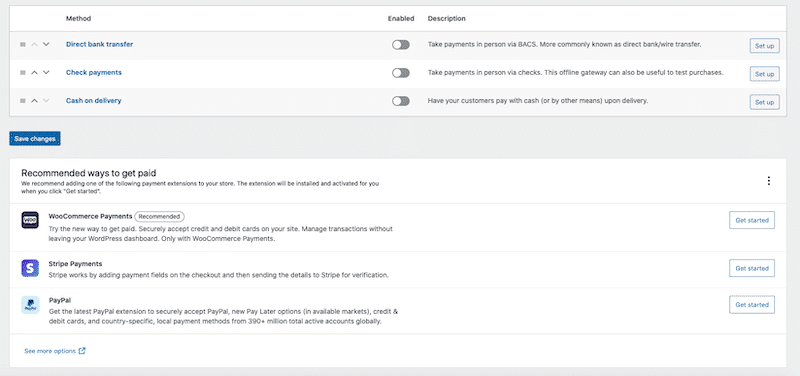 A customizable purchasing process – selling a physical product is very different from selling ebooks, music, movies, and any kinds of digital goods. You may want to break down all the steps of the online buying process to make sure that you are not missing any essential fields on the way.
Purchasing a physical product: delivery and inventory management
(e.g.: wine on Amazon)
Purchasing a digital product: purchase and confirmation email to access the video
(e.g.: a course on Udemy)
A whole marketing suite – to grow your email list, turn visitors into customers, integrate sales funnels, coupons, reduce your shopping cart abandonment and translate your shop if you plan to go internationally.

Compatible with third-party integration – such as your CRM, your automation email suite, or even your accounting software to make your data and reports generation much easier.
Speed and performance – you need a fast website with reliable, frequently updated plugins. To reach your performance goal, you may want to use one of the best cache plugins for WooCommerce. The same goes for product image optimizations. Don't neglect your hosting provider, either. You can't start a successful eCommerce website without investing in powerful hosting.

According to Google, performance is key to driving high conversions: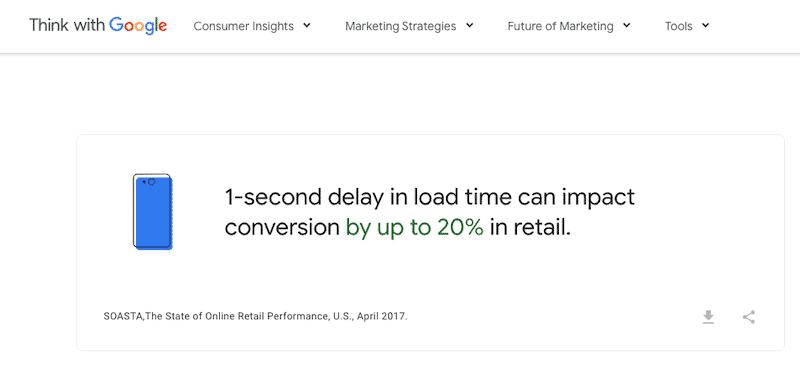 Community and support – you should make sure that you have support options available for the WordPress plugin you are about to purchase. Another important thing is the community around the plugin: is there any Facebook group available? Have you met the team at a WordCamp in the past?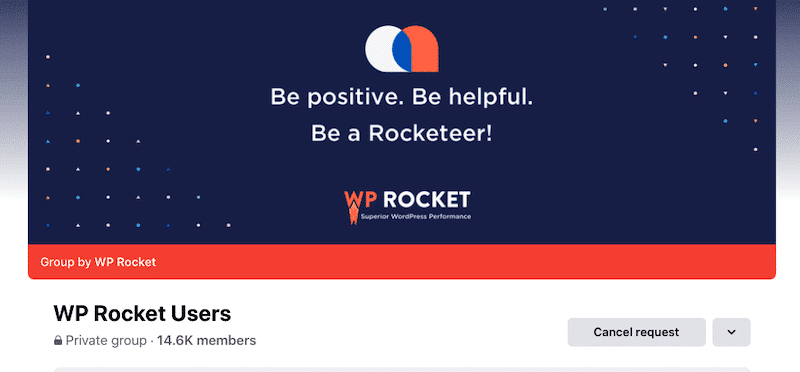 Now that we have seen the features you should pay attention to before choosing your next eCommerce plugin, let's go over 4 plugins you can use to build your next online business.
The Top 4 WordPress eCommerce Plugins
The main plugins used for the eCommerce functionality in WordPress are:
Let's dig into each of them.
WooCommerce is the most popular open-source eCommerce plugin owned by Automattic (the creators of WordPress). It's currently powering 8% of all eCommerce websites online and 21% of the top 1 million sites. Its sophisticated features allow users a great deal of flexibility and customization, making it perfect for any type or size of business. WooCommerce can drive your online store with incredible ease, letting you customize everything from products to shipping rates in minutes instead of hours.
Pros
It's free and economical to start an online store.
Intuitive and easy-to-use interface – perfect for beginners that need a wizard to get started and a few tabs to set up: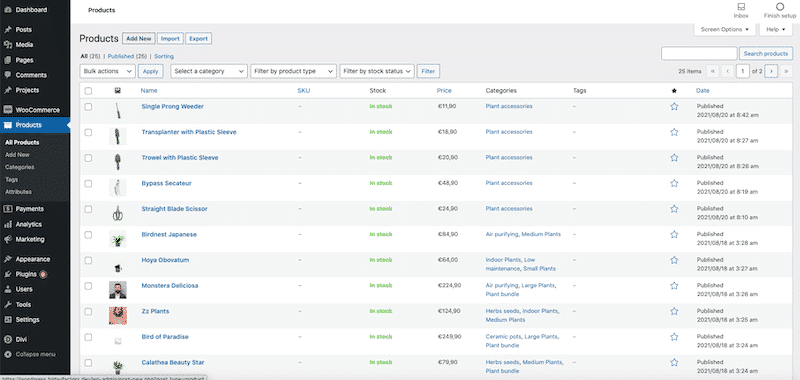 Supports both physical and digital goods – with WooCommerce, you can sell physical, digital goods (such as ebooks or music), subscriptions and memberships.
Built-in payments gateways – with extensions for most major payment gateways like Paypal or Stripe
High compatibility with the WordPress ecosystem – a lot of WooCommerce themes and plugins have dedicated add-ons and options with customizable carts, product galleries, shop pages, etc.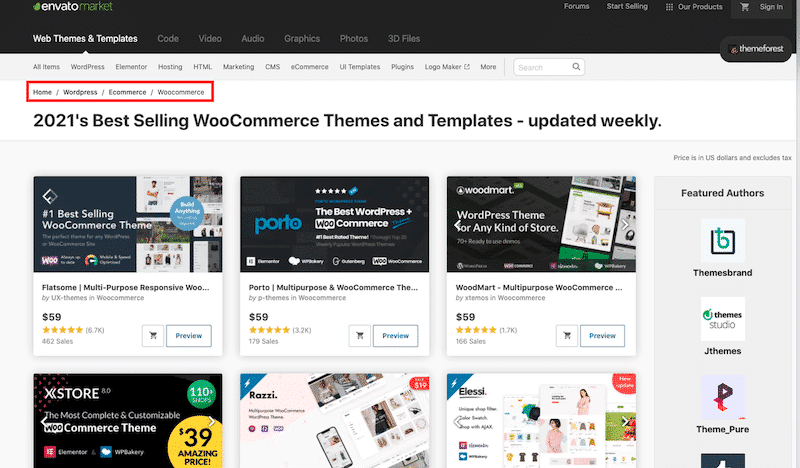 WooCommerce has its own store with a large panel of extensions for marketing, logistics and technical add-ons.
A REST API with documentation so advanced developers can make any customizations.
Cons
The price of the extensions – The WooCommerce extensions can be pricey. As an example, "WooCommerce Subscriptions" that is used to sell products with regular payment cost $199/year.
The scalability – it can handle an unlimited amount of products but there is always a risk of slowing down your site if you have thousands of visitors coming. For this matter, make sure that you use a cache plugin like WP Rocket and a powerful hosting provider.
Pricing
It's free.
BigCommerce offers a fully-hosted, customizable eCommerce platform that now seamlessly integrates with WordPress. In the past, BigCommerce only offered its own CMS, just like Shopify, this has changed with the BigCommerce WordPress plugin. This means you can use their integration plugin to create products on your website and the Big Commerce functionalities take care of everything else. BigCommerce has one of the most comprehensive and easy-to-use checkout experiences available. You can manage inventory, sales, processing payments all from a single dashboard. The following list gives some advantages about using big commerce.
Pros
A headless commerce tool – WordPress resources are handled on the frontend so you don't have to worry about any additional load on WordPress servers.
BigCommerce powers the full checkout experience, assuming the burden of PCI compliance for you.
BigCommerce has over 65 payment gateway integrations available out-of-the box, serving 100+ countries and over 250 local payment methods.
Access to sell across multiple marketplaces simultaneously, such as eBay, Amazon, Facebook, Instagram, Google Shopping.
Provides accounts, logins and payment information.
The 0% transaction fee.
No need for custom coding (and technically, no need to use WordPress either) – BigCommerce has its own CMS with an intuitive interface and a page builder:
Using BigCommerce CMS
(The dashboard)
Using BigCommerce CMS(Comes with a page builder)
You can opt for the WordPress plugin "BigCommerce for WordPress" if you want to stay with WordPress as a CMS – the idea is to scale your ecommerce business with WordPress on the front-end and BigCommerce on the back end: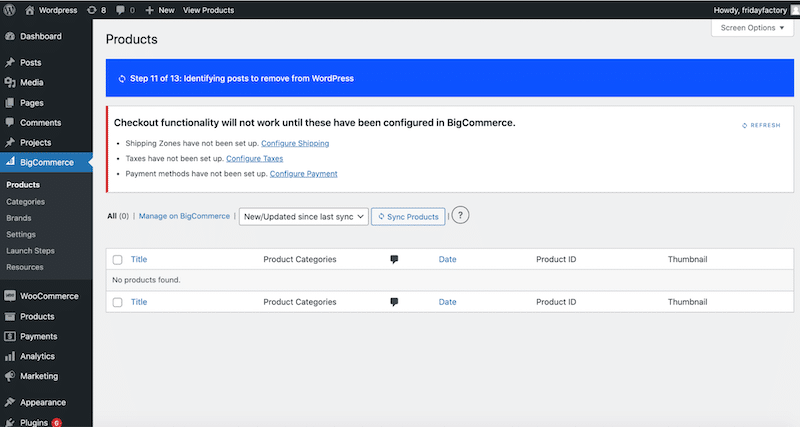 Cons
The plugin has only around 1000 users and their WordPress integration is fairly new.
You need connect to your BigCommerce account to start selling products on your WordPress site.
There are no many add-ons or plugins to enhance BigCommerce.
Yearly sales threshold – you'll be upgraded to the next plan if you go over your sales limit ($50K) and that could become costly for your business.
Pricing
BigCommerce starts at $29.95/mo for revenue of $50K. If you go over this figure, you'll need to upgrade.
If you have an online shop where all of your items are sold as downloads instead of physical goods like books or CD's then Easy Digital Downloads (EDD) is a perfect choice. Easy Digital Downloads is trusted by over 50,000 smart website owners and it's a very easy-to-use tool to build your whole online store with a super clean interface: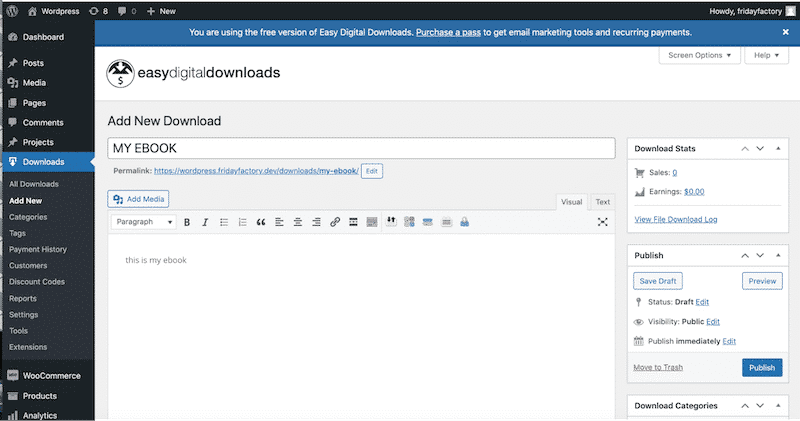 Pros
Start accepting credit card payments using Stripe as well as Apple Pay, Google Pay, and PayPal.
Recurring payments or additional payment gateways.
Neat and responsive design.
Smart shopping cart – "buy now" or "add to cart" button, guest registration, agree term agreement before checkout.
Possibility to add discount codes.
Tools for refund tracking, affiliate systems and send a confirmation purchase to your clients.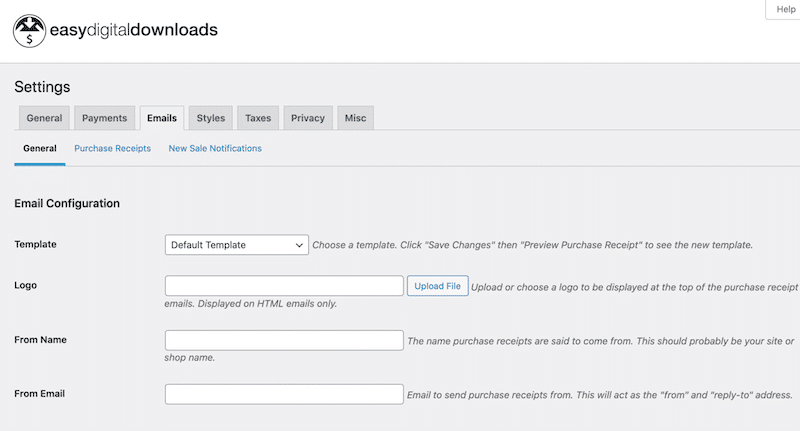 Great reporting tools to analyze the statistics.
Control access for only logged-in customers with a single shortcode (e.g purchase history table, personal profile, training videos etc.).
Easy to use CRM – get your clients data centralized in one interface.
Huge add-ons store made by the team where you can enhance EDD.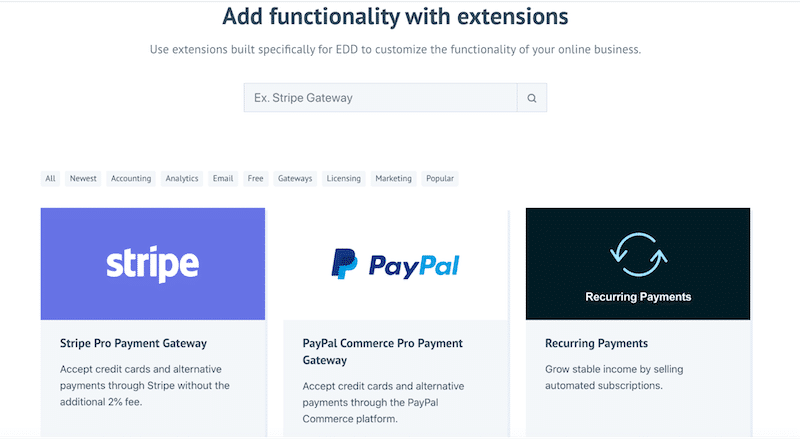 Has a large, active community of bloggers, developers, and WordPress enthusiasts.
Cons
You need an extension for almost everything – e.g: to send a newsletter to your clients you have to choose amongst their list of add-ons etc.
You are quite limited in the layout of your shop with EDD. They only provide a purchase shortcode that you can display anywhere on the front-end. You may need the WordPress Editor and the Customizer section of your theme if you want to have a solid design.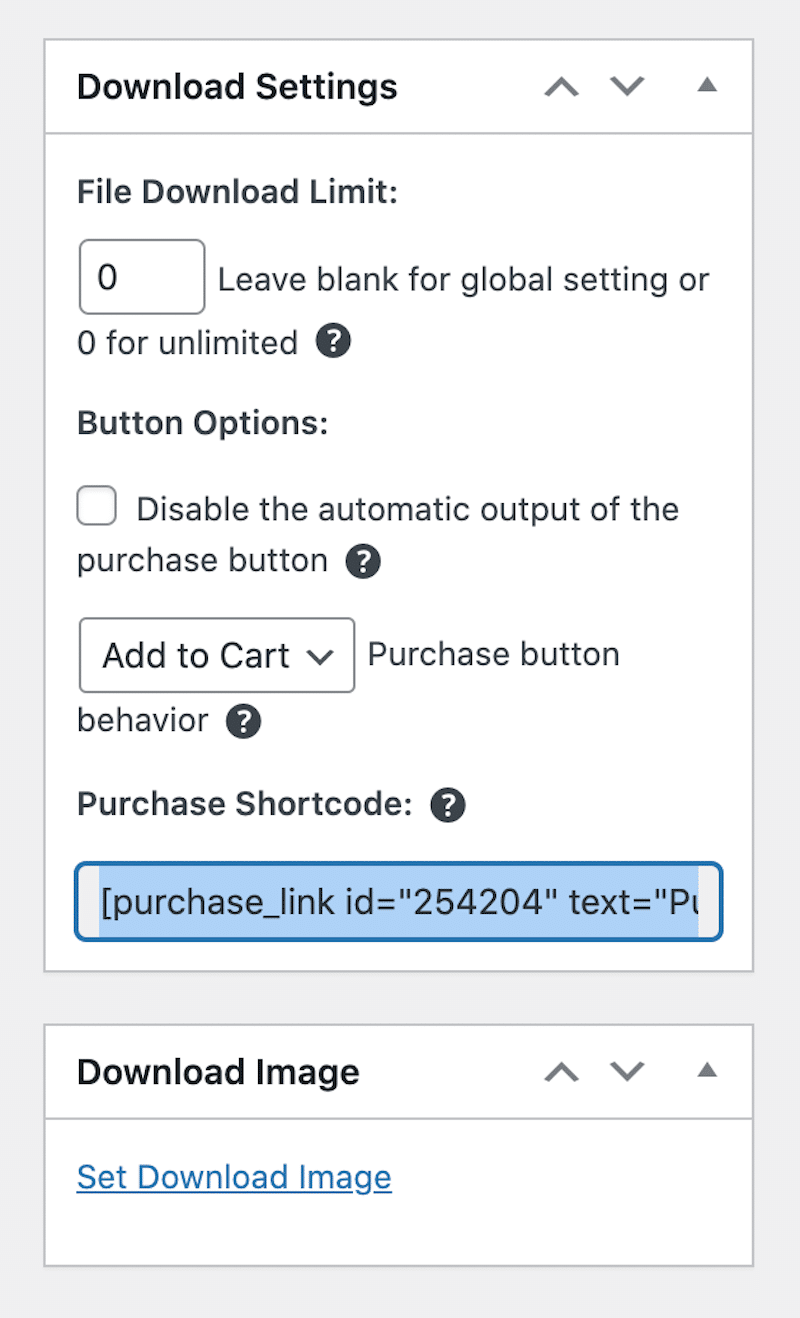 Pricing
The free version is enough for small businesses but I suggest upgrading to have access to the emails system, Gravity Forms integration, Product comparison, and basically access to all the extensions. The premium plan starts at $199 per year.
Ecwid is a flexible eCommerce solution that has excellent ratings and offers many features similar to those found in WooCommerce but with its own twist – it can be used on any website and CMS you want, whether it's WordPress or Drupal. You just need to set up your Ecwid store once to easily sync and sell across a website, social media, marketplaces like Amazon, and in your physical shop.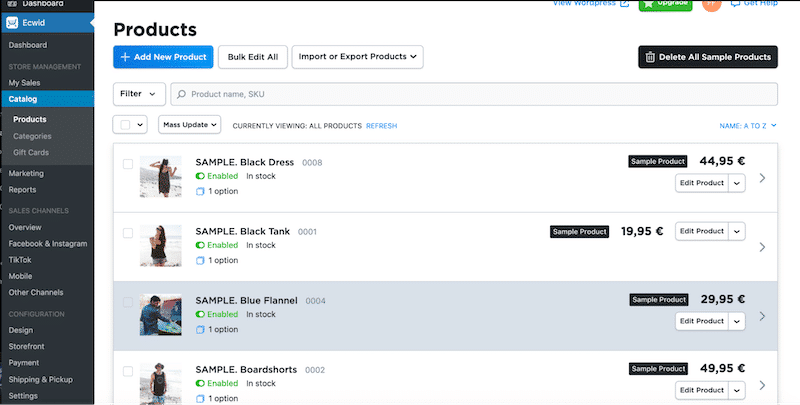 Pros
Mobile responsive shopping cart.
Unlimited storage with regular backups and seamless updates.
Change the look of your products and store very easily: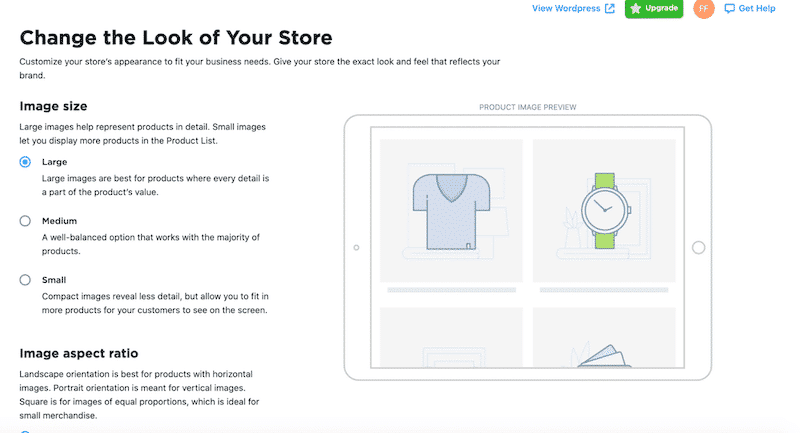 In-house and third party extensions built on the Ecwid eCommerce APIs.
Ability to sell on multiple sites.
Social selling – Sell on Instagram, Facebook and Instagram (premium).
Integrates with major carriers including USPS, UPS, FedEx, Canada Post, Australia Post (you can print your label at home).
1 million sellers in 175 countries, 45 languages supported.
Payment gateways: PayPal, Stripe and 40 more payment options.
PCI and DSS compliant.
Cons
There are no page builders (like Divi or Elementor) dedicated to Ecwid so it makes the products look-and-feel pretty basic: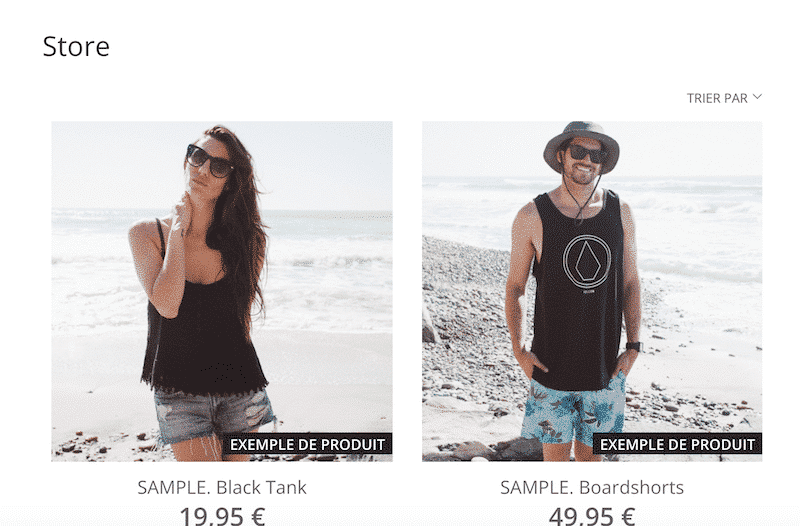 Automated emails are only part of the premium plan, the free store is really basic.
Pricing
Ecwid shopping cart plans vary by the number of products, types of eCommerce functionality, and level of support you'll get access to.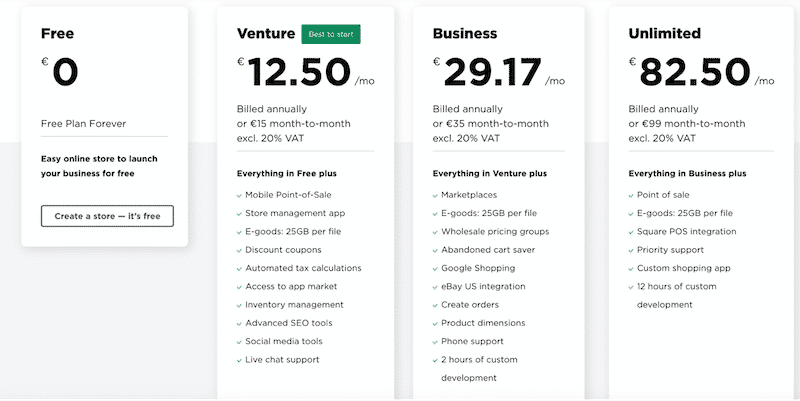 What's the Best eCommerce Plugin for Your Needs?
So, what eCommerce plugin do you need for WordPress? Here's a summary for you:
If you're looking to keep using a free WordPress core eCommerce plugin – stick with WooCommerce.
If you're a developer who needs plenty of customization – consider WooCommerce (they have an API).
If you want to continue using the WordPress editor, Divi or Elementor then stick to WooCommerce too, they have dedicated blocks, modules and advanced design for WooCommerce.
If you'd like to keep your costs down with fewer add-ons – consider Ecwid.
If you like the idea of the add-ons stores – consider WooCommerce and Easy Digital Downloads.
If you're planning on selling only digital products – consider Easy Digital Downloads.
If you are going to sell both digital and physical products – stay with WooCommerce.
If you'd like to sell on many channels including TikTok, Facebook and Instagram – consider Ecwid (the premium version).
No matter which plugin you are choosing for your next eCommerce project, remember that you can use WP Rocket to speed up your WordPress site and optimize your Core Web Vitals from desktop and mobile.
That's taking us to our next bonus section: the impact of WP Rocket on the performance of my eCommerce site.
Bonus: Speed up Your eCommerce with WP Rocket
Here's another reason to choose WordPress for your eCommerce shop: the WP Rocket plugin can improve your performance and your Core Web Vitals automatically upon a simple activation. An online store can become heavy pretty fast so it's essential to know the best performance tools that can help you achieve better speed results.
In this section, we will conduct an audit of a test site built with WooCommerce and the Storefront theme (designed by WooCommerce themselves).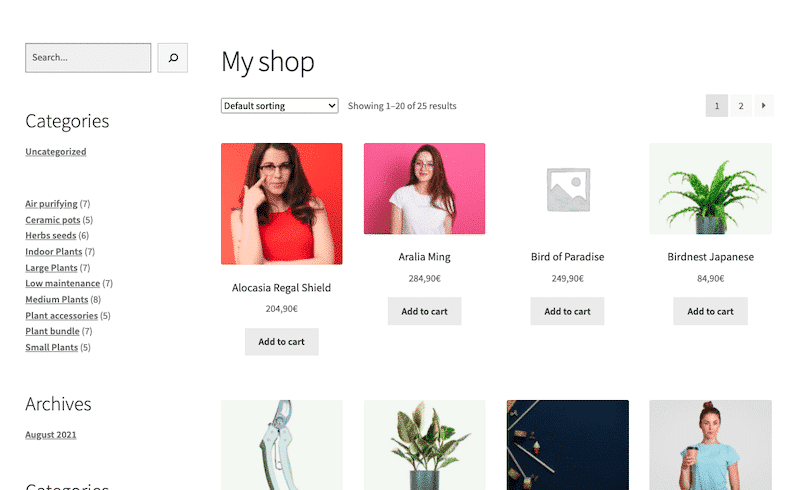 Demo site and eCommerce modules used: We installed the Storefront theme with a few products from WooCommerce, the cart page, and some call-to-action buttons. We also have installed the Stripe Payment gateway plugin for a more realistic audit.
Performance tools & KPIs we are measuring (on mobile):
WebPageTest (Fully loaded time and the number of HTTP requests on mobile).
We'll run two tests:
Performance scenario #1 – without WP Rocket:
I got a 69/100 performance grade on mobile (orange interval), I also have two KPIs in the red (FCP and LCP) and 2 in orange (SI and TTI):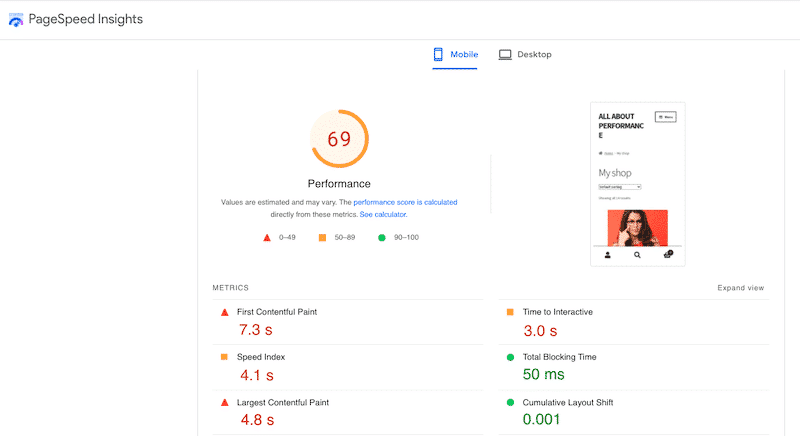 I also have several issues flagged by Lighthouse: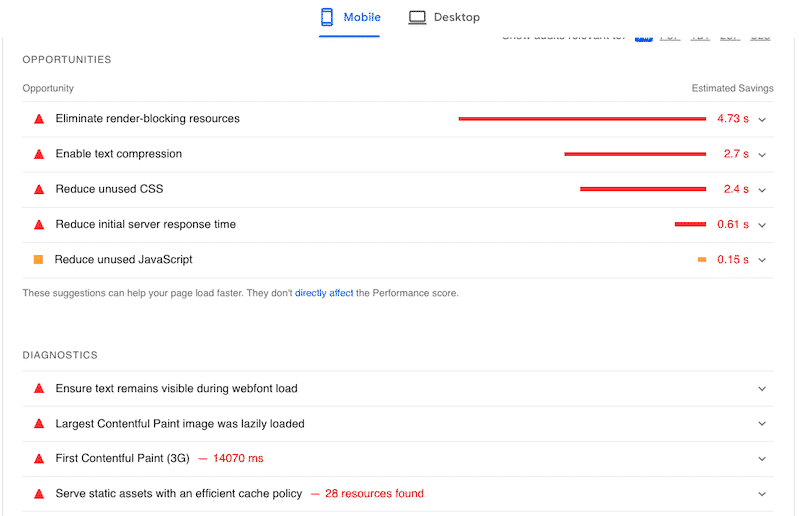 We can conclude that according to Lighthouse, I have room for improvement.
Let's activate the WP Rocket plugin to see how the performance grade of my eCommerce store is impacted. That takes to scenario #2:
Performance scenario #2 – 🚀 with WP Rocket
After activating the WP Rocket cache plugin, my eCommerce site got in the green zone on Google PageSpeed Insights and more importantly, my LCP grade – one of the Core Web Vitals – became green too.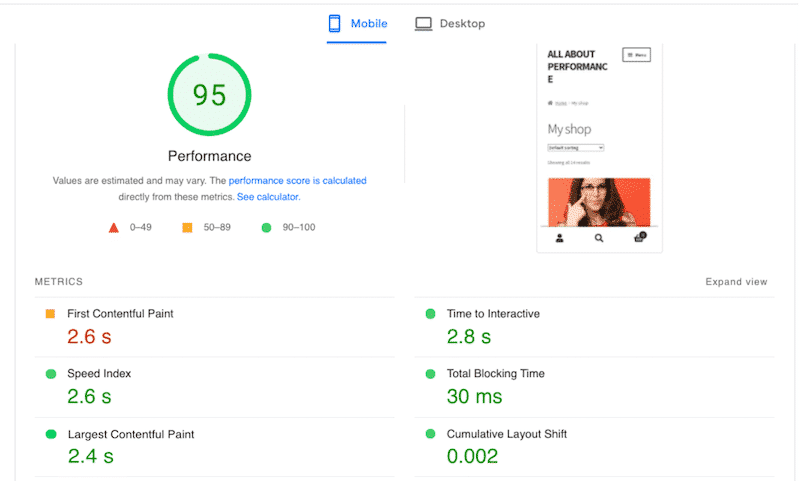 The items in the diagnostics section are now in the passed audit tab thanks to WP Rocket:
I've put together a table comparison so you can see how WP Rocket improved the performance of my eCommerce site:
| | | |
| --- | --- | --- |
| KPIs (mobile performance) | Scores (no WP Rocket) | Scores (🚀with WP Rocket) |
| Overall grade | 69/100 | 95/100 |
| FCP | 7.3 s (in red) | 2.9 s (in green) |
| SI | 4.1 s (in orange) | 2.6 s (in green) |
| LCP | 4.8 s (in red) | 2.4 s (in green) |
| TTI | 3.0 s (in orange) | 2.8 s (in green) |
| TBT | 50 ms | 0 ms (in green) |
| CLS | 0.001 | 0 (in green) |
| Fully loaded time | 3.412 s | 0.914 s (faster) |
| HTTP requests | 33 | 12 |

To improve the speed of our eCommerce site, we optimized our CSS/JS files thanks to powerful features such as Remove Unused CSS, Load JS deferred, and Delay JS execution. We also applied the lazy loading script on our products and cache on mobile: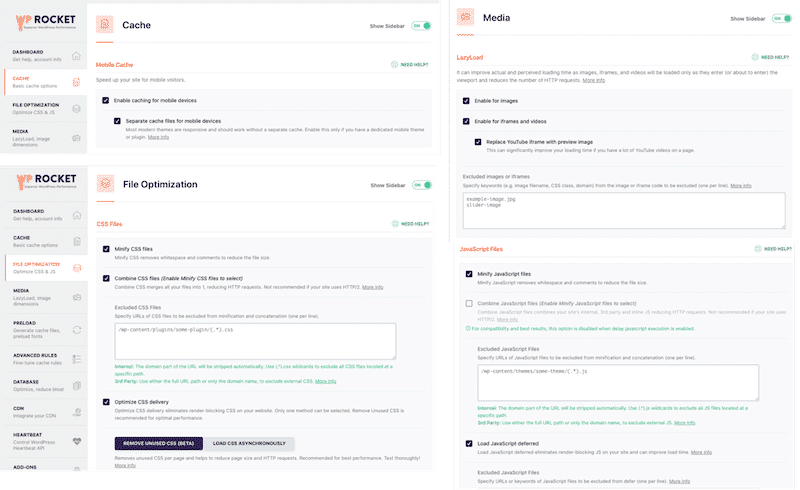 Wrapping Up
There are many eCommerce solutions for your next online business, all with a wide range of options and payment gateways. We hope our list of 4 Best WordPress Ecommerce Plugins will help you to decide which one fits you the most.
Along with the solution we choose, we recommend WP Rocket because it's compatible with all of them and it will make your store run faster! If you have any questions about these eCommerce solutions, ask us in the comments below!
---