"88% of web buyers say that they have abandoned an online shopping cart without completing a transaction."
This sentence tells us that cart abandonment is the nemesis of online shopping, and with experience, I can say that it can be very frustrating to lose your customers at the point of purchase. That's why I'm writing this article.
I want to explain the main reasons for shopping cart abandonment and provide useful recommendations to fix the issue.
This article will shed light on how to reduce shoppers from leaking out of your sales funnel and create a frictionless shopping experience for your customers. Also, you'll learn some tips that industry experts follow to keep the cart abandonment rates minimal.
Shopping Cart Abandonment – An Incomplete Purchase Cycle
In an online shopping setup, when a potential lead visits the website, adds at least one or more products or services to the cart, and moves forward to exit the website without completing the checkout process, the phenomenon is termed as shopping cart abandonment.
Shopping cart abandonment is an important metric for online sellers as it is directly related to conversion rate. The abandoned cart rate can be calculated using the following formula:
1 – (transaction completed/total shopping carts created) x 100
For example, if 300 shopping carts are created in your store, and there are 100 purchases completed, the abandoned cart rate is 67% by the above formula.
While the shopping cart abandonment rate has nothing to do with the ranking of your eCommerce website or its visibility, it still is an important metric for improving the eCommerce conversion rates.
As per a Barilliance study, every 3 out of 4 shoppers leave without completing their purchase. This is a huge number, and winning back all those customers can be a big boost to your conversion rate. Apart from losing sales, cart abandonment has other setbacks for eCommerce store owners.
Before we learn the techniques and strategies for abandoned cart recovery, let's understand why shoppers abandon their carts.
13 Reasons Why Shoppers Abandon Cart
It is quite essential that, as a business owner, you know why your customers left your store just before completing the checkout.
The prominent reasons affecting your business can only be discovered by you or the person accessing your sales data. But you will learn some of the common factors for shopping cart abandonment. While we discuss these factors, I would like you to put yourselves in the shoes of your customer.
1. Unexpected Shipping Costs
The shipping cost mostly appears when a customer enters the shipping details on the checkout page. As customers, we never anticipate the additional costs for our products in the cart at checkout. This may lead the customers to reevaluate their purchase during the checkout and ultimately abandon their cart if the expectations are not met.
2. Long And Confusing Checkout Process
As a customer, I would love to reach the finish line, the checkout, as soon as possible. I mean that the checkout process should be devoid of multiple steps or form details. A checkout process with a lot of friction deteriorates the customer experience and deters the shoppers from transacting on your site again.
3. No Guest Checkout Option
As a customer, I often wanted to order stuff from stores without creating a permanent account. I wanted to perform a guest checkout. Several customers visit your store as an alternative to buy goods, and it's a one-time thing. Therefore, it is highly recommended to allow the customers to perform guest checkout.
4. Asking Customers To Create Accounts Redundantly
Another prominent reason why shoppers abandon their purchases is the redundant requirement to create an account. While asking customers to create an account is important if it's their first time in your store, it might add up an extra step during checkout for an old shopper.
5. Security Concerns
You know what I love about shopping in a brick-and-mortar store, the presence of a human figure at the point of purchase. As shoppers, we feel comfortable paying someone in person, but that isn't possible in online shopping. Therefore, as business owners, you need to comfort your audience to do the transaction in a secure environment.
If a customer does not feel secure in providing their personal information, they will not follow through with their purchase.
6. Lack Of Desirable Payment Options
The checkout process is completed when a customer enters the details via a payment gateway. Some customers are comfortable with the default payment gateway, but others want to pay through the most convenient option. Thus, the inability to provide a preferred payment option might end in the abandonment of purchase.
7. Poor Site Performance
For me, a slow eCommerce site is the number one motivation to abandon a website even before adding products to the cart. When an audience sample was asked about the reasons for abandoning an eCommerce site, approximately 20% of respondents said that the website had errors or crashed.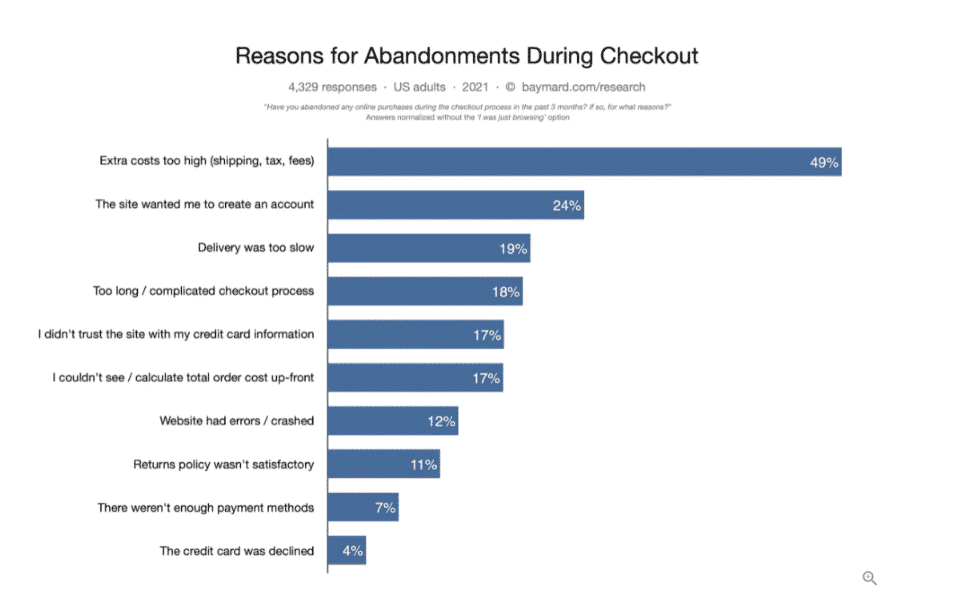 8. Delayed Delivery
Delivery times play an important role in the conversion of a prospective customer. Shoppers expect their products to be delivered in a reasonable timeframe. If the wait is too long, the chances are that the customer might cancel the order even before it's delivered to the doorstep. If the customer urgently needs the product, they might look on another website (maybe your competitors) to procure the commodity.
9. Distractions
It is always unnecessary that a customer abandons an online store due to an on-site factor. There could be external factors too. By external factors, I mean distractions like ringing cell phones, the kids calling, electricity issues, or any other factor. As a business owner, you don't have control over these factors.
10. Unclear Return And Refund Policy
The same study that showed us the "poor site performance" is a prominent reason for shopping cart abandonment says that 11% of the audience will abandon a purchase if the return and refund policy is unclear.
Unfortunately, many stores put a hard limit on their return policy, and limitations can be put in the following forms:
In the first case, the restriction policy restricts too much time.
In the second case, the policies charge customers for returning the product, usually shipping.
The issue can worsen if you don't track the number of returns and costs associated with it.
11. Poor Customer Support
Poor customer service can be detrimental to your business and be a reason for eCommerce shopping cart abandonment.
Customers expect help and convenience while they are on your website. A global survey reveals that 83% of consumers state a need for some form of support during their online shopping journey. Of these, 51% said they are most likely to purchase if they had customer support, such as a live chat during the session.
12. No Coupon Codes Or Discounts
As a shopper, I love coupons. For me, coupons are the number one motivation to make a purchase. To be honest, some customers run after deals, and it's not their mistake because eCommerce customers are always flooded with discount coupons and promotional offers at some time or the other. Unfortunately, if the coupon code is entered at the time of checkout and if there are no running offers, it brings up a feeling that I'm paying too much.
13. Window Shopping
Window shopping happens not only with brick-and-mortar stores but also on eCommerce websites. Just the situation is different. The difference is that in the offline shopping scenario, people don't put products in the cart and abandon your store if they aren't willing to buy. On the other hand, online customers tend to put products in the cart and change their purchase decision at the checkout page.
When it comes to online shopping, customers always want to seek options to get a better deal. Shoppers put the products in their carts to check the final price at the checkout and abandon the purchase if the cart total is above expectations.
So these were the 13 reasons why a shopper may abandon their cart. We can see not all factors are technical or revolve around a website's performance, some of the factors are external, and nothing can be done about them.
We will now check some insightful tips that you must adhere to and reduce users abandoning carts in your store.
5 Expert Tips To Tackle Cart Abandonment
In eCommerce, nothing is worse than to see your customers flee just at the time of checkout. Though shopping cart abandonment is an inevitable evil and cannot be eradicated, we can minimize it.
Let's seek some advice from the industry experts and learn what tips they have for tackling cart abandonment.
1. Speedy Sites Are A Must
24% of customers cite "Website Crashed," and 15% cite "Website Timed Out" as reasons that they didn't complete a purchase.
— Shopify
In this fast-paced era, no one has the patience and time to wait to complete the checkout process to relish their product. Even if you keep the customer waiting for a few seconds, chances are they will leave your store just to hunt another store for their products.
As Shopify has stated, 24% of the customers didn't complete a purchase because the website crashed or timed out. To ensure this never happens to your customer, make sure to improve your site performance.
Test Your Website Speed
A website is made up of many things such as plugins, themes, templates, and much other technical stuff. Over time, all these have to be updated to make the site work properly.
But with each update, you also have to make sure that the updated components haven't affected the speed and performance of your online store. You can take the help of a tool like Google Pagespeed Insights to measure the performance of your website.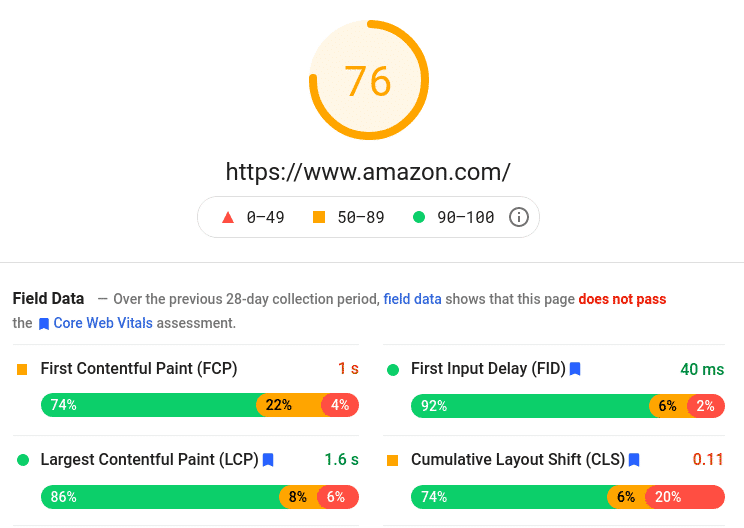 Implement Lazy Loading And Other Optimization Techniques
Optimization techniques like lazy loading are great for lowering the page loading time. Here's a list of the performance actions you should take into account:
Use a CDN for loading the media sites on your website.
Make sure to carefully choose your hosting service when you lay the foundation of your eCommerce website.
Reduce the number of plugins.
Minimize the number of JavaScripts and CSS files to reduce the number of HTTPS requests.
Implement website caching ⁠— an amazing technique that stores the current version of your site until your website is updated.
You can use some very basic techniques to efficiently make your website when a shopper visits your eCommerce website. If you find it overwhelming to optimize your website or find it difficult to deal with any technical issues, you can look forward to getting help from experts like MakeWebBetter. Another great option is to use a caching plugin to speed up your site in a few clicks.
You can always turn to WooCommerce services or discuss your issues on engaging communities and related forums.
2. Focus On The Small Screen Users
Approximately 4 billion people own a mobile phone. Of that number, 25 percent of them use it as their sole method of accessing the Internet.
There has been an exponential increase in the number of users that access the internet from cellular devices in the recent past. Thus, it has become a priority for the eCommerce industry to optimize the site for mobile shoppers. Therefore, there's a need to create a streamlined and attractive mobile shopping interface to increase online sales traction.
A poor mobile interface and a non-friendly user interaction can make shopping difficult for the customers and ultimately increase your cart abandonment rate. You make your websites responsive and mobile-friendly. Also, you can create a native mobile application that can be a smart move for your business.
Here are some tools that can help you estimate if your website is mobile-friendly:
Google's Mobile Website Speed Testing Tool
Page Speed Insights
Google's Mobile-Friendly Test

3. Reduce The Complications Of Your Checkout
87% of online shoppers said they would abandon their shopping carts during checkout if the process was too difficult.
Another great insight collected by the RetailDive tells us the importance of a sweet and simple checkout. Nobody likes to fill lengthy checkout forms and fill in billing details to relish their paying products. Simple steps like offering guest checkout or registration with social media accounts can be a great move for easing your checkout experience.
You also have to work upon your cart page, make it appear uncluttered, and give a clear presentation of the details of the chosen products.
Here's what SaleCycle has to say on the importance of a sophisticated checkout experience:
"A well-designed checkout process and – crucially – one which works well on mobile as well as the desktop is vital".
We can take a leaf out from Amazon's handbook on eCommerce best practices and learn how it facilitates its customers with the one-click checkout process.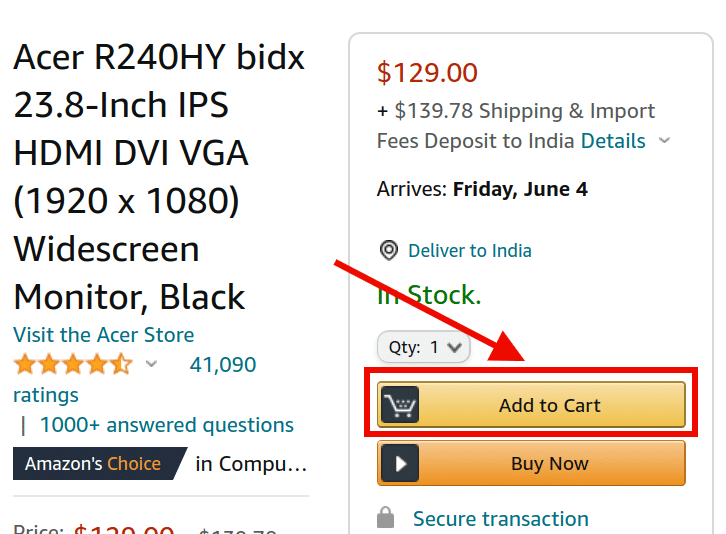 A one-click checkout process is a great approach that reduces the friction for completing the online purchase process. So the moral of the story is you have to start taking the checkout optimization right away so that the customers don't leave your store before completing the checkout process.
4. Unexpected Costs Are A Big No-No
63% of abandoned carts are due to unexpected costs such as shipping at checkout.
— Statista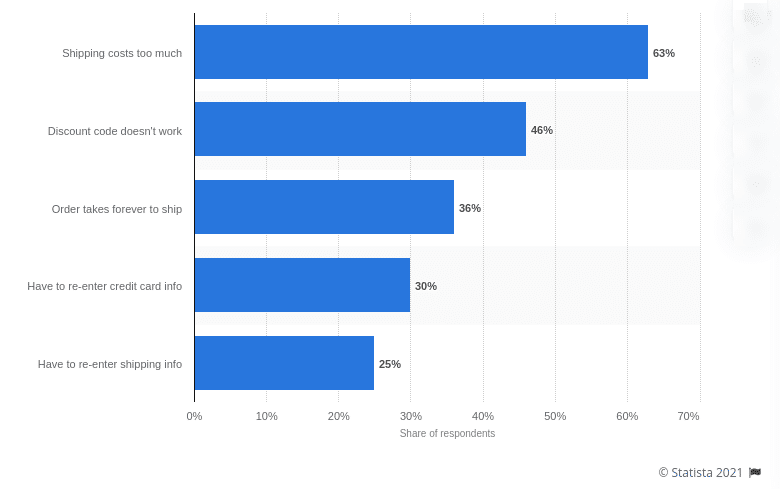 Surprising your customers can be a risk for your online store. Some websites show a price that is very different from the price shown on the cart page. This sudden surge in the price can make the customers turn away from your online store and abandon the cart.

This can be simply avoided by displaying the correct price of your products on the product page itself (including all the taxes and shipping charges) so that the customers don't build any false hopes.
5. Invest In An Abandoned Cart Recovery Solution
Ecommerce store owners invest in various solutions to solve their various day-to-day struggles. Whether it is accounting, filing taxes, analyzing customer behavior, or sending emails to customers. Then why not invest in a solution that can help you in recovering abandoned cart customers.
An abandoned cart recovery solution lets you instantly create an email sequence that can be sent to remind lost customers to complete their incomplete purchases.
If you're running an eCommerce store using WooCommerce, you can try out WooCommerce Abandoned Cart Recovery. This solution lets you send automated reminders to customers that have abandoned their purchases. Apart from this, here are some other prominent features of the extension:
Advanced Reports Of Abandoned Carts
The plugin gives you advanced reports for your products that let you make informed decisions. With the help of these reports, you can track the following:
A total number of abandoned carts recovered in a specific time frame.
The total number of carts abandoned in a specific time frame.
Conversion rate from abandoned carts you recovered.
The total number of products abandoned in your store.
The total number of times a product has been abandoned in your store.
All these metrics help you know the key problem areas in your store and what needs to be improved.
Create Abandoned Cart Workflows
The plugin lets you create abandoned cart workflows to send automated emails. You can create unlimited workflows with different stages for your customer.
For sending abandoned cart recovery reminders, you must have your customers' contact details (email id). The plugin uses different methodologies for capturing email addresses, such as:
Pop-ups for guest users that collect email when the customer hits the Add To Cart button.

The plugin captures the customer's email when the customer is on the checkout page.
These are some of the plugin's prominent features that help recover your lost sales and minimize the cart abandonment rates.
Wrapping Up
In this article, we learned what eCommerce shopping cart abandonment is, why shoppers abandon carts and the key techniques to recover lost sales.
All of this leads us to the conclusion that while shopping cart abandonment is inevitable, you can minimize it by optimizing your checkout process, website performance, and other components of online shopping can minimize it significantly.
Online selling is full of cutthroat competition, and to succeed you have to continue providing a stellar shopping experience to convert your shoppers into paying customers.
---