At WP Media – the company behind WP Rocket, Imagify, and RocketCDN – we care about transparent communication. That's why we want to announce we've decided to increase the license prices for WP Rocket.
This change is effective from December 30, 2022, impacting new licenses and upgrades.
An important note: All existing customers are being grandfathered and will keep their renewal price.
Agathe Medvedieff, Chief Marketing Officer, explains why current customers won't see an increase in their renewal prices:
Grandfathering our existing customers despite the inflation pressure was essential to us. They trusted us for a while now and helped us shape a great product with their feedback and encouragement.
Let's see in detail how the new prices work.
What Are the New Prices?

New customers will pay their licenses as follows:
Single license (one website): $59/year.
Plus license (three websites): $119/year.
Infinite license (unlimited websites): $299/year.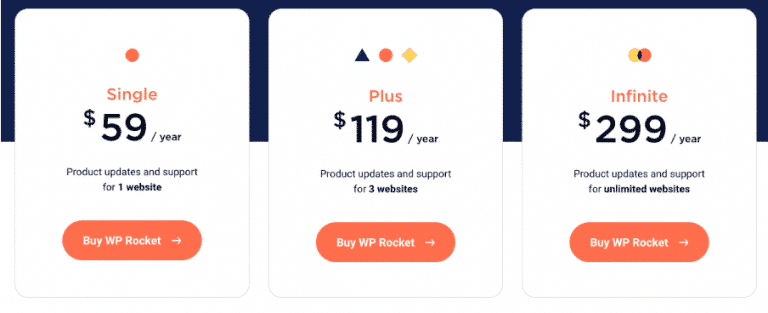 The prices of upgrades have also changed as they are the difference in price between the current license and the one customers are upgrading to. Here are the new prices:
Upgrade from Single to Plus: $60.
Upgrade from Single to Infinite: $240.
Upgrade from Plus to Infinite: $180.
Why We Increased Our Pricing
There are two important reasons why we decided to increase the price for all the licenses.
The first and most important one is related to our plugin's quality. If you're already a customer, you know how easy and powerful WP Rocket is to speed up a website's performance, optimize key metrics such as Core Web Vitals, and improve the PageSpeed performance score.
The last time we increased WP Rocket's price was in February 2019. Since then, we have released game-changer performance features that dramatically improved thousands of websites' loading times.
The typology of our features has also evolved to offer cloud-based options like the Remove Unused CSS, which is crucial to enhance performance – and we aim to add more cloud-based solutions in the future.
You can see how the price increase reflects the tremendous evolution of the plugin and will help its future growth.
It's not only about the features, though. WP Rocket also provides top-notch support – the TrustPilot reviews speak for themselves. Customer support is made up of highly professional and passionate people that ensure a fast and effective response, which is why it's very much appreciated and praised.
Agathe says:
As a customer, seeing a price increase is always frustrating. But we believe setting a fair price/performance ratio for our product is key for both our users and the company. Providing a great value proposition in a sustainable way is part of our core commitments.
Another reason involves the rising cost for our company. Worldwide inflation isn't a secret and has impacted us on two levels.
On the one hand, we've been affected by higher prices for maintaining our technology infrastructure and the server-based features to ensure all WP Rocket features work efficiently.
On the other hand, our employees have also been affected by a rising cost of living. For this reason, we decided to increase salaries to help everyone working at WP Media keep up with the inflation rate. The salary increase is not the only perk and benefit of working at WP Media – if you want to take advantage of working at a full-remote company that takes care of their employees, check out our job openings.
Wrapping Up
Announcing a price increase is tough. We hope you understand why we made this decision and how we wanted to take care of the Rocketeers who have trusted us so far.
We believe WP Rocket continues to offer great value to everyone wanting to speed up their websites easily. We hope to see your website in orbit soon, alongside other 2,8 million ones!
---