Do you want to learn how to optimize your blog for SEO? That's a crucial skill because, as a blogger, you want your articles to be read by your audience. SEO is about creating relevant online content and capturing the most suitable website or blog traffic through search engines. Thanks to this guide, you will learn 8 main actions to perform SEO optimization on your blog and ultimately rank better.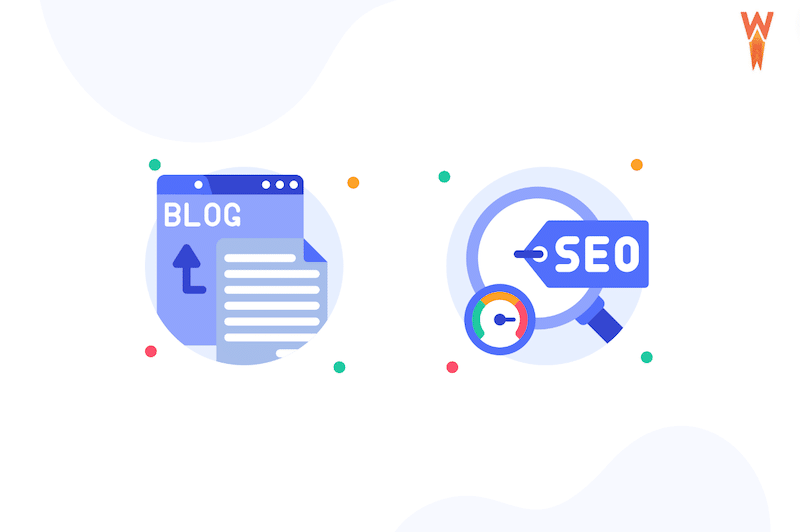 Why SEO is Key for Your Blog
SEO is crucial because it makes your blog more visible and increases traffic through organic (non-paid) search results. For content writers, SEO is key because it helps your content to be seen and found by an audience that is actively searching for it. What's more, if you want to monetize your blog with advertising, affiliations, and sponsored content, then you need to be able to show impressive demographics and marketing data (such as number of visitors, average time on page) to conclude the partnership.
Most SEO tactics go under three categories: on-page SEO, off-page SEO, and technical SEO. Here are the main impacts of the different SEO activities on your blog: 
Technical SEO
All the elements directly impact how search engines index and crawl your site. To optimize your technical SEO, you must review the blog structure, robots directive, canonicalization, broken links, site speed optimization, XML sitemaps, duplicate content, and structured data.
On-Page SEO
To be findable by your audience and keep your reader interested, you must focus on the content and use engaging blog post structures.
Off-Page SEO
If it's well-written and easy to read, people will be more likely to share it on social media, meaning more backlinks and mentions on other sites.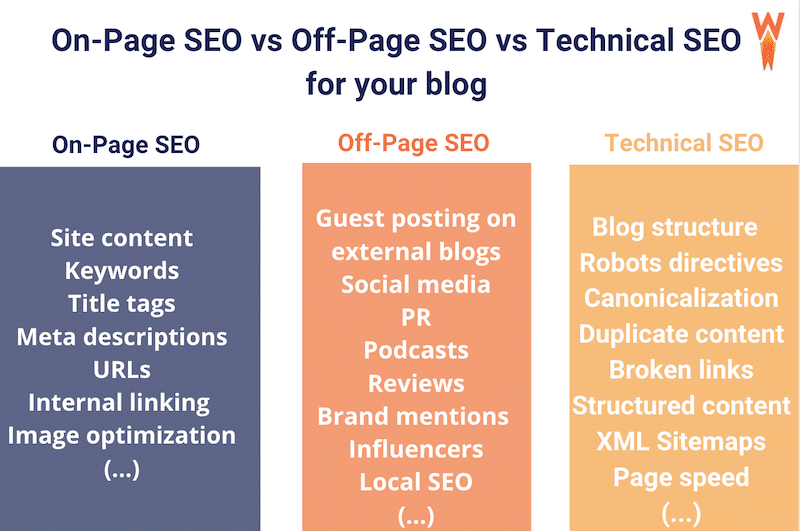 Technical SEO, on-page, and off-page optimization are interconnected and are essential strategies to improve your blog's ranking on search engine results. It can also help you to outrank your competitors and increase brand awareness. Let's go over 8 SEO best practices you can follow to optimize your blog for SEO.
8 Best Practices to Optimize Your Blog for SEO
Here are 8 best practices for a blog you can follow to get more organic traffic coming your way:
1. Keyword Research
Keyword research is the process of analyzing and finding the best terms and topics to include in your blog according to the most popular queries made on the web. Regarding keyword research, the first step is to identify the user's search intent, then find a targeted keyword for each post and create a detailed outline. Let's break down the three steps of action to add a list of useful tools to complete each.
Step 1 – Find User Intent
To find the user intent, you can use tools that gather all the Google searches made around the world, such as:
Answerthepublic.com – a powerful tool that summarizes the queries made on Google. It's available in 16 languages for the most popular countries.

In our example, we searched for "hotels paris", in the US, in English:

Here are the most asked questions in the US around this topic which could become some topics for a next blog post:
Best Paris hotels
Best areas to find the hotels
How much are Paris hotels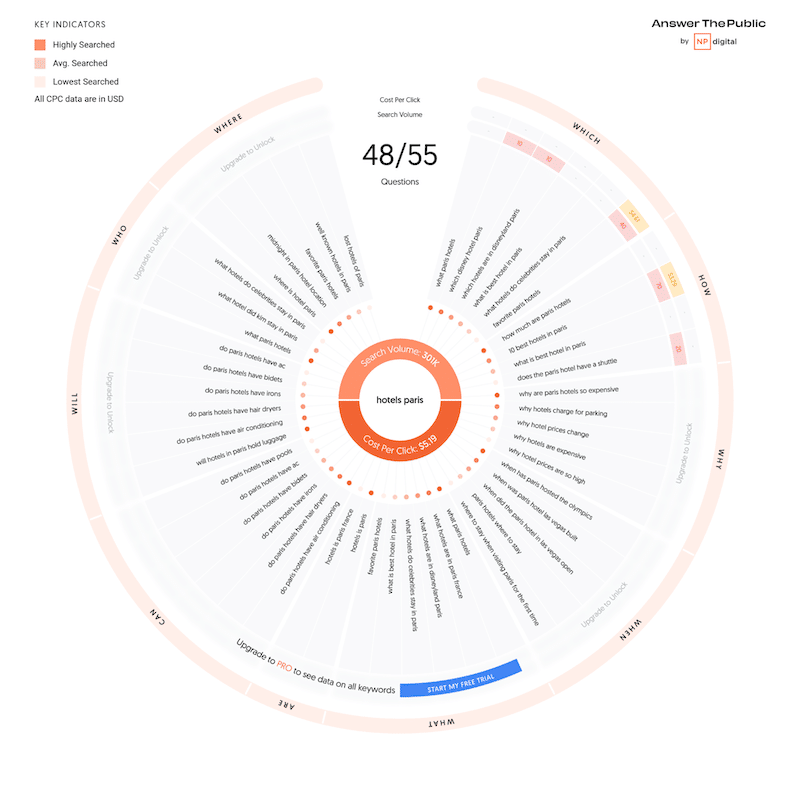 Google Trends – to identify the trending topics and see how Google is being used in specific countries. ​​
Step 2 – Find a Targeted Keyword for Each Post
Targeted keywords are usually small phrases, not individual words (as opposed to main keywords) used when searching for information. Your targeted keyword should appear in your introduction and be included in the H2/H3 of your article. To find a targeted keyword, you can use one of those tools:
Google Keyword Planner – A powerful research tool from Google that lets users discover new target keywords and get search volume and forecast for specific phrases.
SEMRush (Keywords Magic Tool) and Ahrefs– Both powerful SEO tools that (amongst other actions) help build a target keyword list that fits your website. They give invaluable tips to improve your site SEO by auditing and analyzing your website and competitors from different aspects: keywords, content ideas, backlinks, and ranking.
Look at Google's "People Also Ask" boxes – they will help you find the best topics for your audience.
💡There are three main elements to pay attention to when conducting keyword research: relevance, authority, and volume.
Step 3 – Create a Detailed Outline
Based on our previous keyword research, you should create a plan from a unique angle. Your content should stand out from your competition and resonate with your audience.
For example, let's say you want to write about how to make an apple pie like a Chef. Then, interview a famous chef to make your content stand out! Then, use this angle to show your audience that your recipe is special because it came from this famous Chef. This type of angle reinforces trust and credibility, encouraging users to click on your blog instead of the competition.
2. Focus On On-Page SEO
On-page SEO (also called "on-site SEO") is the process of optimizing the content of a web page for search engines and visitors. The most popular on-page SEO practices include optimizing title tags, headings, content, internal links, and URLs, but make sure you complete all the optimization tasks below to appear higher in search results:
Identify Target Keywords
Optimize the Title Tag
Write Your Headline in H1
Mark Up Subheadings with Header Tags
Use Internal Links to Improve Navigation
Write a Meta Description that Makes Users Want to Click
Add Target Keywords to Your Content
Review Your Content Readability
Apply Schema Markup
Check the URL Slug
Bonus: Work on your technical SEO
Make Sure Your Page is Mobile-Friendly
Make Sure Your Page is Indexed
Increase Page Performance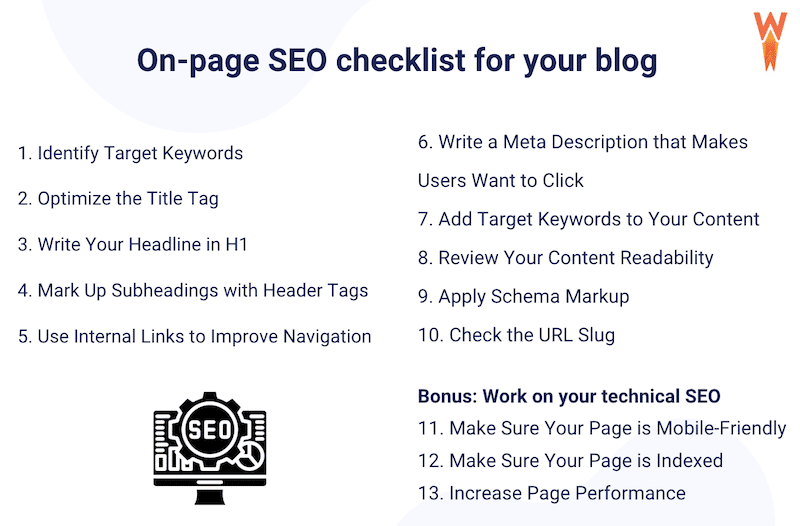 Best Tools to Optimize On-Page SEO
The best tools to optimize your on-page SEO on WordPress are plugins like RankMath, Yoast SEO, All in One SEO. You can also use tools like the Google Search Console, Lighthouse, Growthbars, or Screaming Frog to get a detailed SEO audit of your blog.
For example, this is how RankMath analyzes your content and allows you to improve the On-Page SEO: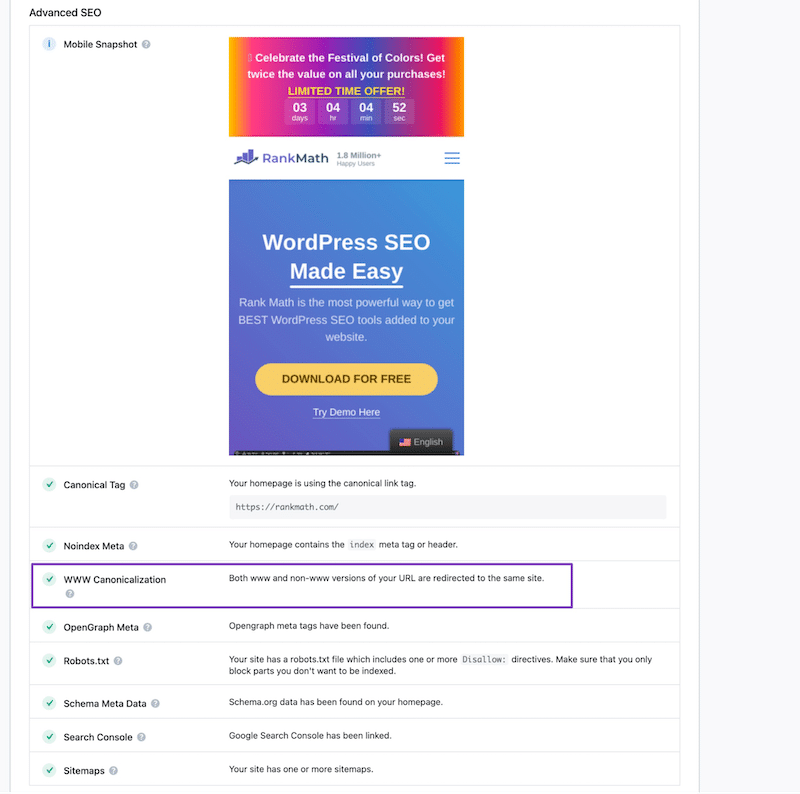 3. Create an Easy-to-Read and Compelling Structure
To write an SEO-friendly blog post, it should start with a title, an introduction, paragraphs, sections, and relevant images and finish with a conclusion with a final call to action. You can create many types of articles: the how-to, the listicles, the comparison, the expert round-up, or the interview.
SemRush provides amazing SEO-friendly blog post templates that you can use for your next writing project.
Also, keep in mind the pillar strategy to improve your blog SEO. A pillar page is like a hub that focuses on a key topic, with many other related articles related and links to it.
Once the structure is well-defined, don't overlook content optimization. You should write for users and search engines. That includes the following 10 actions:
Optimize the introduction with a catchy beginning and the target keyword
Include targeted and semantically related keywords in the body content
Establish your structure with efficient keywords (low difficulty but high volume)
Manage keywords density, avoid randomly adding the keywords just for the sake of it, and try to limit the occurrence to 10/20 depending on the length of the article
Cover the topic like an expert to stand out from the competitors, what can your article cover that they don't?
Interlink for bots crawling and visitors who want to navigate easily through your content
Update your blog post content regularly, including the title (e.g., 10 fast themes in 2023, in 2024, etc.)
Use engaging images and videos (we recommend you optimize your visuals to find the perfect balance between quality and page loading speed).
Use appropriate H1, H2, H3 etc. headings
Use a table of content to help visitors to jump to the topic they are the most interested in
💡Content optimization helps your content rank higher and generate more leads.
4. Take Advantage of Internal Linking
Internal linking is crucial to on-page SEO optimization, which helps users and search engines navigate your blog better. When implementing the strategy, always keep those 4 elements in mind:
Use descriptive anchor text (see our example below)
Link new posts to old posts
Check for broken links
Open the link on the same page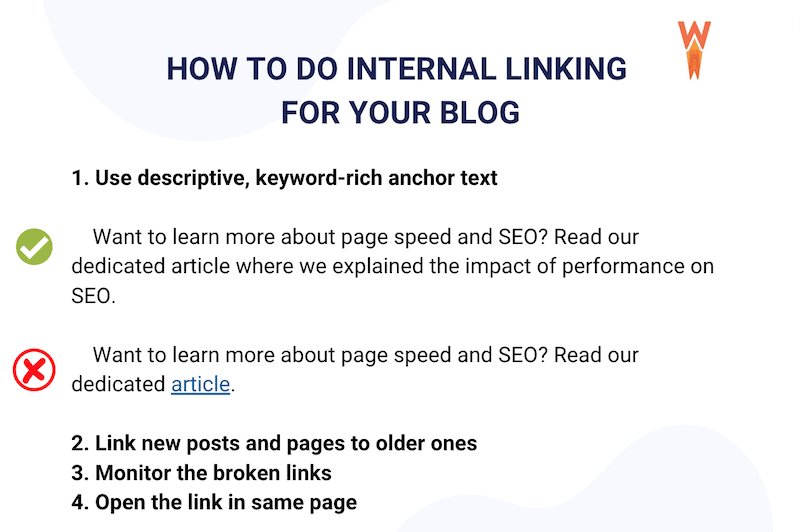 To implement your internal linking strategy, you can use one of the big three plugins (Rank Math SEO, Yoast SEO, AIOSEO). They can help you by suggesting relevant pages and posts on your site that you can link to. On top of that, the Broken Link Checker plugin will help you monitor your WordPress site's external and internal links.
5. Have Backlinks Opportunities in Mind
Backlinks are links from blogs and other online sources that you decide to add to your content on a particular blog post. But what if you want other blogs linking to your article? It's quite simple if you follow those golden rules:
Create a blog post with data-driven studies
Design impactful infographics and powerful visuals
Write in-depth guides
Put together a "resources" page with accurate and up-to-date data
Find broken links on pages within your niche and ask webmasters to replace them with your article
Perform a link gap analysis to identify sites that link to your competitors but not to you (SEMRush is great for this)
Interview or ask for a testimonial, this person will likely share it on their own blog or social media
Write strategic guest posts
6. Include Structured Data and Get the Most out of Featured Snippets
Structured data is a standardized format for providing information about your blog post and classifying the page content. For example, a recipe blog could use schema markup to flag ingredients, instructions, cooking time, reviews, and tags like "vegan" on their recipes.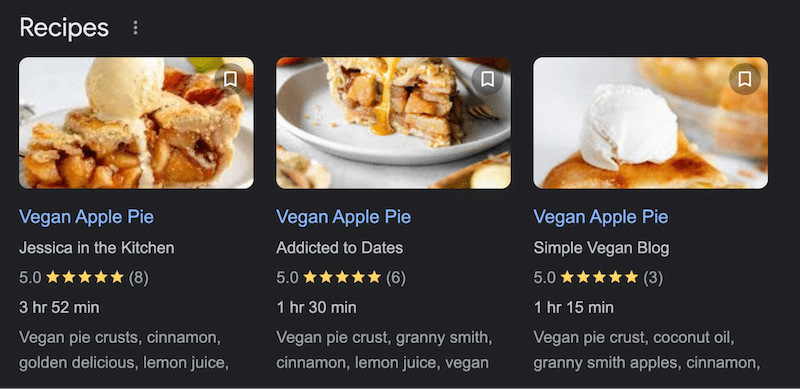 If you prefer not to code, try a WordPress plugin like Schema Pro. It helps you provide clues about the content of a blog post to Google. Use "Article Schema" to help search engines better understand the correct headline, published date & primary image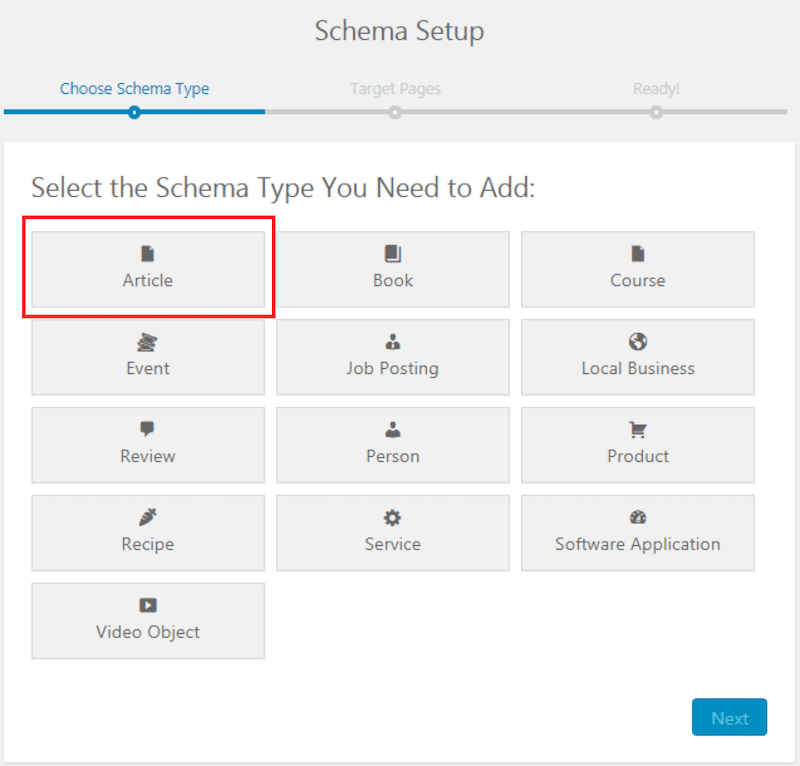 If you are good with coding, you can generate the Schema Markup with JavaScript and add it to the HTML. Below are the recommended properties by Google when using Article(Article, NewsArticle, BlogPosting) structured data in your blog. This will help Google understand more about the web page and show better title text, images, and date information for the article in search.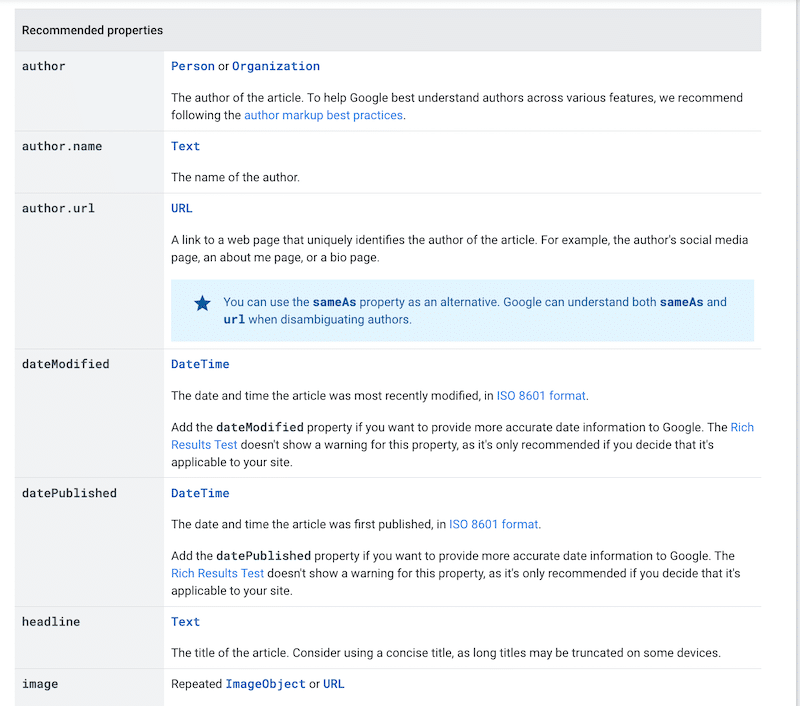 7. Optimize Performance
Since 2021, Google has officially added three Core Web Vitals to its search algorithm. They measure the user experience through three axes: loading performance, interactivity, and visual stability of the page. Anything towards improving those metrics will positively affect your users and your blog's ranking on search results pages.
To optimize the performance of your blog post and improve your page loading speed, Google PageSpeed Insights mainly recommend you to:
Optimize your CSS and JS code to eliminate render-blocking resources (e.g., reduce unused CSS; delay and defer JS)
Efficiently encode images (compress images to prepare them for the web)
Serve images into the WebP format (convert them to the next-gen format created by Google that boosts performance thanks to reduced file size)
Defer offscreen images (implement lazy-loading)
Optimize your fonts
To address PageSpeed Insights performance recommendations and improve your Core Web Vitals, you can use both WP Rocket and Imagify.
WP Rocket – one of the best caching plugins for WordPress that improves your blog's Core Web Vitals (and SEO). It does all the work for you: it implements caching and GZIP compression upon its activation, optimizes your code and adds lazy loading on images in a few clicks.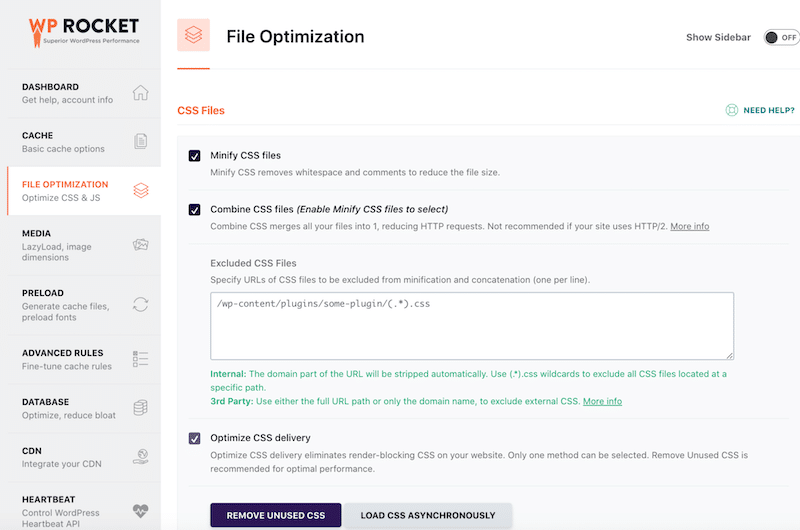 Imagify – the easiest image optimization WordPress plugin to compress your images and make them lighter without impacting their quality. The plugin also offers WebP compression, the next-gen format Google recommends in terms of compression levels.
The best thing about Imagify is that it reduces your file size while retaining great quality for the people visiting your blog: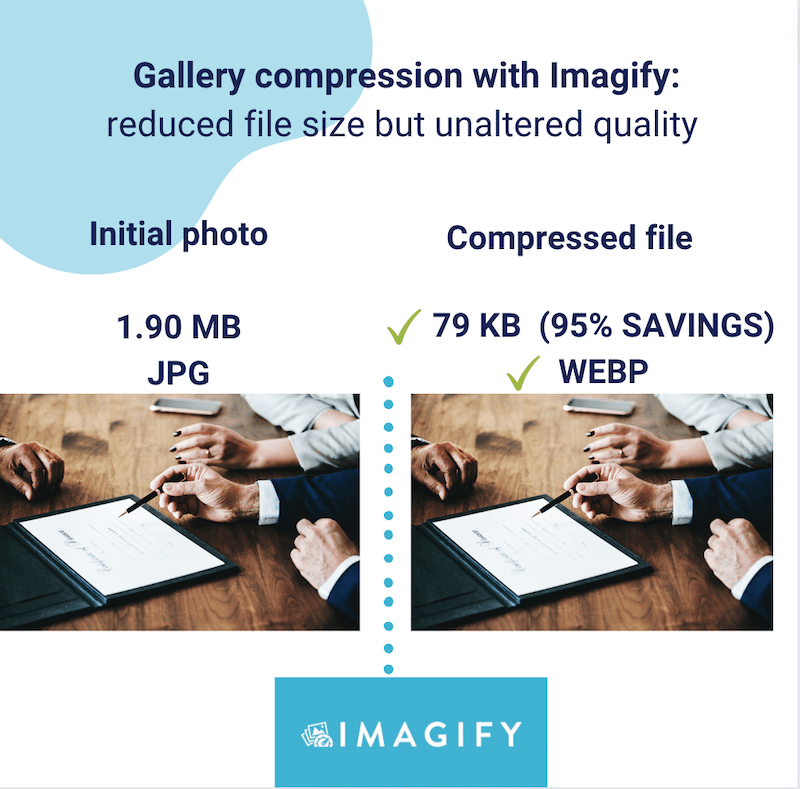 Imagify has a clean interface showing only the most important options when it comes to image optimization: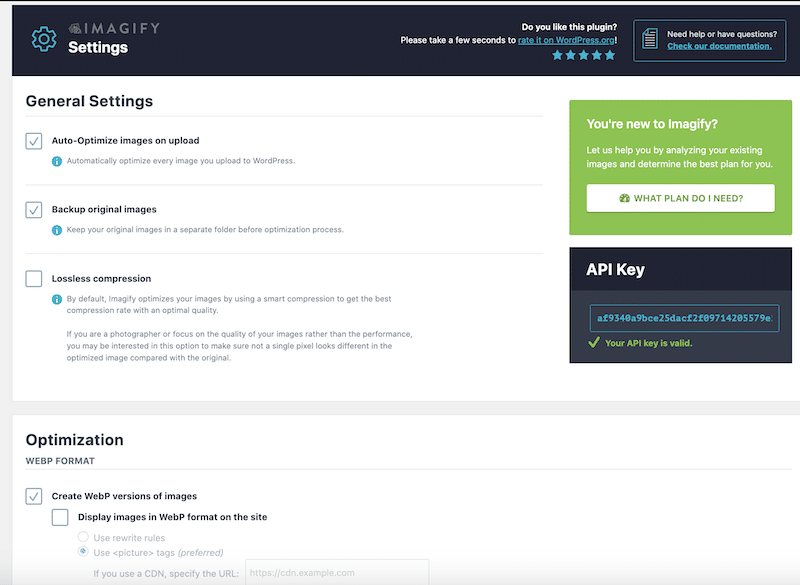 Here is an example of performance issues fixed thanks to Imagify and WP Rocket:

If you are not familiar with performance optimization and PageSpeed Insights, you can find below a real example of a performance audit that comes with the "opportunities" and "diagnostics" sections.
👉 Most of the issues flagged by PageSpeed Insights can also be addressed with WP Rocket and Imagify.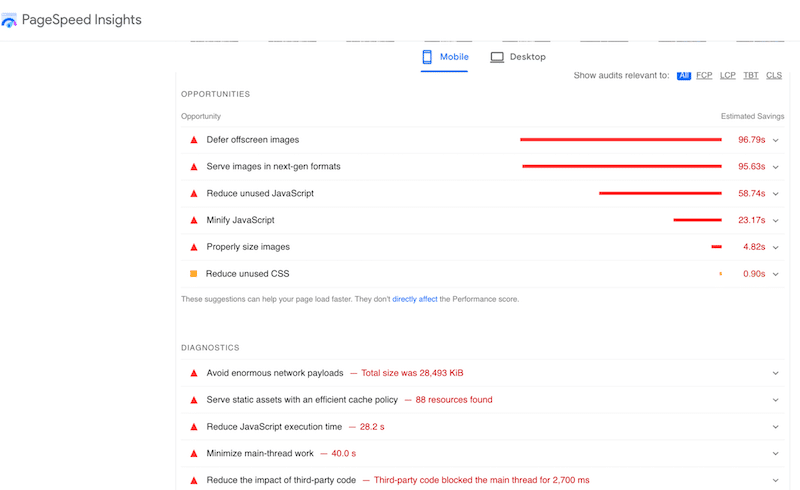 8. Set up Google Search Console to Track Performance and Reiterate Optimization
SEO optimization is long-term work, so tracking and monitoring your efforts is important. Google Search Console helps you to understand how Google crawls and sees your blog. It shows you how to maintain and troubleshoot your blog's presence in the search results. The main tabs are:
URL inspection – checks if your page is well-indexed, allows you to request a new page indexing and see the crawled page
Performance tab – The Search results page tells you the impressions, CTR, position, keyword cannibalization, and mobile/desktop performance
Index tab – it helps you identify any potential issues preventing your page from being indexed on Google (see our example below)
Experience tab – measures the Page experience as the latest SEO ranking factor. It includes performance data on Core Web Vitals and information on mobile usability.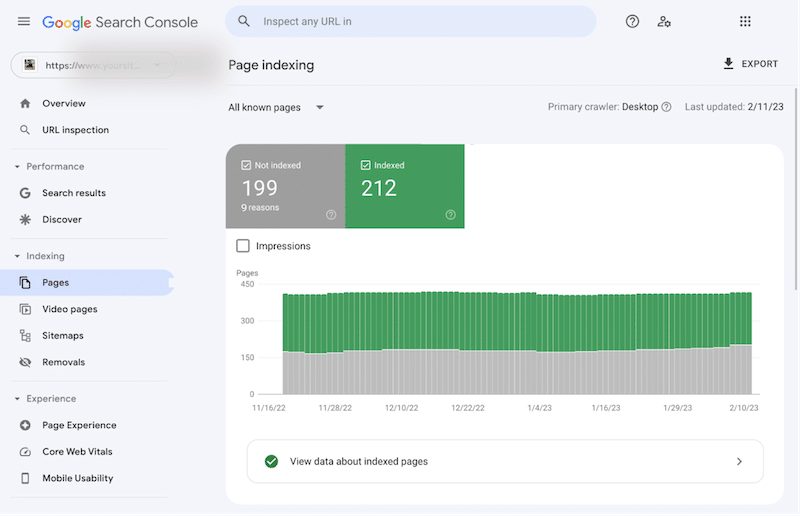 Wrapping Up
Being an excellent content writer is not enough, you also need to follow the blog SEO rules we just mentioned in our article if you want your article to rank. Keywords, content, and performance are the three areas of optimization you should focus on. Ultimately, it all comes down to serving original and structured content to the right audience on a fast website. For the performance optimization side, give WP Rocket a try! It's a powerful WordPress plugin that implements caching and optimizes your code, fonts, and database in a few clicks. And remember, you take zero risks with our 30-day money-back guarantee.
---