Do you want to know how Kinsta and WP Rocket can speed up your site? With the right hosting and caching plugin, you can get a whopping performance boost in just minutes. Some of the great features that come with both of these services will make your site faster almost out of the box.
Let's explore the potential of using WP Rocket together with Kinsta.
Why You Should Use a Fast Hosting
It is no secret that the speed of your hosting provider has a direct impact on your website's performance. If you are not optimizing your site's speed, you will see a significant drop in traffic, conversions, and revenue.
A website with good performance can have many benefits for a company. First, the site helps to level any competition by making it seem like a reliable business providing high-quality services or products. A hosting provider does affect brand credibility. If visitors perceive that your web pages take forever loading, this will be reflected in your sales. If your site is slow, people will have trouble navigating around and moving directly to the competition.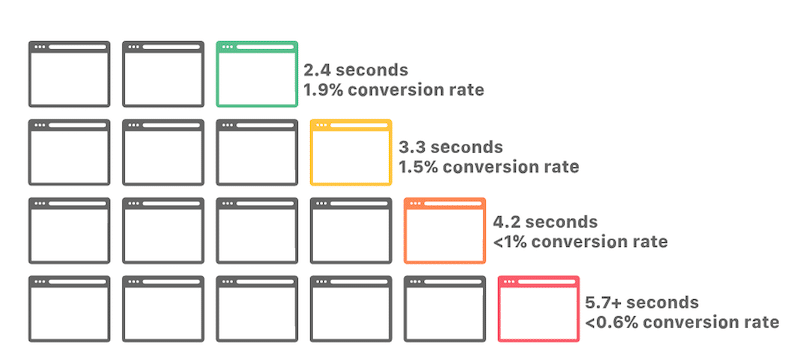 What's more, the performance of a website impacts its ranking in search engines. Good loading speeds are important for measuring the visitor experience metrics, which influences how high up on Google's you'll show up in the search results.
To effectively serve clients all over the world, a website's hosting needs to be fast. Hosting is responsible for making sure that data stored on your site can be accessed no matter where people happen to view it from.
What's Kinsta (And How Fast It Is)
Kinsta is a hosting company that provides WordPress users with secure, fast, and reliable hosting for their websites. Making WordPress fast has been in Kinsta's DNA since 2013. They're known for their premium prices, but the quality you get makes it worth every penny.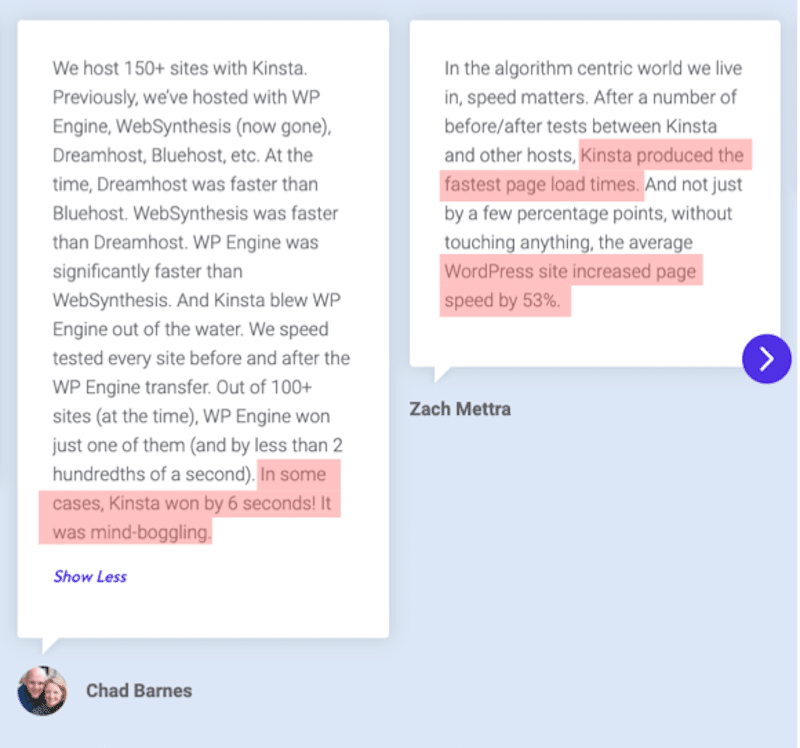 Kinsta is a great choice to speed up your WordPress site. Not only will it be super fast, but Kinsta also provides all the tools and security features you need for your website or blog page not to get hacked. I bet you're wondering what exactly you will get when signing up with them? Let's go over the main features.
1. Get Access to Google Cloud's C2 VMs and Premium Tier Network
Kinsta hosts your WordPress site directly on the Google Cloud Platform, an infrastructure created and maintained by Google. You are hosted in the same place as Spotify, Coca-Cola, Snapchat… Amazing, right?
Kinsta utilizes Google's C2 VMS and Premium Tier network, which offers low-latency and 30-50% faster traffic routing by avoiding public Internet pipelines as much as possible. Kinsta is the only host on the market that provides C2 machines on all plans.
I'm sharing the image below to illustrate the impact of the migration to C2 machines. You can see that the site's average response time went from 250 ms to 80 ms. That's a 212.5% increase in performance.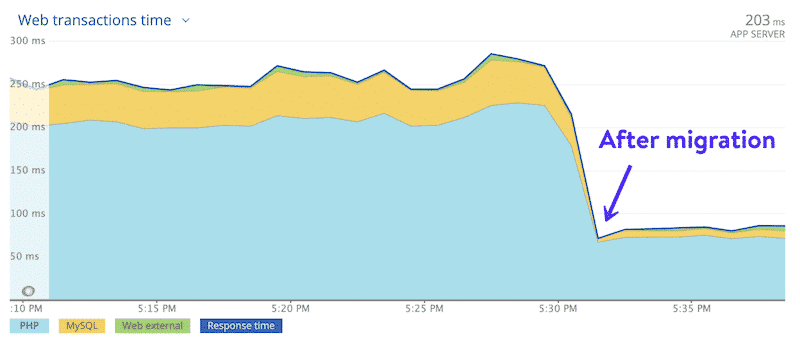 2. Choose Your Google Cloud Data Center Location
Kinsta uses the Google Cloud Platform's multi-regional deployment mode. This means that you can choose to put your WordPress site in the closest location to your visitors.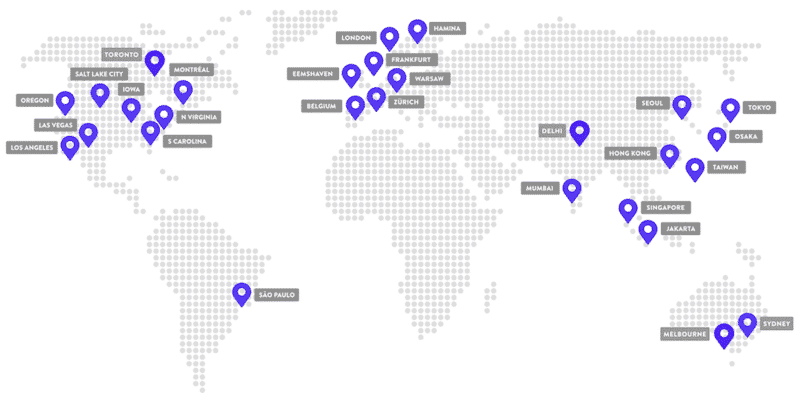 3. Use Kinsta's CDN (Powered by Cloudflare)
Since this year, Kinsta's CDN has been up to 40% faster than the previous one. The network spreads out through more than 200 cities! All your data will be definitively closer to your visitors with this new update. Kinsta says that their new CDN can improve site speed up to 44%. As you can see below, the loading time is better with the new Cloudflare CDN:


4. Use Kinsta's Cache
What is caching? It reduces the amount of work required to generate a page view.
Why should you use cache? That's simple: caching makes WordPress websites faster and reduces the load on your web server. Every site hosted at Kinsta utilizes four different types of automatically applied caches, namely, Bytecode, Object, Page, and CDN cache.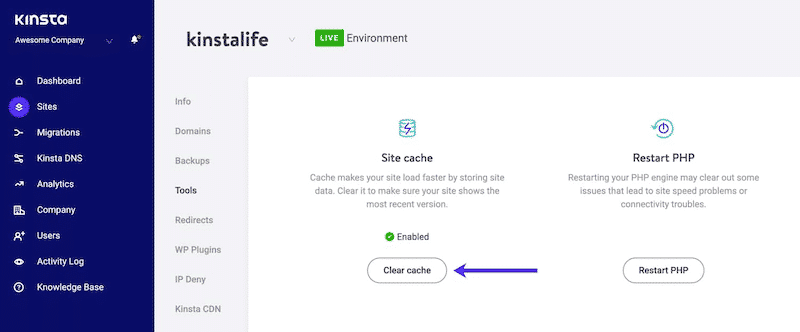 5. Take Advantage of Kinsta's Built-In Application Performance Monitoring (APM)
You can use Kinsta's APM tool to monitor and optimize WordPress sites, ensuring that they're always running smoothly. It also allows you to debug your website much faster as you can pinpoint where the issue is coming from: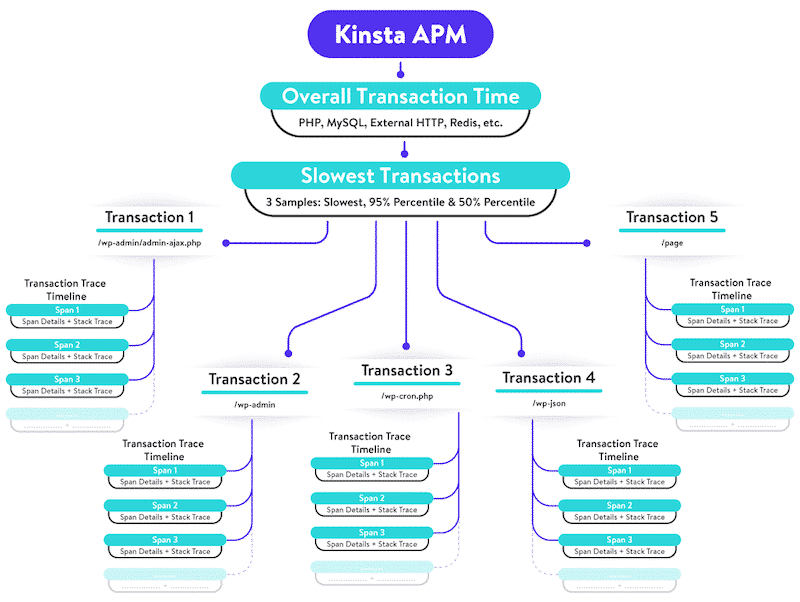 6. Benefit From An Intuitive Platform Designed For WordPress
We've seen that Kinsta's mission is to give WordPress users a performance-focused hosting experience. But Kinsta comes with other benefits: it also provides an ergonomic platform allowing you to install WordPress with one click, access straightforward staging areas, and easy upgrade to the latest PHP version, for example.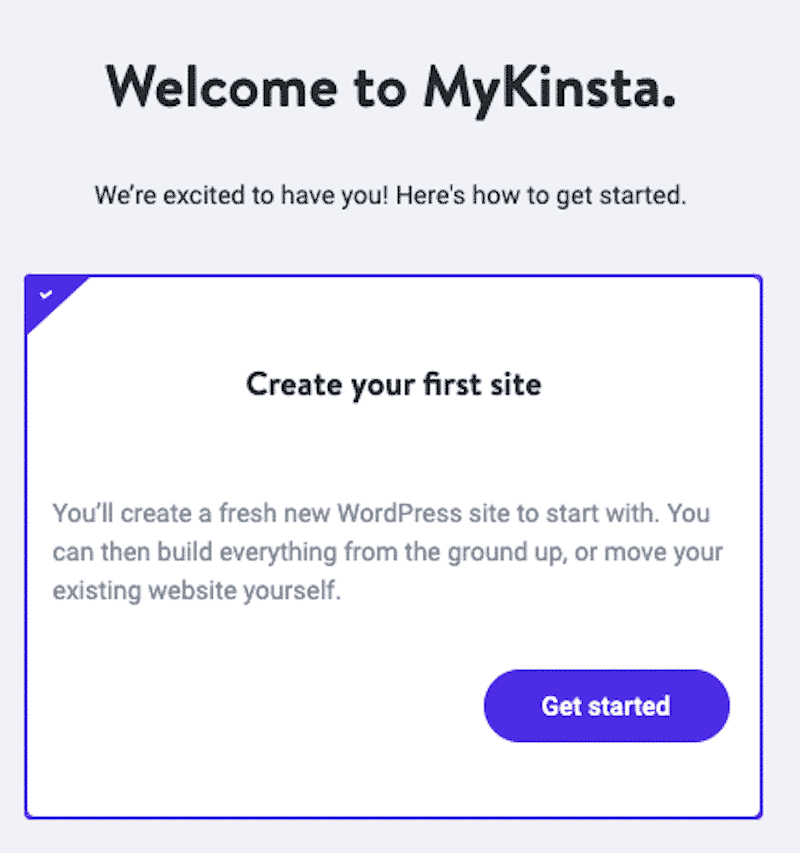 All my WordPress sites can be gathered in the same interface, which is very helpful: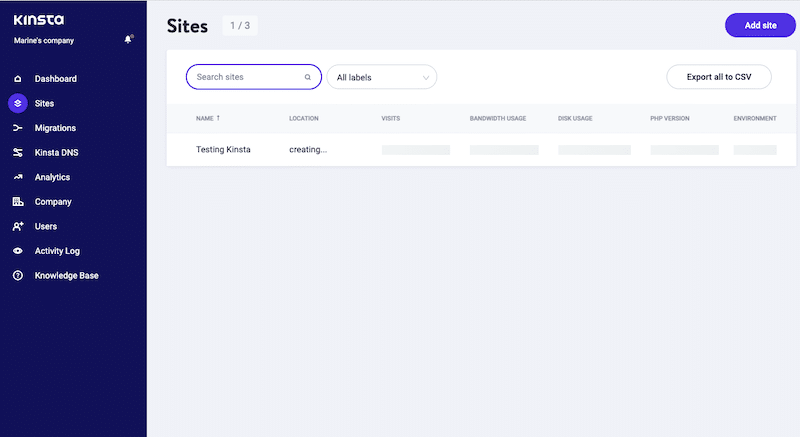 And last but not least, you have access to 24/7 support, daily backups, and ultra-secure servers. Kinsta checks the status of your website every two minutes, meaning that the support can be proactive if an issue comes up.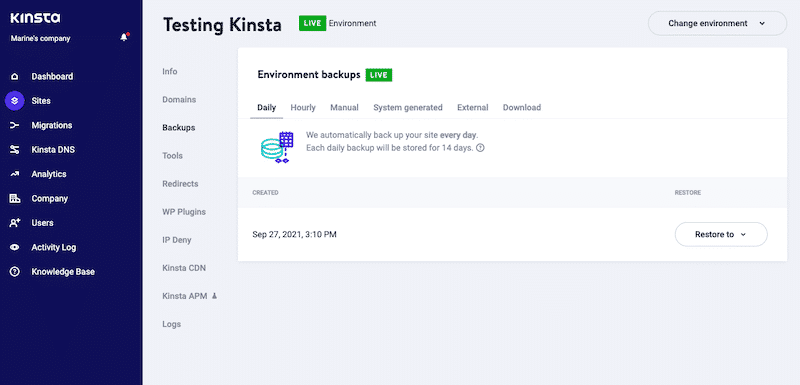 7. Speed Test: How Fast is (Really) Kinsta?
We'll be using Google PageSpeed Insight to test the performance of my WordPress site hosted on Kinsta. We'll also use WebPageTest to measure the "fully loaded time" metric. Both tests will be simulated from mobile devices.
There will be two scenarios:
Scenario #1: measuring the performance of my mobile site with a few paragraphs (no images) and the 2021 theme installed.
Scenario #2: Measuring my mobile site's performance using Astra and Elementor (a realistic homepage with texts and images).
Scenario #1:
My mobile score is 99/100 (100/100 on desktop). My website is pretty empty, so I was not expecting any better from Kinsta.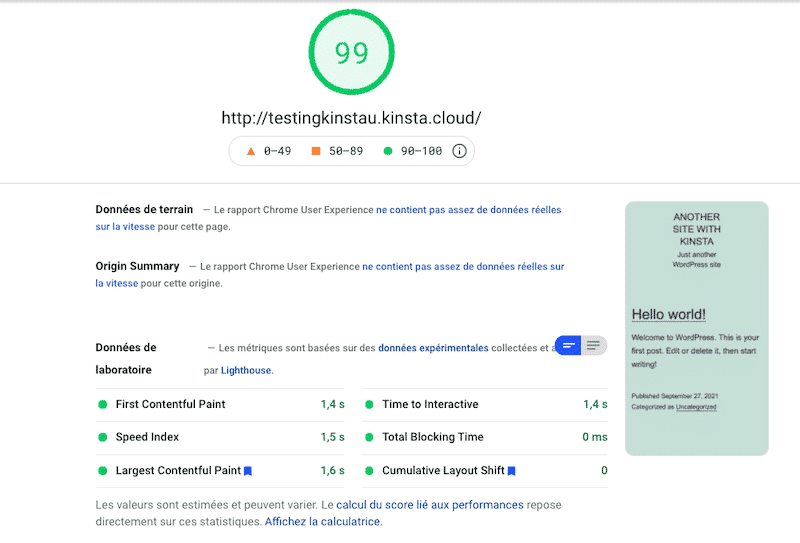 The fully loaded time and HTTP requests metrics are also very good, making sense as my page is almost empty.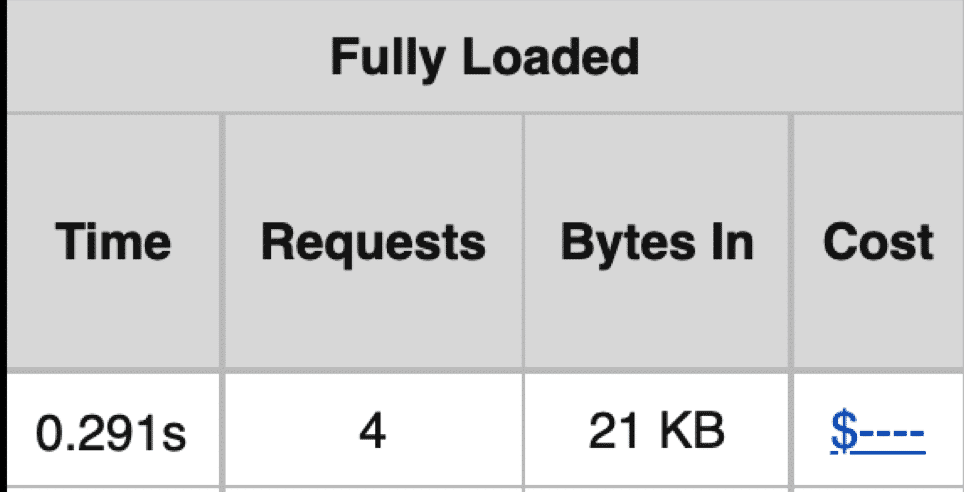 Let's move to scenario #2, with Elementor installed and more content added to my page.
Scenario #2:
We are now using Elementor, videos coming from YouTube, images, icons, and much more content than before. As a result, my score went from 99 to 82/100 on mobile (which was predictable as we added some content without optimizing it).

✅ Important note: Kinsta maintains a green score on desktop (91/100) even after adding loads of content.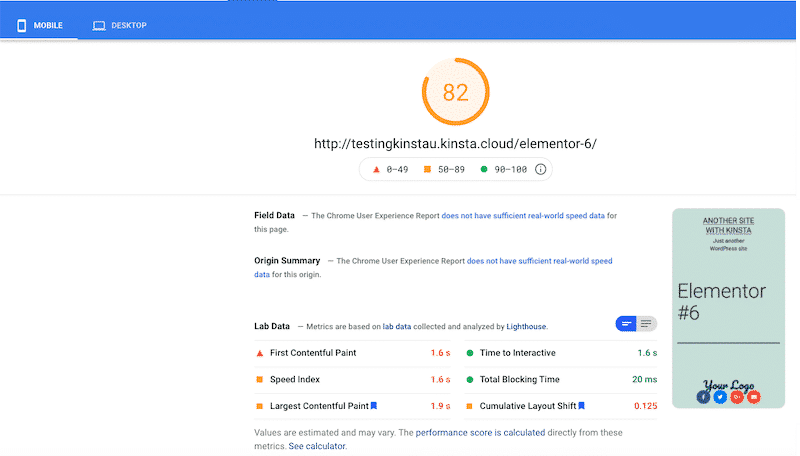 According to Google PageSpeed Insights, most of the issues are coming from unoptimized JS and CSS and some third-party code: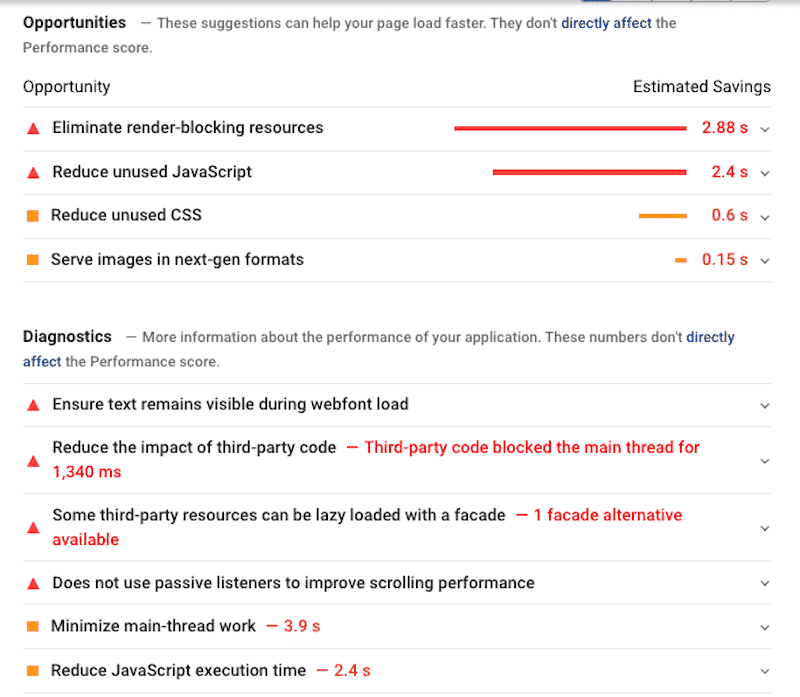 You want your website to load within three seconds; Kinsta is just on that limit (2.587s). The number of HTTP requests is 56, which is a healthy number – the average on the internet is 70.

You can read more about the recommended amount of HTTP requests in our dedicated guide.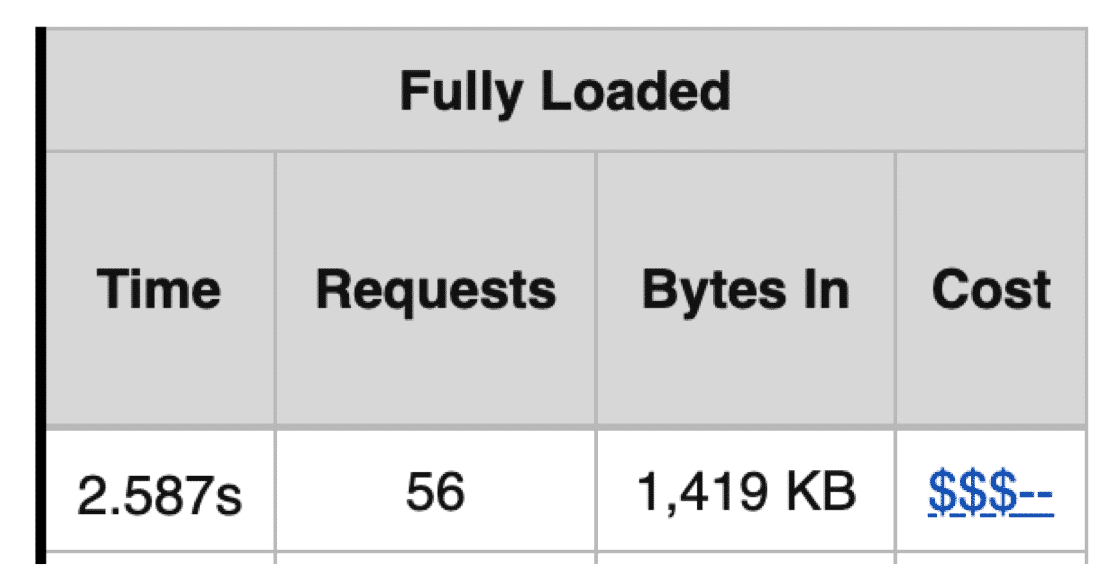 With Kinsta, my WordPress site maintained a great performance on desktop but was impacted on mobile. The hosting provider is definitively fast and powerful. However, the issues related to third-party code or eliminating render-blocking resources were not fully addressed by Kinsta. This is where the WP Rocket's magic comes in!
That takes us to the next section: how Kinsta and WP Rocket can help achieve a 100/100 score on mobile.
Why WP Rocket is a Great Match for Performance
The WP Rocket plugin is fully compatible with Kinsta's hosting environment. The thing is, Kinsta already comes with its caching feature. As a result, WP Rocket won't be needed to cache your content, BUT it will be needed to optimize your code and maintain your Core Web Vitals in the green zone.
Let's see how WP Rocket can help improve the performance of your WordPress site.
1. What to Keep in Mind When Using Kinsta and WP Rocket
The first thing to remember is that the page caching feature of WP Rocket is automatically disabled to prevent conflict with Kinsta's caching. That being said, Kinsta (and us) still recommend you to keep the "caching mobile" box checked:


Kinsta's CDN is powered by Cloudflare therefore it will work automatically with WP Rocket – there are no options to activate. Checking the "Enable Content Delivery Network" option is no longer required.


What's more, Kinsta is fully integrated with Cloudflare so you don't need to connect the add-on with your account.


Now that you know the few options to tweak before using WP Rocket with Kinsta, we can explain how WP Rocket works and how it can easily help achieve our performance goal.
Google PageSpeed Insights measure performance (including the Core Web Vitals), and very often, you'll see those recommendations: "Eliminate render-blocking resources by delivering critical JS/CCSS in line and deferring all non-critical JS", "Reduce unused JS and CSS", and such.
A lot of improvements are leaning towards cleaning up your code and optimizing your files. WP Rocket helps you to do just that in a few clicks thanks to the dedicated "File Optimization" tab, directly accessible from your WordPress dashboard: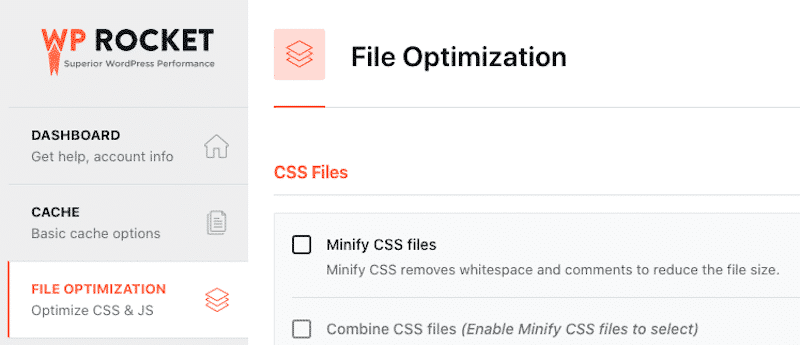 Let's go over each section so you can see how Kinsta and WP Rocket complement each other.
2. Reduce Unused CSS
Reducing unused rules from stylesheets and deferring CSS not used for above-the-fold content will decrease network byte consumption and improve your site speed.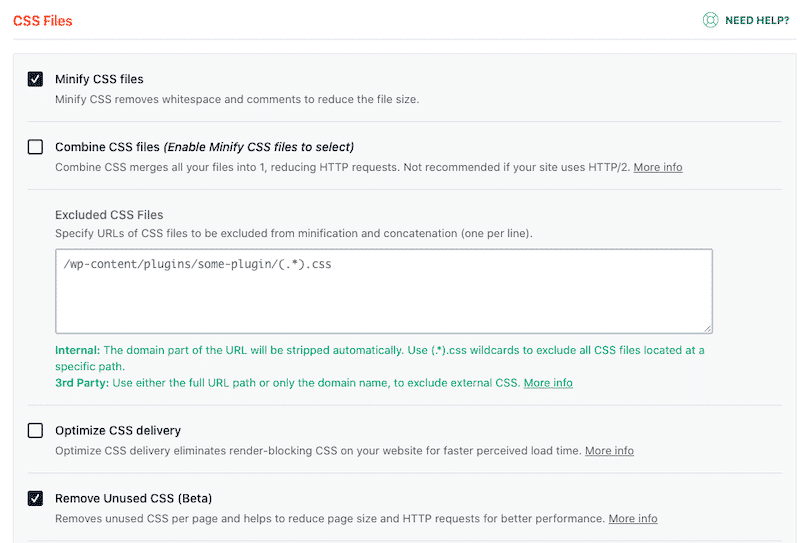 3. Optimize CSS Delivery
Another way to eliminate render-blocking CSS is to optimize CSS delivery. This will improve the perceived load time for your users.


Important note about the CSS Delivery: Optimize CSS delivery should be only used if Remove Unused CSS doesn't work for the user. Remove Unused CSS should always be the first choice.
4. Load JS Deferred
One major cause of slow web pages is the so-called "blocking script". If you load JS deferred, then you'll improve load time. WP Rocket can help you do so with one click:

5. Delay JS Execution
Another way to speed up your WordPress site with WP Rocket is to delay the execution of JavaScript. Reducing JS execution time is also crucial to maintain your Core Web Vitals healthy.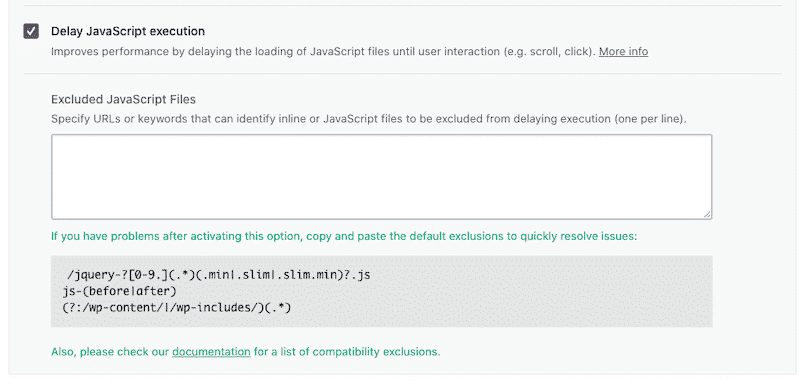 📖  WP Rocket improves your Lighthouse performance score by optimizing your Core Web Vitals. The Largest Contentful Paint (LCP) KPI is directly impacted if you choose to defer and optimize the JS and CSS of your WordPress site.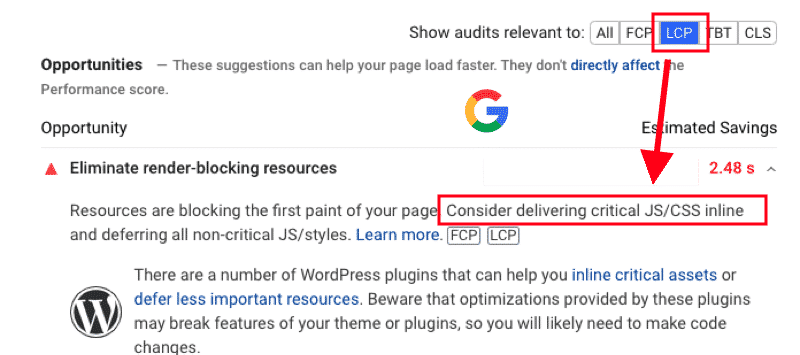 Another way to defer less important content is to apply a lazy load script on it. Again, WP Rocket can easily help you do this. Let's see how.
6. Implement Lazy Loading
The basic idea of lazy loading is to load images or iframes only when users need the content: they won't have to wait for all elements to load. Enabling and disabling lazy loading manually can be a time-consuming task. WP Rocket can help you save time and apply the lazy load script automatically where needed.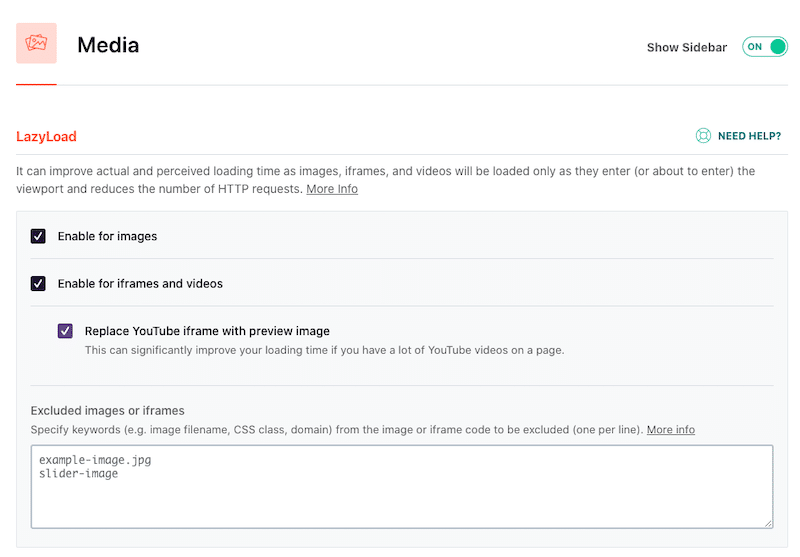 One more time, WP Rocket helps to improve the Core Web Vitals and gets a good score according to the PageSpeed Insights recommendations. PSI advises us to use lazy loading and defer offscreen images to make room for the images above the fold.

7. Preload Prefetch and Preconnect
Under the "Preload" menu, WP Rocket gives you four preloading options, namely preload cache, preload links, prefetch DNS requests, and preload fonts. Some of them won't be useful to use with Kinsta so let's make the most of the options:
❌ Preload cache: don't check this option. It can reduce performance.


✅ Link preloading: this option starts to download a page when a user hovers over the link. This increases the perceived load time by the user.


✅ Prefetch DNS requests: this feature will give a little boost to your mobile website. DNS prefetching is a great way to improve your website's performance by resolving domain names in the background before users click on anything.


✅ Preload fonts: this option allows web browsers to discover the font before they are discovered in your CSS file.


WP Rocket applies the attribute rel="preload" which is another recommendation from PageSpeed Insights to maintain a healthy FCP and LCP as seen below:

8. Database Optimization
Under the "Database" menu, WP Rocket gives you all of the tools to keep your posts and comments in high-optimal shape. You can choose to perform clean-ups for posts, comments, transients, and your database table. You can also schedule a clean-up if you want to.
All the Database optimization options work well with Kinsta, and they also provide this feature using Innodb.
9. Additional Optimization Features
There is more. WP Rocket comes with many other features to improve the speed of your website. This is what happens to your WordPress site upon activation of WP Rocket:
GZIP compression is activated, meaning that the size of your files decreases, and your visitors access your content quicker.
The number of HTTP requests is reduced, which makes your site load faster.
Your media files are loaded only when needed to save bandwidth
Missing width and height attributes to images are added. This helps prevent layout shifts, improve your CLS score and provide a better user experience. .
How To Speed up Your Site With Kinsta + WP Rocket
If your WordPress site is hosted on Kinsta with WP Rocket activated, then you are increasing your chance to take your website to the speed of light.
Let's run a performance audit.
We'll use Google PageSpeed Insights and WebPageTest to measure the mobile performance. My test site is a travel agency built with Elementor and Astra.
Scenario #1 – My test site hosted on Kinsta – No WP Rocket
Using Google PageSpeed Insights (mobile performance)
Without conducting any optimizations, my test site hosted by Kinsta remains pretty fast on mobile (82/100). However, some of my Core Web Vitals moved to the orange color.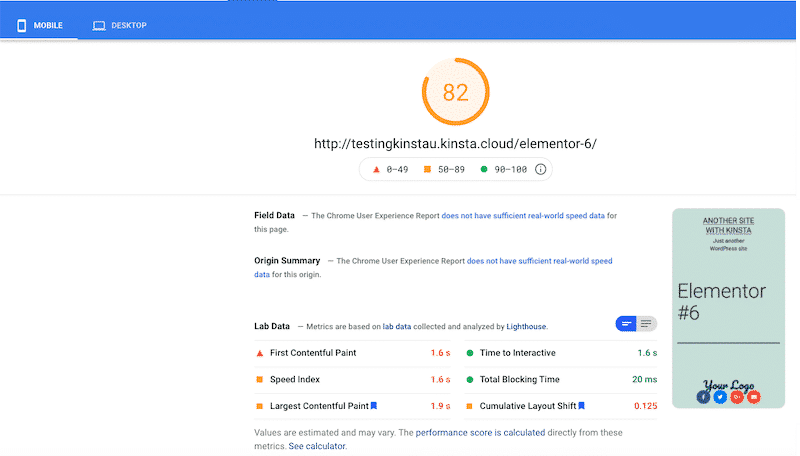 The fully loaded time and the number of requests are acceptable, confirming Kinsta is a fast hosting provider.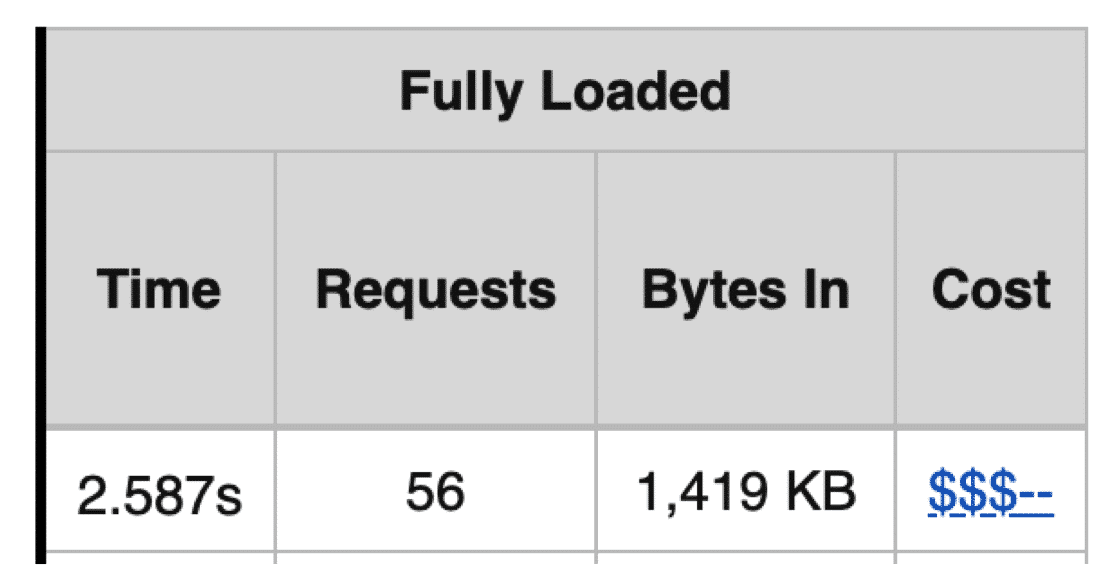 | | |
| --- | --- |
| KPIs (Mobile performance) | Score (No WP Rocket) |
| Overall grade | 82/100 |
| Fully loaded time | 2.587 s |
| HTTP requests | 56 |
| FCP | 1.6 s |
| SI | 1.6 s |
| LCP | 1.9 s |
| TTI | 1.6 s |
| TBT | 20 ms |
| CLS | 0.125 |
Scenario #2 – My test site hosted on Kinsta – 🚀 with WP Rocket
Using Google PageSpeed Insights (mobile performance)
The results are impressive: we are getting 100/100 on Lighthouse! All my Core Web Vitals are green, the Cumulative Layout Shift and the Total Blocking Time have been reduced to 0.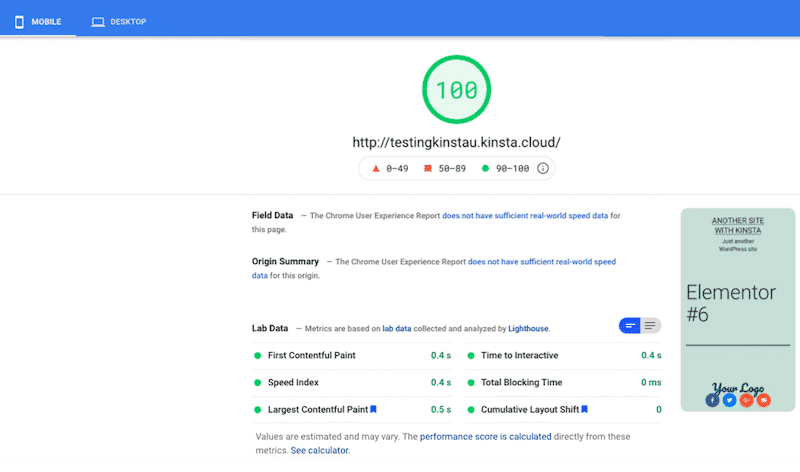 Two other metrics (HTTP requests and the fully loaded time) have also been significantly reduced thanks to WP Rocket (from 3.5 s to 1.5 s and 56 requests to 17).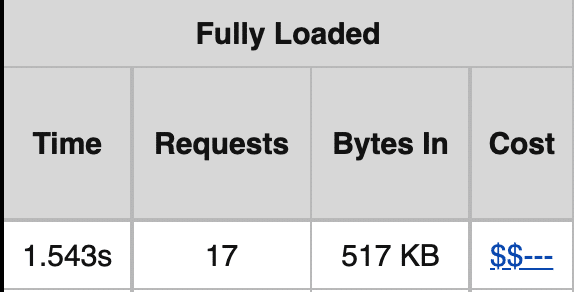 And here is the performance overview that we summarized in a table:
| | | |
| --- | --- | --- |
| KPIs (mobile performance) | Score (no WP Rocket) | Score (🚀 with WP Rocket) |
| Overall grade | 82/100 | 100/100 |
| Fully loaded time | 2.587 s | 1.543 s |
| HTTP requests | 56 | 17 |
| FCP | 1.6 s | 0.4 s |
| SI | 1.6 s | 0.4 s |
| LCP | 1.9 s | 0.5 s |
| TTI | 1.6 s | 0.4 s |
| TBT | 20 ms | 0 ms |
| CLS | 0.125 | 0 |
Wrapping up
Kinsta provides premium managed WordPress hosting services to businesses using only premium data centers located around the world. This ensures optimal uptime while protecting customer sites from DDoS attacks or other interruptions during peak hours of usage.
If you combine Kinsta with WP Rocket, you get the best of both worlds: fast hosting with a built-in cache solution and a WordPress plugin that boosts your site's performance and makes your Core Web Vitals go to the green (100/100 by Lighthouse)!
| | |
| --- | --- |
| Getting 82/100 on mobile with Kinsta | Getting 100/100 on mobile with Kinsta and WP Rocket |
| | |
As we saw in our performance audit, WP Rocket is one of the easiest ways to improve your PageSpeed Insights score.
And the good thing is, you don't take any risks: you have a 14-day money-back guarantee when you buy WP Rocket.

Are you a Kinsta and a WP Rocket user? Tell us how things are going for you in the comments below.
---