ECommerce is a rapidly growing industry.
The convenience of shopping from your home on your mobile device is something that the brick and mortar retail industry just can't compete with.
In fact, it is estimated that by 2040, we will see 95% of all shopping occurring through an eCommerce platform. In the US alone, eCommerce retail revenue is estimated to hit more than $735 billion by 2023.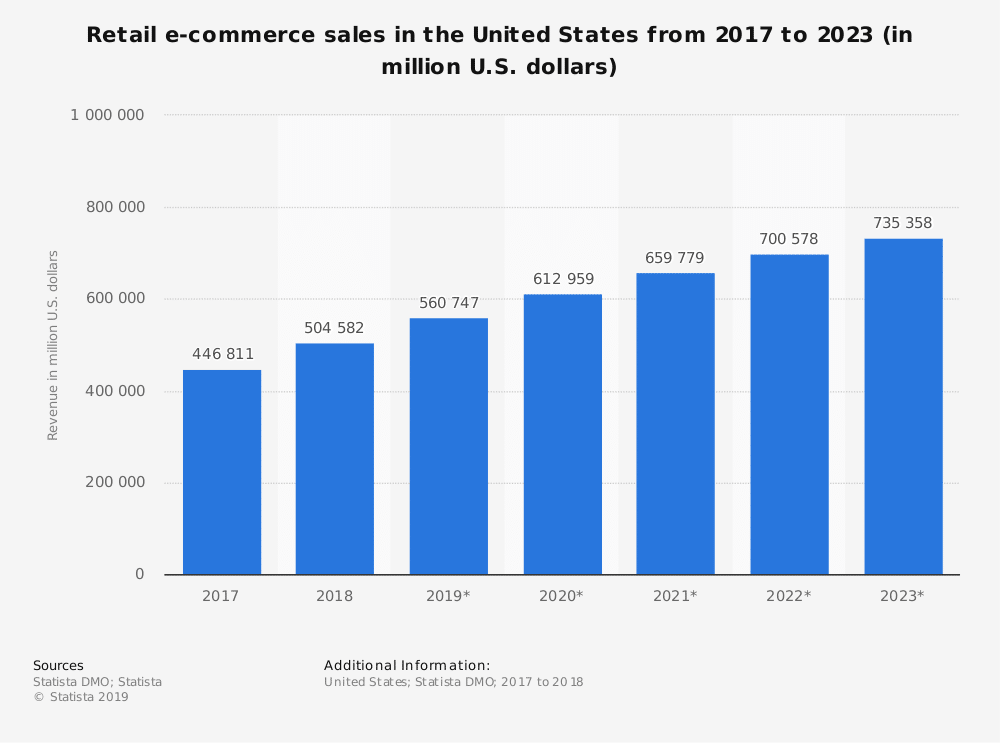 That means if you're going to start a successful retail business, you had better make sure that you have some kind of eCommerce component.
To succeed in the world of eCommerce, you first have to build a custom eCommerce website.
But what is that going to cost?
In this article, we're going to examine the various factors contributing to the cost of eCommerce website design in an attempt to help you create a realistic budget for this major step.
Cost Factors
Unfortunately, there's no simple answer to the question, "how much does an eCommerce website cost?"
The most common answer you're going to get is the infuriating, "Well, it depends…"
Based on what you're looking for, you can expect to pay anywhere from $1,000 to $1 million for your eCommerce site.
Of course, those are the polar opposite ends of the spectrum.
Realistically, you have to be able to look at your long-term goals, determine what kind of features you'll need to achieve them, and develop a budget with all of that in mind.
Here are some of the major factors that you should keep in mind when determining how much you can realistically spend on your eCommerce website:
Content
Content is vital to the success of your website, and it's not free. Content needs to be engaging and optimized if it's going to draw people to your site.
While some businesses want to develop their content in-house or write it themselves, others will outsource content production to an outside agency.
Unless you or someone in your organization is a professional copywriter with a background in SEO writing, it is not recommended that you try to tackle this on your own.
eCommerce Platform
From WooCommerce to BigCommerce and Shopify, there are a large number of eCommerce platforms to choose from. Some of them take a percentage of sales, while others might require a subscription fee. Different platforms will have different policies on payment processing as well.
All of these factors have to come into play when trying to determine the potential Return on Investment (ROI) for your website.
Marketing Efforts
One of the biggest ongoing expenditures for your website will be marketing. Whether you're optimizing the site for SEO or running promotions connected to social media ads, Google Ads, and other marketing platforms, your marketing budget has to be factored in when you're considering how much you're going to be able to pay for a custom website.
When selecting your marketing channels, it's important to remember that you have to choose platforms frequented by your target audience.
Target Audience
Everything has to be optimized specifically for your target audience. If you're serving a global audience, you want to make sure that your website hosting will be able to handle the traffic that comes along with it. That's going to seriously increase your hosting costs, not to mention ongoing maintenance and improvements.
It is recommended that you go through extensive demographic research to determine who your target audience is, what they do, where they live, and what they enjoy.
Profitability
What are your realistic goals in terms of sales? How much do you have to sell in order to break even or generate a profit? You don't want to build a website so expensive that you'd have to have the greatest fiscal year in history to generate a return.
Development Costs
There are three factors that people look at when designing a website.
The time it takes to create the site
The quality of the site
The cost of the site
In an ideal utopia, every website would be fast, good, and cheap. Unfortunately, this is not an eCommerce fairy tale.
In reality, you can't have it all.
This is known as the trade-off triangle. You can only pick two out of the three sides.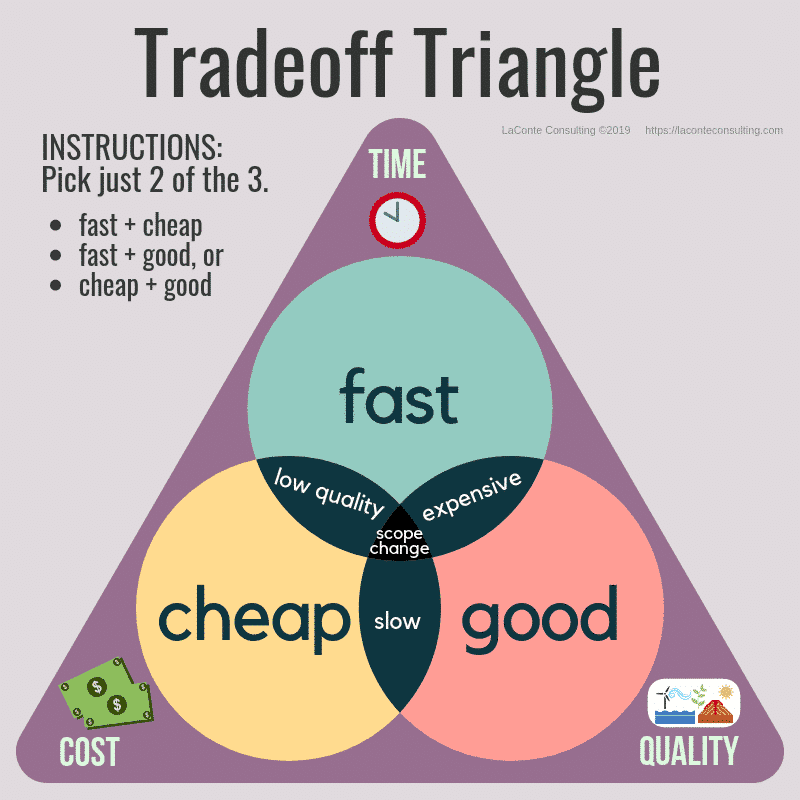 Here are the various cost factors associated with the development of any eCommerce website.
Domain
Your domain name is important. If it's something short and catchy, it's going to be a lot easier to draw people toward.
Your domain name is the first expense you're going to encounter. This can be anywhere from $5 to $15 per year, depending on the domain you choose and which platform you go through.
Your website builder or CMS might actually give you a free domain for the first year when you sign up.
Content Management System
One of the most important decisions that you can make is the Content Management System or CMS that you use for your online store.
A CMS platform often doubles as an eCommerce website builder. It allows you to create content and publish said content on your website.
The most popular CMS on the planet right now is WordPress, which powers more than 35% of the entire internet.
A WordPress website can also be used for an eCommerce store. WooCommerce, one of the most popular eCommerce plugins developed for WordPress, powers the 26% of the top 1 million eCommerce sites on the internet.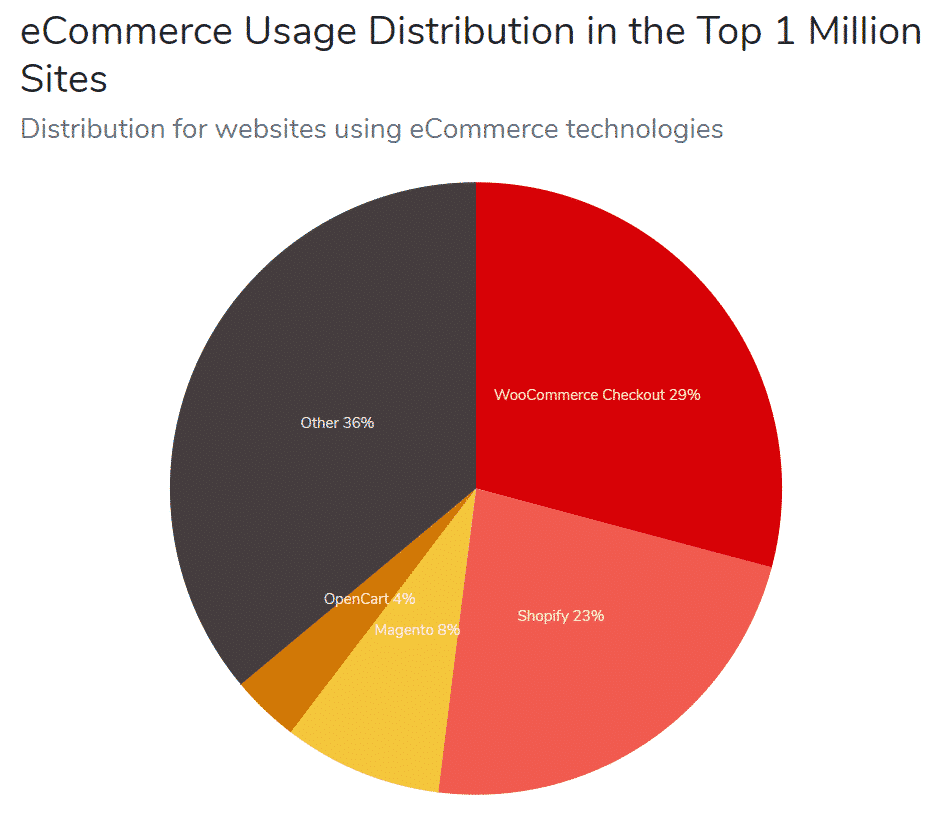 Other popular eCommerce CMS platforms include Shopify, Magento, OpenCart. BigCommerce, and many others.
Your content management system could cost as low as $0 per year or as high as $15,000, depending on your choice.
Hosting
Web hosting services are typically straightforward and easily included in your eCommerce website budget that doesn't require a lot of guesswork.
You have to make sure that you choose a hosting platform that can provide you with the level of functionality you require.
Some factors to consider when choosing a hosting provider include traffic and storage needs.
You can choose shared hosting, where you're sharing server space with other subscribers, or dedicated hosting, wherein you have an entire server for just your website.
Learn more about the differences between shared and dedicated hosting.
The hosting cost for your custom eCommerce website should be between $20 and $250 per month, but it could get as high as $300 depending on the storage and traffic you're going to need.
Web Design Costs
The bulk of your eCommerce website development cost is going to be wrapped up in the actual website design.
Paying a professional, whether they're a solo freelancer or a web design company, is always a good bet.
While a site builder like WordPress makes it easier than ever to design your website, it's still a task best left to professionals when something as important as eCommerce is involved.
Your designer is charged with developing the user experience of your website. The user experience should reflect the issues and needs of your target audience and provide them with a clear solution.
To put its importance into perspective, the user experience has a direct impact on how likely your prospects are to make a purchase.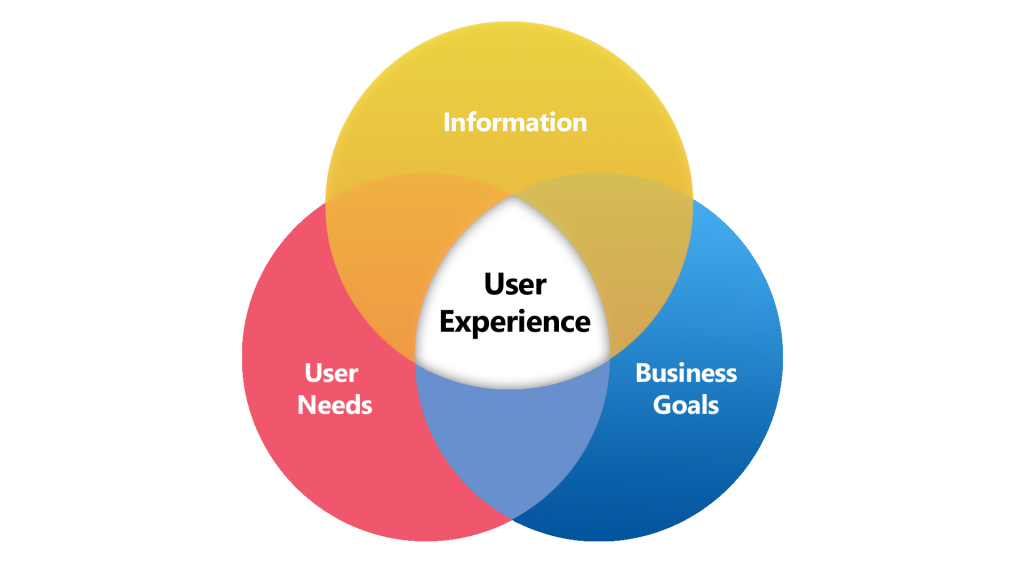 By developing an intuitive user experience that loads fast and is free of errors, your website will have a larger chance for success.
Another factor that goes into the cost of your site's design is whether you're using a custom theme. With WordPress and other popular CMS platforms, you can have a standard or premium theme that will customize your site's look and feel. You can use a WordPress theme, a Shopify theme, or even a WooCommerce theme to take a lot of the coding work off the table.
A skilled web designer can alter an established theme to add some uniqueness to the site they're creating. However, you still run the risk of looking too similar to other websites running off the same theme.
Web designers can also create custom themes, but they come at a higher cost.
The cost of the actual eCommerce website development and/or theme creation can run you anywhere from $250 to $20,000, depending on the intricacies and features that you want to have implemented.
ECommerce System
Implementing your eCommerce system is another pivotal step in the eCommerce website creation process. You want to find the best eCommerce plugin for your specific business.
The cost of your eCommerce functionality depends on what you're looking for in your online shop.
Building out the functionality of your eCommerce platform is going to run somewhere between $500 and $5,000, depending on the scope of the project.
Media Costs
ECommerce websites need media. Whether it's product images, customer testimonial videos, or how-to instructional content, you're going to have to invest in some media and graphic design.
This is one of those areas where it's important to allocate some budget. The aesthetic appeal of your site goes a long way toward encouraging conversions.
High-quality images are needed for every product page. You might want to consider hiring a professional photographer. Of course, it's important to remember that high-quality images can place a large burden on website performance, including speed. That's why it's important to optimize your images for maximum site performance.
Your logo is another factor that has to be worked into your media budget. It's vital to the look and feel of your brand.
Expect to pay anywhere between $500 and $2,000 on photography and graphic design elements. If you're adding video production and other interactive media on top of that, costs could climb as high as $10,000.
Copywriting Services and SEO
You can't skimp on copywriting services.
Your writing should be engaging and appeal directly to your target demographic. That's why it's important to make sure you have the best writer or writing team around.
This is a service most businesses outsource for, as it is often combined with digital marketing, like SEO.
SEO stands for Search Engine Optimization, and it is a series of on and off-page content tweaks coupled with link building efforts that directly impact your standing on popular search engines like Google.
It's a good idea to optimize the site for SEO as it is being built and to write your content with an SEO plan in mind. You're also going to need a team of SEO experts working together to ensure that you're optimizing the site the right way.
Too many people believe SEO is just keyword stuffing. There's a lot more that goes into it. You have to be able to optimize while writing naturally. Your site performance is also a major part of your SEO score.
Copywriting costs anywhere from $50 to $500 per page, while SEO is an ongoing process that typically runs between $300 and $2,000 per month.
Ongoing Maintenance and Support
Your site will eventually need maintenance. Plus, as time goes on, you're going to want to update the site elements, adding new and exciting features for your audience based on their preferences.
That means you'll have to build ongoing website maintenance into your annual budget.
It's typically a good idea to allocate anywhere between $500 and $1,300 per year based on the number of updates you're going to require. 
Summary
Opening a brick-and-mortar store will cost in excess of $100,000 when all is said and done.
An eCommerce store can be much easier and more affordable. An eCommerce business is also considered a better long-term investment, given the direction the retail market is swinging.
A basic website with eCommerce functionality will cost somewhere between $2,000 and $6,000 in all if you're keeping things on the lower end.
By understanding the factors that contribute to your eCommerce site's overall cost, you can develop a smart budget that takes ROI into account.
---