If you're selling products or services on WordPress through WooCommerce, it makes sense to have a product review plugin at the ready.
You want to give your customers an opportunity to leave honest reviews and, if your products and services are at the level they should be, this will create a series of glowing recommendations that will assist in sales for years to come.
But which plugin do you need?
That's the million-dollar question. And there are seemingly a million answers for it. (Not really, but there are a lot!)
We want to make sure that the people using WP Rocket to improve their WordPress website performance have all the tools they need to create a well-rounded website and online store outside of the services that we offer.
That's why we've outlined some exceptional review plugins that will help you take your online retail experience to the next level.
So, why do you need a review plugin, and what's the best product review plugin for WooCommerce?
Let's get started!
Why Do You Want a Product Review Plugin?
ECommerce websites don't come cheap. That's why you want to make sure that you're offering your customers the best possible experience in a way that will appeal to them and move your products more effectively. You need to make that investment back quickly and move on toward profitability.
But what do product reviews have to do with that? Aren't you just giving disgruntled customers a platform to bash you on?
Not necessarily.
People want to see reviews. It's a proven fact backed up by numbers. More than 72% of customers in 2020 won't take action and purchase until they've read reviews of a product or service. On top of that, 15% of users flat out mistrust businesses that don't feature reviews.
Consumers today don't trust corporate messaging. That's because they are constantly bombarded with advertisements on a daily basis.
So, while they're less likely to trust what a company has to say about its own product, they will trust what other consumers report back in a WooCommerce review.
Reviews are also a great way to sell products through social proof. That's a psychological phenomenon in which consumers copy the behaviors of others to achieve the same results.
So, if you're selling a weight loss plan through WooCommerce and you have reviews from satisfied customers who lost 20, 30, even 50 pounds while following your plan, that's going to push people to buy, thanks to social proof.
What are the Best Product Review Plugins for WooCommerce?
Now that we understand why WooCommerce stores need reviews, it's time to dive into what plugins you can use to perfect the customer review process.
It should be noted that WooCommerce on its own allows customers to leave reviews. But these features can be expanded upon with a quality plugin.
1. TargetBay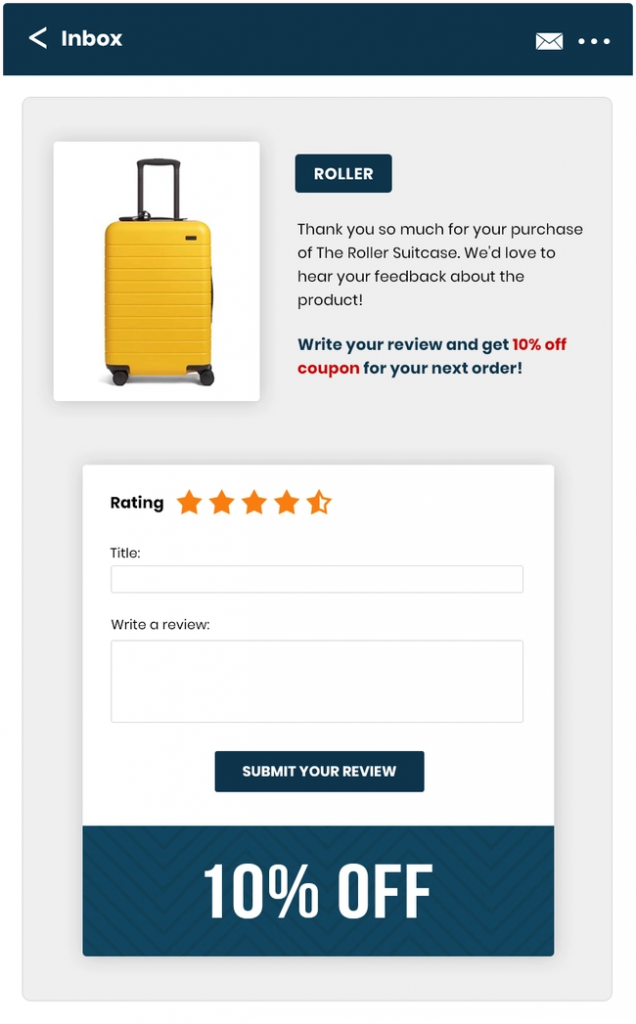 TargetBay Product and Site Reviews is our first stop on this tour through the best review plugins for WooCommerce.
Here is a comprehensive system that allows you to collect and manage your reviews while also making the review process more engaging and collaborative.
Customers will be able to ask questions about your products and services, which you can then answer. This helps not only the customer who posed the question but all subsequent customers who come through the product page.
It also includes an automated email tool that will help you collect reviews. After someone makes a purchase through your store, you can send out an automated email thanking them for their purchase and requesting a review at set intervals. You can also send out a review reminder if needed.
When using TargetBay, users can add photos to their reviews, which can be excellent for social proof. People respond well to visual media like a photo review.
You can even reward customers who leave reviews by generating coupons for them as a thank you. Incentivizing the review process is a great way to build your review portfolio.
The premium plugin comes at the cost of $199 per year and is paid on an annual basis. It carries a 30-day money-back guarantee.
2. YITH WooCommerce Advanced Reviews
YITH is a WordPress plugin that will help you optimize your review section, making it more visually appealing and easy to navigate.
Remember, if it's not easy to leave reviews, people aren't going to leave them.
It also includes a feature that lets you filter your reviews and highlight any that you deem especially essential or helpful.
There's even an option that will allow your customers to enter into a conversation through reviews. That means new customers can ask questions and make comments regarding the reviews they read.
This is so incredibly useful from an eCommerce perspective. You're essentially turning your reviewing customers into sales associates.
Customers can also edit their reviews, which can work in your favor when it comes to bad reviews. Let's say a customer leaves a scathing review about one of your products, but the problem they are having is one that can be easily rectified. You can comment back to that customer on their review and offer to help them.
Typically, if you can solve their problem and make it up to them somehow, they will be more than willing to go back into their review and update their opinion. This also shows new customers that you have stellar customer service and are willing to make it right when things go wrong.
Using YITH, you're also able to include product ratings on Google search results. So, if your product page pops up on someone's search, they will be able to see that your product is rated five stars. This might be the catalyst for them to click on your link over that of a competitor.
A subscription to YITH for a single WordPress site costs $79.99 per year. You can up that to six sites for $199.99 or 30 sites for $299.99.
3. WooCommerce Product Reviews Pro
WooCommerce Product Reviews Pro can perform enhancements on the default reviews already included with WooCommerce.
What does that give you?
For starters, you're going to get more capabilities and discussion options. As we've pointed out before, the ability to create a discussion effectively deputizes your customers and lets them do all the selling for you through quality interactions.
You're also able to add filters to your WordPress review management process, making it easier and more smooth. This is important when your reviews start to pile up. It's also helpful for finding and rooting out spam reviews that are trying to promote another service.
This rating plugin gives you the option of adding qualifiers to the review form.
Review qualifiers are questions that can be included, like "how did this item fit?". It makes your reviews more streamlined. You're able to guide your customers to talk about some of the major selling points you've outlined.
Customers can also include both photos and videos with their reviews. Know what's better than a picture of someone successfully using your product? A video of it!
Your reviews can easily become testimonial videos, which are the gold mine of customer reviews.
People retain more of what they see in a video than reading on a page. The average retention rate for videos is 52%. On the other side of the coin, people only retain 10% of what they read on average.
This is another service that will allow customers to update their reviews, providing you with an opportunity to be rewarded for excellent service.
This rating plugin costs $79 per year, billed annually, with a 30-day money-back guarantee.
4. JetReviews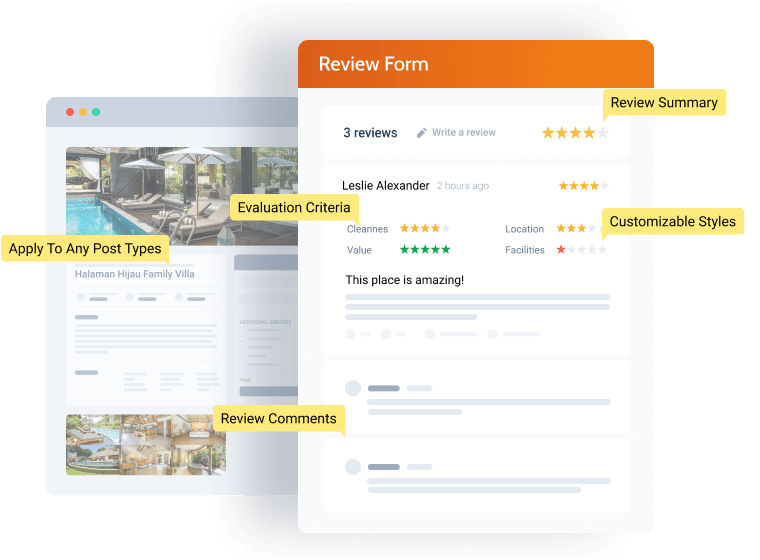 JetReviews is the product reviews plugin for WooCommerce and Elementor. This plugin has a wide range of valuable features to help you increase audience engagement.
For starters, JetReviews has a responsive layout and doesn't slow down your website.
There's a clean dashboard to moderate comments list, review list, review states, and let users upvote/downvote comments or reviews. Your customers will be able to rate your product or service by the predefined criteria. They can also leave likes or dislikes with streamlined voting.
On the other hand, you can assign verification types, make reviews transparent, set custom queries, and more. You can use different ratings, including stars, points, percentages, and more, so it helps to share visitors' thoughts effectively. Of course, you can also show average ratings, total reviews, reviews ranking, etc.
This plugin helps to replace the default WordPress commenting feature, which has limited functionality. You can add dynamic and static reviews to any product or service page.
The plugin cost starts from $22 per single site and is paid annually. For sure, a 30-day money-back guarantee is available too.
5. Ratings & Reviews
Ratings & Reviews has a pretty self-explanatory name. It's a simple system that will help you approve customer ratings and reviews for your WooCommerce store and put them on display for all to see.
It creates a review section that is reminiscent of a comment section on a Facebook photo or news article. This is a familiar format that's very easy for customers to use.
Customers can also add photos and videos to their reviews, creating a whole new avenue of social proof for every product page in your store.
This plugin will also send you email notifications when a new user review is posted, allowing you to moderate quickly. This will help you weed out spam or abuse. Obviously, you shouldn't be afraid of a bad review, but something with suspicious links or profanity should be shot down as quickly as possible.
When moderating your online reviews, you can place them in whatever order you wish. This includes arranging them by highest rating, recency, or popularity. You can even sort them all manually if need be.
This is a more simplistic plugin than the others on our list, but it comes at a lower price, making it a good option for a startup WordPress store or small business.
Ratings & Reviews costs $29 per month, billed on an annual basis. It also comes with a 30-day money-back guarantee.
Wrapping Up
If selling items through a WooCommerce store is going to be a major part of your business plan, you're going to want to make sure that you have a stellar review WooCommerce plugin picked out before you launch the site. It's a choice that's right up there with picking the right WordPress theme in terms of importance. Don't forget to also pick the right WordPress caching plugin for your WooCommerce site and to read our guide out how you can speed up a slow WooCommerce store.
Any of the options we've highlighted here will generate a review section throughout your store that will serve as a platform for social proof and a means of generating more sales over time.
---