If you want to build your online presence and connect with potential clients, subscribers, fans, or anyone else, WordPress makes a great choice.

WordPress gives you all the tools you need to increase your online presence…and it does it without requiring any special technical knowledge. There's a reason why it's now used by over 35% of the world's websites.

But if you want to successfully grow your online presence with WordPress, there are some specific tips and strategies that you should implement to get the best results from your efforts.

That's what we're going to cover in this post – nine tips for how to increase your online presence with your WordPress site.
Nine Ways to Increase Your Online Presence With WordPress
1. Create a Blog to Draw People in With Content
There's a reason why almost every individual and business has a blog:

Creating blog content gives you a great chance to grow your presence by providing valuable content to your visitors.

For example, take the very blog that you are reading right now. We sell a WordPress performance plugin, but we also blog about general WordPress and business topics because we know that it's what our audience is interested in.

Even if our posts aren't directly tied to selling products, our blog still gives us a chance to connect with new people and grow our online presence.

It can do the same for you…

When you think about what to blog about, you want to consider this question:

What type of content would people who are interested in my product/service/etc also be interested in?

For example, if you sell swim training equipment, you might blog about how to improve swimming technique, training routines, etc.

Or, if you sell a software product for restaurants, you might blog about how to successfully grow and manage a restaurant.
2. Make Sure Your Site Loads Fast for a Good User Experience
If you want to successfully grow your online presence, you need to make sure your website loads fast. No, we're not just saying this because we sell a WordPress performance plugin.

We're saying this because there's tons of data that shows that slow-loading websites drive visitors away. For example, as your site slows down, its "bounce rate" goes up. Your site's bounce rate is essentially the percentage of visitors who leave your site without engaging.

And if you're trying to grow your online presence, having visitors leave right away is the last thing that you want, right?

So how can you make sure your WordPress site loads fast? Well, that's where WP Rocket comes in.

WP Rocket provides an easy way to implement almost all of the WordPress performance optimization best practices. Just install it, activate it, and your site will already be loading faster.

Then, if you want to go further, you can configure some additional settings to optimize your files, speed up media content, and just generally make your site even faster.
3. Nail Your Core Pages to Build a Connection
If you pay attention while browsing the Internet, you'll notice that almost every website has the same set of core pages, with the most universal page being "About".

Your "About" page is important because it's where you can build a connection with visitors, no matter where they come from.

Your goal here is to show the "behind the scenes" look at your personality/brand to better connect with your visitors.

For example, on our About page, we showcase our philosophy and team members (with lots of pictures).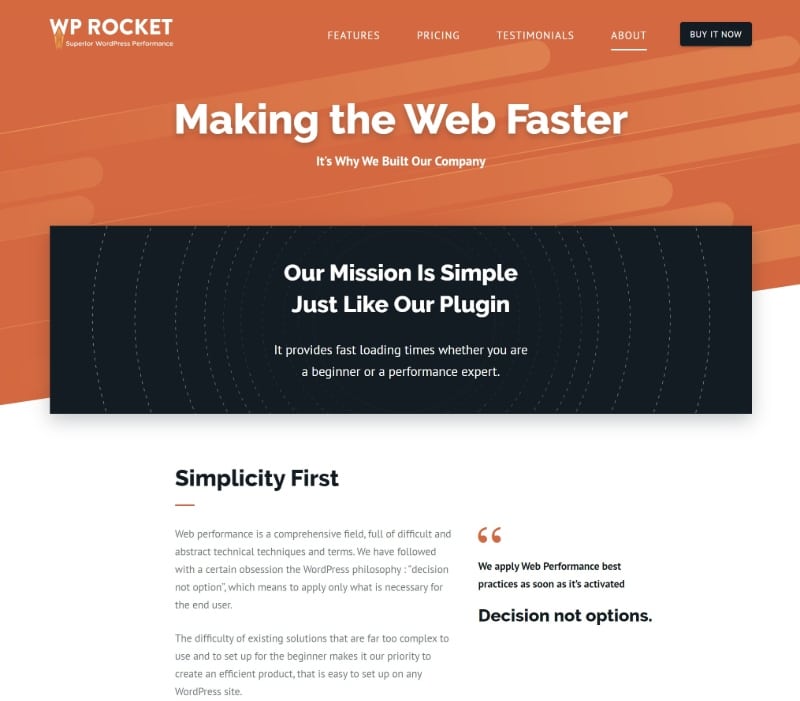 If your website is primarily a blog, it's also a great idea to create a "Start Here" page. You can use this page to link to your most important blog posts so that visitors can quickly get hooked on your best content.
4. Pick a Theme That Puts Your Best Foot Forward
Your WordPress theme controls how your site looks, so it's an important part of building your online presence.

You want to balance two things when picking a theme:
Usability
Brandability
Basically, you want to create a site that's uniquely branded and memorable…but you don't want to achieve that at the expense of usability.
For example, have you ever visited a site that looks really cool but is impossible to navigate? It's annoying, right? So don't forget to balance both aspects.
We can actually throw in a third element here – performance optimization. You also want to pick a theme that will set you up with a quick-loading foundation, for the same reason we discussed above.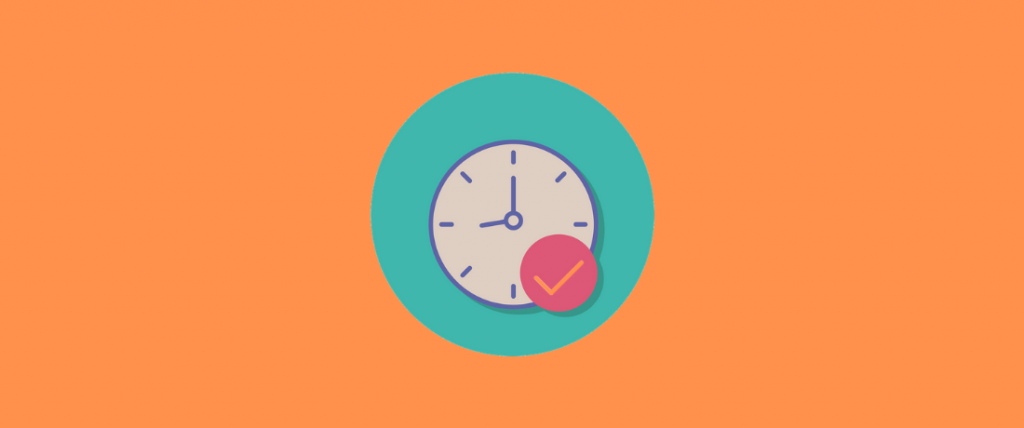 Confused about how to achieve all three? Don't worry! We collected some of the best, quick-loading WordPress themes here. All of them are free and most also give you tons of customization options to create the perfect website.
5. Add a Contact Form for People to Get in Touch
Once you've done the hard work of building your online presence, you want a way for visitors to get in contact with you.

After all, isn't the point of building an online presence to turn those anonymous visitors into subscribers, clients, contacts, etc?

To achieve that, you need a contact form – there's a reason why pretty much every website in existence has a contact form.

On WordPress, you achieve that with a contact form plugin. We use Gravity Forms on our contact page, but you can also find great free options like WPForms and Ninja Forms.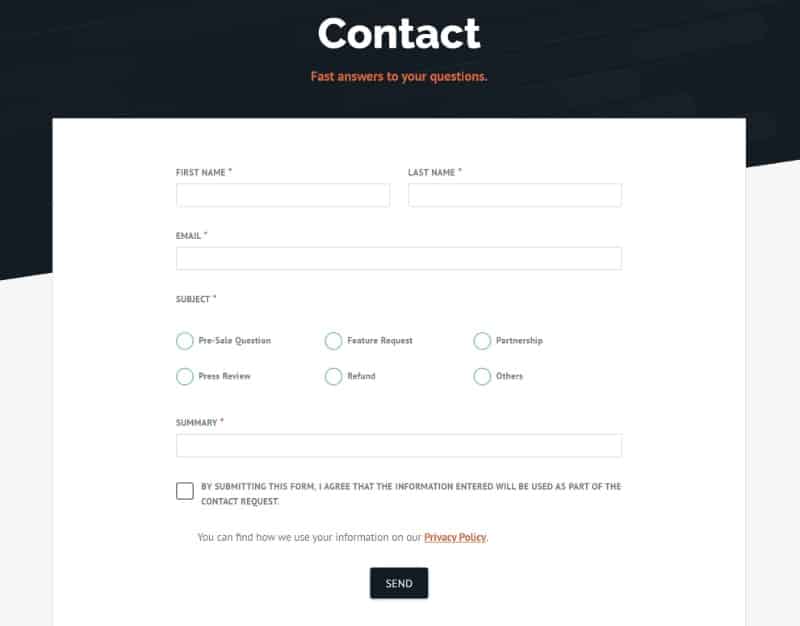 If you have a physical presence to go along with your online presence, you can also feature location information and maybe even a map showing people where they can find you.

With that being said, we'd recommend embedding an image of a map rather than the Google Maps embed itself. Remember – making sure your site loads fast is important!
6. Build an Email List for an Evergreen Asset
Your website is a great way to grow your online presence…but there's also a limitation that's inherent in all websites:

You have to wait for people to visit you before you can connect with them.

Building an email list changes that – it gives you a way to proactively reach out to your subscribers whenever you want.

That's why having an email list is so valuable. Google might decide to rank your website lower in its search results, your social media traffic might slow down…but nobody can ever take away your email list.

We understand that, which is why we put prominent email subscribe boxes on different parts of our site, including our main blog page: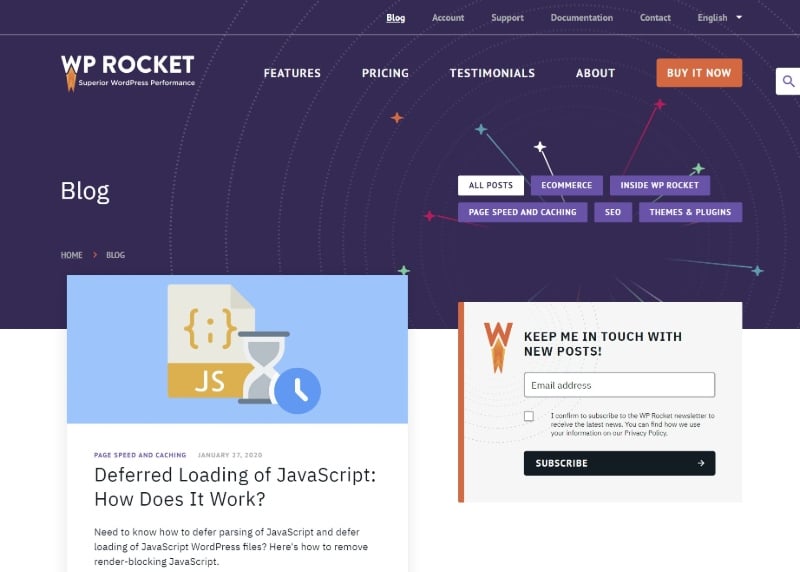 To create an email list, you'll need two things:
An email marketing service. Mailchimp is a great starting point because it offers a generous free plan.
A WordPress opt-in plugin. You can use the Mailchimp for WordPress plugin to create email opt-in forms on your WordPress site.
7. Optimize Your WordPress Site for Search Engines
We mentioned Google in the previous section, so now is a good time to talk about the importance of search engine optimization (SEO) if you want to build your online presence.

When most people are looking for something on the Internet, they kick things off with a Google search.

To make it more likely that content from your website appears in those search results, there are some strategies that you should implement, which is the whole point behind SEO.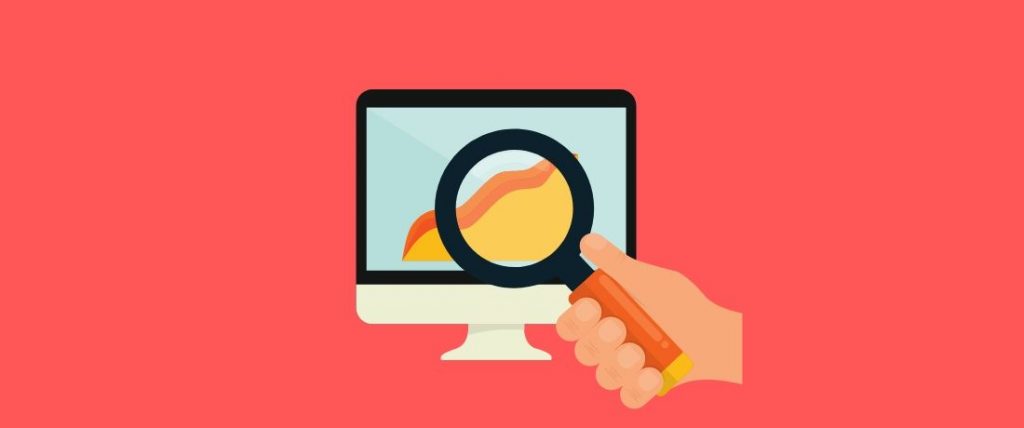 Mastering SEO is a complex endeavor that is a job all of its own, but there are still some basic SEO tips that you can implement that will make a big difference on where your site ranks:
Perform keyword research. This helps you find the exact phrases and keywords that people search for. You can use free tools like Moz Keyword Explorer for basic research.
Use a WordPress SEO plugin. These plugins help you implement basic on-page SEO optimizations. Good free options are Yoast SEO, The SEO Framework, and All in One SEO.
Learn about keyword optimization. You want to pick a main phrase (using keyword research) and naturally use that phrase several times throughout a piece of content.
If you want to dig into the topic of SEO in more detail, check out Backlinko's full SEO guide.
8. Be Active on Social Media (and Connect It to WordPress)
SEO isn't the only way to connect with new audiences – you can also harness the power of social media.

Create accounts on the networks where your target audience is active and post content that might interest your audience.

It's the same basic idea as your blog, but your content can be shorter and you can also curate content from other sources rather than just promoting yourself.

You can then integrate your social media efforts into your WordPress site using social follow and social share buttons. A free plugin like Social Snap can help you add both to your site.
Then, you can also read our guide about the fastest social sharing plugins for WordPress.
9. Connect With Other People in Your Niche
Finally, don't be an island! If you want to grow your online presence, one of the best things that you can do is connect with other websites in your niche.

A rising tide lifts all boats, and by connecting with others you can help each other grow.

For example, you could:
Write guest posts on another blog.
Cross-promote each other's content on social media or in blog posts.
Link to one another.
Etc.
Build Your Online Presence Today
Over 35% of all the webmasters on the Internet use WordPress for a reason: It provides the most flexible, easy-to-use way to build an online presence.
But WordPress by itself isn't enough – implement these strategies today and start building your audience.
Do you have any questions about how you can grow your online presence with WordPress? Leave a comment and let us know!
---