Do you manage many websites simultaneously and want to improve their web performance easily and quickly? Even better: do you run a web agency, and your clients keep asking you how they can optimize their Core Web Vitals and PageSpeed Insights score – and you don't have enough time to work on manual implementations? You'll be glad to know that the solution to your performance optimization issues can be quicker and much less stressful than you think.
WEBK SEO is a digital marketing agency focused on SEO and web performance. They have many clients, from eCommerce to editorial and corporate sites. Of course, all clients need a blazing-fast site. Keep reading and discover how WEBK SEO delivered outstanding web performance results and helped their clients grow their businesses – yes, we talk about conversion rate, too!
Everyone Wants (and Needs) a Fast Website
Bernardo Klock is the WEBK SEO founder. He starts explaining what business success looks like for his company.
He says: "WEBK SEO offers speed optimization and SEO services. Our company's success means helping clients achieve great SEO and speed optimization results – and not just for the sake of it. We succeed every time clients get a fast website that increases the number of leads and sales."
He goes on: "Nobody likes to browse on a slow website. It's annoying and affects the conversion rate. Depending on the niche of our customer's business, we can see a concrete improvement in the bounce rate once the site gets faster.
When we ask users what they liked about visiting a website on a list of ten options, speed is always one of the top three answers. Customer benefit is the main reason to make sites faster – it's even more important than getting a better ranking on Google."
What Does it Take to Optimize Multiple Sites?
Web performance optimization is not straightforward. If you want to optimize websites at a large scale manually, you should have strong technical knowledge – or you should hire developers, as WEBK SEO did at first. Bernardo explains: "When we needed some help to optimize our websites' clients, we used to hire freelancers. However, it wasn't the most convenient solution, and we started to look for the best caching plugin to fine-tune the performance optimization on our own".
At this point, Bernardo and his team did what everyone usually does: they started trying all free caching plugins out there. Rings a bell?
Bernardo says: "Some plugins were even pretty good, but we realized that a paid option could give us the extra gas to deliver better performance to our clients. We are a well-established company selling professional services, so why not buy the best plugin to deliver the most outstanding results?".
So, WEBK SEO started to look for the best caching plugin for WordPress. And the team came across WP Rocket.
The first thing the agency did was to test the WP Rocket homepage. According to Bernardo: "If you test the WP Rocket homepage, you'll see an outstanding result. It's lightning-fast – and that's impressive. We realized that WP Rocket site was blazing-fast also thanks to their plugin and that we could replicate a similar performance on our website".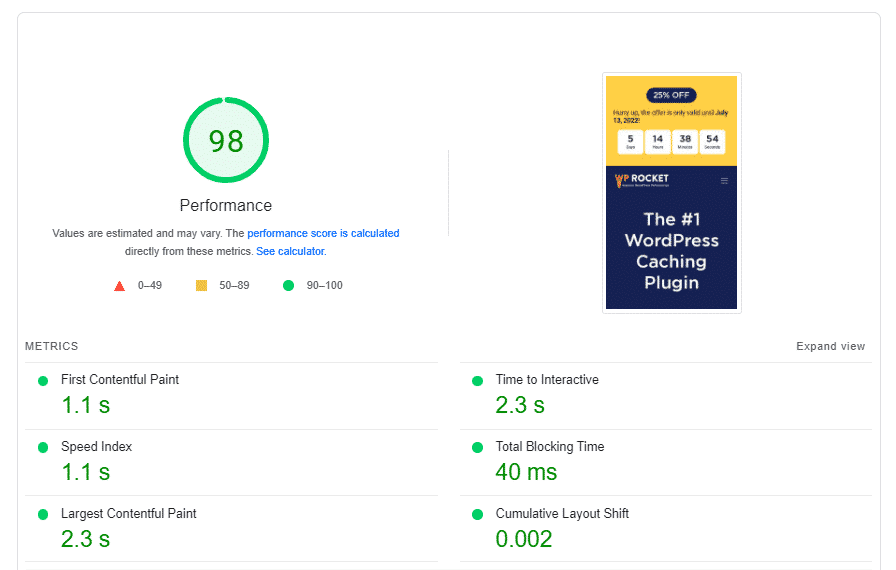 Bernard admits: "At first, I wondered if WP Rocket would be like the other plugins in terms of settings and results. Nonetheless, we decided to give it a try. And we were right. Since the beginning, WP Rocket has been a superior solution to anything else we have tried. It quickly brought better results, and we got outstanding performance results. We were amazed by such a complete solution in terms of UX, settings, and support – all of these contributed to the great outcomes".
What Do Great Results Mean for an Agency?
For starters, WEBK SEO realized they no longer needed to hire developer freelancers.
"A tool like WP Rocket gets the job done", continues Bernardo. "The plugin is easy and provides the best results even if you don't have any technical knowledge. That's the magic behind WP Rocket. Thanks to its powerful features and amazing customer support, we can achieve great results without finding the right developer – saving time and money!".
Even more importantly, the results on clients' websites were amazing.
Here's what Bernardo tells us about one of his clients: "A client in a niche industry had a very slow website. After optimizing performance with WP Rocket, the conversion rate increased by 16%, and the bounce rate reduced from 77% to 35%. That's a huge improvement!"
And there's more.
"For another client in the medical products wholesale niche, we launched an optimized website version using WP Rocket. As a result, the bounce rate dropped from 67% to 49%. Such improvement positively impacted the number of quotes generated online – there was a 6% increase in lead generation right away".
Bernardo adds: "Depending on the niche, you'll get a greater or smaller impact – in any case, you'll see a clear performance improvement. Using WP Rocket on any new website project is always a good idea. There's no doubt that WP Rocket is helping us to deliver super-fast and optimized websites that convert better".
WP Rocket is the perfect caching plugin for agencies that need to deliver excellent results at scale – and quickly.
On the one hand, the plugin helps you save time because you can optimize websites on a large scale. Plus, you can export your settings to apply the same set of optimizations to multiple websites in the blink of an eye.
On the other hand, it also allows you to save money because you don't need to hire developers.
On top of that, clients are amazed by the performance improvements they can get – which positively impact conversion rate and other key business metrics.
Powerful Features, Easiness, and Great Customer Support All Together
Bernardo continues: "WP Rocket is the best cache plugin on the market and the most complete in terms of what you need to get the best results in performance. Together with other tools like Oxygen Builder, AssetCleanup, and Cloudflare, WP Rocket is part of our secret weapon to easily boost the speed and performance of our clients' websites".
Some key features made a difference for WEBK SEO.
According to Bernardo, Remove Unused CSS, Load JavaScript Deferred, and Delay JavaScript execution were the biggest features that impacted that "last mile" goal.
Here's the example of the WEBK SEO homepage after WP Rocket's optimization: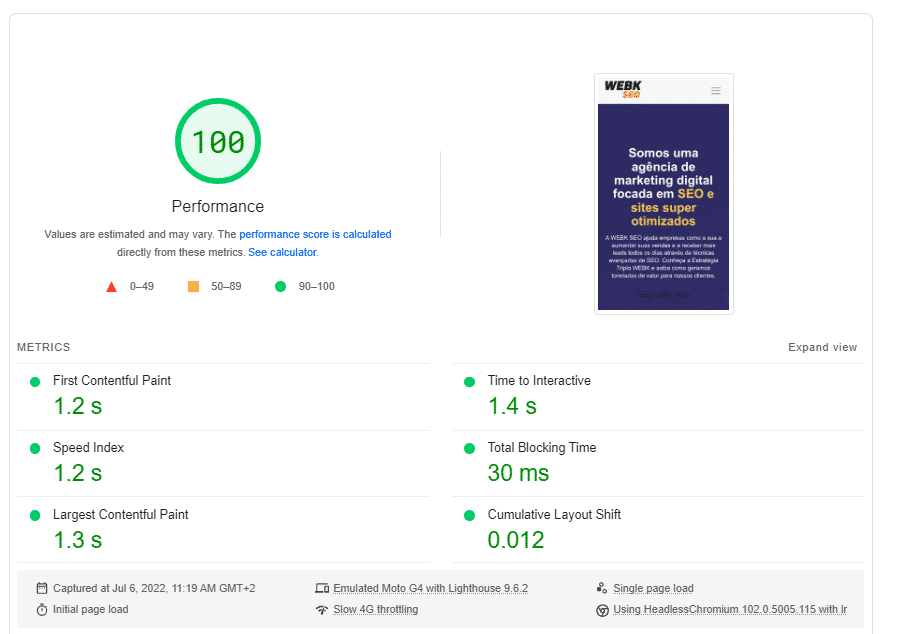 Bernardo also shared the before and after results with GTmetrix:
| | |
| --- | --- |
| GTmetrix score before using WP Rocket | GTmetrix score after using WP Rocket |
| | |
Bernardo explains that two files were delaying the page loading, and the team was fighting against them with little results. He says: "The Eliminate Render-Blocking Resources message at Google's PageSpeed Insights was hurting our pride! WP Rocket helped us defer and delay the files and get the awesome results we have now. And it was really easy".
💡 Load JS deferred and Delay JS execution are key features to optimize JavaScript files and address crucial PageSpeed Insights recommendations, such as reducing JS execution time and removing render-blocking resources.

🚀 If you want to tackle CSS optimization and its render-blocking resources, the Remove Unused CSS feature is what you need.
In addition to such powerful features, Bernardo also highlights WP Rocket's easiness: "WP Rocket is simple to set up. Plus, everything inside the admin panel is so well explained and designed that it makes it very easy to use. If a problem shows up, and we struggle to fix it, your support team is always ready to help – and it makes a great difference, too".
Support is the last essential point that makes WP Rocket the best option on the market: "The value of paying for a cache plugin today is also about support and the quality of results. Your Support amazed us with the fast responses and the team's knowledge. We've always got a fast and straightforward response. Such customer service showed us the knowledge of your staff, which is what we need from a partner".
A message to Other Digital Marketing Agencies
Lastly, we ask Bernardo what he would say to any other web agency facing the same web performance challenges. He explains two things matter the most when a digital marketing agency chooses its tools: easiness and reliable customer support.
"Our company is an example of how you can get better results not only because of the powerful plugin per se but also because of customer support. Only a paid plugin with a team of experts can assist you like a PRO – and we need fast support from experts. We need to deliver better results to our customers.
Besides great support, WP Rocket is the perfect solution to achieve performance goals easily. In a digital marketing agency, easiness is also key because we don't have developers. That's why WP Rocket is the best choice in the market, hands down."
Want to see how WP Rocket is powerful for yourself? Give it a try right now! You can always count on our 100% money-back guarantee. Although we don't think you'll ever want one, we'll gladly provide a refund if you request it within 14 days of purchase.
---