If you're wondering if WP Rocket is the right caching plugin to improve your Core Web Vitals & PageSpeed performance score, here's a story you want to read.
You'll get to know the web performance challenges and the outstanding results achieved by Financer.com. This worldwide company offers first-class personal finance service to millions of monthly visitors across 26 countries. And — spoiler — its PageSpeed Insights score from mobile is now close to 100.
No matter what your business is — you'll find something in the story that will let you think: "Same for me!".
Keep reading, and you'll see for yourself.
The Web Performance Challenge
You might think: "The challenges of a global fintech company are different from mine".
While there might be some differences, the main challenge is the same: finding the way to achieve the best performance for your site.
Financer.com tried several caching and speed optimization services. All of them had numerous conflicts with their custom code and didn't boost performance.
This is also about you. Maybe you have already tried several plugins, and both user experience and results were quite discouraging.
Or, if you are a developer, you spent some time to find your solution, as Financer explains: "The company decided to implement their custom code solutions, developed by senior developers", says George Chrysochou, the Global Marketing Manager.
"While this advanced setup was very efficient, it required constant updates and a high maintenance cost. Shortly after the initial launch, the custom code and plugins that we developed were already outdated and malfunctioning," adds George Pattihis, Lead Project Manager. "This issue caused conflicts with WordPress core and other plugins. Our solution was outdated and missing out on new features".
A Big Dilemma and the First Trials
Financer was in a dilemma: keeping high paying rates to senior developers to maintain and update custom solutions or switch to a different caching solution?
Your dilemma might be testing a caching solution for the first time or switching from your current caching plugin to a more performing one. Either way, it's about finding the right fit.
That's what George's team did.
Financer needed a scalable, efficient, and reliable solution that would help the developer team save time and focus on the most critical areas.
The company tried several well-known commercial plugins, including W3 Total Cache, WP Super Cache, WP Fastest Cache. And, of course, WP Rocket.
After the initial trials, the three finalists were WP Rocket, W3 Total Cache, and WP Super Cache.
WP Rocket turned out to be the best overall option for performance, efficiency, reliability, and customization.
WP Rocket outperformed W3 Total Cache on simplicity and compatibility with their custom code.
WP Rocket also outperformed WP Super Cache on performance and features.
What's more, WP Rocket even matched Financer's custom-coded performance results — and surpassed them on several occasions — with a fraction of the cost and maintenance!
How Financer Overcame Doubts and Found The Right Solution
WP Rocket was the best plugin that Financer tested. Yet, the company was very skeptical: could a single plugin manage a multisite network's performance?
The team thoroughly tested all aspects before pulling the trigger.
"WP Rocket is a well-respected plugin in the community, but this is never enough when your company's revenue is at stake", explains George Chrysochou. "Especially since we had paid thousands of $ for custom solutions in the past, for the same results".
The team took WP Rocket on a test drive on different staging servers, stressing it on edge cases and conclusions were more than encouraging.
After the successful tests, the company got the confidence to make the decision. The company moved out of the customized caching setup and let WP Rocket handle all optimization areas.
WP Rocket's support was another point that contributed to the decision. "The support was not only fast, but it was also well-educated about their product. When the team needed them to resolve a bug, the experience was smooth", explains the Lead Project Manager.
What WP Rocket Made Possible, and Why it Matters
Thanks to WP Rocket, the company started to achieve excellent performance results.
Performance results don't only matter per se. Such results matter because they allow a company to thrive — and a company is made up of people like you. Better performance results allow people to work better — to live better, after all.
Happy Customers (The Most Important Business Metric!)
Customers are at the heart of every business and make a company successful in the long term. And one of the most significant achievements for Financer has been customer satisfaction, indeed.
As many businesses, probably including yours, Financer's services and website need to be working correctly and reliably, 24/7.
With WP Rocket, user experience has always been smooth.
Users keep rating their user experience with perfect scores — no matter what their intent is.
They may want to compare low-interest loans, find a bank or financial product reviews, learn about money-saving tips, or read the latest finance news or financial reports. And they may use different internet connections, browsers, or devices. The satisfaction rating remains high in any case.
That's because WP Rocket ensures an impeccable level of fast, secure, and responsive service. The key is a clean, efficient code that works and delivers as intended and beyond.
90+ PageSpeed Score, Plus Higher Conversion Rate & Traffic
With a few clicks in the WP Rocket's configuration, Financer.com doubled the PageSpeed Insights scores, from 40 to 90+.
Of course, Core Web Vitals metrics also improved. And you know how Core Web Vitals matter right now.
Such excellent scores allowed the site to improve SEO performance, which have seen impressive growth in the last few years.
This exponential growth in SEO rankings also substantially increased the company's conversion rate by an estimated 45%. The year-on-year revenue went up by 110%.
It's easy to understand why people can work better when achieving such results!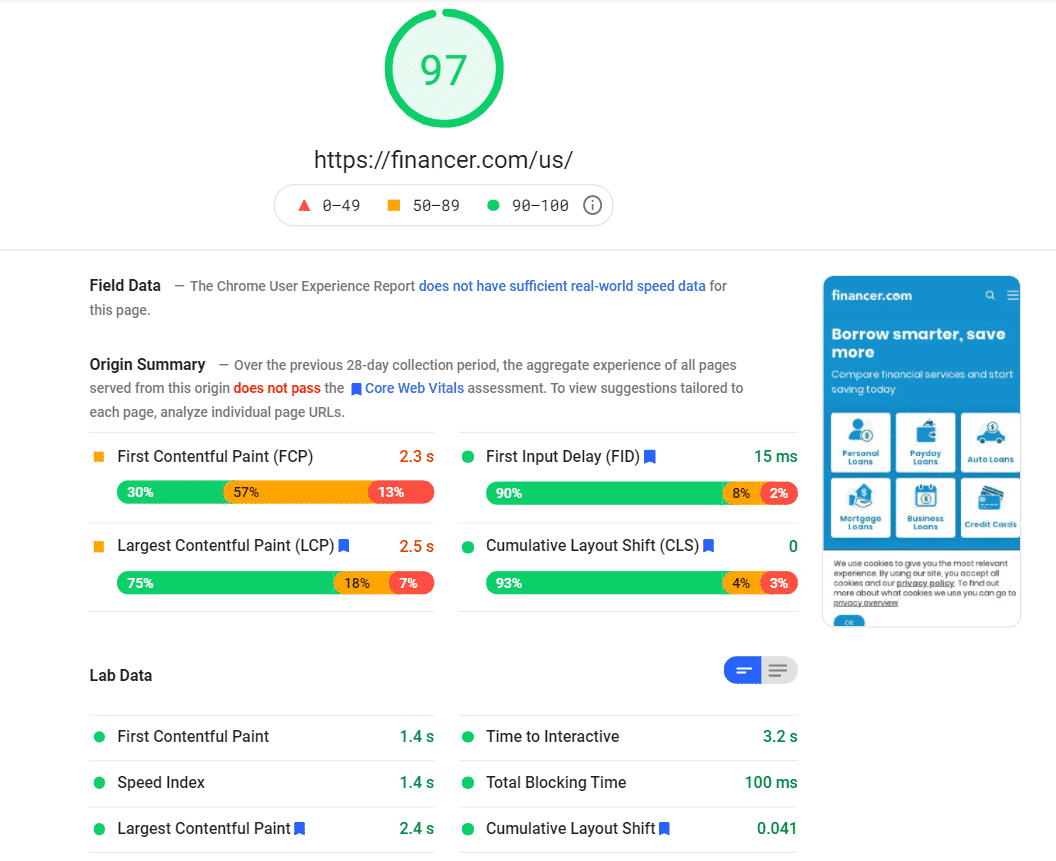 Time and Money Saved
WP Rocket also allowed saving more than 90% in development costs and time than custom solutions.
George Pattihis says: "WP Rocket offers default features that can compete with the optimization level of custom solutions, at a fraction of the cost."
Pretty impressive, right?
Features that Make The Difference
For Financer, WP Rocket is hands down the most reliable, high-performing caching plugin at a very reasonable cost. It offers everything needed out of the box. It handles all best practices. It allows to set up and run advanced configurations in a few minutes.
Let's find out what helped Financer the most in making customers happy and achieving outstanding performance and business results.
The "Delay JavaScript Execution" feature. George Pattihis explains: "Using this feature alone helped us get high PageSpeed Scores on pages where we load several tracking plugins. While it seems simple, it's usually complex to do as a custom solution. Delay JS execution is a very powerful option that offers flexibility in asset loading and has a simple user interface. This easy-to-use feature alone is enough to pay for WP Rocket".

High performance with improved flexibility, ease of use, and a low maintenance cost. Financer can adjust the optimization settings of each market with just a few clicks.
The same easiness goes for adding different tracking scripts for every market without affecting performance scores. The "exclude", "delay", and "defer" features come very much in handy. It's also simple to employ all best practices with built-in settings.

Being up to date with an evolving environment without high maintenance cost is another added plus.
Constant updates and new features introduced regularly. George Chrysochou says: "We don't need to keep track of new requirements by Google. WP Rocket usually has taken care of them already".

Having different configurations per market in the multisite network helps satisfy different GDPR legislation while keeping the high-performance scores.
Why WP Rocket is The Right Solution For You, Too
"It was easy to choose a cache plugin that offers exciting and easy-to-use features to improve performance and satisfy Google's increasing demands", ends George Chrysochou.
You read the challenges, the results, and the great benefits that Financer.com achieved thanks to WP Rocket.
Ask yourself what WP Rocket can do for you, too. WP Rocket is the easiest way to improve the PageSpeed score and the Core Web Vitals metrics while making your customers happier and letting you save time and money.
Remember: WP Rocket will automatically apply 80% of web performance best practices. You don't even have to touch any settings. You'll see an improvement in speed and your PageSpeed Insights score right away — and you don't need any technical knowledge required, we promise!
---