Considering building your website with the Jupiter X theme?
With over 400 different professionally-designed demo sites, Jupiter X offers a ton of flexibility for building virtually any type of WordPress site. What's more, all of the demo sites are built with Elementor for easy visual, drag-and-drop customization and you also get detailed WordPress Customizer controls for even more code-free building.
There's no doubt that Jupiter X looks great – the top-notch designs are a big part of why it's racked up over 148,000 sales at ThemeForest with an excellent 4.71-star rating on over 5,400 reviews. However, eye-catching designs and useful features are only part of the puzzle – you also need to consider the Jupiter X theme's performance. That is, how fast is the Jupiter X theme?
Here at WP Rocket, we're always focused on WordPress performance, which is why we set out to answer this question by running some of our own tests.
We'll test the naked Jupiter X theme along with two of its importable demo sites in two different scenarios:
The theme by itself with no performance optimizations
How Jupiter X performs when using WP Rocket for performance optimization
By the end, you should be able to decide whether Jupiter X is right for you…at least from a performance perspective 😊
How We're Testing Jupiter X's Performance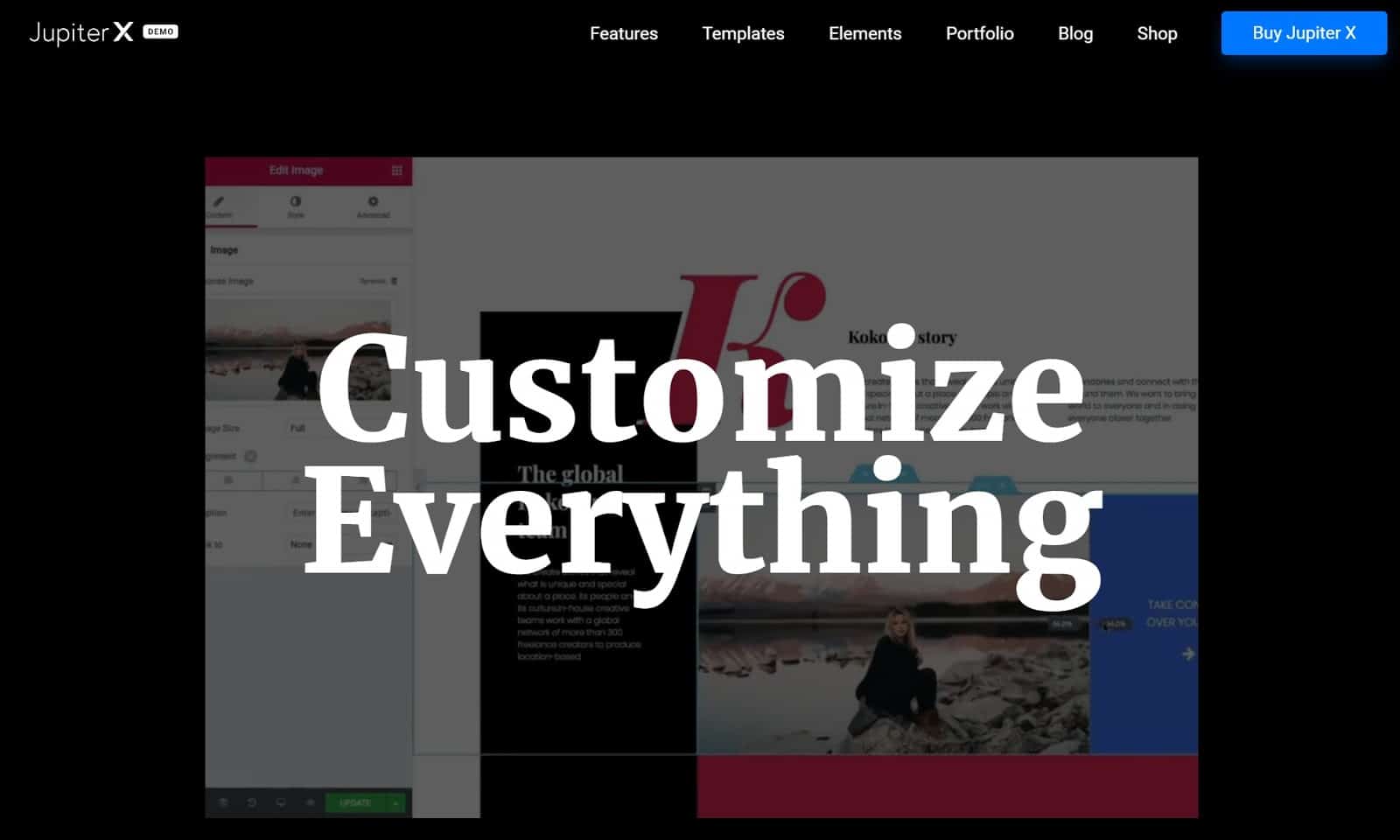 Before we dig into the performance data, we think it's important to share how we're testing the Jupiter X theme so that you know where this data comes from.
First off, our Jupiter X test site is hosted on the cheapest $5 DigitalOcean droplet and uses an all Nginx stack with PHP 7.4 (configured by RunCloud). The droplet itself is in New York.
Despite being cheap, this setup is still faster than many shared WordPress hosts, so the test site definitely has a strong foundation.
To create a realistic test scenario, we'll test two of Jupiter X's 400+ pre-built demo sites. Here are the two sites we'll test:
One important thing to understand about Jupiter X is that all of its demo content is built with Elementor. So in testing its performance, the test is really about how Jupiter X and Elementor perform as a duo.
To add another data point, we'll also test the Jupiter X theme by itself. While this isn't a realistic scenario for a real-world site, it should give you an idea of how the base Jupiter X theme compares to other options on our list of the fastest WordPress themes.
Additionally, depending on the actual demo site that you choose, your site might be "heavier" or "lighter" than our two test sites. Again, there are over 400 different demo sites, so they're not going to be perfectly equal when it comes to performance.
To collect the performance data, we'll use WebPageTest with the following configuration:
Run nine separate tests for each test run and use the median value (this eliminates testing variability)
Test from the Dulles, VA server
Use a FIOS 20 Mbps connection*, which is around the average Internet speed for the USA as a whole
*Using a throttled connection will return "slower" numbers than using an unthrottled speed test tool. However, it's more accurate to the actual experiences that your users will have. This is something to keep in mind if you try to compare this data to another theme that you test with a tool like Pingdom.
First, we'll test each demo site without any performance optimizations. Then, we'll run a second test after installing and activating WP Rocket, which will show how fast you can make Jupiter X if you implement all of the performance-boosting tactics that WP Rocket gives you.
By default, WP Rocket enables page caching, browser caching, Gzip compression, and some other tactics. We'll also manually enable file optimization and some additional tactics, such as lazy loading.
Jupiter X WordPress Theme Performance Review
With that long introduction out of the way, let's get into the actual Jupiter X speed data.
Naked Jupiter X Theme
Let's start with the "naked" Jupiter X theme. Again, this isn't a realistic scenario, but it does help you compare Jupiter X more directly against other popular performance-focused themes.
| | | | | |
| --- | --- | --- | --- | --- |
| | Fully Load Time | LCP | HTTP Requests | File Size |
| Just Theme | 1.025 s | 1.114 s | 25 | 217 KB |
| With WP Rocket | 0.573 s | 0.497 s | 24 | 214 KB |
Just theme: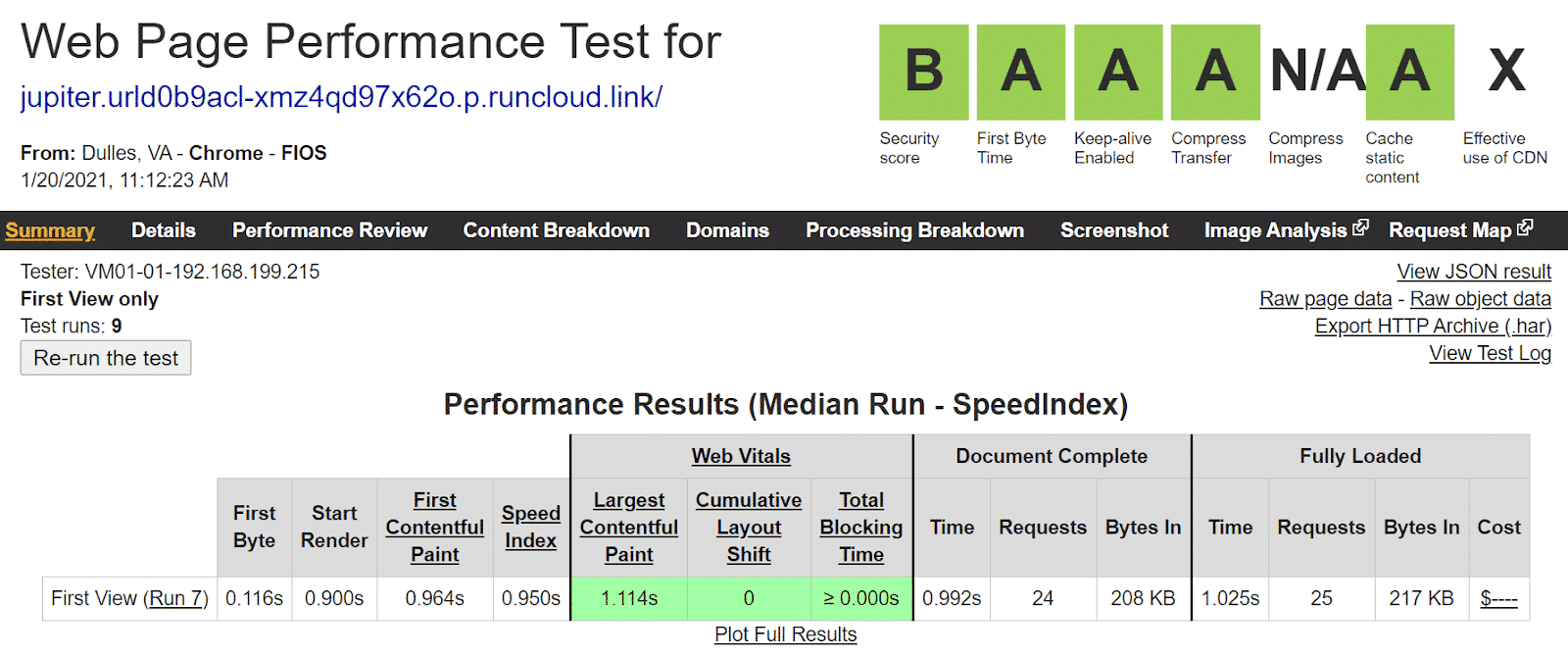 With WP Rocket: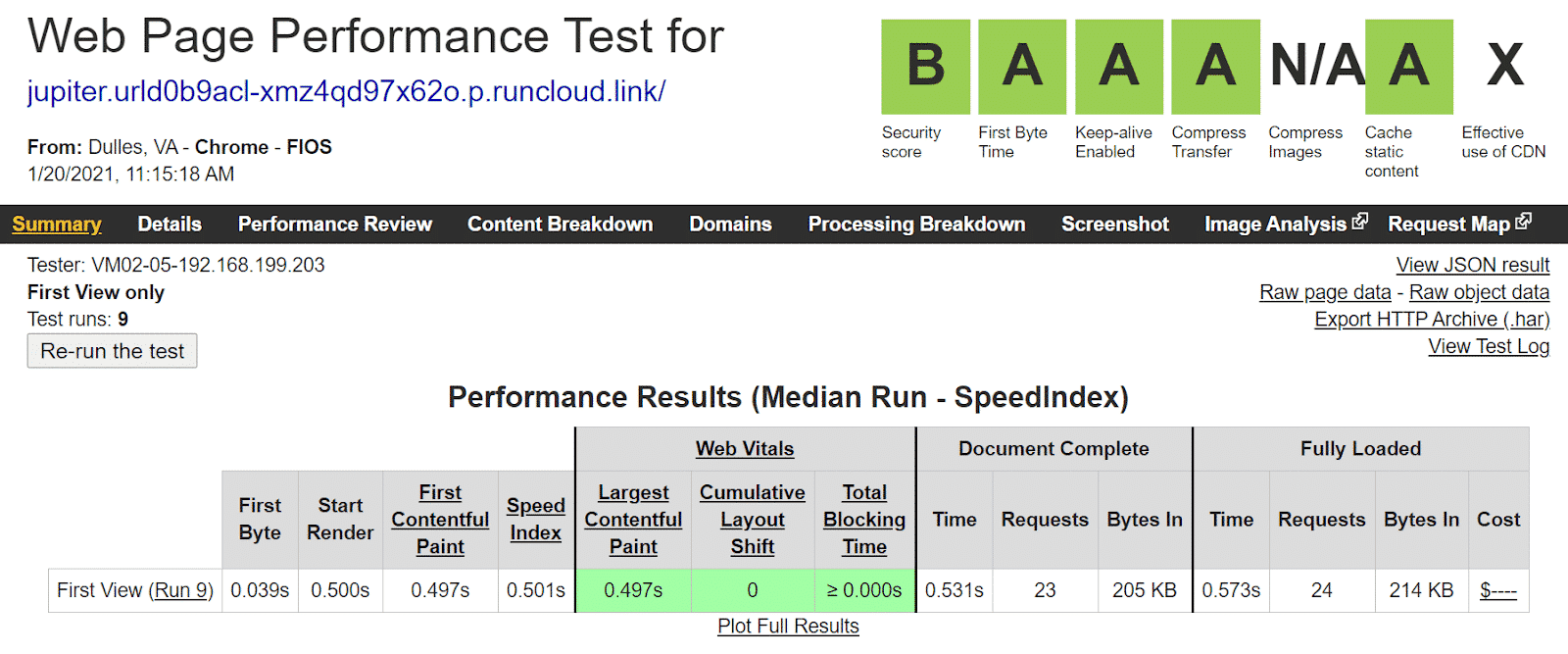 For reference, here is the "naked" test data for other popular themes:
So Jupiter X's naked theme is more in the OceanWP-range than the GeneratePress/Astra/Neve-range. However, this is still "lighter" than your average WordPress theme.
Agency 4 Demo Site
Next, here's the test data for Jupiter X's Agency 4 demo site, which is a one-page design powered by Elementor:
| | | | | |
| --- | --- | --- | --- | --- |
| | Fully Load Time | LCP | HTTP Requests | File Size |
| Just Theme | 1.791 s | 1.331 s | 51 | 2.193 MB |
| With WP Rocket | 1.532 s | 1.081 s | 49 | 2.027 MB |
Just theme: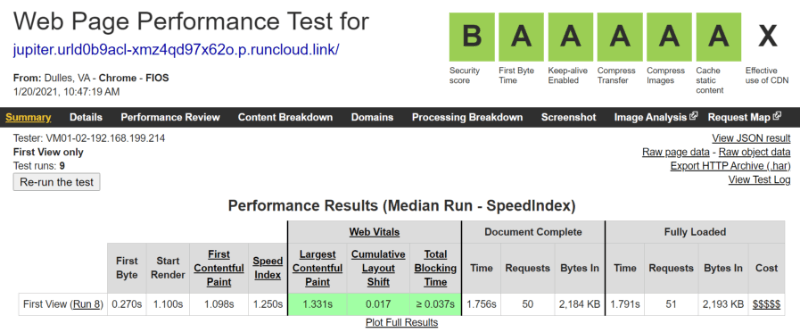 With WP Rocket: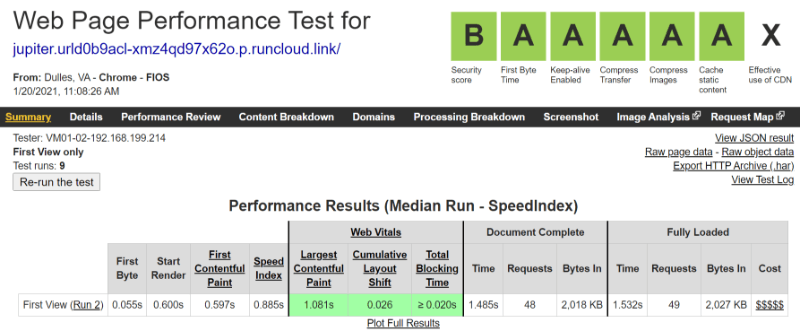 Personal Portfolio Demo Site
Finally, here's the data for Jupiter X's Personal Portfolio demo site, which is also a one-page design powered by Elementor.
| | | | | |
| --- | --- | --- | --- | --- |
| | Fully Load Time | LCP | HTTP Requests | File Size |
| Just Theme | 1.432 s | 1.298 s | 50 | 588 KB |
| With WP Rocket | 0.990 s | 0.865 s | 49 | 585 KB |
Just theme: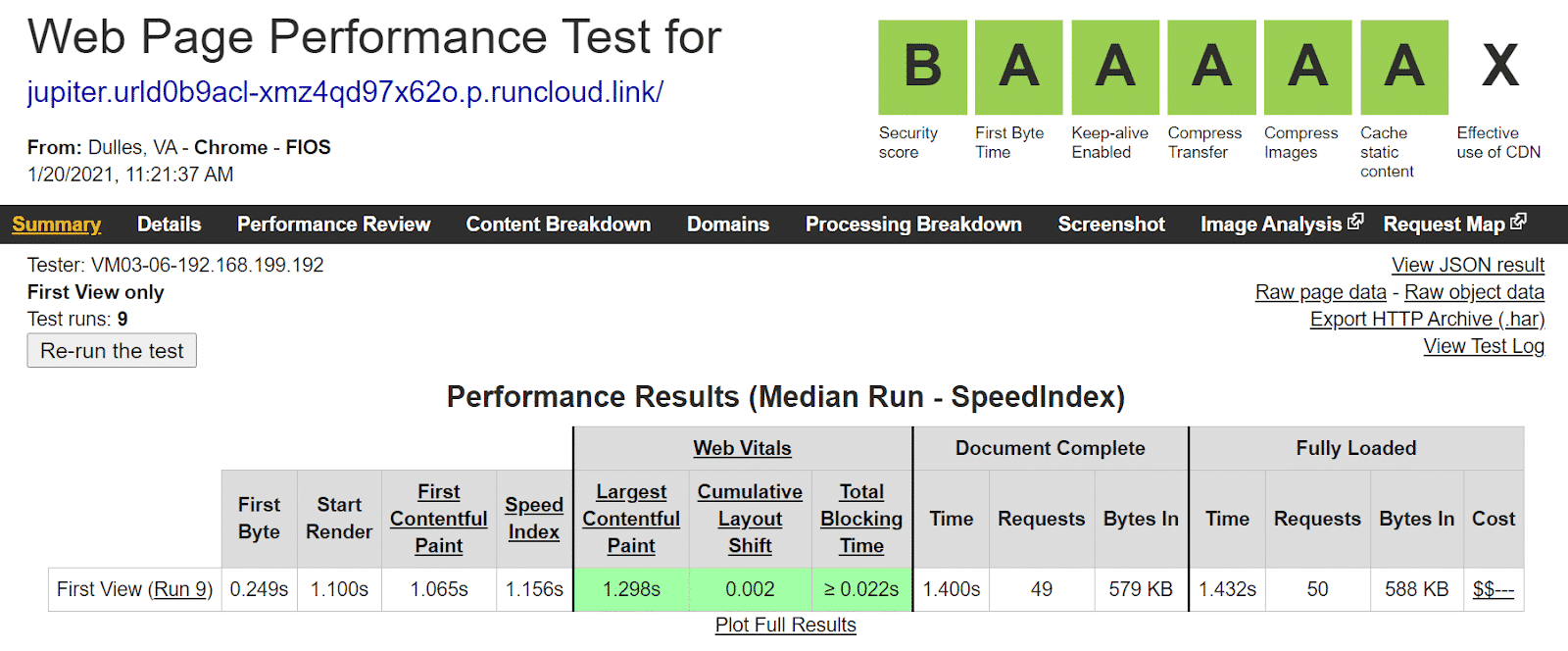 With WP Rocket: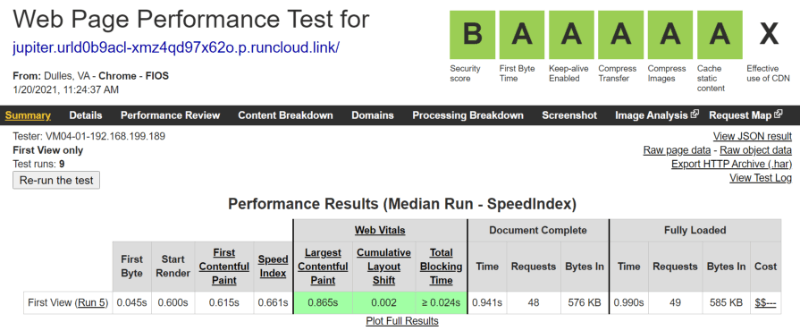 Jupiter X Speed Test Conclusions
Overall, Jupiter X is certainly capable of getting you a fast-loading WordPress site. Even without any optimizations, both Elementor-powered demo sites that we tested came in under two seconds fully loaded with our FIOS-throttled connection.
However, if you want to optimize your Jupiter X site's load time, consider pairing it with WP Rocket. WP Rocket works perfectly with the Jupiter X theme (and Elementor) and can make a big difference in your site's load times, cutting the load times by up to ~30% in our tests.
Pros & Cons of Using Jupiter X
Performance is one of the most important considerations when choosing a WordPress theme, but it's not the only thing that matters. So before we close out, let's run over some of the pros and cons of using the Jupiter X theme to build your WordPress website.
Pros
Jupiter X offers over 400 different importable demo sites, which gives you a ton of flexibility in choosing a jumping-off point for your website. Most importantly, the demo sites look great and were clearly created by professional designers.
You get a really tight Elementor integration for drag-and-drop building. In addition to the core Elementor plugin, the premium version of Jupiter X adds a number of Elementor add-ons to help you design your header, footer, and other areas of your site without the need for Elementor Pro.
Jupiter X includes some really useful options in the WordPress Customizer that give you more flexibility beyond its Elementor integration. In general, it also just has a really detailed set of style options in the Customizer, which is useful for setting up global colors and styles for your Elementor designs.
You get very detailed page-level controls for individual pieces of content. You can configure pretty much everything at the page-level, from layouts to styles and whether to display certain content.
Cons
Not a con per se, but Jupiter X is heavily reliant on Elementor. So if you prefer a different page builder, you might prefer a theme such as Astra that offers demo sites for multiple page builders or the native WordPress block editor.
Final Thoughts
Overall, Jupiter X is definitely optimized enough to get you a fast-loading WordPress site, as long as you're implementing WordPress performance optimization best practices.
It's not in the absolute top-tier of performance-friendly themes such as GeneratePress, Astra (our tests), and Neve, but it can still help you create a great user experience when it comes to performance, with load times well under two seconds.
Additionally, in return for adding a little weight, you get access to incredible flexibility and a huge library of importable demo sites. For most people, that trade-off is worth it, especially because Jupiter X's page load times are still quite good and can be under the two-second mark that you should be aiming for.
Overall, if you value the flexibility that Jupiter X gives you, it's a great option to build a WordPress site. And to get the most out of your Jupiter X site's performance, consider pairing it with WP Rocket to further optimize the Jupiter X theme and improve your site's load times.
Have you used the Jupiter X theme? Have any questions about pairing Jupiter X with WP Rocket? Let us know in the comments section.
---