Celebrating our anniversary is something we love doing.
In our previous blog post we told you what these seven years of WP Rocket mean for us and what lessons we learned over the years.
But it's not just with memories that we want to make this seventh anniversary memorable.
WP Rocket's seventh-anniversary campaign is about to spread its wings, so here we come with all the details!
The Anniversary Contest
Celebrating is great, but it's even more fun if there are prizes up for grabs, don't you think?
That's why we have a giveaway contest this year. ??
What Can You Win?
You can win two types of prizes:
6 months for free on your WP Rocket license
an iPhone XR 64GB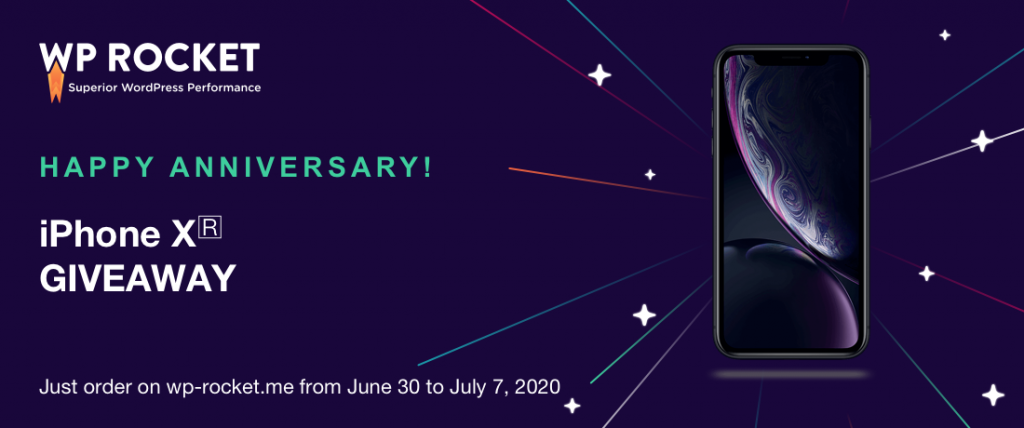 How Can You Win?
Place an order on our website from June 30, 2020, to July 7, 2020.
You can buy a new license, renew or upgrade your existing one and take advantage of our stellar promotional prices. ✨
How Many Winners Will We Draw?
Every day we will draw 2 winners. This means that, at the end of the promotion, we will have 16 winners in total!
Each of the 16 winners will receive an additional 6 months on their WP Rocket license.
Besides, the 2 luckiest will receive the iPhone as a prize. ?
How Will We Contact the Winners?
We will contact the winners a few days after July 7, when the promotion will be over.
The sixteen winners will receive an email and we will also publish their names in this same blog post.
For all the information on the terms and conditions of this contest, have a look here.
Update (July 9, 2020): We Have the Winners!
The lucky people who win 6 extra months on their WP Rocket license are:
Tom Ootes
Tobias Fux
Arnau Aloy
Richard Farrester
Nikos Makrakos
Henk ten Dolle
R K
Frédéric Mignard
Md Shahidul Islam
Randal Hujar
Filip M
Elias Salhani
Mike Spence
Jennifer Evangelista
The two luckiest people who win 6 extra months on their WP Rocket license AND an iPhone XR 64MB are:

John McCormack
Marcin Buczek
We already sent the email to all of them: Congratulations!
Get Ready for the Party!
June 30 – July 7.
Mark these dates in the calendar, and join us to celebrate seven years of WP Rocket together.
Take your chance to extend the expiration of your WP Rocket license for free and win an iPhone. Seven years only happen once, don't miss the party!
---