This is a guest post. Opinions and recommendations are the author's own.
With the growing demand for online services, it is essential for all businesses to create a presence online, whether big or small.
This urge of businesses to grow online has pushed many small and big web agencies and freelancers to come ahead with their ideas.
The number of businesses increases the number of clients and websites these agencies and freelancers need to cater to.
All this does not end by taking up projects and delivering them on time. But, it is a continuous process where web agencies are held responsible for managing and maintaining websites for their clients. Thus, the need for a WordPress Management solution arises.
Here's where our article will help!
Let's make this simpler with some scenarios…
3 Scenarios for 3 Different Needs
1. John, a freelancer, has just begun helping clients manage WordPress websites.
He has about five clients, to begin with, and is looking for an easier way to manage websites without having to remember passwords, keep all the websites up-to-date without wasting much time, and would like to monitor their uptime as well.
A website management tool is what he needs. But things become more manageable when the tool –
Lets him manage all the websites through a single WordPress installation (admin website)
Lets him update plugins and themes simultaneously on all websites.
Lets him monitor the uptime of all the managed websites through this tool.
2. Ana owns a start-up firm helping clients manage their websites.
Ana now has about seven clients whose websites are managed by her team of 4 experts.
She will need something like what John selected for his business, but her budget here is lower, and she would like to manage everything on a single host.
Ana picks the multisite setup that will allow her to host all her client websites as sub-sites under one admin website so she can manage them together.
With this, she'll be able to –
Run updates on the admin website so that the plugins and themes on the sub-sites are up-to-date.
Grant access to individual sub-sites to those concerned while you manage all of them through the admin website.
3. Claire, an experienced entrepreneur who owns a big agency, does it better than the two!
With 30+ ongoing clients and 50+ websites to manage, Claire decided to combine the efforts and simply go ahead with a WordPress website management tool.
She knows her website management tool covers everything that John and Ana were looking out for individually.
So, although you may know a website management tool is a solution, which one to use could be the right question when you have options in the market.
3 Ways to Manage WordPress Websites
1. Use a WordPress Multisite
Like we saw Ana pull in a multisite network, this is a simple and easy way to manage WordPress websites through a single WordPress installation.
Here are some pros of a multisite setup:
You can group similar websites under one and manage them by logging into the admin website only.
It makes it easier to build and design similar websites by reusing the plugins and themes installed on the admin website.
A multisite setup is set up on an admin WordPress website. You aren't new to the interface any longer!
Install the plugins and themes in one place and just activate them on the sub-sites you plan to use them on.
Here are some cons of a multisite setup:
You cannot manage different websites under one multisite setup, and you won't be able to stick through the naming conventions for the subdomains.
Multisite setup isn't just the right thing for over-sensitive and personal websites to be a part of them.
This setup limits your clients' or site owners' control of their websites. They may need permission to use a specific set of plugins or a theme.
You may have to manage a lot with the hosting service provider. Not all of them support multisite setups.
The cost you pay for the Multisite setup:
It's free.
Although free, a multisite setup requires a lot of server space since there are many subsites you may want to add in. This increases the cost elsewhere.
2. Use the Management Services offered by the Hosting Service Provider
Many hosting service providers assure care and management of websites you host with them. This seems to take away most of your trouble as everything is handled automatically.
Here are some pros of such services:
Hosting service providers assure automatic updates of plugins and themes on your website.
They take care of the security and backups for all the websites hosted with them.
Tasks like website monitoring and cloning can also be handled through the hosting service provider.
Here are some cons of these services:
All the websites you wish to manage this way HAVE to be hosted with the hosting service provider.
You don't get the freedom to choose a different hosting provider.
The cost you pay for such services:
This depends on the features you select.
Every hosting service provider sorts their plans according to the features they offer. You can select the plans depending on the features or the management services you'd like for the websites.
3. Use a Website Management Tool
A website management tool is the one that will help you host websites on different hosting service providers and still manage all of them under one roof.
Here are the pros of using a management tool:
You get a single dashboard to manage all the websites.
Websites need not be similar or hosted on the same web hosting server.
You can run plugins and theme updates individually on the websites you manage.
You can also handle tasks like plugin installations and activation.
These management tools offer analytics to track spam, security, and SEO for all websites.
Some let you monitor website speed, uptime, and more.
You can create and publish new content.
You can manage user roles on the website.
Here are the cons of using a management tool:
Configuring custom settings for plugins and themes may require you to individual login into websites.
You need to choose the right tool that offers all you need and is easy to use too.
The cost you pay for website management tools:
Like the above services, a management tool also costs you money.
What's better? Some tools let you use the most common management features for free. You just pay for any additional ones that you are looking for.
List of Top 7 WordPress Management Tools
Now that we've seen the pros of using a WordPress website management tool are much more than the others, and the cost can be fitted in as well, let us now see what can be the best management tool for you.
1. MainWP
MainWP is an open-source, self-hosted, and privacy-first WordPress management tool that lets you manage multiple WordPress websites through one dashboard.
You can install the MainWP Child plugin individually on the websites you wish to manage and link them up with your admin website that has the Dashboard plugin installed.
This way, you'll be able to manage and monitor everything about your child websites through the admin website itself.
Features and Benefits of MainWP
One-click admin dashboard that allows you to run activities in just one click.
You can handle hundreds of websites without hosting them on the same server.
You can create a staging site, manage user roles, manage website content, and monitor website activity from the dashboard.
You can monitor the website uptime domain expiry, check Lighthouse stats, take backups, fix security issues, and send custom reports to your clients.
MainWP comes with additional extensions that integrate with tools like WPRocket to help you manage them better through the dashboard itself.
Cost
MainWP is a tool that allows you to manage an unlimited number of websites for free!
You can also upgrade to MainWP Pro if you wish to use any more extensions for in-depth website management.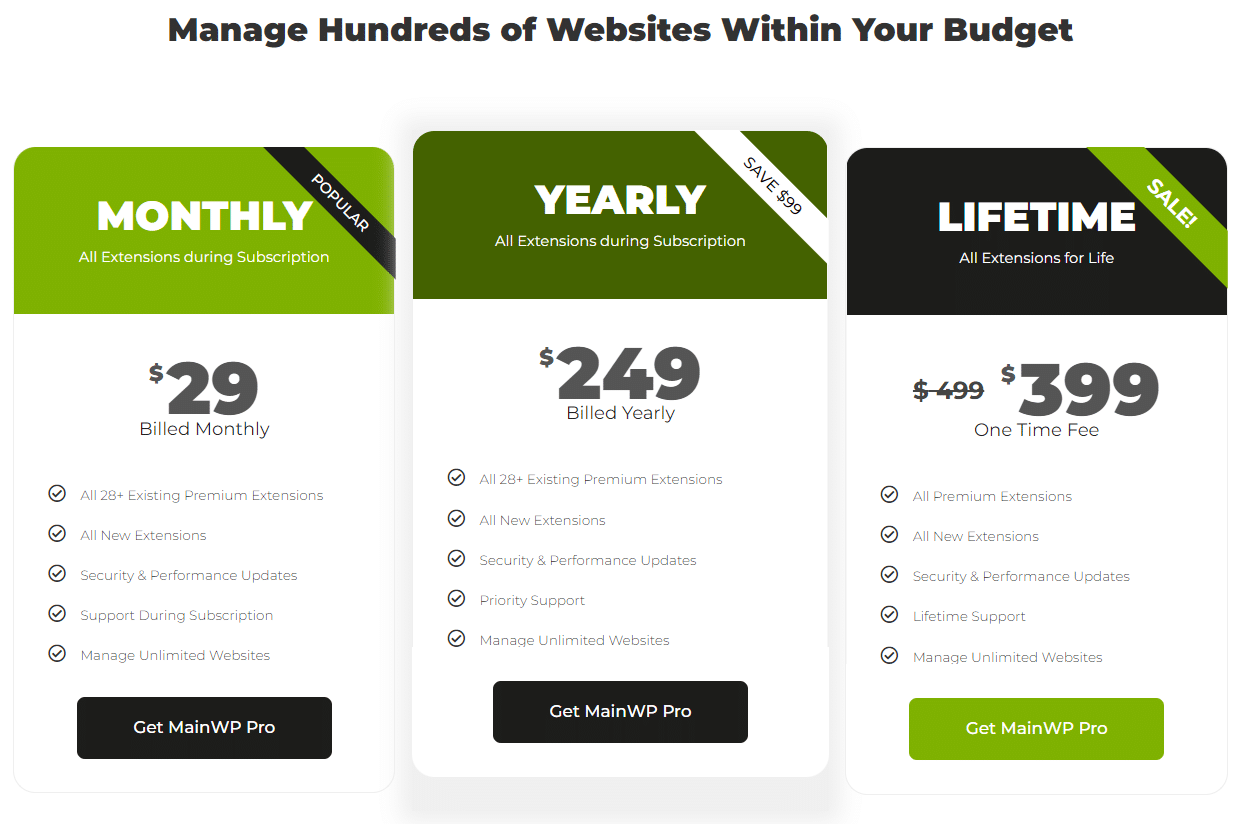 2. ManageWP
Unlike MainWP, ManageWP is a SaaS-based tool offering a dashboard where you can manage an unlimited number of websites. You can carry out activities like plugin installations, updates, and more and keep track of the analytics, backups, etc.
Features and Benefits of ManageWP
One-click update options for plugins and themes to help you update them quickly on all websites.
Monitor the uptime, links on your website, and more to ensure they are working fine.
Be assured of safe website backups taken as frequently as you need.
It allows you to manage and moderate website comments through the dashboard.
Cost
ManageWP also offers free management services for an unlimited number of websites.
You can upgrade the plan by extending it with addons you may need to manage websites better. Each paid addon may cost $1 for a month for each website you manage.
If you are an agency, the cost of using one paid addon goes up to $75 for a month and can be used on 100 websites only. Or you can purchase the bundle by paying $150 for a month.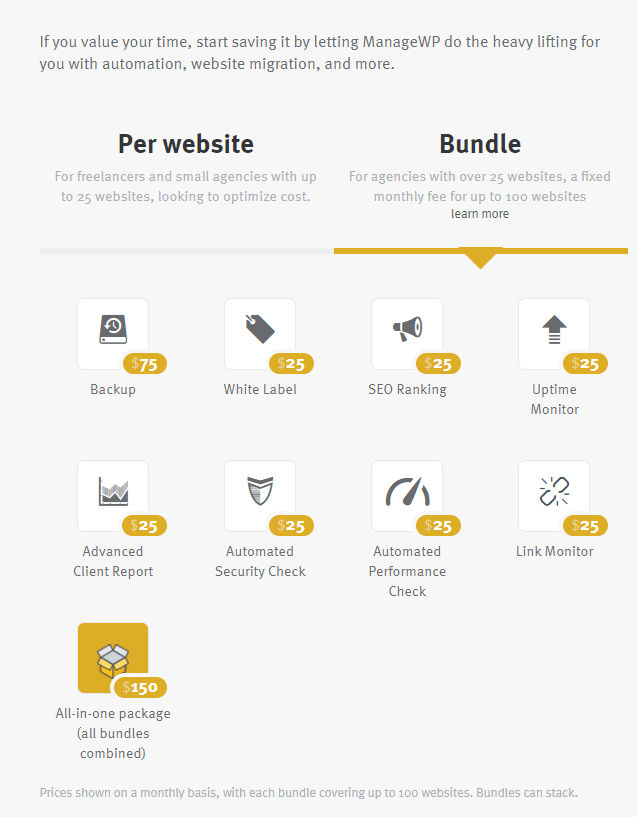 3. InfiniteWP
InfiniteWP is also a website management tool that comes with a parent and child plugin. The free version of InfiniteWP seems to have limited options. But, the premium version has it all.
Features and benefits of using InfiniteWP
Google Analytics monitoring to check how your website is performing.
User management to control user roles and access to websites from one single dashboard.
Integration with Wordfence to manage website security.
In-built broken link checker for all websites.
Cost
InfiniteWP lets you take and restore backups and manage updates in the free version.
Everything else can be done when you upgrade your plan.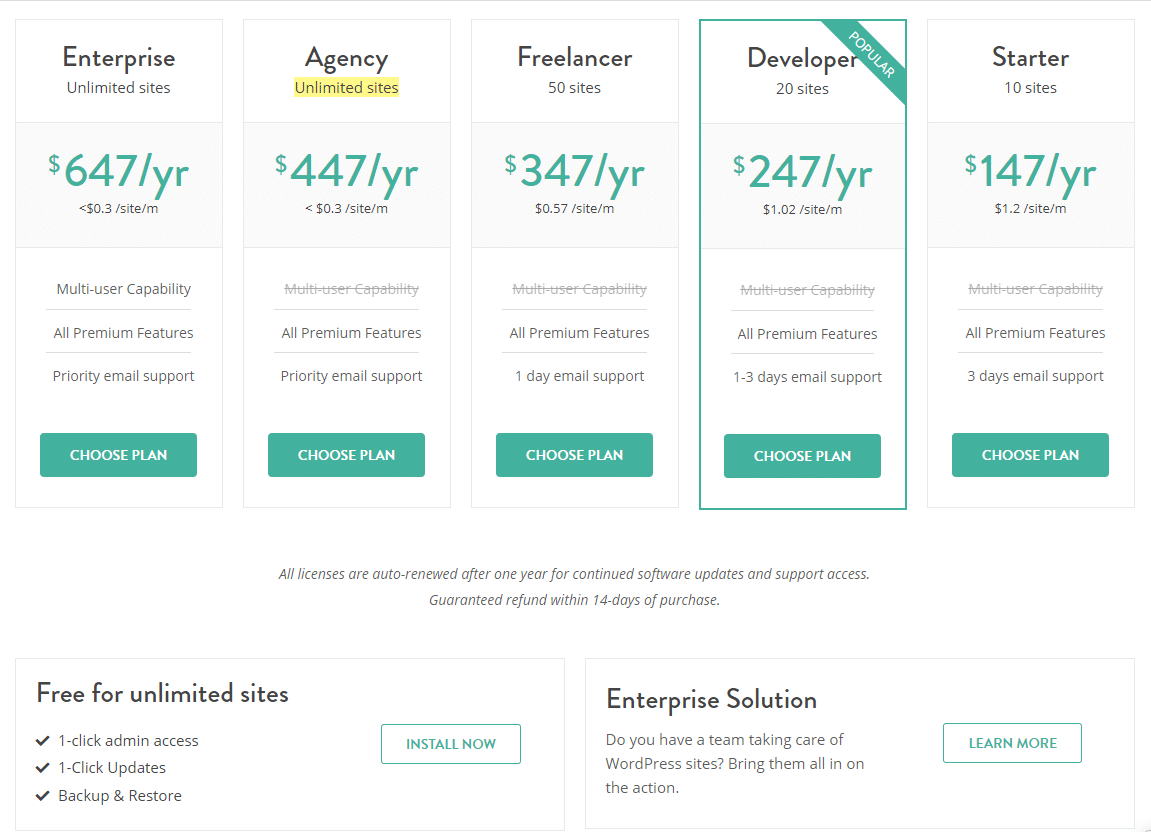 4. WP Remote
WP Remote is a basic website management tool that offers basic features.
So, if you've been looking for a solution to install WordPress updates for core, plugins, and themes, create backups, WP Remote is the tool for you.
Features and Benefits of Using WP Remote:
You can manage all plugin and theme updates through one dashboard.
You can create backups and download them to your computer or store them on AWS or SFTP.
Cost
WP Remote lets freelancers use it for free but charges agencies according to the number of websites they plan to use it on and the features they need.
5. CMS Commander
This is a paid website management tool. You will need to install the child plugin on every WordPress website that you wish to manage through the CMS Commander dashboard.
With CMS Commander, you can carry on activities like one-click updates, backup management, basic malware scanners, custom branding, etc.
Features and Benefits of using CMS Commander
It comes with content management features and allows you to add content from sources like YouTube, Flickr, Yelp, etc.
Although not used very often, the CMS Commander comes with content spinning services that allow you to spin content and publish it on multiple websites.
Cost
CMS Commander is a paid tool that gives you a 30 days trial period.
The paid plans offer all the premium features and are sorted according to the number of websites you plan to use them for. The cost starts from $8 per month for five websites and increases accordingly.
You can also customize your plan by reaching out to them if you plan to manage more than 200 websites.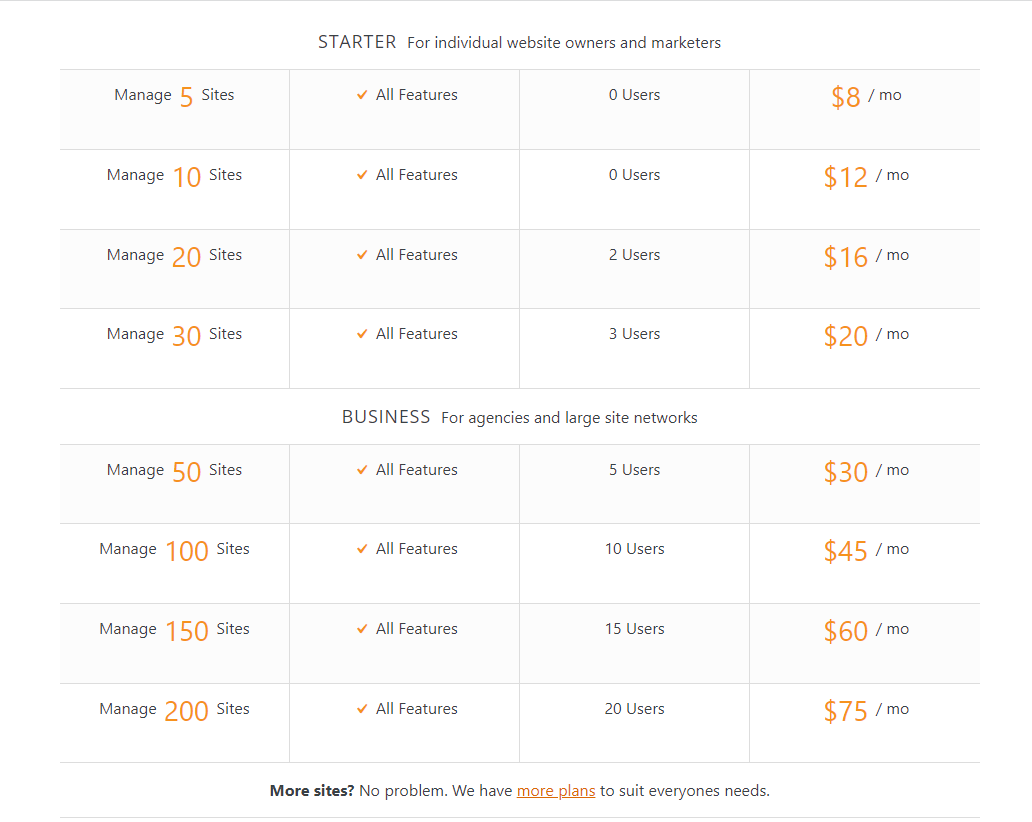 6. iThemes Sync
iThemes Sync is a WordPress management tool that allows you to manage websites from one single dashboard.
It helps update plugins and themes on all the websites through its dashboard. The paid plans give you access to uptime monitoring, client reports, user management, security, etc.
Features and Benefits of iThemes Sync:
This tool offers limited features and is suitable for providing essential management services with an intuitive interface.
Cost
You can use iThemes Sync to manage ten websites for free.
The paid versions are set according to the number of websites you plan to use them for.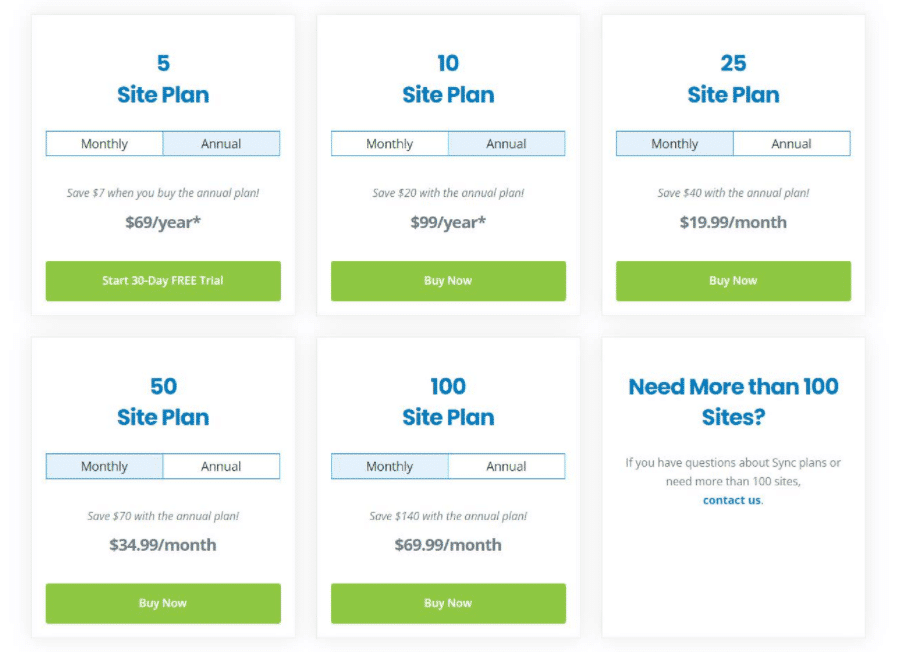 7. Jetpack
Jetpack, like the others, comes with powerful website management features. But you'll need a WordPress.com account to be able to use Jetpack.
The free Jetpack plugin will let you link all your websites to the WordPress.com server.
With the free version, you'll be able to take backups, manage updates, monitor downtime, etc.
The paid version has plans with different features, including malware scanning, automated backups, activity logs, etc.
Features and Benefits of using Jetpack
Offers world-class security features to help you manage client websites on a reliable platform.
Monitor every single activity on client websites through one dashboard.
Manage and monitor websites from anywhere using their mobile application.
Take website backups, monitor security fixes, and activities on the websites.
Run plugin updates through one single dashboard.
Cost
The free version of Jetpack offers limited management features.
The paid plans have some additional features that you can opt for as required. You can also extend them with more additional products that you may like.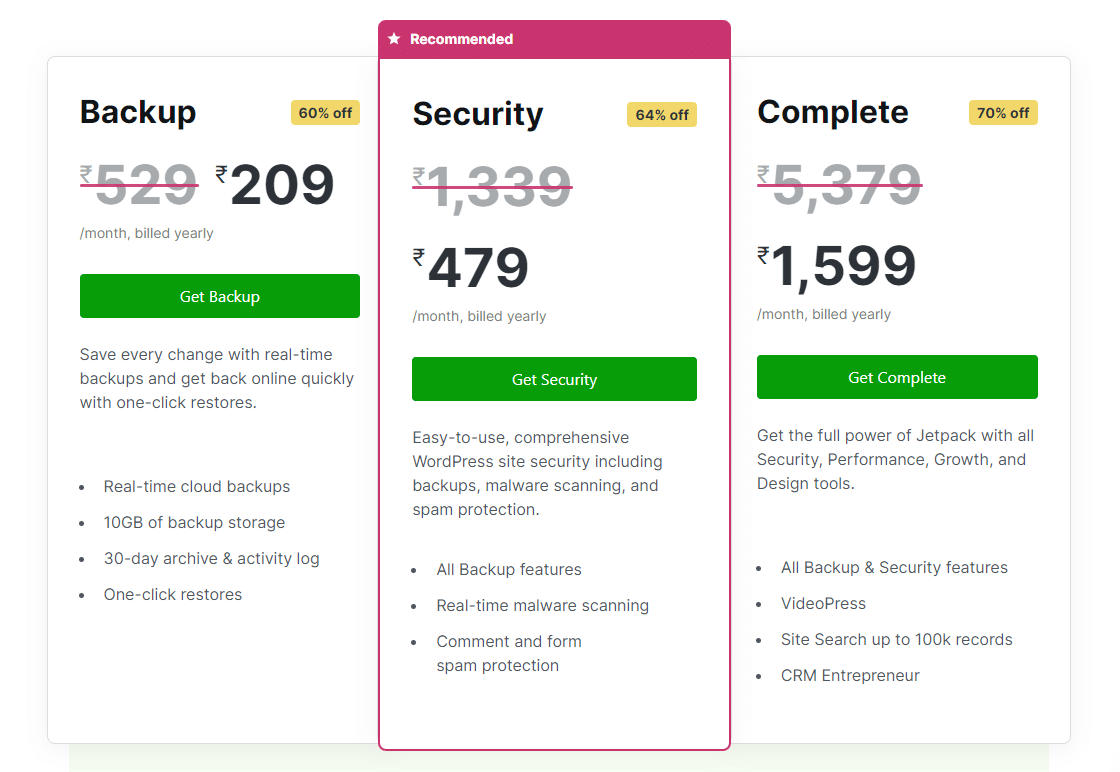 Which WordPress Management Tool is the Perfect Fit for You?
Choosing a website management tool depends on your requirements and your resources.
If you are a freelancer or a beginner, investing in a simpler and affordable solution should be the highest priority.
But, if you are an agency and have many clients, more features and a robust and reliable tool are what you should look for.
If you are still not able to make up your mind, I'd suggest you try MainWP, which comes with many free features and can be extended further as required (irrespective of the number of sites you are using it for).
If you are looking for something with just a handful of features, iThemes Sync seems to be good.
So, which one do you prefer among these?
---