This is a guest post. Opinions and recommendations are the author's own.
Speed is the heartbeat of the online world, and your WordPress membership site is no exception. A one-second delay in page load time can lead to a 7% conversion loss.
Imagine the impact of speed on a membership site where delivering top-notch user experience is highly valued.
It also has an impact on SEO. Considering how important page speed is for SEO, it should be your priority when creating a membership site.
In this guide, you'll learn the different ways to optimize your membership site for speed and search engine rankings.
Let's get started!
Introduction to WordPress Membership Sites
WordPress membership sites allow you to create premium content accessible only to paid members.
It is a powerful way to monetize your website and create recurring revenue through paid subscriptions. It isn't a built-in feature of WordPress, though. You need a plugin to make this happen.
Why Create Membership Sites With WordPress?
WordPress makes making membership sites easy. It's also a great way to improve your online presence and generate a regular income.
WordPress helps you:
Set up your membership site quickly using a membership plugin
Offer different membership options
Easily manage members
Protect your content
Build a community
You can charge members to access premium content and be part of an exclusive community. This gives you a steady income stream while working for different budgets.
WordPress also helps protect your best content while also building an engaged community.
Members with similar interests can easily connect and interact through your site, giving them a sense of community.
How to Pick the Right Membership Plugin for Your Membership Site
A membership plugin for WordPress is key to running your member website. It handles jobs like limiting content, processing payments, and managing members automatically.
When picking a plugin, think about:
Is it easy to use? Look for one with a user-friendly setup and good instructions.
Does it have the features you need? Make sure it can limit content, process payments, and manage members.
Can you customize it? The plugin should let you tailor it to match your brand and needs.
Are support and updates reliable? Choose a plugin with solid support and regular updates.
Is the price right? Consider the cost and if it's a good value.
Let's look at some of the best WordPress membership plugins that you can try!
Top Plugins for Creating WordPress Membership Sites
Let's look at some of the top membership plugins on WordPress to help you get started.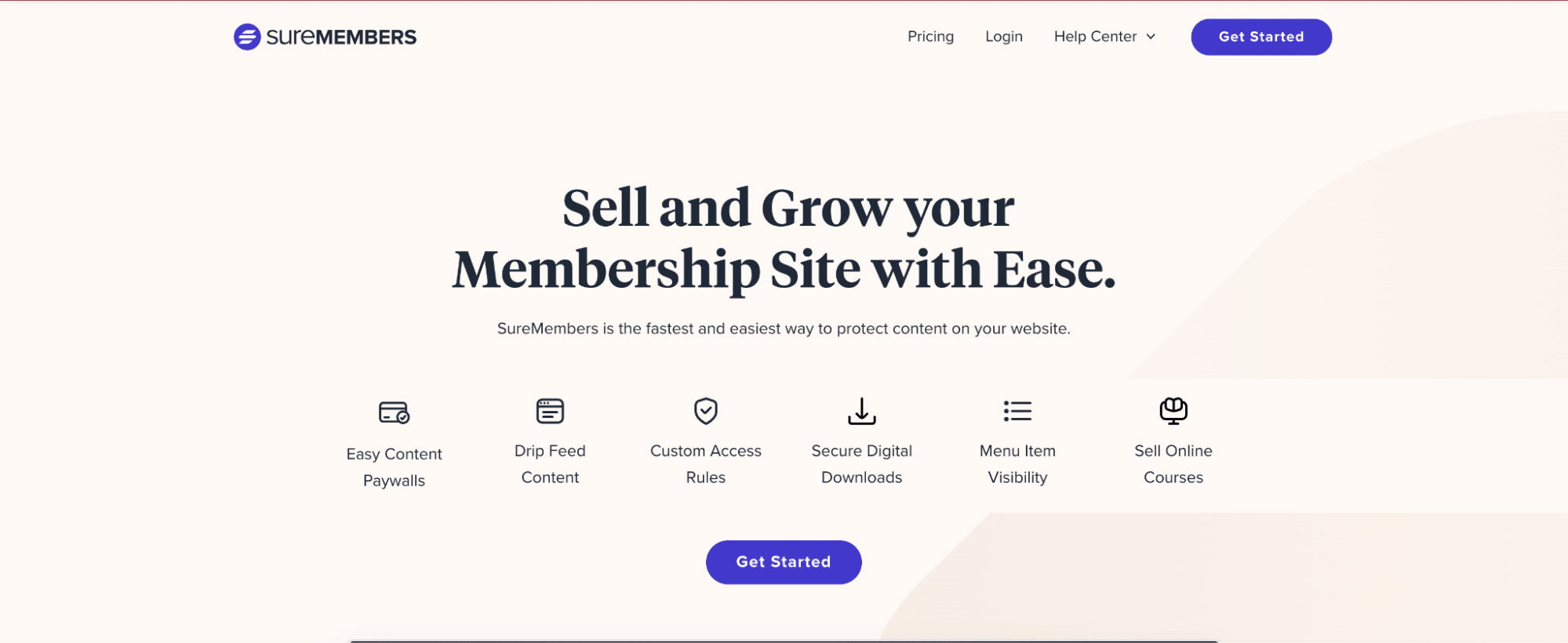 SureMembers is a comprehensive solution for creating subscription-based courses or restricting content on your WordPress site.
It helps you:
Create subscription-based courses
Restrict content access
Secure digital downloads
Customize access rules
Manage menu item visibility
It's a perfect fit for businesses of all types, including agencies, bloggers, podcasters, influencers, eCommerce gurus, and course creators.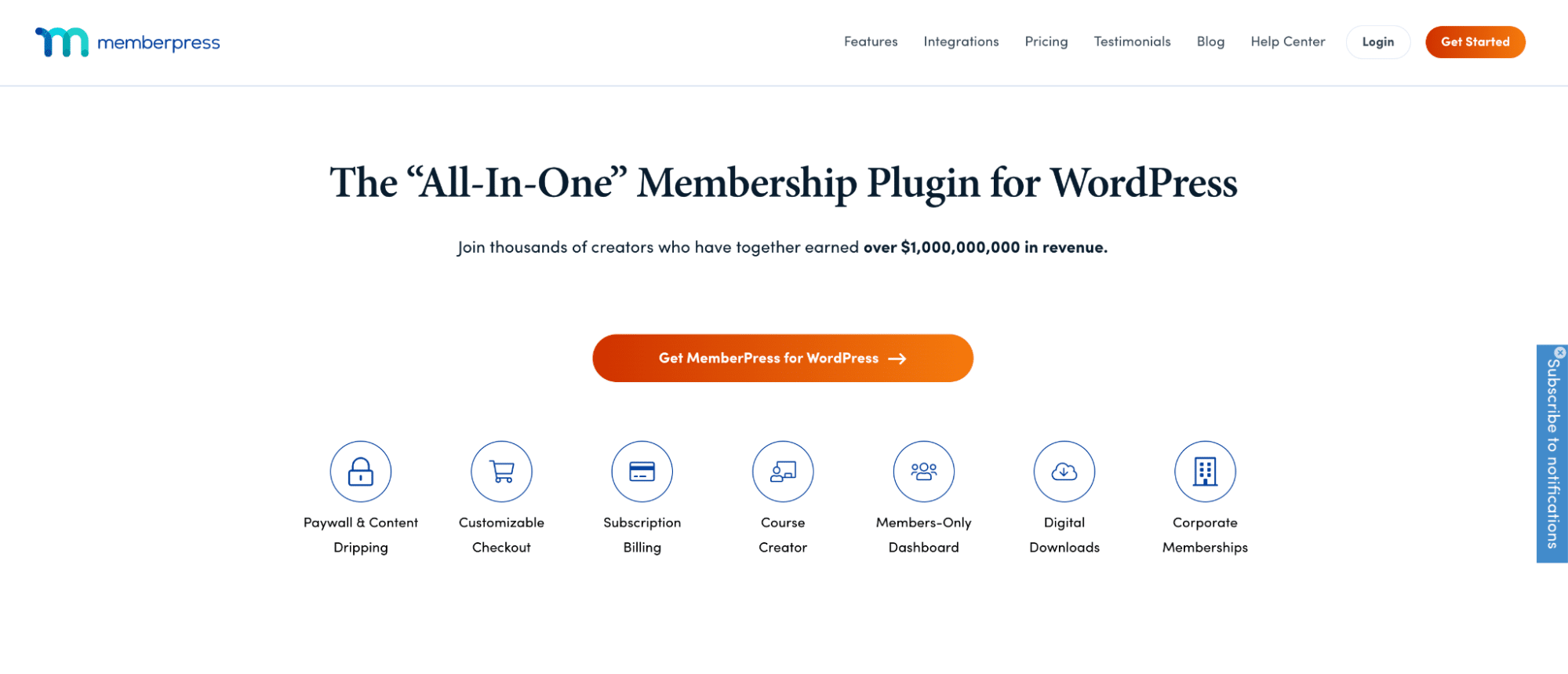 MemberPress is a robust WordPress membership plugin designed for creators aiming for 7-figure earnings.
It helps you:
Create and sell online courses
Set up paywalls and private communities
Provide a members-only dashboard
Offer digital downloads and corporate memberships
MemberPress is ideal for anyone looking to build and manage a membership site easily, from beginners to experienced site owners.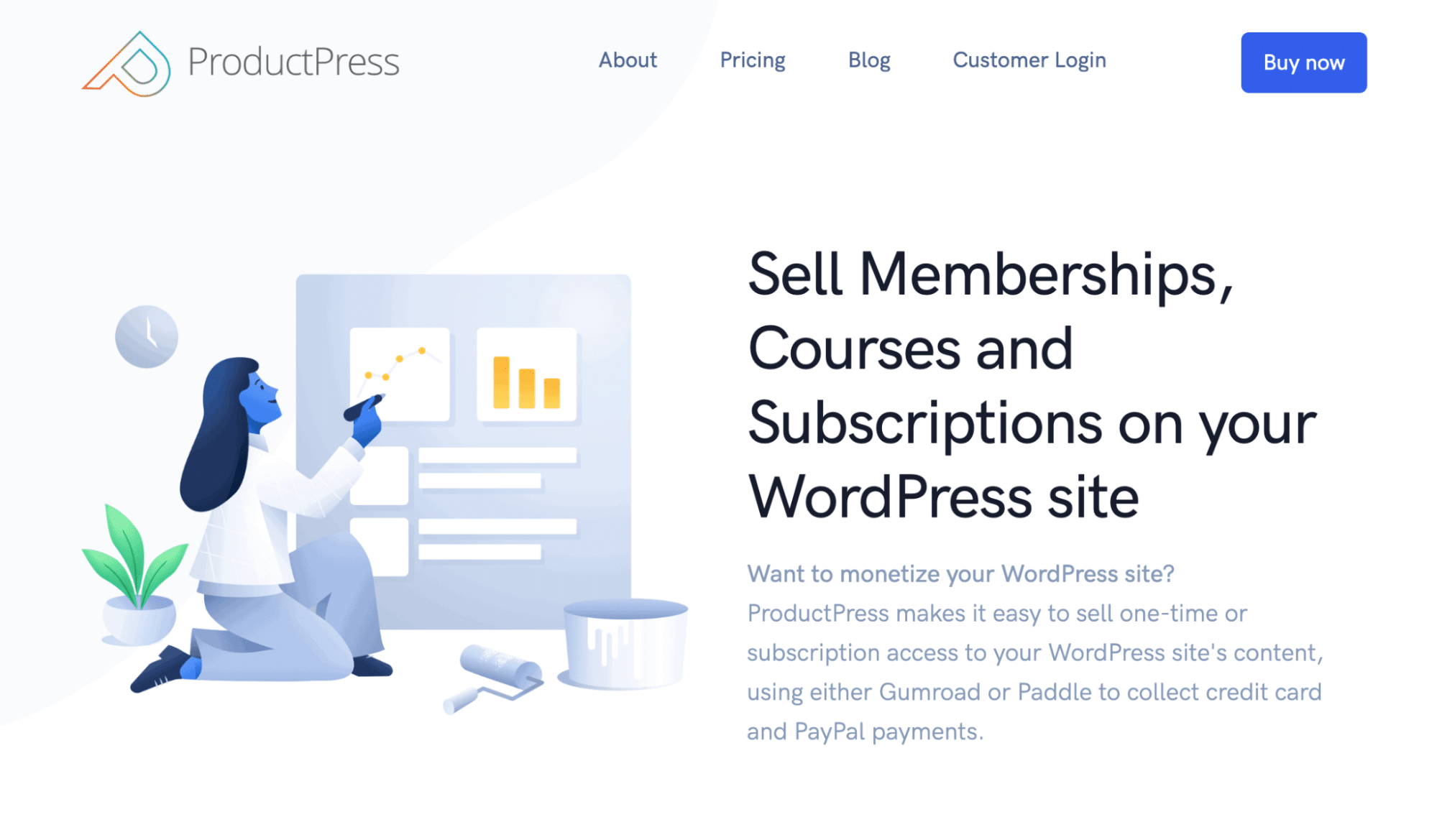 ProductPress is a simple yet powerful plugin that enables you to sell memberships, courses, and subscriptions on your WordPress site via a simple interface.
It helps you:
Use Gumroad or Paddle for payment processing
Create and sell online courses
Restrict access to members-only content
Earn recurring revenue
It's particularly suitable for online entrepreneurs starting courses and selling memberships on their sites.
By now, you should have a fair idea of the tools required to build a functional membership site.
Let's jump into the next most important step of the process — improving site performance.
But simply starting your membership won't help. You must optimize your site for better performance, user experience, and SEO.
Let's explore this further.
The Importance of Performance and SEO for Membership Sites
Having a fast, reliable membership site is critical to success. You want happy members who stick around and engage with your content while strong SEO brings in new people — it's the perfect combination!
Speed matters big time.
Slow load times frustrate users, leading to poor engagement and canceled subscriptions.
Site performance also significantly influences search engine optimization since Google cares about speed and user experience.
Let's pick a good host.
1. Selecting Quality Hosting For Your Membership Site
Picking a good web host is important to make a WordPress membership site.
The type of hosting you get decides how fast your site loads and how often it goes down.
Those things matter a lot for giving members a good experience and ranking your site higher in search engines.
How Hosting Affects Site Speed And Reliability
Your hosting service is like the foundation of a house. Bad hosting means slow speeds and frequent downtime. This can frustrate visitors and hurt your SEO. Choose a reliable host with fast servers and great support that ensures maximum uptime, fast page loads, and good search rankings.
Here are some hosts you can try:
2. Picking the Right Theme for Your WordPress Membership Site
Picking the right WordPress theme for your membership site is super important. The theme sets the look and feel of your site.
It can also affect how fast your site loads and how easy it is for people to use.
Why Pick a Lightweight and Responsive Theme?
You'll want to go with a lightweight and responsive theme. A lightweight theme has clean code that loads fast, greatly impacting SEO and user experience.
A responsive theme makes your site look good and works on desktops, tablets, and phones.
This is especially important now over half of web users are browsing from their mobile devices.
Here are some of the fastest WordPress themes:
Astra – Astra is one of the most popular WordPress themes because it's fast and flexible. It has tons of starter sites you can install in one click. It works great with SureMembers, LearnDash, and MemberPress, so it's awesome for membership sites.
Neve – Neve is a modern multipurpose theme that's fast and lightweight. This means your pages will load super quickly.
OceanWP – OceanWP is a free multipurpose WordPress theme that works well with membership plugins without sacrificing performance or SEO.
3. Create User-Friendly and SEO-Friendly URLs
Making good web page addresses is important for optimizing your WordPress membership website.
A well-structured web address is easy for users to understand and good for search engines.

This makes it simpler for people to navigate your site and for search engines to "get" your content.
Effective URLs have two main benefits:
Show users where they are on the site and describe the page content.
Help search engines understand site structure and page relevance for searches.
Want to create effective URLs? Follow these tips:
Separate words with hyphens, not underscores or spaces
Structure logically to match the site content
Use relevant keywords but don't overdo it
Avoid special characters in the URLs
Always use lowercase letters
Keep it short and simple
WordPress Permalink settings allow full URL customization, including predefined structures or creating your own.
4. Keyword Research for Your WordPress Membership Site
Keyword research is important for your membership website for two big reasons.
First, it helps you understand what your audience is looking for online. This tells you what they need, their interests, and their problems.
You can use this data to create valuable content for your members.
Second, targeting the right keywords can increase your site on search engines.
That helps drive more organic traffic to your site and potentially get more people to become members.
Quick Tips for Picking Keywords for SEO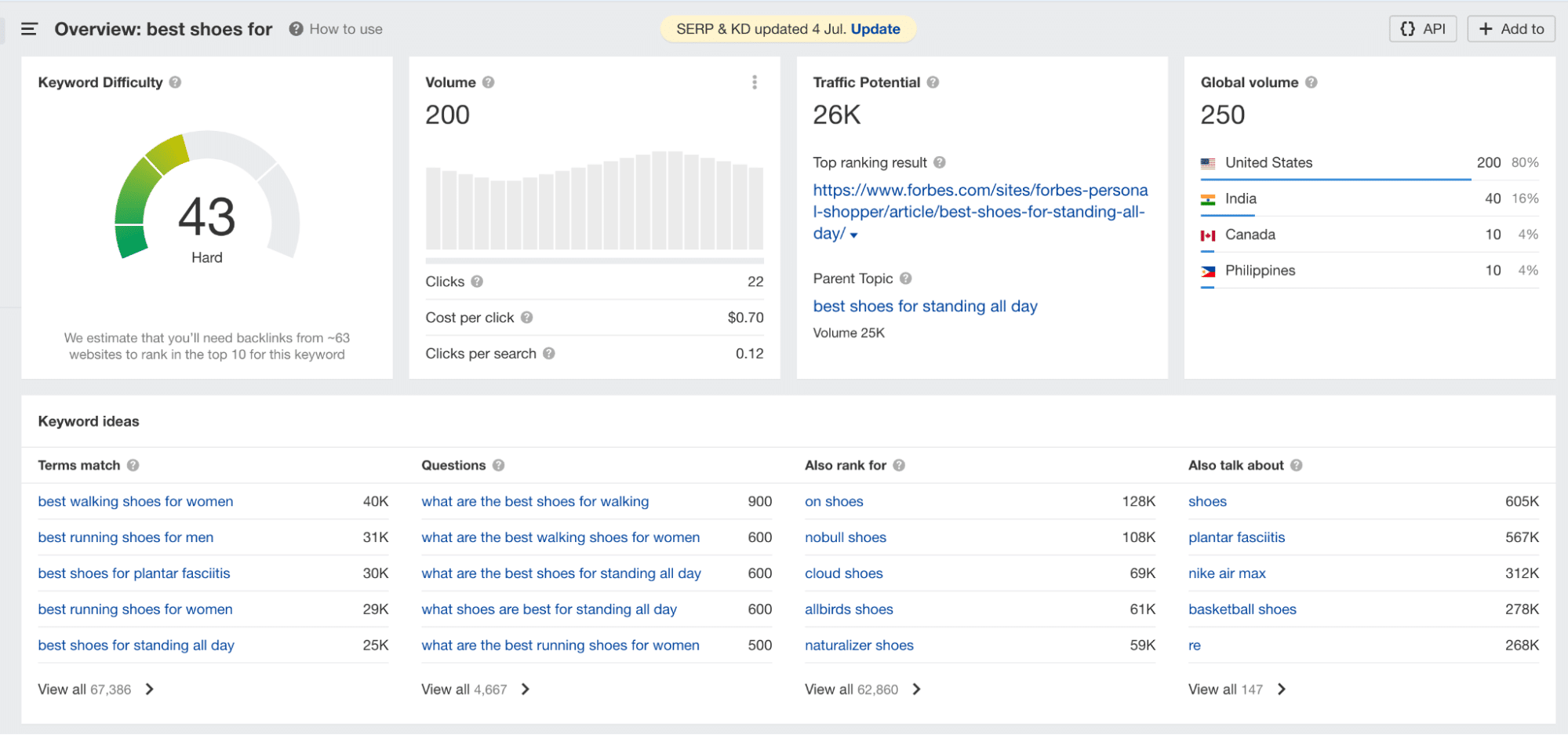 When picking keywords for SEO, keep these tips in mind:
Focus on understanding user intent. What do people want when they search for certain terms? Match your content to answer their intention behind that search.
Go after long-tail keywords. These are more specific, longer sentences and less competitive keywords that can bring targeted traffic more easily.
Look at keyword difficulty. How hard is it to rank for a certain keyword? Easier ones are usually better, especially for new sites.
Check search volume. How often is a keyword searched? High volume is good, but don't ignore lower volume keywords either.
Recommended Tools for Keyword Research
Here are 3 great tools for keyword research and on-page SEO:
RankMath – A WordPress plugin for SEO. It helps optimize your content and tracks keywords.
Ahrefs – Performs keyword research, competitor research, and more. Find relevant keywords and see their difficulty and search volume.
Semrush– Similar to Ahrefs. It also has an SEO writing tool to optimize content for target keywords.
Using these tips and tools can help you do effective keyword research. This can get more organic traffic to your WordPress membership site and bring in more potential members.
5. On-Page SEO
Keyword research is one phase of SEO. Once you have the keywords, write content and start creating the pages.
But if Google cannot read and understand your pages completely, you'll leave ranking opportunities on the table.
On-page SEO means optimizing the content and code on each page so search engines know what the page is about.
Every website must make a few foundational changes as a bare minimum to improve on-page.
Meta Titles and Descriptions
The meta title is your page's title that appears in search results. Make it descriptive with your main keyword so it grabs attention.
Keep it under 60 characters so the whole thing shows up.
The meta description is a summary under the title in search results. While it's not a direct ranking factor, it helps increase the click-through rate (CTR). Describe what the page is about and use your main keyword. Keep it under 160 characters.
Headers
Headers like H1, H2, and H3 organize your content. They also tell search engines about the topic.
H1 is the main header with your main keyword. Each page should only have one H1.
H2 and H3 are subheaders that break up sections. Use keywords in these where they fit naturally.
6. Improving Site Speed
Having a fast website isn't just nice — it's really important!
Slow loading times can frustrate users and leave your site (called "bouncing"). This means fewer people will buy memberships or use your site.
You can use Google's page speed checker to see how fast your website loads.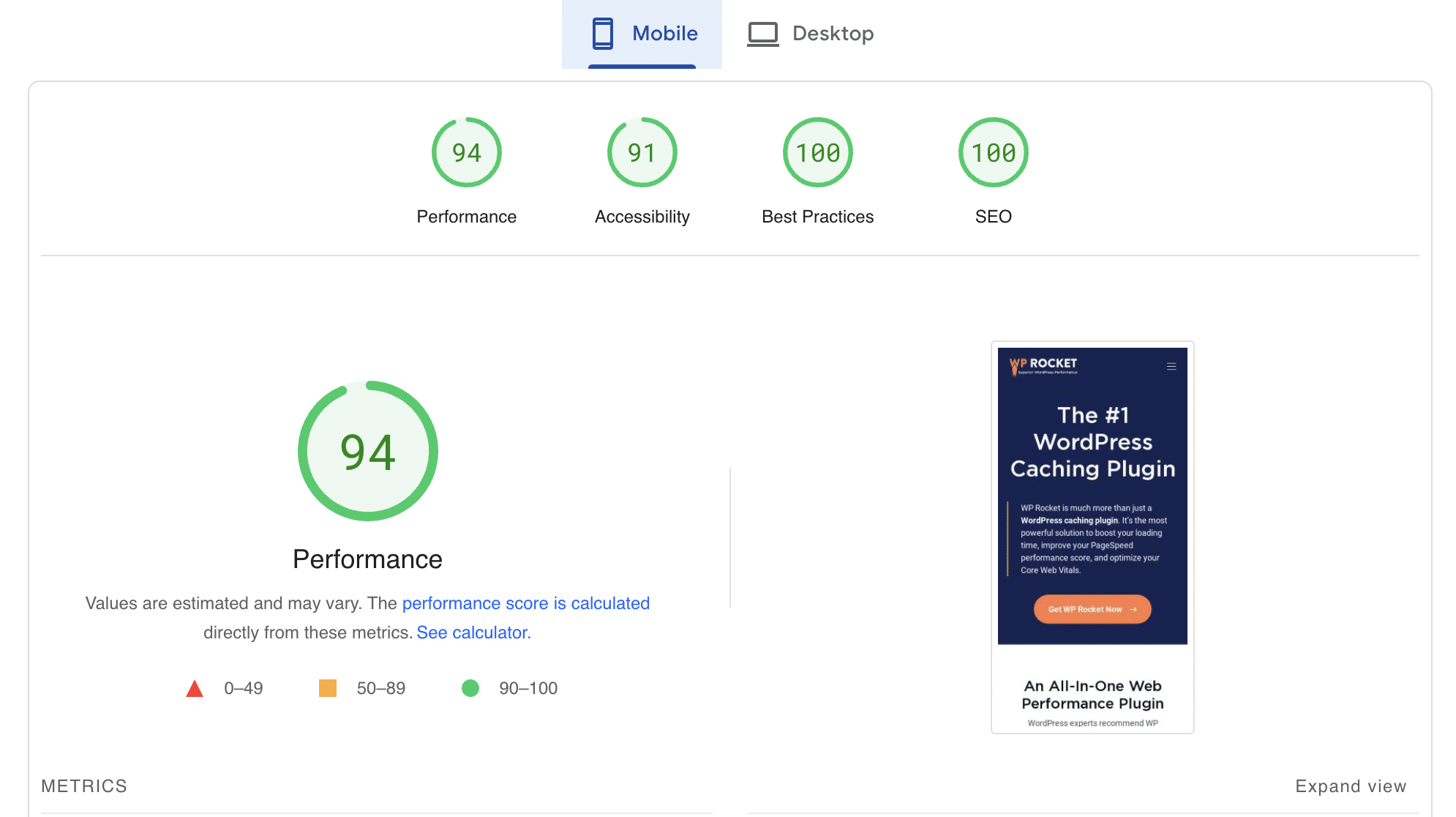 Slow speed hurts your search engine ranking as Google uses site speed to decide where your site should rank.
A faster site can help you get higher in search results, bringing you more visitors.
Optimizing Web Performance
To make your site faster, you can take advantage of a caching plugin. If you've picked a host like GreenGeeks or EasyWP, you may get a pre-installed caching plugin to help improve the overall speed of your site too.
WP Rocket is the easiest and most powerful WordPress caching and performance plugin. It instantly improves your site's loading times and PageSpeed score by applying web performance best practices immediately upon activation. These include page and browser caching, cache preloading, and GZIP compression.
The plugin also offers advanced features like delaying JavaScript execution and loading JavaScript deferred, removing unused CSS, and lazy loading images. It is constantly updated to keep your site fast and tackle challenging web performance optimizations, including optimizing Core Web Vitals and improving the PageSpeed Insights score.
This post on the best caching plugins for WordPress has choices if you wish to compare multiple plugins before choosing the best one for your needs.
Let's jump to improving the site speed through optimized images.
Optimizing Images for Speed and SEO
Large, high-resolution images that aren't optimized can slow down your site. This is a low-hanging fruit that has a big impact on how fast your website loads.
To optimize images for speed, start with a plugin like Imagify. It helps you resize, compress and convert images to WebP – these are the actions to take to make your images lighter. You must also perform a few more steps to ensure complete optimization from an SEO standpoint. ​​
Here are the additional steps you need to take: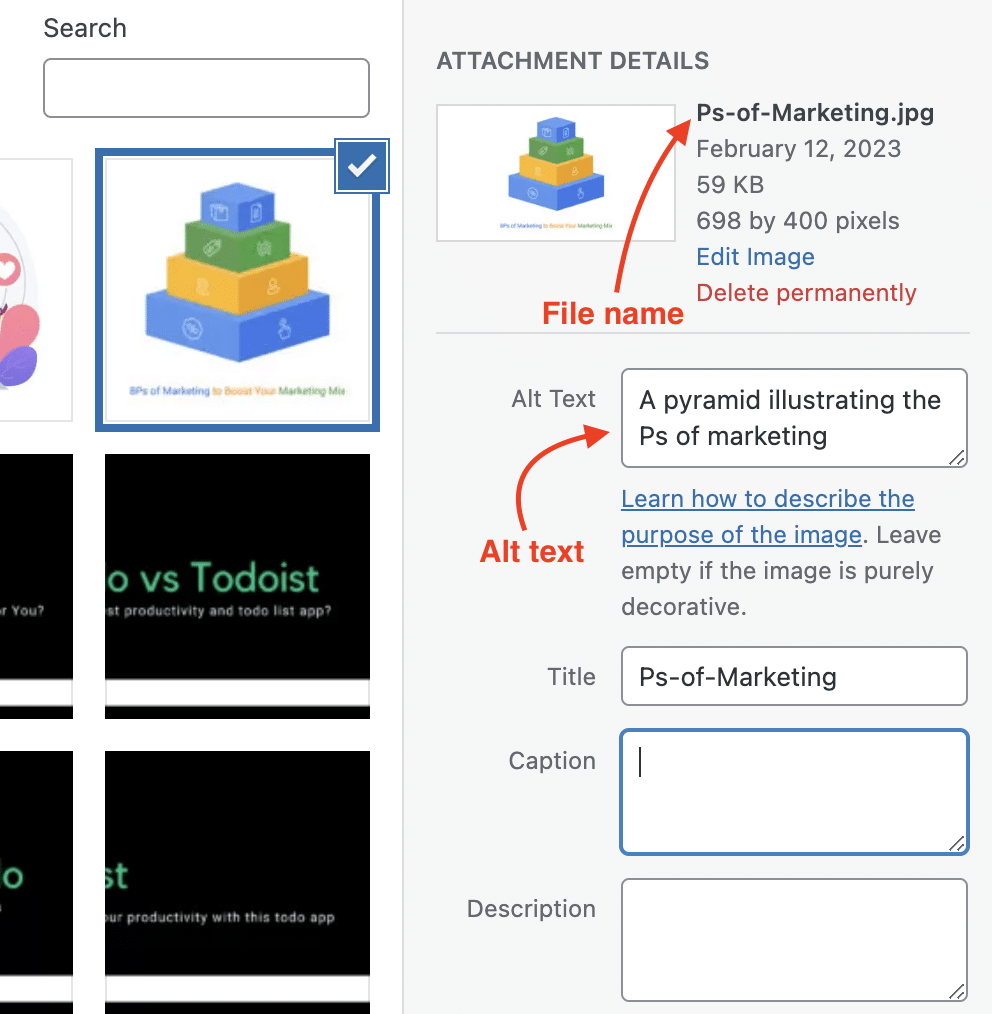 Use keywords in file names and describe the image
Add alt text to improve accessibility
Remember that images taken with a professional camera are generally much larger (10+ MB).
Automated compression can only do so much to reduce the sizes. We recommend uploading a lower-resolution image, like 1920×1080, so optimization can work its magic for your membership website.
Implementing a Content Delivery Network (CDN)
A CDN stores a cached version of your site content on servers worldwide. When a user visits your site, the CDN delivers the content from the server closest to the user.
This shortens the distance the data travels, reducing latency and load times and giving your users a better experience.
Benefits of using a CDN include:
Faster load times for users worldwide
Improved site performance
Better user experience
Higher global availability and redundancy
For membership sites, RocketCDN is an excellent choice. It's customized for and fully compatible with WP Rocket caching.
RocketCDN relies on StackPath's high-performance network of 50+ global edge locations to deliver lightning-fast speeds.
Once you have a CDN set up, your site is snappy, no matter where your users access it from.
Finally, let's talk about a highly neglected problem — plugin management.
Reducing and Managing Plugins
Too many plugins can slow down your site. Each adds code that your server must process, which can cause delays when the site loads on your users' computers.
It doesn't take a lot to manage them efficiently.
Here are a few things we recommend:
Only install and use the plugins you need for your site to function.
Update them on time — WordPress allows automatic updates, but we recommend enabling it only for official WordPress plugins.
Regularly delete any unused plugins to avoid conflicts in the future.
Avoid redundant plugins — For example, multiple popups or page builders. They do more harm than good.
Check plugin reviews and the last updated dates before you install any plugin. We want plugins that are updated frequently.
With the basics of your site setup complete, let's find a good membership plugin that will handle the technicalities so you can focus solely on creating a better membership experience.
7. Create Content Your Members Will Love
Engaging content is important for your membership site. It keeps your members coming back and encourages new ones to join.
Understand Their Needs
Before creating content, understand who your members are and what they want.
Use tools like Google Analytics and surveys to get more information about them. What are they into? What problems are they trying to work through?
Use this to guide your content creation.
Plan Your Content
A content calendar helps you plan and schedule your content ahead of time. When inspiration strikes, you can batch-create your content in advance for the next few days or even weeks.
This strategy works great for sites requiring publishing content regularly, as you're never left without content to post.
A tool like SureMembers can also help you automatically drip the content to your membership site so your content publishing is on auto-pilot.
Use AI to Research
ChatGPT has rid social content creators of the blank page syndrome. You can simply drop in a few of your previous content as examples and ask ChatGPT to create new ones with a similar style.
The results are generally terrible. But you now have something to start with. And within the process, you create new content you otherwise couldn't.
Before you go live and start promoting your membership, there's much to customize. This tutorial on creating a full-fledged membership site from scratch helps you complete the process.
8. Promoting Your Membership Site
Creating a site and onboarding new members is no easy task. Content is just the beginning.
People must love the idea behind your membership site before they ever decide to sign up. When you're just beginning, you have to do a lot of promotions.
One of the fastest ways to gain organic traction is through social media.
But it's no easy task, as internet gurus might make it sound. Getting people to start accepting your content on socials is an uphill battle until you hit the right checkboxes for the community.
Take Reddit or Twitter (X?), for instance. You cannot sign up to these platforms, start sharing or auto-post links, and expect attention.
You must add value to the community and gain trust before promoting a single link.
Depending on how well you know the platform, this can take a while. Marketing Examples is a great example of using Reddit to scale your marketing effort and gather an audience.
It started with Harry Dry, the founder of this site, replying to comments in the writer communities about how they can market their services better.
Then, he began sharing case studies and stories for free while mentioning that he shares these in more detail in his newsletter.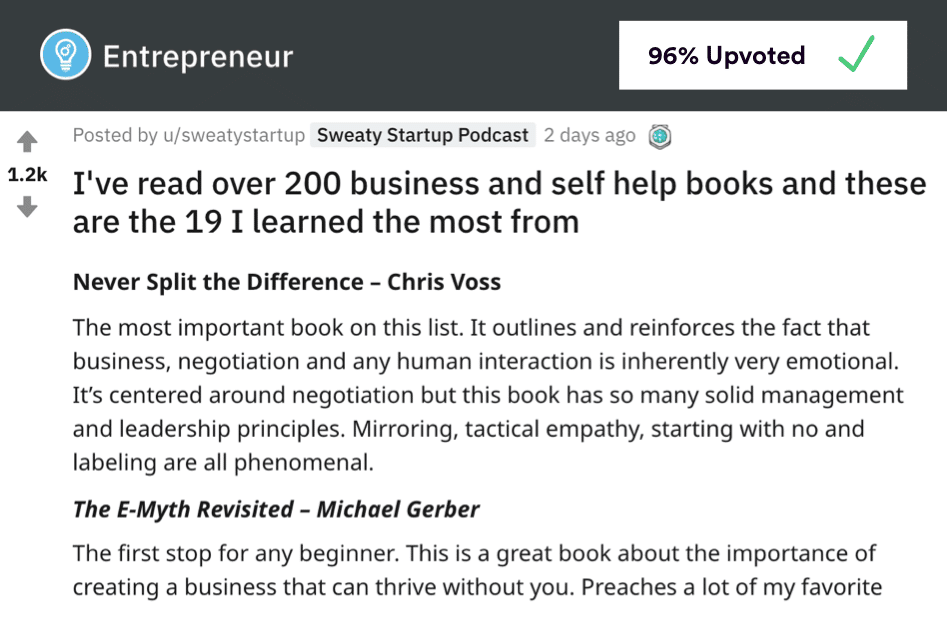 As people realized he was adding value, Marketing Examples blew up and gained the attention that Harry was looking for.
That's just one of many examples of how to promote and retain members on your membership website without being pushy. We're sure you can come up with many more.
Ready to Unleash the Full Potential of Your WordPress Membership Site?
We've gone through the complex process of setting up, improving, and promoting a WordPress membership site.
From understanding the importance of speed and SEO to creating interesting content and using off-page SEO tactics, we've learned what goes into making a successful membership site.
But the real test starts now. It's time to use this knowledge.
The path to a successful membership site isn't straight or easy. It requires thoroughly knowing your audience, providing value, and always adapting.
Remember, your WordPress membership site has to become more than a platform. It must be a single place where people with similar interests and goals can openly share.
Your role is to build this community and provide excellent experiences to your members.
So, are you ready to fully realize the potential of your WordPress membership site?
---