There was a time when WP Rocket didn't have an affiliate program, and we didn't plan to have one. But, as the Irish playwright Bernard Shaw once said:
Progress is impossible without change, and those who cannot change their minds cannot change anything.

Bernard Shaw
And we did change our mind: WP Rocket Affiliate Program was born in 2018, and it saw incredible growth over this period.
With this blog post, we want to look back at the reasons why we decided to open our Affiliate Program, what results we obtained, and what lessons we are learning along the way.
But, before diving into our personal experience with the affiliate program, let's see some of the foundations of affiliate marketing. Besides, if you are starting your own business, or you are looking for new ways to make some extra money, you should get acquainted with affiliate marketing techniques.
What Is an Affiliate Program About?
If you run an online business, you might have looked for ways to monetize your site. To do so, you can use Google AdSense, host guest posts, create paid content for users, or product reviews, just to name a few options.
Over the last few years, in addition to these methods of monetization, affiliate marketing has become more and more popular. You likely have seen several examples of websites containing affiliate links redirecting to big sites like Amazon, eBay, or Booking.
Online affiliate programs work through a marketplace or network, like ShareASale, Awin, Clickbank, or the same Amazon.
So, What Do We Mean When We Talk About Affiliate Marketing?
Affiliate marketing is a performance-based technique that consists of inserting affiliate links to external products on a blog or website.
The affiliate link is a unique link (each affiliate has one) that redirects customers to the products' original website. When the customer makes a purchase following the affiliate link, the affiliate earns a pre-established commission. Thanks to the affiliate link, the merchant can track the activity coming from the affiliates' site and determine the number of commissions to pay.
Joining an affiliate program is one of the most useful marketing tactics to produce a passive income online: it's performance-based because the earnings solely depend on the activity of the final user.
Typically, there are four parties involved in an affiliate program:
The merchant, who creates a product or service to promote and pay affiliates to reach more customers;
The affiliate, who promotes the product on their website and receive a commission for every sale;
The network managing the affiliates;
The consumers, who buy the product on the website;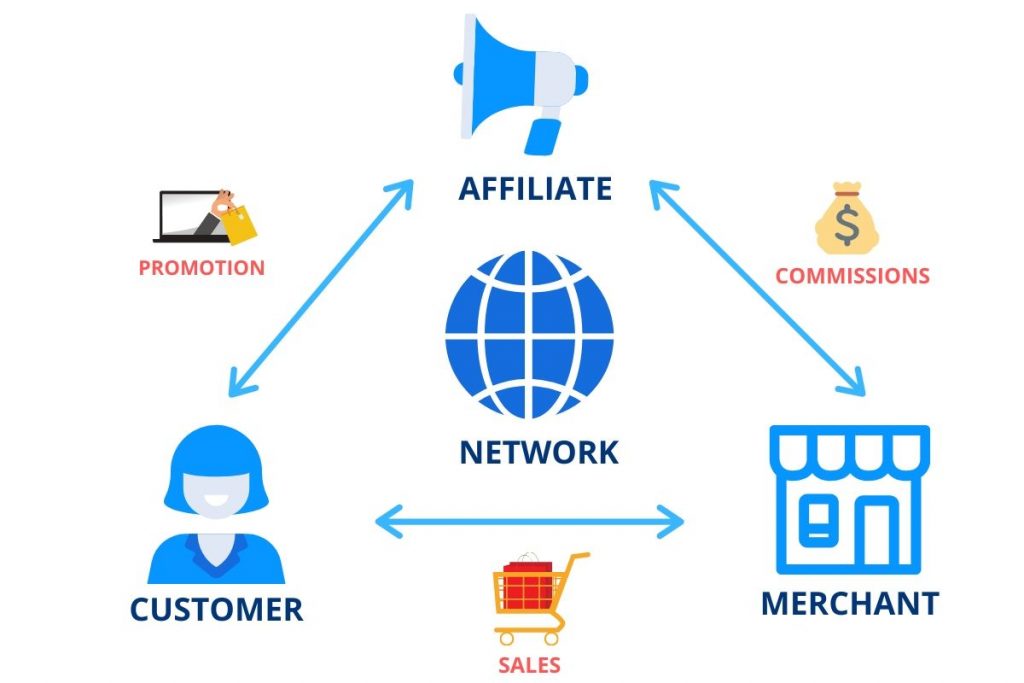 If you are an affiliate, you will earn a commission every time your users buy the products you promote on your website.
As a merchant, you move new customers to your products, thanks to the activity of your affiliates.
It's indeed a win-win situation!
Every affiliate program has its rules, so earnings for affiliates can vary according to different factors: the type of products offered to users, the products' reviews published on the web, the quality of content, and the volume of traffic.
Why Opening an Affiliate Program Can Benefit Your Business?
You don't need to be a large entrepreneur or a Fortune 500 company to jump on the affiliate marketing opportunity. Quite the opposite! In fact, according to a 2018 research by Awin, 81% of brands have adopted affiliate marketing.
If you sell products or services online, there are several reasons why you should think of opening your affiliate program and become a merchant. Here are the three main ones, in our opinion:
Hand Pick Your Business Partners
At the base of a successful affiliate program, there is a relationship between merchants and affiliates. As a merchant, you can take your time to select your affiliates carefully and handpick them according to your needs. If you're using an affiliate network, the application process is more automated: people who want to become an affiliate for you will fill up an application; you can review them and refuse those that don't fit with your standards.
Affiliate marketing is an excellent opportunity to create valuable partnerships and to choose brand ambassadors trusted by customers.
This is, for example, what Syed Balkhi, founder of WPBeginner, says about WP Rocket:
At WPBeginner, we always recommend WP Rocket to our readers because it's the easiest and most beginner-friendly caching plugin on the market. Users can instantly cache their websites with 1-click and WP Rocket offers the most comprehensive set of tools to boost website speed.

Syed Balkhi
Pay for Performance and Lower Risk
With a traditional pay-per-click advertising campaign, you are charged per lead or per click: those leads have to be converted before you can call them customers. Since you have no guarantees that conversion will work, you might end up paying for advertising that doesn't drive any sale.
On the other hand, thanks to an affiliate campaign, what you pay to your affiliates depends on their performance: you only pay when the sale is complete. If an affiliate doesn't run effective campaigns and doesn't bring sales, you won't lose any money.
This implies that affiliate marketing, as opposed to PPC, is also a low-risk marketing strategy.
Improve Brand Awareness
Promoting your products or services through affiliates websites is one of the best ways to get new audiences that you would probably have had difficulty reaching. Consumers prefer buying from retailers they know so that you can benefit from the trust your affiliates already gained with their audience. This new exposure will improve your brand awareness and will put you in the position to catch the new audience beyond a single-product promotion.
Why Should You Become an Affiliate?
Whether you are a blogger, an influencer, a small entrepreneur, or a big company, you can take advantage of affiliate marketing by becoming an affiliate (or advertiser).
As an affiliate, your role is to promote, attract, and convince people to buy the merchant's service or product: you are the one who will transform people into customers!
A big responsibility, right? Well, it is, but it can also become a perfect income opportunity if you put your mind to it.
There are many advantages to participating in an affiliate marketing program.
Here are the three main reasons why you should do it:
A Supplementary Source of Income (That Can Increase Over Time)
Becoming an affiliate doesn't mean you have to quit your job, or fully dedicate your time to promote the merchant's products. You can start at your own pace: use your affiliate promotion as a side project that allows you to make extra money. And keep in mind that the more effort you put on it, the better you become, the more money you will be able to make.
On the other hand, if you already run an established company, becoming an affiliate is a great strategy to strengthen partnerships in your environment, and grow your revenues.
Flexibility and Independence
When you decide to jump on the affiliate marketing boat, there is an invaluable benefit: you are flexible and independent. Since the merchant will only pay you when customers buy from your site, you simply have to organize your work in the most convenient way.
You will have to respect the contract signed with the merchant and abide by the rules of their affiliate campaign. But apart from that, you are in charge of your own business. And all this without having to deal with after-sales support, refunds, or any other specific request related to the product: the merchant will take care of that!
Creativity at a Low-Risk Rate
From your affiliate position, you can have fun and enjoy multiple ways of promoting the merchant's products or services. You can create a dedicated website for your affiliate product; you can write about it on your blog, create a vlog on YouTube or an online course, or explore the endless opportunities offered by social media: use your creativity!
If you get to know your audience to perfection and the type of communication they prefer, your promotional activities will likely be a success.
The good aspect of all this is that you won't have to invest huge capital in starting in, so it's a low-risk business opportunity.
WP Rocket's Affiliate Program
Now that you know more about affiliate marketing let's get back to WP Rocket and our experience in this business.
How Did We Start Our Affiliate Program
Our Affiliate program officially dates back to the beginning of 2018. Well, to be precise, we started paving its way long before that, since the beginning of the adventure with WP Rocket.
When we began to set up WP Rocket's strategy back in 2014, we also started to look for people who wanted to try the plugin and review it.
Jonathan and Jean-Baptiste, WP Rocket's founders, were confident about the quality of the plugin they've been developing, and people dealing with web performance for WordPress soon acknowledged that!
That's why, at the very beginning, we weren't fans of the idea of setting up an affiliate program: WP Rocket was still a young plugin, and we didn't want people to think that good reviews were paid ones.
Nonetheless, free reviews started to pour, and even when we asked people to review our product in exchange for a free license, we were very picky: our number #1 rule was "content quality first."
After five years, WP Rocket's reputation was established, and it could already count on hundreds of good reviews. We were ready to launch our affiliate program and refine our customer acquisition strategy.
In 2018, we eventually created a dedicated team that would take care of the WP Rocket Affiliate Program: our team put a great effort in building awesome relationships with our affiliates.
To facilitate our work, we built our affiliate network with ShareAsale through which we manage affiliates' requests, track affiliates' results, and craft our affiliate communication.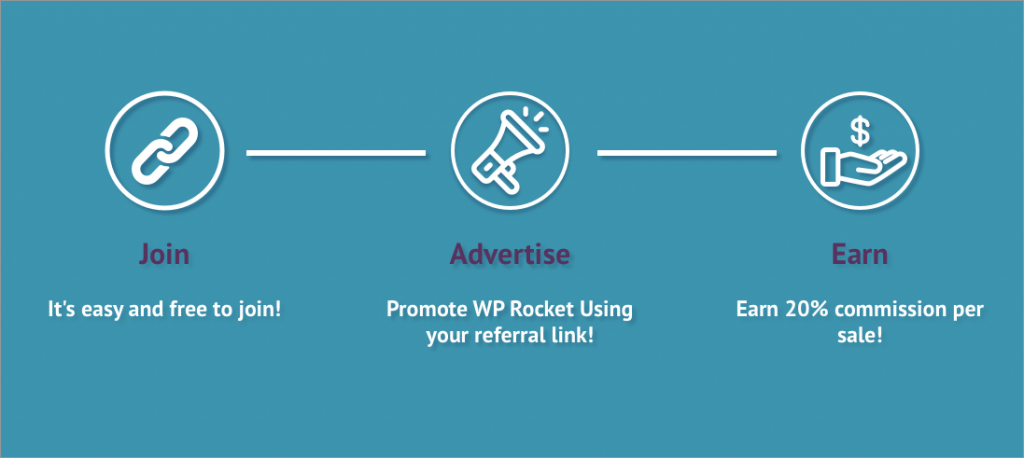 Customers Are Our Best Ambassadors
Growing an Affiliate Program is not always easy, but we must say we are lucky.
Anyone who runs a WordPress site wants it to be fast and efficient: and WP Rocket is there to realize their ambitions. ?
Our customers love WP Rocket and the boost of speed it gives to their site, so setting up our Affiliate Program was easier: our first ambassadors were already there, happy to share their experience with our caching plugin!
We also kept recruiting new affiliates from our customer base thanks to our email marketing strategy: our email onboarding scenario always includes the invitation to join WP Rocket's affiliate program. ?
As Frank Goossens, the developer of Autoptimize, puts it:
WP Rocket is a great companion for Autoptimize. We combine both for most of the optimization projects we offer on Autoptimize.com to squeeze the most performance out of our customers' sites.

Frank Goossens
Our Strategy
The scope of the WP Rocket Affiliate Program is to enroll the leading WordPress influencers around the world. We have no geographical limits, so we'd like to reach everyone who's sharing some WordPress/web performance love to their audience.
Nevertheless, before onboarding new affiliates, we go through a series of verification steps: we want to make sure that WP Rocket's affiliate links are being shared within quality websites. That's why every affiliate request coming through ShareASale is reviewed with attention and care.
This is what Adam Connell from BloggingWizard says about the way we manage our affiliate program :
WP Rocket is my favourite caching plugin for its functionality, ease of use and great support. And, their affiliate program is powered by ShareASale so tracking & payouts are always spot on.

Adam Connell
At the same time, we make sure to help our affiliates to create great content about WP Rocket. We provide them with all the tools and assets they may need to know more about caching for WordPress and WP Rocket functionality: we don't want them ever to feel lost in this!
A Win-Win Situation
When Affiliates join our Program, they get a 20% commission for every sale made through their work promoting and spreading WP Rocket love.
To earn this commission, the new customers (the referred accounts) must remain active for 37 days after the purchase. The commission is calculated on the first order only, meaning that multiple accounts don't count.
To give you an idea of how our Affiliate Program is evolving, here is a graph showing the comparison between converting affiliates in 2018 and 2019: converting affiliates are those who made at least one sale during the last month.
Up to now, we registered 436 converting affiliates in 2019 (vs. 224 in 2018)!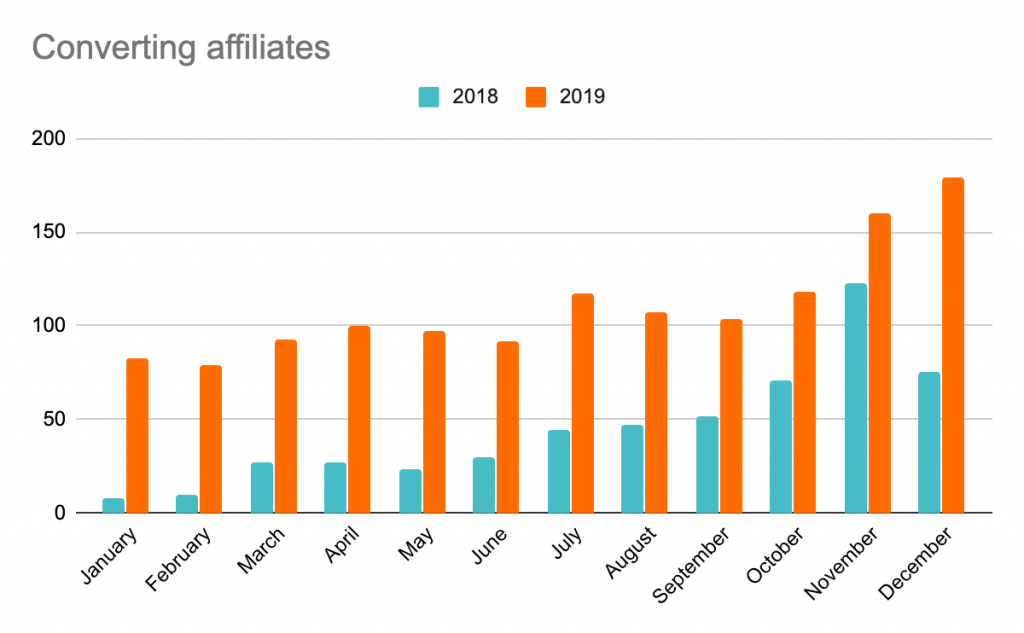 In terms of commissions, in the following image you can see how the amount of the commissions we pay to our affiliate increased a lot in 2019 (with November being the best month, thanks to the Black Friday campaign!):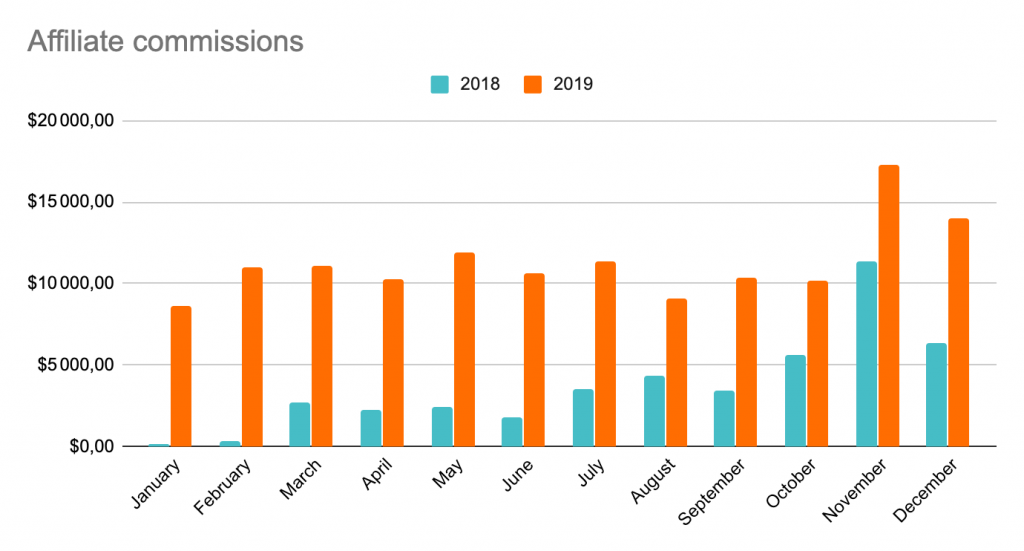 Up to now, during 2019, we paid $135.928 in affiliate commissions (vs. $44.352 last year)!
Few Rules, But Strict Ones
We didn't forget our #1 rule: quality content first. That's why we set up an affiliate agreement which contains not only terms and conditions, but also a few rules to respect:
Affiliates cannot offer coupon codes, rebates, or other forms of promised kick-backs from their affiliate commission as an incentive;
Self-referrals and fraudulent transactions are also forbidden;
The affiliate website has to be a good one! (So no spam, illegal activities, offensive content, etc.).
Regular checks on approved websites and social media channels are our daily bread: we do our best to identify any violations of our agreement as they come up.? ?️‍♀️
Lessons We Learned Along the Way
Managing an affiliate program is not a piece of cake: there are many factors to take into consideration, and keeping healthy and stable relationships with affiliates is a big job.
Over these almost two years with the WP Rocket Affiliate Program, we learned a few lessons that are worth sharing.
Focus on Quality, Not Quantity
We know that, at the moment of launching your affiliate program, it's tempting to focus on quantity and broaden your affiliate list.

It's not a wrong choice necessarily, but the more affiliates you have, the more time you have to dedicate to nurturing your network: and this doesn't automatically translate into more conversions.
We learned that it's best to focus on your top-performing affiliates rather than on a plethora of low-performing ones. WP Rocket Affiliate Program, for example, can count with around five affiliates that make 50% of our affiliate revenue.
Stick to Your Rules, With No Exceptions
Setting up your rules is fundamental: an affiliate program can't succeed without clear and strict guidelines, and all affiliates should respect them.
Write down your rules and include them into the affiliate agreement, so that all affiliates joining the program are bound to them. That will make it easier to spot incorrect behavior and to dismiss the affiliates who don't follow your policy.
For example, we had to take action when we realized that some of our affiliates were offering coupon codes to their readership, breaking our affiliate agreement.
Keep a Strategic Mind
Your affiliates are your allies: treat them as such! Since you both want to reach the best results, don't underestimate the power of your relationship with them.
Take the time to share your marketing insights so they can promote your product in the best possible way. This includes providing them with marketing resources, but also with tips about your target audience, their purchase behavior, and any other tips that might be useful to boost conversions.
You could also suggest them to improve the position of the promotion on their website. Just to give you a few ideas, some of our best affiliates included WP Rocket's affiliate link inside their product dashboards and knowledge bases, on social media, and cross-promotion resources.
Wrapping Up
Setting up an affiliate program can be quite a journey, and sometimes it begins even before you start calling it like that (as in WP Rocket's case!).
In this post, you learned the basics of affiliate marketing; if you are interested in this business, you know you can approach it in both ways: opening up your affiliate program, or joining somebody else's.
Whichever path you decide to take, we hope that the story of how we started our Affiliate Program at WP Rocket can inspire you.
And if you feel like doing business with us and joining our Affiliate Program, don't hesitate to do so by clicking on this link.
If you have any questions about affiliate marketing, our Program, or have tips to share with our readers, let us know in the comments section below!

---