Maybe you're choosing a new web host or simply curious about what's "normal." Whatever the reason, understanding disk space and how much you need for your WordPress website is an important consideration when choosing a hosting package or anticipating how much space you might need in future.
In this post, we'll explore how much space WordPress sites need, including how much space they typically use, what you need to know about web hosting packages and the storage space they offer, and how running your site efficiently can ultimately help you save space and keep costs down.
How Much Disk Space Do Web Hosts Offer?
Disk space refers to the amount of storage space a web host allocates to a website and all associated files on a server. Basically, it's the same as disk space on your computer's hard drive.
Web hosts typically list how much disk space they offer on their sites along with details of their plans and pricing. You might see it referred to as "disk," "local storage," and even "web space."
No matter what it's called, space is space and not to be confused with monthly visits (i.e. traffic) or bandwidth (the amount of data that can be transferred).
So let's take a look at some examples. WP Engine, for instance, offers 10GB of disk space with their basic Startup plan: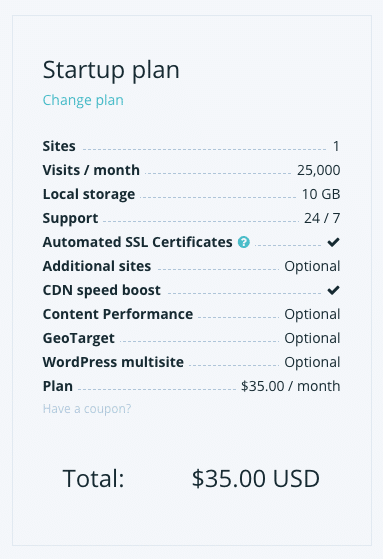 Then there's Kinsta. Their basic Starter plan comes with 5GB of disk space: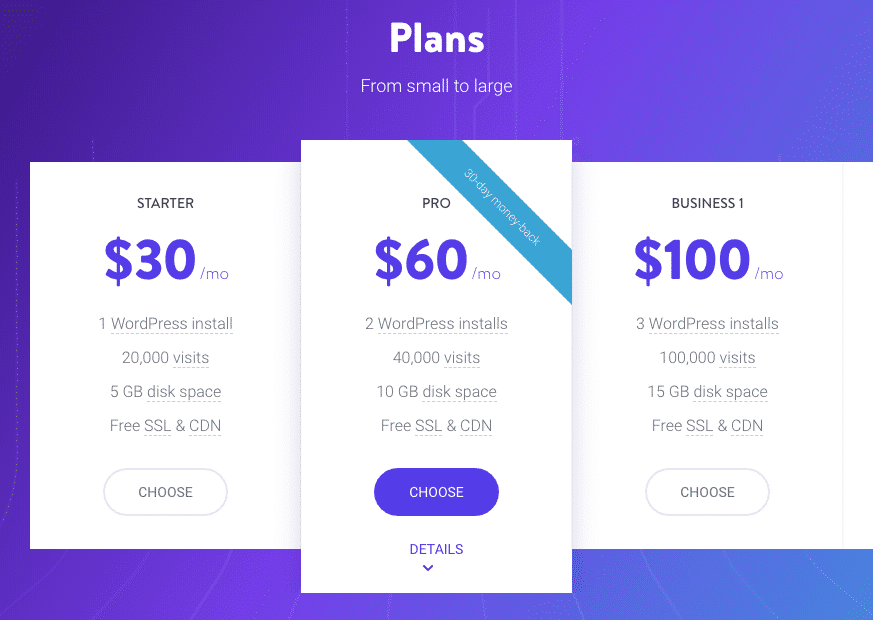 Finally, Bluehost's Basic plan offers a whopping 50GB of space, and when you upgrade you get unlimited storage: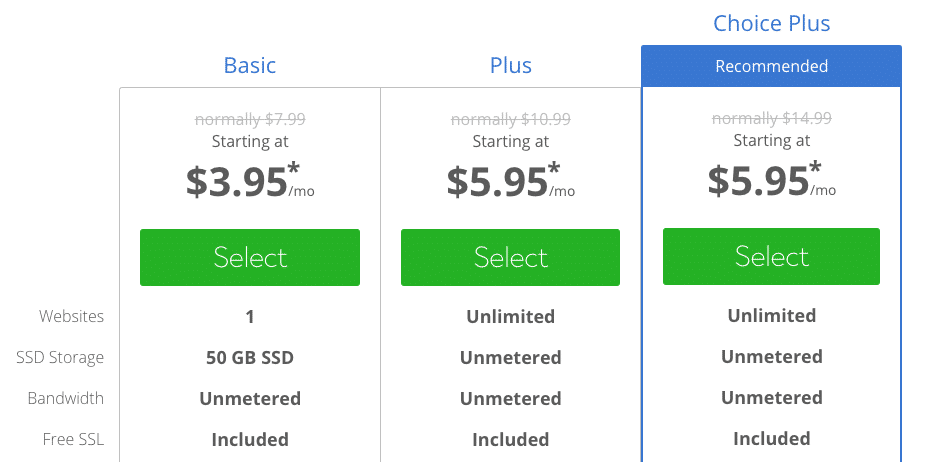 You might be thinking "Kinsta's basic plan doesn't offer much space…" or "Wow, 50GB is way too much space!" or even "Unlimited SSD storage! ?."
It's easy to be wowed by the promise of unlimited space. But really, do you need that much storage space? Without any context, it's hard to comprehend the difference between 5GB and 50GB. For starters, how big is a typical WordPress site? And what is a typical website anyway?
How much disk space you think you need might be very different from how much space you actually need.
So let's crunch some numbers and put it all into context.
How Much Disk Space Does the Average WordPress Site Use?
Just how much storage space your site needs depends on a number of things. For a start, there are your basic files (WordPress core, plugins, and themes), then you've got your database and media files.
And on top of that, there are other things that you might want to store on your server, such as site backups and email hosting.
Let's break down.
WordPress core is currently 30.8MB.

Themes can take up anywhere between 1MB and 10MB of space. For reference, the TwentySeventeen theme is 1.3MB and the most popular ThemeForest theme, Avada, is around 5.5MB (when you only include the theme itself and not all the extra files that come packaged with it).

Plugins are a mixed bag, and there's no real "typical" size. Jetpack, for instance, is 21.4MB, Yoast SEO is 13.7MB, and W3 Total Cache is 9.4MB. If you add a security plugin to the mix and other tools for adding other essential functionality to your site, you could easily max out 100MB or more just in plugins.

Media, including images and video, will take up the most space. It's harder to estimate how much media might take up on your site, though you can save on space if you host your video on a platform like YouTube.

Lastly, there's your database. How much space you need will depend on how many posts you have, as well as comments, spam, plugin and theme configurations, and more.
Another factor you need to think about is email storage. If email is included in your hosting package, this will be included in your disk space. Thanks to email attachments, any email accounts can quickly occupy a huge amount of disk space, especially if you get a lot of spam.
Different Types of Website Have Different Storage Needs
Websites come in all shapes and sizes. A simple blog will have vastly different needs to a WooCommerce site selling dozens, or even hundreds, of products.
Here's a look at what you might need to consider storage-wise depending on the kind of website you have.
Blogs and personal websites typically consist of posts, photos and sometimes video files and generally don't require much space.

Portfolio, agency, app, and business websites with dynamic content, including images, videos, audio, and scripts, may need more space, particularly if they're engaged in content marketing.

WooCommerce sites often feature dozens of product pages with high quality product images, which are a crucial part of any online store but can quickly eat up disk space.

Music, video, and gaming websites that are media-heavy will have huge disk space requirements.

News and digital publications, like blogs and personal sites, also consist of posts, photos and videos, but on a much grander scale. These kinds of sites need a lot of disk space.
Average WordPress Site Usage
Fortunately, Kinsta has published data on average disk space usage, taken from a pool of production WordPress sites that have been hosted on their servers for over four years.
WordPress core: 8.9 MB (4.9.5+)

Average plugins directory (/wp-content/plugins): 100 MB

Average theme directory (/wp-content/themes): 25 MB

Average uploads directory (/wp-content/uploads): 825 MB

Average MySQL database: 85 MB
On average, Kinsta has found that the typical client uses approximately 1GB of data for a single WordPress installation. But "sometimes this can swing in either direction," according to Marketing Manager Brian Jackson.
"Some might have a much larger database, but smaller file usage, or the other way around. So on our starter plan, this leaves you with another 4GB (80%) of unused disk space for growth," Brian explains.
In his post How Much Disk Space Does Your Hosting Plan Really Need?, Brian argues that in many cases, WordPress users severely overestimate the amount of disk space they need, and this, in turn, "impacts their purchasing decisions in a negative way."
He points to three client examples:
Client 1 has 11 WordPress sites and uses 4.04GB of their 100GB disk space allocation.

They are below Kinsta's average, using less than 400MB per site.

Client 2 has three WordPress sites and is using 3.3GB of their 20GB disk space allocation.

They are on part with Kinsta's average of 1GB per site.

Client 3 has three WordPress site and is using 503.21 MB of their 15GB disk space allocation.

They are significantly below Kinsta's average, using less than 200MB per site.
As Brian explains, these examples are typical of their client base. Most users use much less disk space than what they're paying for.
Working Out How Much Disk Space You Need
If you're interested to know how much disk space your existing website is using, there are a few different ways to find out.
The easiest way is to install a plugin. The free My Simple Space plugin adds a simple widget to the WordPress dashboard that displays details about your site, including the entire size of your site, the size of your database, and a breakdown of each of the primary folders in your WordPress installation.

Alternatively, if you're using cPanel, you can see a quick overview of your total disk usage in the sidebar, as well as your database disk usage.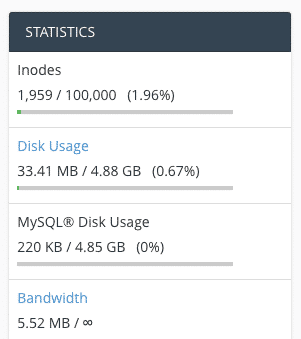 When you click on "Disk Usage", it will take you to a page offering a more granular breakdown of your storage usage, including how much space each of the folders in your WordPress installation is consuming.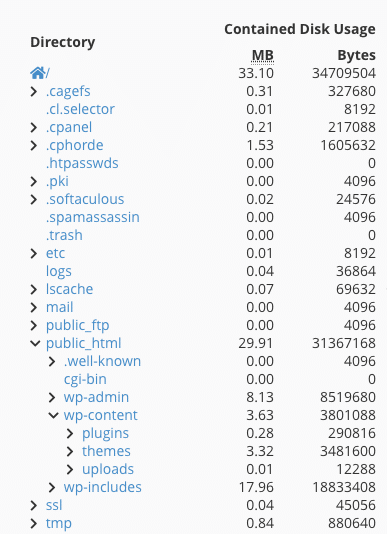 For advanced users, you can also check disk usage by logging into your host via SSH (you'll need to check with your host for details).
Taking Into Account Future Plans for Your Website
If you are in the process of launching a new website, chances are you won't need a huge amount of space right now. But as your online presence grows—and your website with it—you'll want to consider your options for scaling at some point in the future.
This is why it's important to know how much space your site is currently using and ensure there's enough room to grow in the short-term while taking into account any plans for growth.
If you're anticipating your website will remain small, it makes sense to stick with your current hosting and disk space allocation. But if you are planning to expand your site in the not-too-distant future and you're on shared hosting, you might want to look into other more reliable hosting options that provide greater disk space, such as VPS, managed, or cloud hosting.
Whatever your plans are, don't put off thinking about scaling until it sneaks up on you—it's best to plan for the future and know your options.
How to Save Disk Space
If you just checked your disk usage and discovered you're almost maxing out your storage allocation, here are some tips to help you free up space:
Optimize your images.

Take the time to review your images and remove any that you don't need. The 

Media Cleaner

plugin can help you find and delete under media. Then, compress them with an image optimization tool such as

Imagify

. This will shrink the size of your images, remove unnecessary file information, and help your images load faster.

Delete plugins and themes you are no longer using. This is recommended as best practice for WordPress maintenance and security.

Delete old backups

. You might not realize it, but you could have old backups lurking on your server. Log in to your site via FTP or cPanel or whatever method you prefer and check through all your folders. Make sure any future backups are stored off-site using AWS, Dropbox, or Google Drive to save space, and for added security.

Optimize your database.

With WP Rocket, you can quickly clean up your database and delete post revisions, spam and trashed comments, expired transients, as well as schedule automatic clean up.
Wrapping Up
Whether you're trying to decide on a new hosting package or planning for your site's future storage needs, it's important to understand how much space your site actually needs versus how much you think it needs. Knowing how much you're currently using, or estimating how much you expect to use if you're launching a new site, will ensure you purchase hosting that's appropriate for your needs.
Once your site is set up, don't forget to keep an eye on your page weight to ensure your pages load fast. And you'll also want to regularly clean up your database, so it's always clean as a whistle.
---