Dealing with WordPress means getting to know a vibrant open source community: and one of the things we love the most about it, is the possibility to gain access to hundreds of great resources to customize our websites!
Just open the official WordPress Theme Directory, and you'll be amazed by the amount of quality themes you can find in it. Developers and companies who want to contribute to open source and give back to the WordPress community provide great GPL-licensed themes for millions of users.
And how much does this all cost? Well, nothing, it all comes for free.
That's amazing, right?
Now, I hear the question coming: if you can find so many free resources in the WordPress official directory, why should you go for a paid WordPress theme?
In this article, we're going to dissect this dilemma: we'll see what's the difference between free and paid WordPress themes, and which solution best fits your needs.
Free and Premium WordPress Themes Galore
According to the official WordPress Theme Directory there are over 4,000+ free GPL-licensed WordPress themes.
If we add to this all the free WordPress themes available outside the official repository, we get a rough estimate of around 31,000 WordPress themes from more than 200 companies and/or marketplaces. That's huge!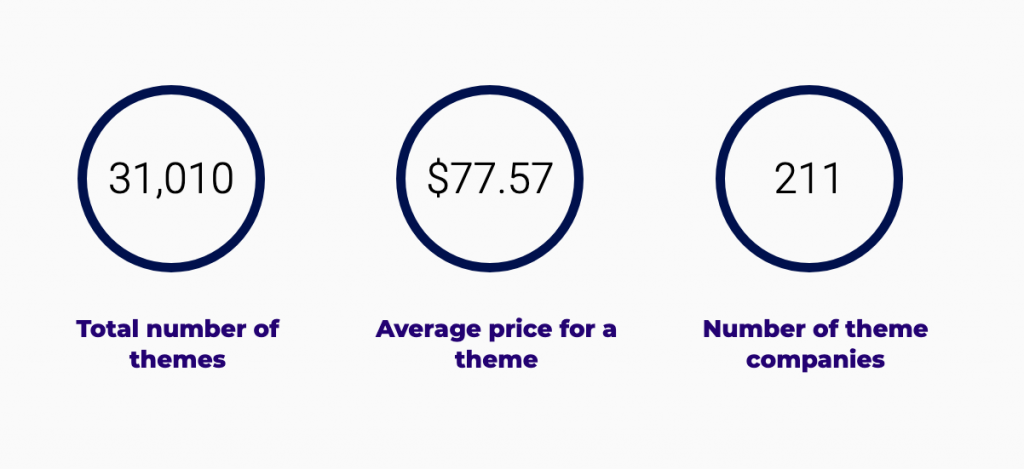 In fact, the official repository is not the only place where you can find free WordPress themes: they are also available on several marketplaces, like TemplateMonster.
What Are the Pros of a Free WordPress Theme?
Even if at first sight the choice can appear overwhelming, there's a free WordPress theme for whatever niche you choose to pitch yourself in.
If you are just starting out and do not have enough budget to devote on the web design of your website, head on to free templates. From blogs, to portfolio, to e-commerce themes, you'll surely find what you're looking for.
Moreover, there are several points that make free WordPress themes a good choice to start from. Let's see them briefly:
They Are Free
With no money involved, you can easily choose any free WordPress theme you like: you can test and leave the theme right away, if it doesn't meet your requirements. Keep scrolling and applying the filters available until you find the ideal one.
But most importantly, choose only reliable free themes providers: they will ensure you get only the cream of the crop of free themes while saving your money.
Officially Approved and Tested
All the WordPress themes available in the official repository have gone through a multistep process and they all must adhere to specific guidelines before being approved. A dedicated team will test them against a wide range of rules. This means you can trust them to meet quality requirements, among which:
being GPL compatible;
being secure;
be free of PHP or JS notices;
use WordPress functions, hooks, filters and libraries;
not doing anything illegal, dishonest, or morally offensive.
Less Frills, Better Performance
Designed in a fairly plain and minimalist style, free WordPress themes usually lack the "all-in-one" package offered by many premium themes.
This can be a real plus since fewer frills mean better speed (and there's already a list of the fastest WordPress free themes!).
Your theme is always going to play a large role in how quickly your site loads, so the leaner the better.
When Should You Go for a Premium Theme Instead?
So, free themes look great. And they are!
But sometimes your needs may be different, and your business requires something more complex. That's when premium themes come to the rescue. 😉
We identified a few pros that can tip the balance in favor of premium WordPress themes.
More Customization Options
If your business cannot rely on a minimalist style and it requires more customization (on sidebars, footers, top menus, etc.), a free theme might not be enough.
Premium themes can give you more choice in this sense, and give you the freedom to design the website of your dreams.
Be aware of excessive use of extra functionalities, though: always keep performance in mind to optimize your WordPress site page speed!
Customer Support
When you install a free theme from the official WordPress Directory, and you have an issue with it, you can rely on the WordPress Theme and Templates Support Forum: here you'll find lots of great volunteers from the community who will answer your questions.
On the other hand, the forum works on a volunteer basis, so you can't always expect to be helped in a timely fashion.
This is when premium customer support can be a real lifesaver: when you use a premium theme, you can expect to be assisted quicker via a chat room or a ticketing system by the vendor of the theme.
Uniqueness
When you have an e-commerce website, a blog website, a portfolio website, an education website, or any other kind of professional website, one of your goals is to stand out from the crowd.
This can be harder if you install a free theme with little space for customization. Some of the most popular free themes are downloaded by millions of users worldwide. Now think about how many websites might look the same, if they're built on the same template.
Premium themes give you more chances to stay ahead of the competition and be unique, just like your business.
What Are the Benefits of Premium WordPress Themes?
Every business needs a consistent amount of strategy to be successful. Think about premium themes in this way: they are one of the first investments for your online business.
If your goal is to make your products and services look professional and attractive, premium themes can skip a lot of time-consuming work.
Customizing the appearance of your site is just the first step; with a premium theme you can create new unique layouts, adding animation, sliders or very specific widgets, when needed.
Most of the times, premium themes also come with a set of pre-installed premium plugins: in just a few clicks you can for example make your site immediately ready to sell your products and services, improve its security or make it speak multiple languages.
Whenever you pay for a product, you can count on a series of guarantees: with premium themes, things should go the same way.
Relying on a dedicated person who can answer your technical questions and ensure your theme is always up-to-date with the latest WordPress versions, is fundamental.
Wrapping Up
Both free and premium WordPress themes have their pros and cons: there's not a choice which is right for everyone.
When faced with the dilemma "free vs. premium theme", try to honestly answer these questions:
What are your website's needs? Minimal functionalities or complex customization?
Do you have a limited budget or are you ready to invest some money in your online presence?
How important the aesthetic is for your online project?
Are you tech-savvy and ready to handle technical issues by yourself?
Once you'll have these answers clear in your mind, you might come up with a better idea of the type of theme you need. Not all themes are coded the same, so it's extremely important to make sure you choose the right themes provider with all the bells and whistles.
Also, remember that you can always upgrade to a premium theme on a second phase of your online journey.
Starting with a free theme and later upgrade to a premium one is a path that many people follow, and help to save money until you make up your mind about your project.
On the other hand, if you already have all the assets in your hand to start with a boom, then skim carefully the premium themes, and shop around until you find the right one for you!
---