This is a guest post written by HubSpot. Opinions and recommendations are the author's own.
Search engine optimization (SEO) has a significant impact on the success of any business. To be frank, it is the most important marketing tool any business can utilize. In fact, 45% of marketers say that organic search has the best ROI of any channel they use.
But with the many changes happening in the SEO world, how do you know which SEO strategies to implement?
Should you just focus on website speed? Or devote your time and efforts to on-page SEO and link building?
We'll cover the essential SEO tips you need to know to boost your search rankings and drive more organic traffic to your WordPress website.
Here's what you'll learn:
What Is SEO?
SEO is a digital marketing strategy that helps your website or a piece of content rank higher on the search engine results page (SERP). The higher you appear in search results, the more likely you'll attract quality traffic to your website.
One crucial ranking factor is site speed, which Google has used since 2010. In 2018, the tech company introduced The "Speed Update," which added more focus on the speed of mobile searches.
Google even provides a tool called PageSpeed Insights to help you measure your website loading time, further increasing the importance of page speed.
In short, a fast-loading website can boost your Google rankings.
That said, while speed is a crucial ranking factor, it's not the end-all-be-all of ranking on Google's first page. Other metrics like search intent and domain authority are strong ranking signals.
Why Does Page SEO Matter?
Page SEO matters because it ensures your target audience discovers your website through a relevant search. Internet usage is as high as it's ever been. Google processes approximately 63,000 search queries every second.
With such stats, you'll be pushed to the outskirts of the internet universe if you don't implement a solid SEO strategy. Even if the search engines index your website, your target audience will never see it.
Also, SEO is more affordable than paid advertising, and its effects are longer lasting.
Once a webpage ranks well, it'll stay there for a long time. As a result, you can allocate time and resources elsewhere, knowing that the SEO efforts you've already put in will continue working without your input.
Best Tips for a Fast and SEO-Optimized Website
SEO is among the top priorities for any website today. With over 1.9 million live websites, the competition for the top spot on the SERPs has never been this stiff.
Here are five SEO tips to make your WordPress website stand out from the competition and get higher rankings:
1. Build a Well-Designed Website
A well-designed, responsive website improves the user experience (UX). It gives visitors a seamless experience regardless of the device they use to access your WordPress website.
User experience and SEO are interlinked since Google values websites that work well for users.
With 61% of the global online traffic coming from mobile in July 2022, Google wants to offer a positive experience for these searchers. So, if your website is mobile responsive, it'll likely rank higher.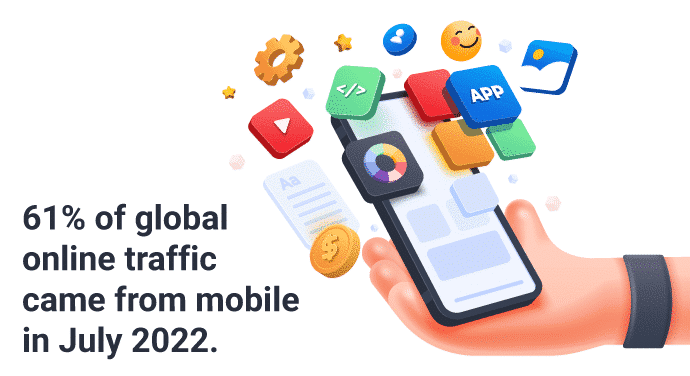 Well-designed websites also have optimized architecture that enables search engine spiders to find and index all the website pages. It also helps users quickly find what they're looking for on the website.
So, keep your website architecture simple to make it easy for users to pop around your website and find what they need. That'll improve the user experience, which indirectly helps with your SEO.
Also, when using lead generation forms, ensure the intent is to capture information. Otherwise, it can negatively impact your Google rankings.
For example, if your page is trying to rank for "get renters insurance" and the form is about "sign up for renters insurance," the form has the right intent.
But if the page's intent is answering "what is lead generation" and you have a renters insurance form at the top, Google will view the form like an ad, which may negatively impact your rankings.
Something else to consider is creating a sitemap — your website's blueprint that helps search engine crawlers find and index all the content on your website. It also tells search engines which pages on your website are the most important.
Sitemaps come in handy when your website is new and has a few external backlinks. Or, when you run an e-commerce website with hundreds, thousands, or millions of pages that are hard to internally link perfectly.
You can use a plugin like Google XML Sitemaps to create a sitemap for your WordPress website.
Lastly, optimize your page's meta description and title tags to help you get more clicks (which is a direct ranking factor).
Even Google recommends creating a meta description for each page on your website. Backlinko also shares that pages with a meta description get 5.8% more clicks than pages without a meta description.
2. Speed Up Your Website
If your WordPress website loads slowly, you'll lose half of your visitors before they click on anything. According to a Digital.com survey, a whopping 50% of visitors leave a website when it takes more than six seconds to load.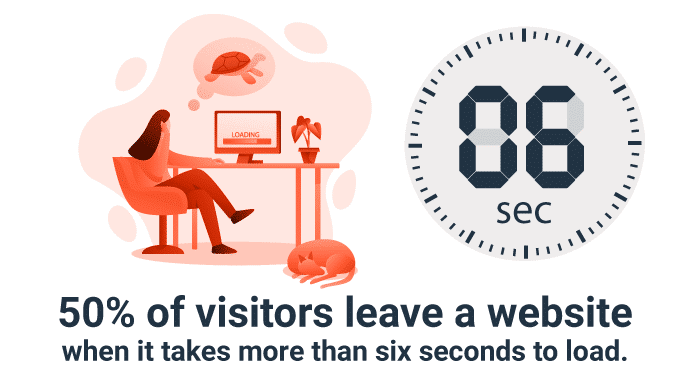 Here are three ways to improve your website speed:
Use a Content Delivery Network (CDN).
A CDN increases your website speed by caching content in multiple locations worldwide. It figures out where your visitors are physically located and serves your website's resources from a server close to them — resulting in a massive decrease in page load times.
Minify and optimize your files to remove anything that slows down your website.
Minifying your files removes unnecessary whitespace, formatting, and code that increases the page size and slows down your WordPress website.
Optimizing your CSS and JS files eliminates render-blocking resources and optimizes the Core Web Vitals – three key performance metrics.
One effective way to minify and optimize your files is with a plugin like WP Rocket — it makes the process relatively simple. It ensures your pages are as lean as possible, making the load time faster.
Optimize images for faster page load time.
Optimizing images involves compressing files and reducing the resolution and dimensions to make them lighter.
You can use a plugin like Imagify. It easily compresses the images and converts them to WebP – the next-gen format recommended by Google. If you have many images, you can take advantage of the Bulk Optimization option.
Optimizing for speed reduces your bounce rate and increases visitor engagement. As a result, it improves the user experience and boosts your search engine rankings and conversions.
3. Create Amazing Content Consistently
Consistently creating quality, relevant content should be at the core of your SEO strategy. Exposure Ninja backs that up with a survey, showing that 69% of the 149 businesses surveyed believe high-quality content is vital for gaining search engine traffic.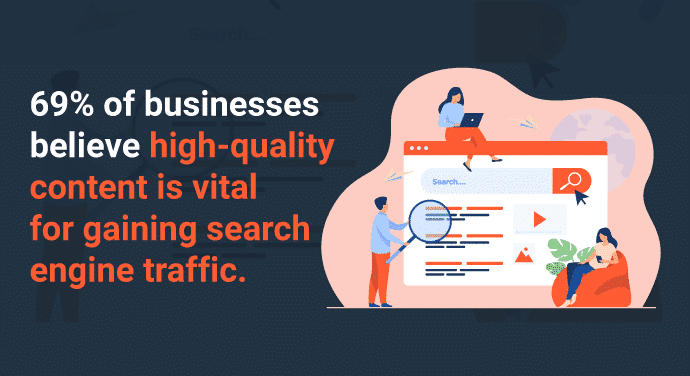 An excellent way to maintain consistency is to focus on topic clusters, which comes down to strategy and planning. Instead of looking at posts as individual elements, look at them as parts of a more prominent structure.
Organize high-quality content around specific topics and create supporting content to explore related themes further. Also, use internal links to help search engines understand the relationship between pages.
That way, you'll be able to build authority and rank higher in more search queries.
You can also create new content around shoulder niches to help you reach more people outside your industry. For instance, gardening is an excellent example of a shoulder niche for pest control content. You can create content based on common garden pests to increase your reach into the gardening industry.
Another important aspect is improving existing content and adding missing subtopics to help your content remain relevant.
In the process, you'll incorporate more relevant keywords and carve your content to serve the search intent better. As a result, you'll get more organic traffic and increase your click-through rate (CTR).
Also, consider formatting your content for featured snippets. A featured snippet is an opportunity to get more clicks from the organic search results without necessarily having higher Google rankings.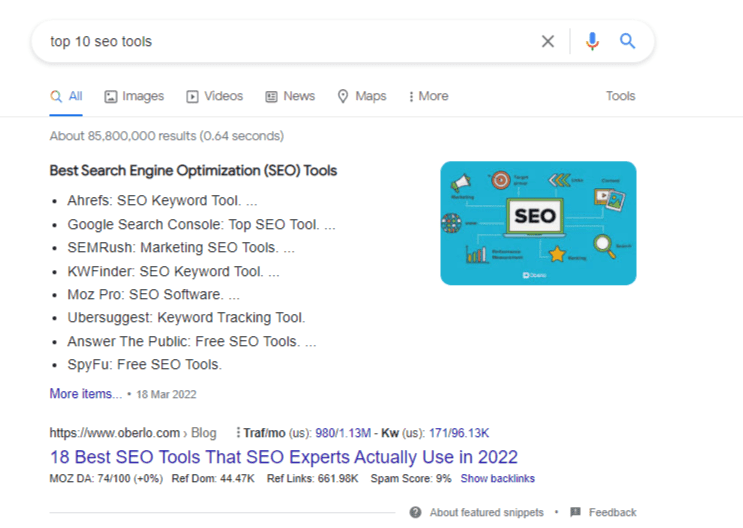 To appear in the featured snippet:
Find a keyword you already rank for and identify what type of featured snippet it is:
Definition snippet ("What is SEO?")
Table snippet ("SEO Tools Prices")
List snippet ("Top 10 SEO Tools")
Then, add a content snippet to your page designed for the specific featured snippet box.
Creating amazing content is only the first step. Consider shouting out your content in a custom newsletter, where you can create positive experiences for your potential and current customers and compel them to come back for more, further boosting SEO. You can also shout your content out on social media.
4. Target the Proper Keywords
The first step in an SEO campaign is keyword research. It impacts every other SEO task — finding content topics, email outreach, on-page SEO, and content promotion.
There are two types of keywords you can rank for:
Short-tail keywords — have less than three words (SEO tips, Google SERPs).
Long-tail keywords — contain three or more words (best SEO tips, how to rank in Google SERPs).
While short-tail keywords have a large search volume, they're super competitive for SEO and pay-per-click (PPC). In contrast, long-tail keywords don't have a large search volume but can help you rank quickly without many backlinks.
When doing your keyword research, use keywords that aren't too competitive to rank for. Super competitive keywords might give you trouble getting past Google's third page. If you can find a keyword without much competition, you'll have a good chance of making the top three.
Also, target branded keywords that searchers use to know more about a brand's products or services. They can include the brand name and product, such as WP Rocket for WordPress or WP Rocket Caching.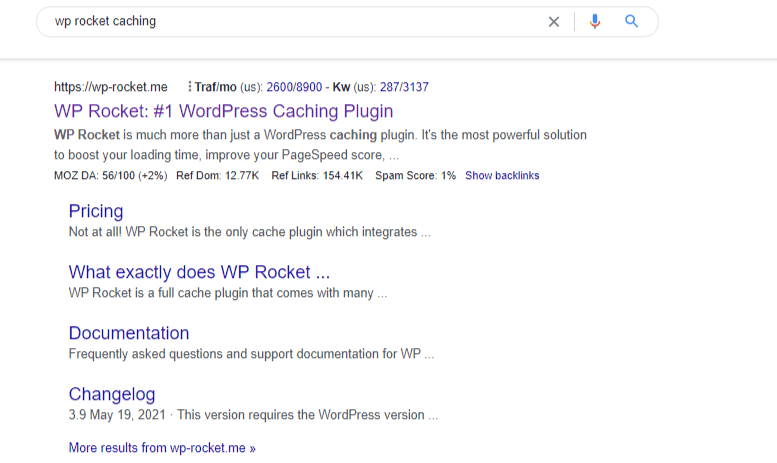 Branded keywords help visitors find your website directly. And since there's very little competition on the SERP for these keywords, you can control the messaging behind the keywords your brand is linked to.
5. Look for Link Building Opportunities
Backlinks are like votes from other websites, which tell search engines, "This content is credible, useful, and valuable."
Having more backlinks means your website will rank higher in search engines. Backlinko shares that the top Google result has 3.8x more backlinks than results in positions 2–10.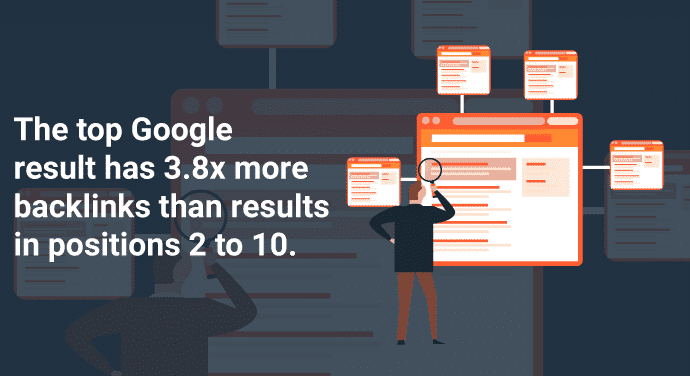 Backlinks remain one of Google's three most important search engine ranking factors. That's why pages with many backlinks rank better than pages with fewer backlinks.
That said, not all backlinks are the same. Focus on quality backlinks if you want to rank higher in the SERPs. One high-quality backlink would be more effective than 1,000 low-quality backlinks.
Here are some characteristics of relevant, high-quality links:
They come from authoritative and trusted websites.
They have your target keyword in the link's anchor text.
The website and page linking to you are topically related to your website.
The link is a "do follow" link.
An excellent way to manage your SEO backlinks strategy is by guest posting. It helps you exchange free content for backlinks from a page that links to your website through the byline.
Use Google search operators, such as Your Keyword "write for us" or Keyword "guest post," to find guest posting opportunities. You can also backtrack competitor backlinks to find any recent guest post links, then ask the website to guest post for them.
Another way to get quality links is to create linkable assets such as surveys, infographics, a piece of software, or videos. Your linkable asset needs to be remarkable — something people would want to add external links to without you asking.
General Advice for Creating SEO Content
As mentioned, good SEO and relevant content go hand in hand. So here are two tips to help you stay ahead in your content marketing game:
Write for Humans First and Search Engines Second
Even if you rank at the top of Google, it's people who follow or subscribe to your WordPress website. Not Google.
Google's algorithm and search spiders find and rank content that offers the most value to the reader. So, Google bots don't need you to write for them. They're getting better at understanding good content every day.
A good rule of thumb is to draft your content with your audience in mind, then optimize it for search engine crawlers after. That way, you'll help human readers understand your content easily — increasing dwell time, reducing bounce rates, and improving the overall user experience.
Pay Attention to Google's Algorithm Updates
Google makes one or two algorithm changes daily, but most of these changes aren't noticeable.
However, Google officially announces a "core update" a few times yearly. These updates are changes to Google's systems and algorithms that cause significant fluctuations in search results.
For example, Google implemented a "broad core update" to its algorithm in May 2022.
Google's broad core updates impact all search engine ranking factors without addressing any one component in depth. But past updates like Penguin and Panda focused on the quality of backlinks and content.
So, paying attention to Google's algorithm updates is crucial to understanding how those changes impact your website.
Final Thoughts: 5 Best SEO Tips for a Fast and Optimized Website
We hope you've found these SEO tips helpful. If you follow them, you'll be well on your way to more traffic and higher rankings.
Which SEO tips do you consider the best for optimizing your WordPress website to rank higher? Share the post with your answers.
---