DareBoost is an online service allowing to test performance and quality of any website.
For the launch of the business offers, this blog post presents the service, its features and a "before / after" WP Rocket comparison of a WordPress Blog (tip : discount code at the end of the post).
A complete report on your blog's quality and performance within a few seconds
DareBoost is a SaaS solution, an online tool, allowing to analyze your website's homepage for free. What's the point ? Get, in a few seconds, full report, showing strengths and weaknesses of a website, and benefit from step-to-step guidelines to solve detected issues.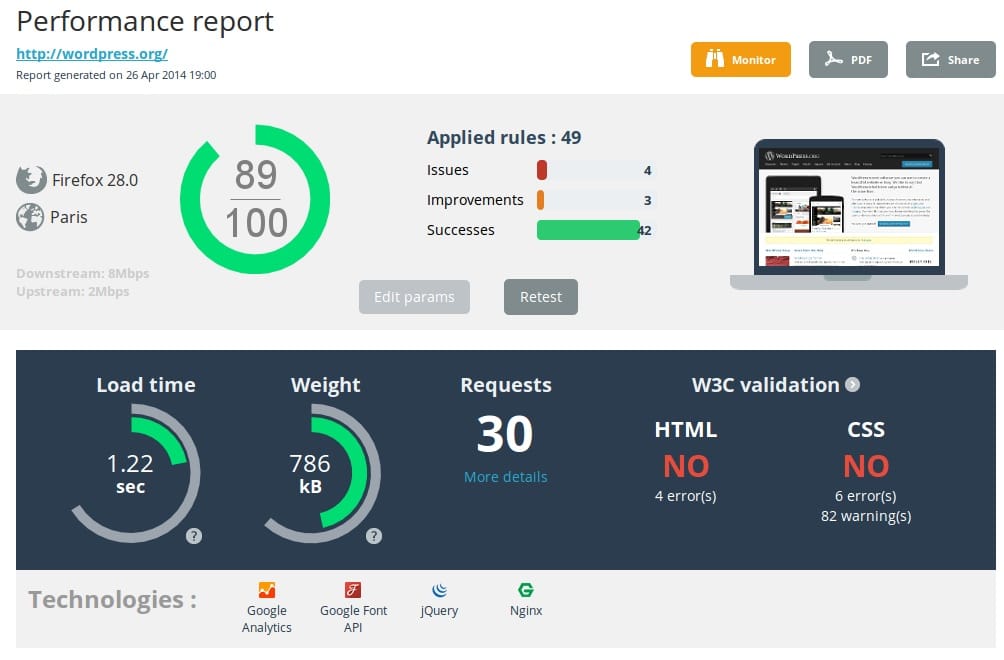 The summary area of a report
The summary gives you macroscopic indicators on your website performance and quality :
 A global score , computed from best practices you fulfill or not
 The total number of applied rules. It will vary in accordance with the detected technologies (CMS, frameworks, widgets…). The three gauges allow a synthetic view for the number of issues to fix, axes of improvement and fulfilled best practices.
 Some global metrics directly related to web performance, as page total load time, its weight and the number of requests required to display its content.
 W3C validation results, both for CSS and (X)HTML
 Detected technologies list. The technologies found can impact the number of categories displayed thereafter.


Synthetic view of tips : the categories
The DareBoost's workhorse is web performance, meaning the optimization of pages load times. However, this is not its only point of care. For instance, good practices in terms of accessibility, SEO or quality are also available.
The value-added of DareBoost is not only to provide general best practices, but also to focus on the technologies found on the website (CMS, widgets, etc..), in order to give personalized advice.
Here is an example of a contextualized tip for a WordPress detection :

A SEO categorized tip, including WordPress specific guidelines to solve the issue
As we will see later in this post, WP Rocket is a simple but big step to a faster blog ! DareBoost's best practices and tips will allow you to correct remaining issues and to start a continuous improvement process.
DareBoost takes care of your website and warns you about issues: avoid costly mistakes!
DareBoost.com offers monitoring features. Define quality (as a score from 0 to 100) and/or performance goals (loadtime) and you will recieve an e-mail if thresholds are exceeded.
So, you will have all power of DareBoost within a full report to understand the problem.
The free offer allows your home page's monitoring, on a daily basis.
With Business Offers, you access to hourly monitoring, to ensure you a very reactive reporting of issues.
WP Rocket: before/after comparison with Dareboost tools
For this blog post, we made a simple comparison of a WordPress blog's performance, before and after WP Rocket (2.1.1) plugin installation.
Here are the main specifications of the blog :
Hosted by OVH, on a shared hosting (bottom-of-the-range)
WordPress 3.9
Activated plugins: Add Meta Tags, Contact Form 7, DB Cache Reloaded Fix, Google Analytics for WordPress, Google XML Sitemaps, Really Simple CAPTCHA, RSS of Category/Tag of the page, Share Buttons by AddToAny, SI CAPTCHA Anti-Spam, SyntaxHighlighter Evolved, UpdraftPlus – Backup/Restore, Use Google Libraries, Widgets on Pages
Here are the results we obtained :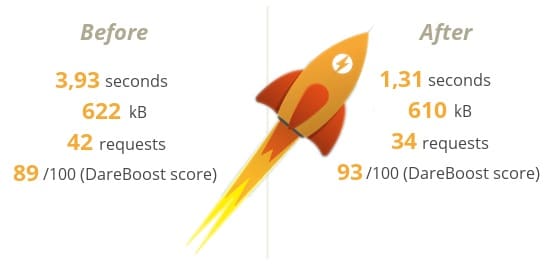 Load time has simply been divided by 3! This blog, although it's on a bottom-of-the-range shared hosting, has now a more than honorable load time 🙂
A manual optimization job has been done upstream on the blog, and that is of course minimizing the benefits of WP Rocket. Do not hesitate to run this kind of experiment on your blog, using DareBoost to build a report before and after this very effective plugin.
Going further with DareBoot (discount code inside!)
DareBoost has just released its Business Offers (price starts from 15€ / month, excluding VAT), allowing to access to new features, like :
Hourly monitoring rather than daily
Analyze whatever page of your website (not only the home page)
Data retention for several months
Advanced settings (bandwidth configuration, access to protected web pages)
To celebrate this release, and thanks to the partnership between DareBoost and WP Rocket, benefit as soon as now of a 30% discount on the offer of your choice! To do so, use the ROCKET discount code (valid until 2014/05/15) when ordering.
The good news is that this promotion will be applied to the entire period of your subscription!
Great optimization to all of you!
---