Some milestones show how far you've gone, and WP Rocket's 10th birthday is one of them. That's right: our plugin is already turning 10! It's an important anniversary, and we want to celebrate this special occasion by reflecting on what we achieved during this long –yet quick– time. How has web performance evolved since 2013? And how has WP Rocket faced the most crucial challenges over time to making websites faster while keeping it as easy as possible for everyone?
Keep reading: you'll get answers to these questions and learn more about our company and its story.
How WP Rocket Evolved Alongside Web Performance Needs
Web performance and WP Rocket evolved together in these 10 years. Things changed, and we adapted accordingly. Ready to go over the most important events?
The First Years
When we launched WP Rocket in 2013, the main goal was brave and ambitious: we wanted to offer a different caching plugin. Some caching plugins were already in the market. However, we weren't concerned about WP Rocket not being the first one. We wanted to set a new standard for performance optimization, not just create a copy of something already available.
This approach allowed us to introduce some features in the market for the first time – such options now seem obvious, but believe us: 10 years ago, you could not take them for granted.
First and foremost, we decided to automatically enable the caching option when the plugin was activated. Allowing customers to turn it off has never been an option. The reason was simple: you could uninstall the plugin if you no longer wanted it.
Here's a screenshot of a pretty old WP Rocket interface – one of the first ones in English: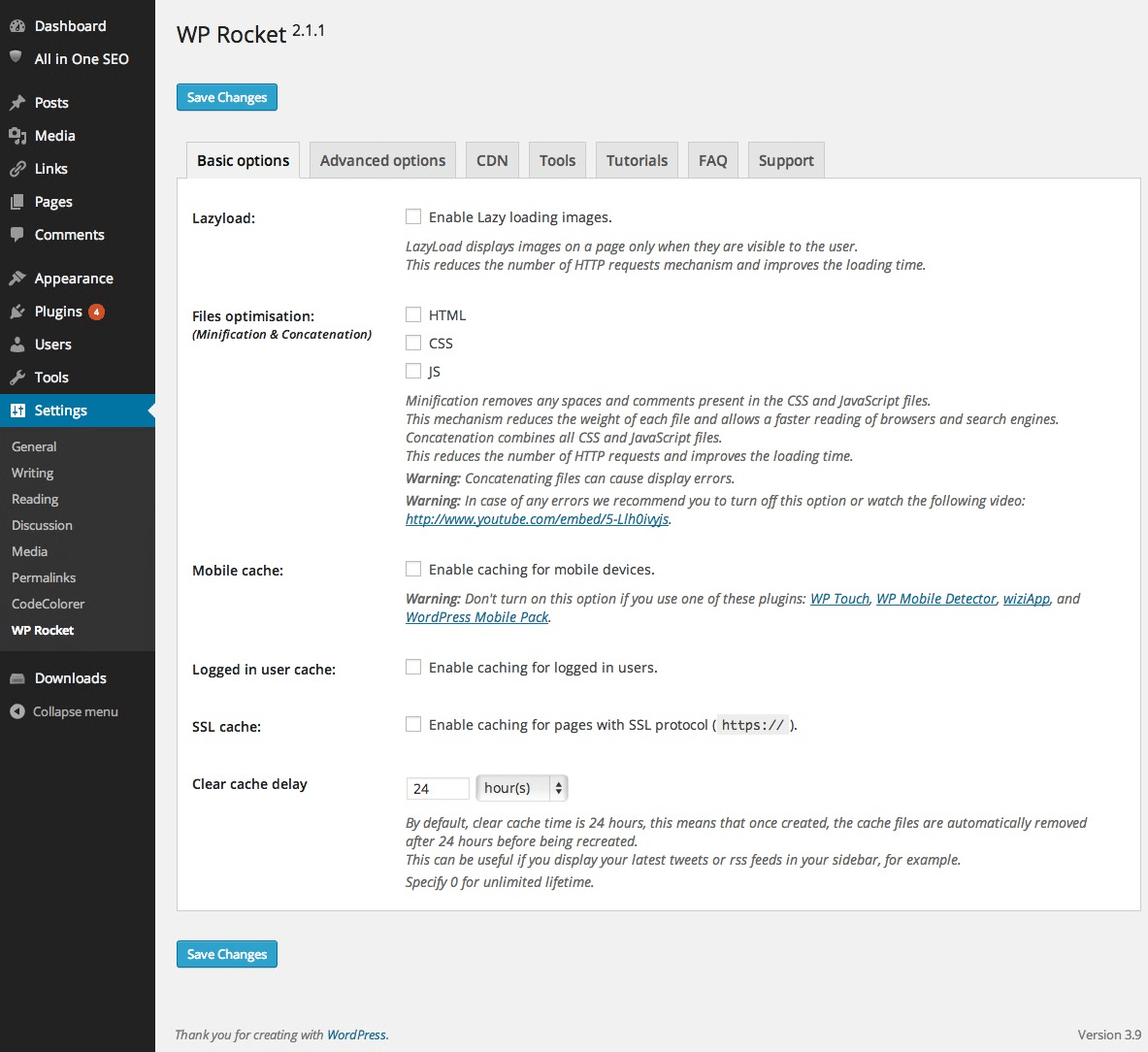 We also applied 80% of web performance best practices by default and adopted a "Decisions, not options" approach to making the plugin as straightforward as possible for everyone – beginner customers included. Rather than giving plenty of difficult options, we decided what were the best features to improve performance. For instance, WP Rocket has always automatically enabled features such as page and browser caching, mobile cache, GZIP compression, and Cache Preloading.
It goes without saying, Preload cache has been included since the first version. Having a caching plugin and waiting for visitors to generate the cached version didn't make sense to us.
Compatibility has also been another important aspect since the first release. In fact, compatibility goes hand in hand with simplicity – one of our three pillars alongside support and stability.
That's why the first WP Rocket version was already compatible with e-commerce and multilingual websites. Our plugin allowed the automatic cart exclusion from the cache and the ability to clear the cache by language or for all languages.
Regarding compatibility, we also offered a seamless experience with as many hosting services as possible since day 1. Hosting is key for performance optimization, and we ensured our plugin would work perfectly with most of them.
After ten years, it's no coincidence that WP Rocket is the only caching plugin accepted and compatible with 99% of hosts such as Kinsta and WP Engine.
Since the beginning, everything we did had one goal: make WP Rocket the easiest caching plugin on the market.
It's important to highlight that PageSpeed Insights wasn't an important web performance tool in 2013. At that time, users would use various tools to monitor their web performance and focus on improving their loading time.
That's why loading time was also our priority during the first years.
The Rise of PageSpeed Insights and Mobile Devices
Over the following years, the PageSpeed Insights performance score started to gain more relevance. The performance grade was something users wanted to optimize. While we have always stated that loading time was the way to measure the real website's speed, we recognized that we had to consider this metric for our customers.
In addition, mobile devices started to become more popular, and mobile performance optimization wasn't an option anymore. At the same time, making a website faster from a mobile device is not exactly the same as from a desktop – and we had to introduce the most effective features to make web performance optimization successful for all devices.
Here's why between 2017 and 2020, we released some major releases that tackled crucial performance optimizations for JS and CSS files and improved the PageSpeed Insights score for desktop and mobile.
For example, in 2017, WP Rocket 2.7 released the Critical Path CSS and Defer JS features for the first time. In 2020, WP Rocket 3.7 introduced the Delay JavaScript execution option.
While these features have gone through several enhancements since then, they are still the most powerful options to boost your website speed and optimize key metrics – which brings us to the next chapter of the performance evolution.
Introducing Core Web Vitals
In 2021, Google released the latest SEO ranking factor, including Core Web Vitals as performance metrics to assess the page's user experience.
The introduction of such important KPIs for speed and SEO performance made us focus on features and enhancements to make it easier to optimize their grades.
Keeping this goal in mind, we released WP Rocket 3.9, the major version introducing the Remove Unused CSS feature – a game-changer option to optimize CSS and address the related PageSpeed Insights audit. At that time, the feature was in beta, and we knew there was room for improvement in terms of simplicity and easiness of use.
So, in 2022, we released WP Rocket 3.11 with a new-brand RUCSS feature revamped from three angles: availability, performance, and compatibility to make it simpler and more efficient.
However, Core Web Vitals have not been the only aspect making the last years more challenging for web performance optimization. Nowadays, pages and resource requests are heavier and must be optimized accordingly. It takes effort and deep expertise unless you can use a powerful, easy tool like ours.
You can take a look and see that page weight increased by 300% for mobile in the last 10 years: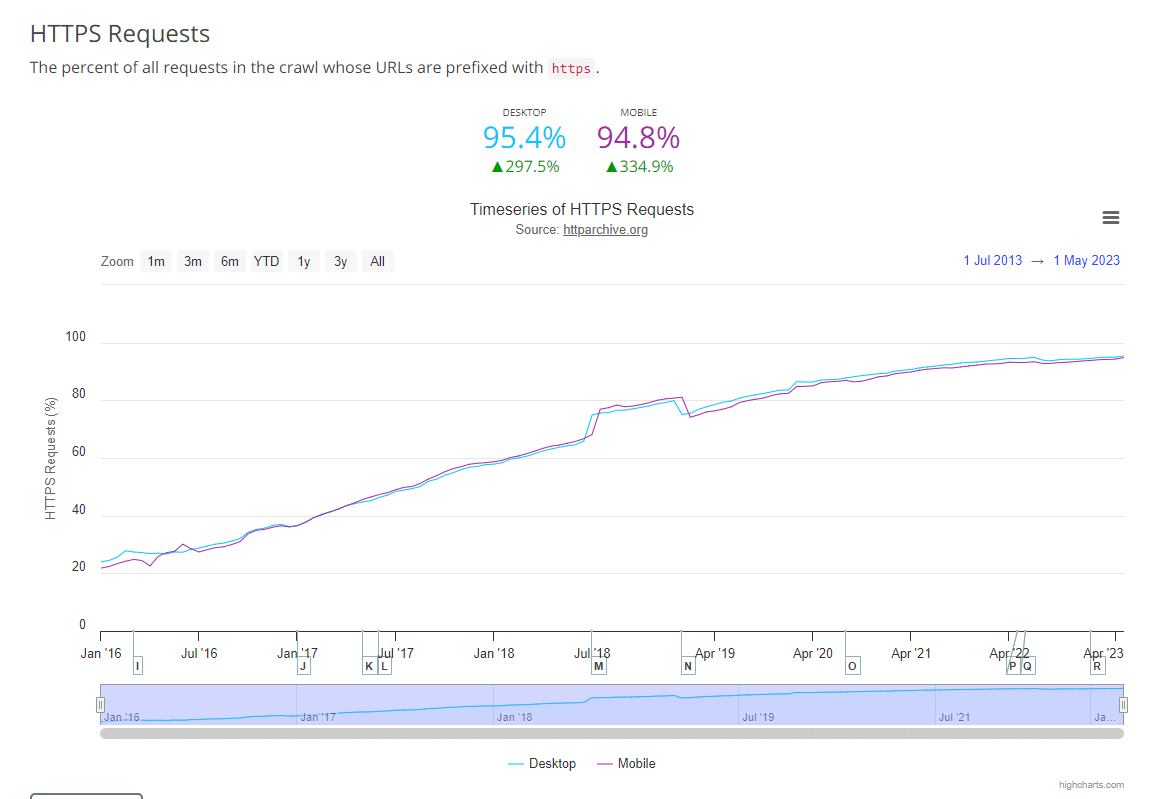 The same goes for JS and CSS bytes – they increased by 400% from mobile, making their optimization more and more necessary: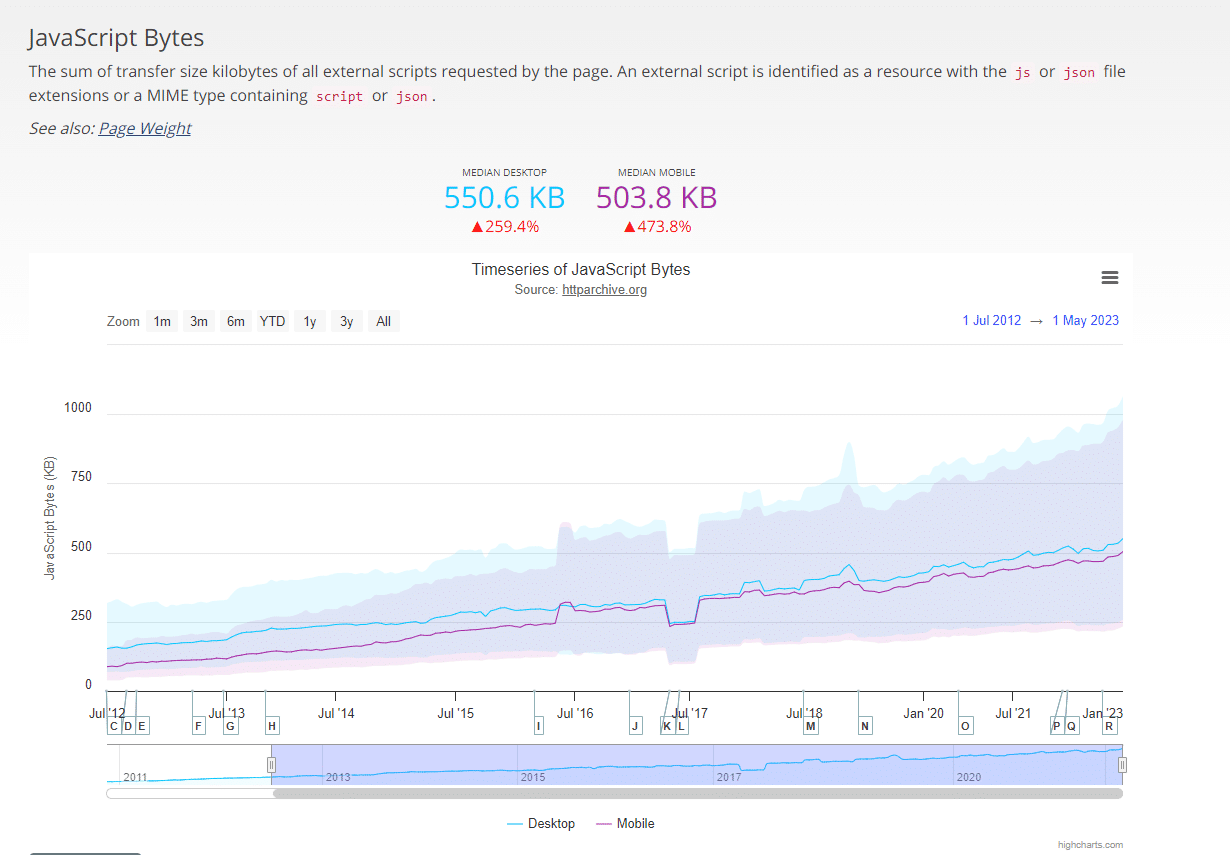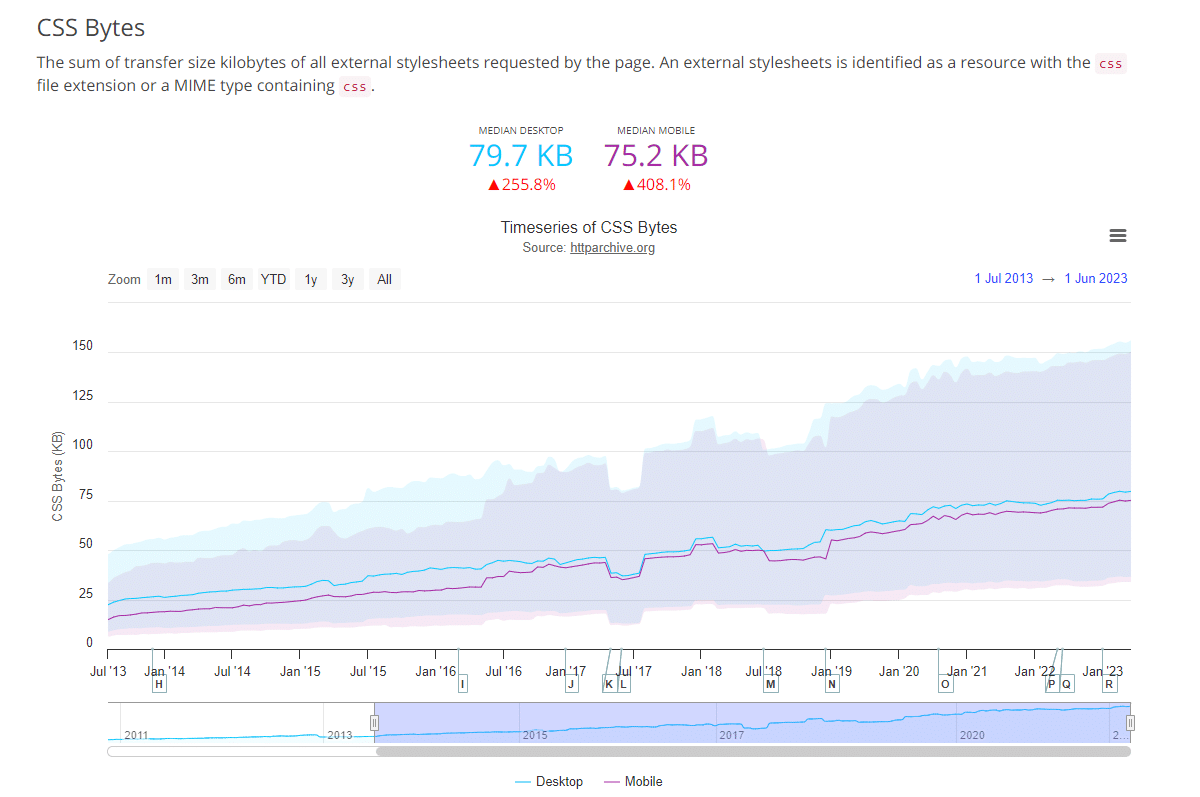 Web performance has changed over the years, and so has WP Rocket. It's never been "just another caching plugin", and now it's a performance plugin that tackles and addresses the most complex and difficult performance issues – way beyond caching.
How WP Rocket Support Has Always Been a Pillar
As mentioned above, when we launched WP Rocket, we stuck to three pillars: simplicity, support, and stability.
Support has always been one of the greatest assets of our plugin, recognized by our customers since the beginning:

WP Rocket has always been a premium plugin also because we wanted to provide customers with dedicated, outstanding, and in-house support.
Since 2013, our customer support team has grown massively. In the very beginning, we hired one person to take care of our customers – and she's been with us since then!
Nowadays, our team is made up of 18 people across several countries and regions.
The organization has changed to improve the workflow and ensure tickets are addressed effectively in the shortest time. It's not only a matter of ensuring a fast response time. Even more importantly, we've always wanted to provide Rocketeers with the right answer to solve their issues. In other words, quality has been –and still is– the North Star for customer support.
George Stathopoulos, our Customer Support Manager, explains: "Our commitment to quality support means that we don't just meet expectations; we exceed them. Going the extra mile is ingrained in our DNA, ensuring that every interaction reflects the exceptional service we pride ourselves on".
Preserving quality no matter how much web performance keeps getting more complex means constantly improving the technical expertise among our teammates. That's why WP Rocket customer support is trained to keep up with the latest performance challenges. The team is now split into tiers according to the complexity of the tickets we received to manage the workflow more efficiently while preserving the same quality.
We also offer top-notch and updated technical documentation to let as many customers as possible manage WP Rocket's settings and potential doubts on their own. This is also a way to educate users on web performance topics, reflecting our company mission.
George adds: "Support is not just about providing solutions. It's about building bridges, extending a helping hand, and illuminating paths for others to thrive".
Wrapping Up
This decade has been exciting for WP Rocket – it's always been about developing the best caching and performance plugin rather than being the first one. We wanted to set a new standard for web performance optimization, and the results say we did it right.
More than 3 million websites are now in orbit with WP Rocket – our plugin is the third most popular one worldwide and the first premium one.
These amazing achievements are possible thanks to two aspects that have always made a difference, and they keep making it: powerful and game-changer product updates and knowledgeable and reliable customer support.
Do you want to share your experience with our plugin during these years? Let us know in the comments!
---