Deliver Your Content
at the Speed of Light
Your end-users will access your website much faster, no matter where they are in the world!
If your website aims to reach an international audience, the distance from your visitors' origin server has a significant impact on performance.
With RocketCDN, anyone can access your content quickly, no matter where they are located!
Reduce latency, round trip time (RTT) and save bandwidth costs with our customized CDN network: RocketCDN is here to make your website faster and your visitors happy.
You can unsubscribe whenever you want, every month started is due.
$7.99/month
Unlimited bandwidth *
All CDN files automatically served over HTTPS
SSL Traffic
All Global PoPs
* We reserve the right to disable your RocketCDN URL if we detect bandwidth misuse.
Why Should You Choose
RocketCDN?
Forget configuration headaches, our automatic configuration provides the best speed results!
A Wide and Reliable Network
StackPath provides +50 Edge locations around the World
Need more info about RocketCDN? Check our documentation!
No Need to Be a Rocket Scientist to Set It up and Make It Work
RocketCDN setup is so fast that it will be active in a flash
Go to the CDN tab in your WP Rocket admin panel
Activate your RocketCDN subscription
Done! All CDN settings are automatically applied
Our Support Is Ready to Help!
Our Rocketeers are ready to assist if you have any questions or issues with our CDN offer.
Support is the backbone of WP Rocket. Our Support Team knows WP Rocket and RocketCDN by heart.

Our Rocketeers are ready to assist if you have any questions or issues with our CDN offer. 
Happiness Score
based on 2,311 ratings from our customers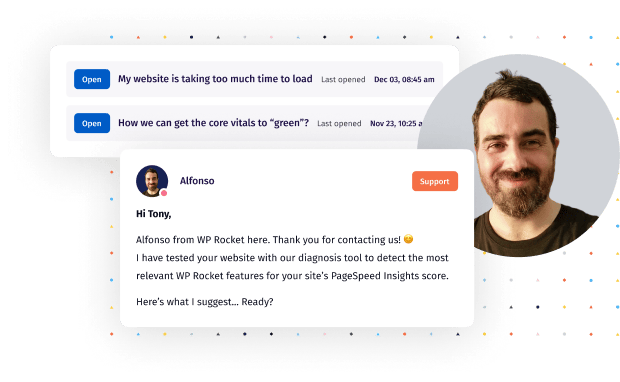 ---
Frequently Asked Questions
What if I don't like it? Is there a trial?
There is no free trial period, but you may request a refund within 24 hours after the subscription. If you cancel later, when the billing month has already started, you will be charged for the full month in any case.
How to see the performance improvements of RocketCDN?
When you use a CDN, it will improve performance for visitors that are located far from the server where your website is hosted. You can see here the way to check the effectiveness.
Can I use RocketCDN on unlimited sites?
No. Each site requires its own RocketCDN subscription. Therefore, if you have a staging site and a production site, you won't be able to transfer RocketCDN between them, you should subscribe using your production site.
Can I use RocketCDN in addition to Cloudflare?
Yes, you can use RocketCDN and Cloudflare together. Cloudflare gives you many different features including security features. RocketCDN will be handling the resource CDN (JS, CSS, images) part of it.
What's the difference between RocketCDN and Stackpath?
RocketCDN provides a convenient and fast, one-click setup. We take care of the ideal setup automatically so you don't have to spend any time on it. If you go through Stackpath directly, it requires manual configuration. If you have only one site it will be cheaper to use RocketCDN. For multiple sites, Stackpath is cheaper, although you'll invest more time in setup.
Can I use RocketCDN without a WP Rocket account?
Yes, you can use RocketCDN without being a WP Rocket customer. You can buy your RocketCDN subscription directly from our RocketCDN website.
Skyrocket Your PageSpeed Score
Incredible results, instantly.