There is no denying the fact that WordPress is an amazing CMS that lets you create even more amazing websites to help you materialize your online presence.
With the amount of ease of operation offered, WordPress is a dream come true for all the non-technical website owners because they have been empowered to take care of things on their own with the least help from professionals.
However, there are still certain aspects that need to be analyzed and monitored so that your website performs well throughout its span of operation. This would require an understanding of some technical elements that determine the success of your WordPress site i.e. your site's "Uptime" and "Downtime".
Let's dig deeper to understand more about these crucial factors.
Website Uptime
The choice of your web hosting service will largely determine the uptime of your website.
For people new to this concept, Uptime is the duration of time when the website is operational, up and running without any or least instances of the website going offline.
Most of the web hosting service providers ensure 99% uptime for their websites. If your website is capable of portraying maximum uptime, it will ensure proper monetization, viewer-reliability and of course, favorable search engine results.
Website Downtime
(If you have employed a great web hosting service) This is the other 1% chance of non-visibility of your site on the Internet owing to some or the other crucial failure which can result in disappointed viewers abandoning your website.
This outage duration comprises of the instances when the website users can't either access or complete a primary task on your website. Following are the reasons of downtime occurrence:
A sudden surge in traffic flow
Unsuitable choice of web hosting service
Irregular upkeep and maintenance of the website
How can you monitor the Uptime/Downtime of your Website?
Out if the many tools available to monitor the Uptime and Downtime, you can use the HTTP Test to check if there has been an actual data exchange between the internet and the computer.
Optimizing the speed of a website should be a top priority for every site owner, because extremely low speed of a website is equally as harmful as a downtime; the Ping Monitor Test would not only check if your site is running or not but would also notify you if the speed is extremely slow.
The efficiency of transmission of data over the internet from one device to another can be tested through the Transmission Control Protocol Port Monitor. The DNS Server Monitor will help you avoid protocol and network failures by looking into the DNS address of the server and that of your site to check if they are identical.
Tools to the rescue!
Now, there are various free, premium and paid versions of plugins and tools that you can use to monitor your site continually and maintain its uptime and downtime. Let's check them out.
1. DownNotifier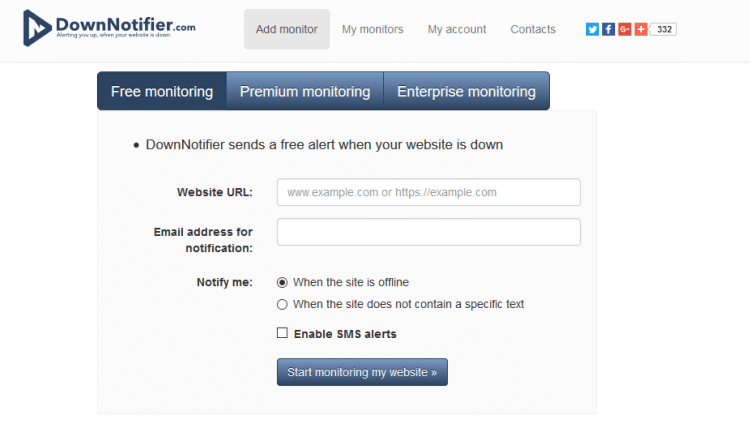 DownNotifier is a useful tool that notifies you when your site is down.
All you would need to do is visit the homepage of their site and fill in your site's URL to be monitored.
You could choose to get notified for two things: to know if the site is down or to know if the site does not contain a particular text.
You can choose to receive either email alerts or SMS alerts depending upon whichever is more convenient to you.
While the free service would check your site in every 10 minutes, the premium version would monitor your site every minute and the enterprise version is meant for websites catering to large-scale businesses.
2. WP Umbrella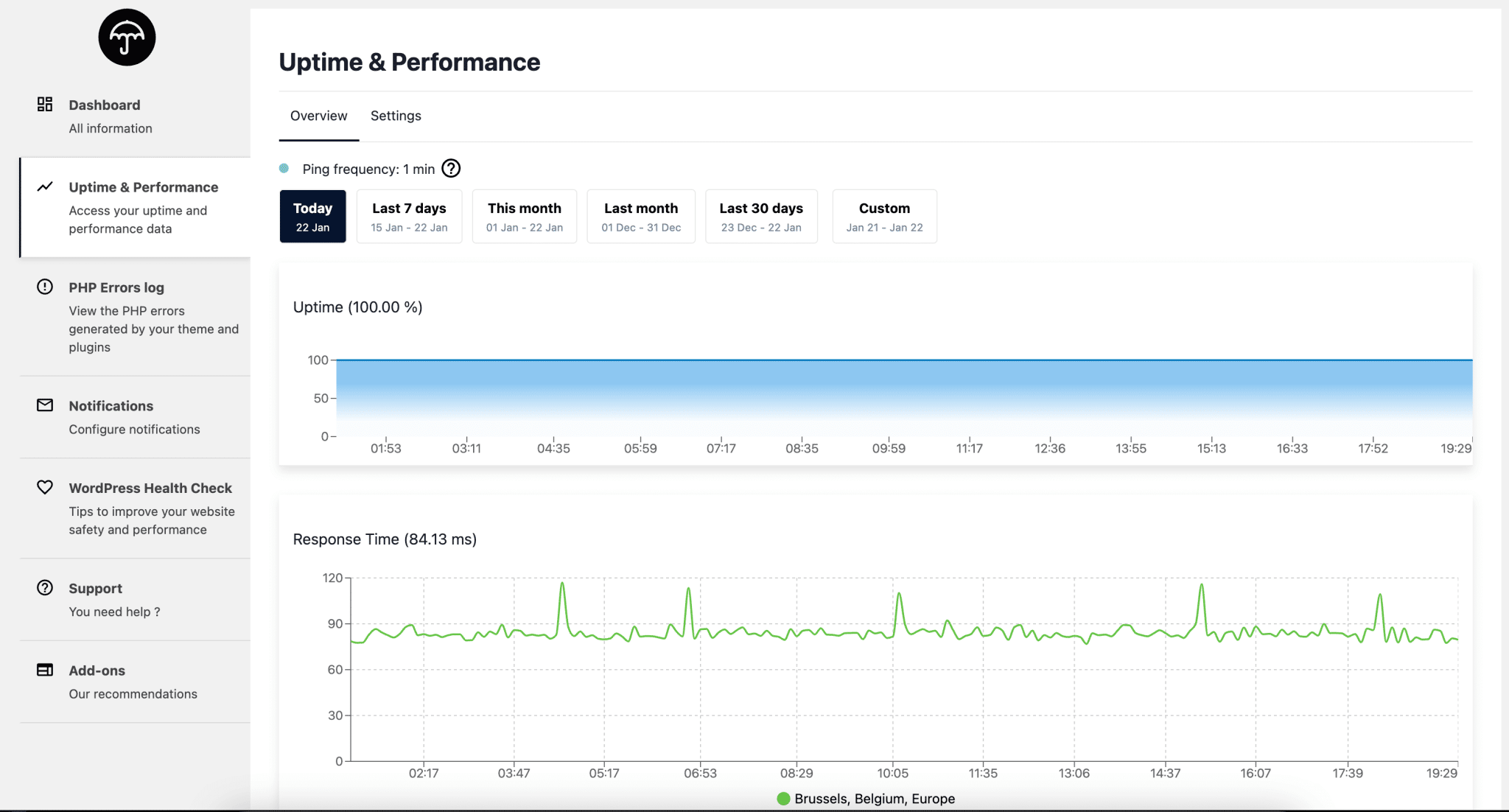 WP Umbrella is a monitoring plugin/application for WordPress.

Once installed, the service will check your website uptime and performance every 1-10 minutes from several locations all over the world.
If something is wrong, you will be instantly alerted by email or Slack.
This monitoring tool also checks WordPress PHP errors which can prevent poor performance and security risks.

Uptime monitoring is great, but downtime prevention is better!
3. Site 24×7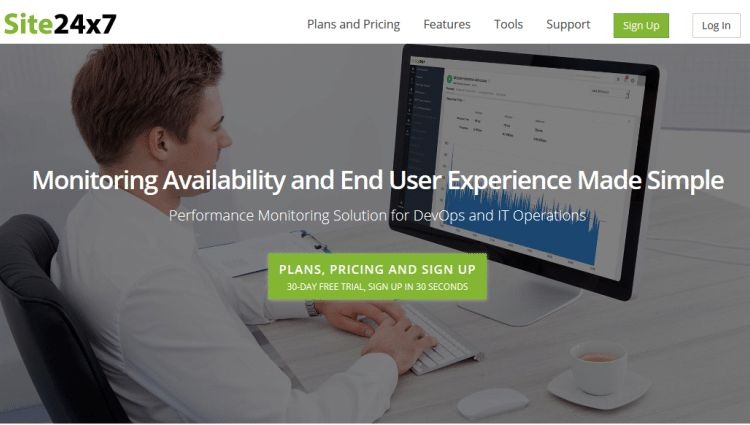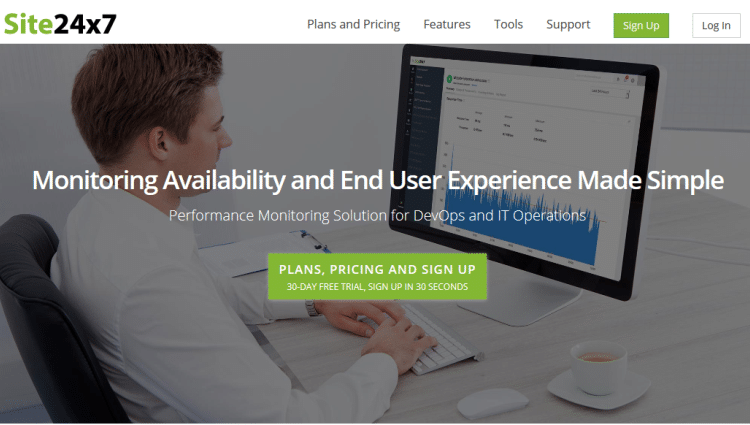 This tool would offer all the functions that most of the monitoring tools might generally offer which are as follows:
Website monitoring, Server Monitoring, and Network Monitoring
Application Performance monitoring for DevOps
Real User monitoring
Synthetic Transaction Monitoring
Cloud hosted application monitoring
4. Super-Monitoring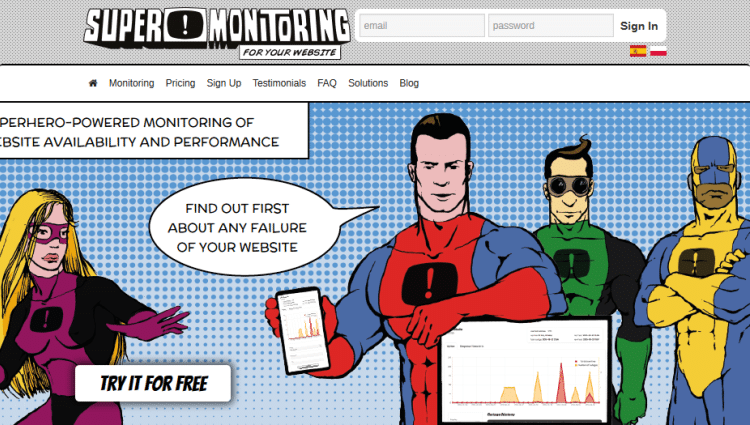 This can be one of the most reliable tools for monitoring website availability and performance.
The tool regularly checks your site for any downtime issues and notifies any malfunction at the very moment so that the site admin can locate the issue and fix it before the general viewers experience it.
The best thing about the tool is its confirmed reporting of the issues from multiple locations so that you don't have to panic on false alarms.
5. Pingdom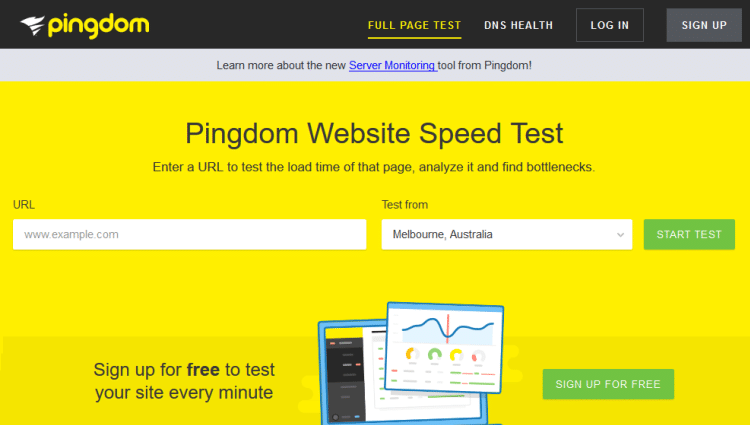 Pingdom is perhaps one of the most popular choices when it comes to monitoring server uptime and downtime.
As soon as you create a free account with them, it would begin to test your site from over seventy locations. It would check your website every minute and automatically send you a push notification or an Email. This means that the time taken by you to get the website up would reduce greatly. You would be able to receive SMS alerts if you choose the premium version.
6. Uptime Robot Plugin for WordPress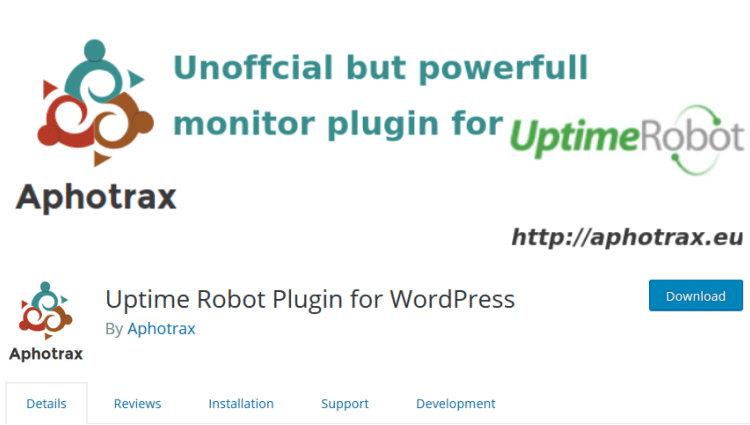 This open-source WordPress plugin helps you view the stats related to the Uptime of your website.
To get started, all you would need is an account on the UptimeRobot.com. With the application of an easy shortcode, you can put up multiple monitors across the site.
7. Monitis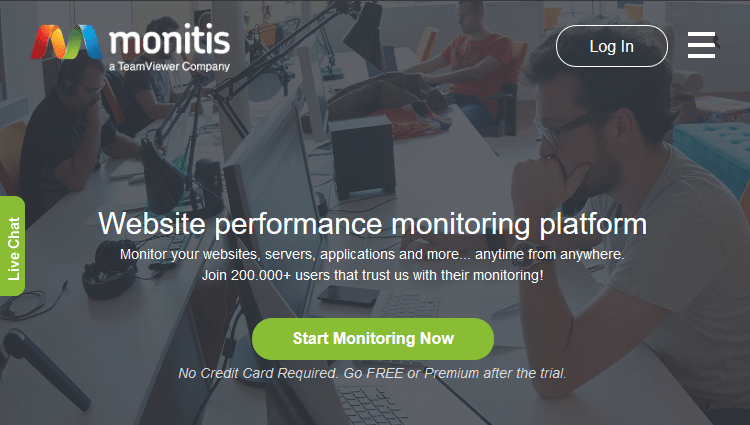 Monitis is basically an "All-in-one application monitoring platform" answer to all your monitoring needs.
You can build your own plan and choose how often you would want them to monitor your site. You would also be able to watch the interaction of the real user.
With 4 power checks i.e. the Uptime monitoring, Transaction monitoring, Full page load monitoring and Web stress tester, you can ensure that your site performs well.
They offer a 15-day trial service and once you decide to go for their premium paid version, you can customize your package as per the need.
Summing Up
The purpose of an online site is to be available for viewing at all hours of the day, throughout the years. Cases of exception always exist; let's say when your site is undergoing maintenance.
More importantly, uptime of a site is necessary for growing and retaining the traffic. If you don't focus on it, your site's credibility would eventually go down and you would start to lose your customers as they would find another site to visit.
So, if you just want a tool that would test your website's availability occasionally, the free versions would be best for you.
However, if you wish to have a detailed report and statistics, the premium versions are the way to go. Also, don't hesitate to spare a few extra dollars for a reliable web hosting service.
---