Are you looking for the best Google Fonts for your next web project?
Fonts are a crucial part of the whole brand identity. You need to choose them carefully according to context because it affects your audience's feelings (and, therefore, the buying decision process). Some famous brands, such as Disney or Coca-Cola, are automatically associated with a font when we mention them.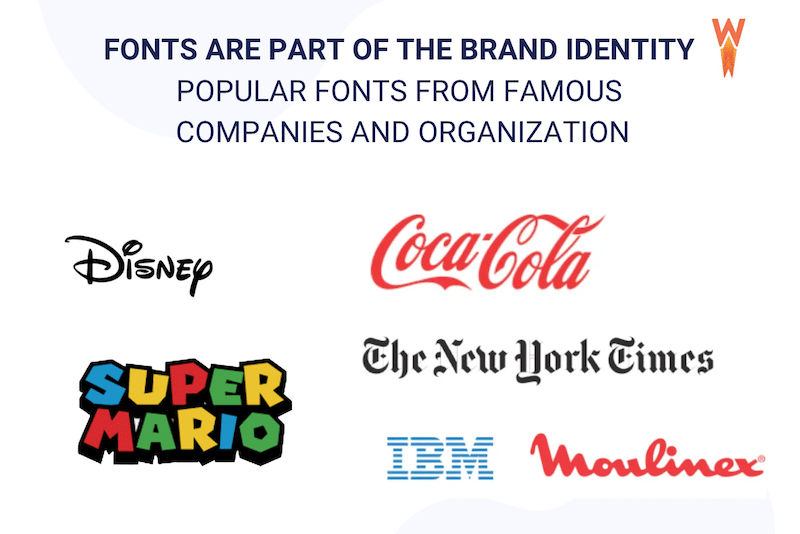 Google has over a thousand fonts available in its catalog, but we've done the heavy lifting for you and selected the 11 most popular ones. You'll see that there is always a font that can match your needs and your niche!
What Are Google Fonts?
Google Fonts is a robust collection of web fonts you can use for any project online and offline. They are free and open source, so that you can use them commercially for a logo, print, apps, teaching materials, e-books, etc. The value is real: you will not need additional licensing charges. You can find the perfect Google Fonts directly from the directory by using the search box and the different filters available: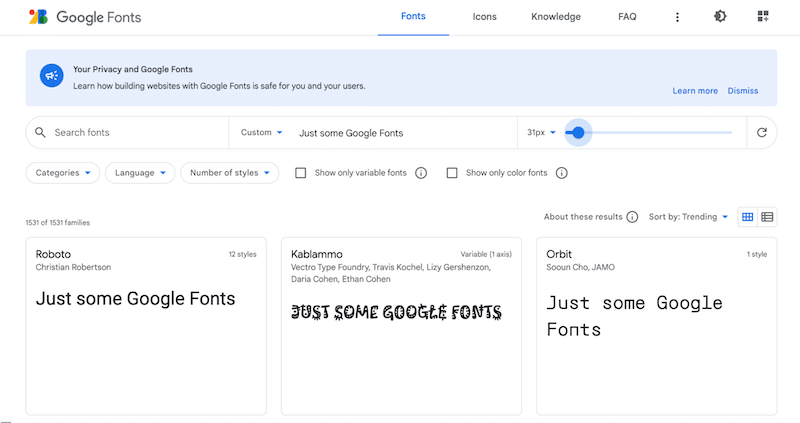 Google Fonts usually don't impact performance much as they are retrieved from Google's content delivery network (CDN) and will load automatically once uploaded to your site.
How to Choose and Use Google Fonts on WordPress
When choosing the best Google Fonts for websites, you should consider the readability and the look and feel based on the context and industry.
1. Readability & Accessibility
Readability describes how easy and inviting it is for a person to read some text online. Fonts directly affect readability in web design, as you can see in our example below. The article written using the "Roboto" font looks easier to read than the one in the "Kablammo" font.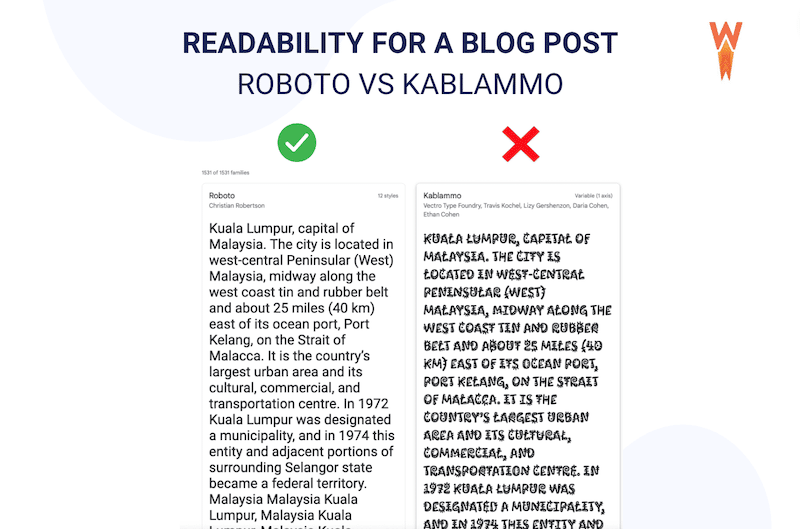 Accessibility also correlates to font size, colors, and contrasts you will use on your web page. Check the web content accessibility guidelines to make sure that all can read your font.
2. Look-and-feel Based on the Industry
Each font impacts and influences your customers' emotions when they read something online or in the street. You can't use the same font for a reggae bar and a lawyer: the design codes are different. Similarly, if you want to create a website for a kindergarten, you should opt for a friendly and easygoing font. But if your client is more of a luxury brand, then the font should express elegance and sophistication.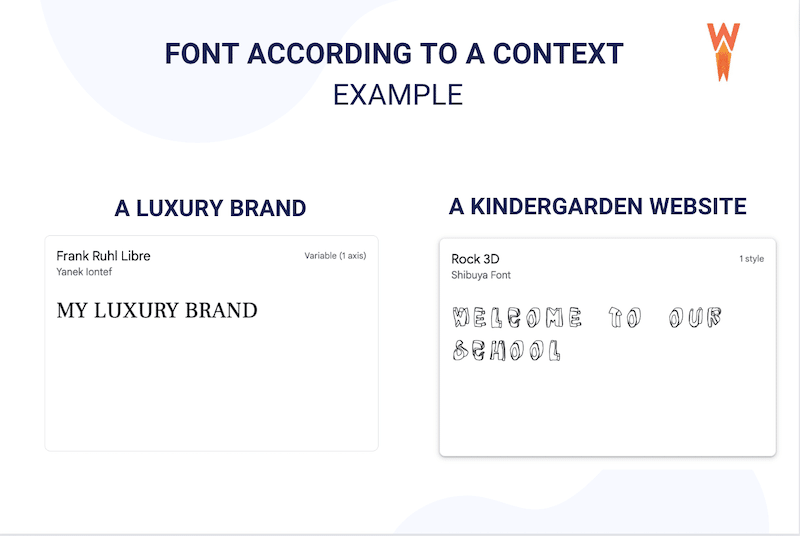 To give you a real-life example, the Formula 1 website chose the perfect font for their ticketing site. They created a "racing" and "automotive" look and feel by choosing the right font.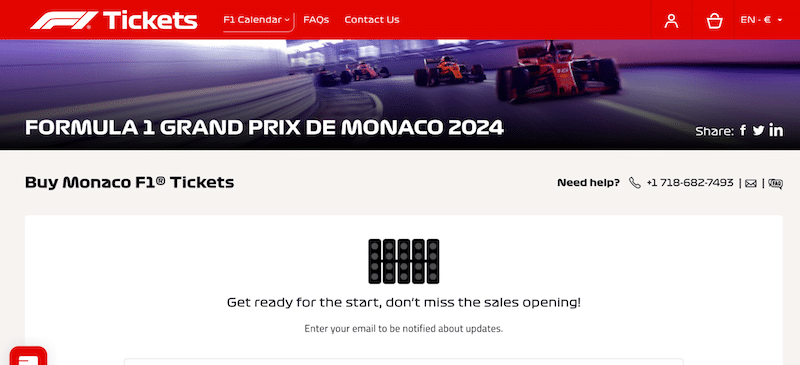 Bonus: How to Identify a Font on a Website
You can install the free Chrome extension "Whatfont" and hover your mouse on the font that you like, it will identify the family font, the weight, the size, and much more.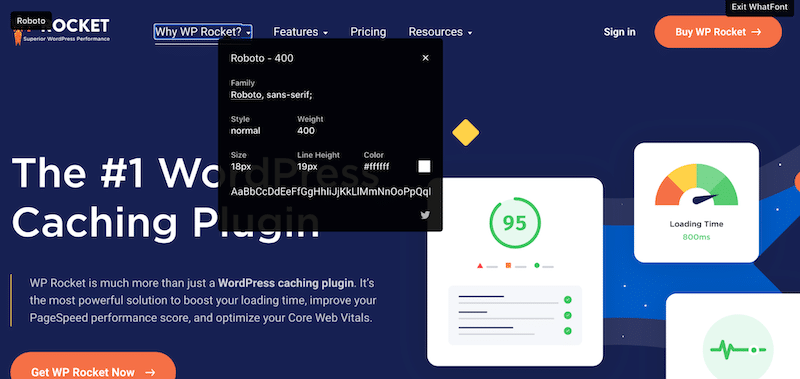 Best Practices to Use Google Fonts on WordPress
To help you find the best Google Fonts on WordPress and install them on your site, follow our 3 best practices below.
1. Less Is More: Only Use The Fonts You Need
We don't recommend you use more than 2 or 3 fonts for your brand identity, and also make sure to limit font weights. Regular and bold are the most popular ones, there is no need to have the whole variation from extra-thin to extra-bold from a performance perspective. All the font weights that aren't being used will slow down the requests from Google's servers.
2. Mix and Match: Make Sure The Fonts Match Well Together
When you have chosen the best Google font but want to add another one, make sure that it's a match.
Choose different fonts (but not so different). This one is hard to explain, so here's an image instead: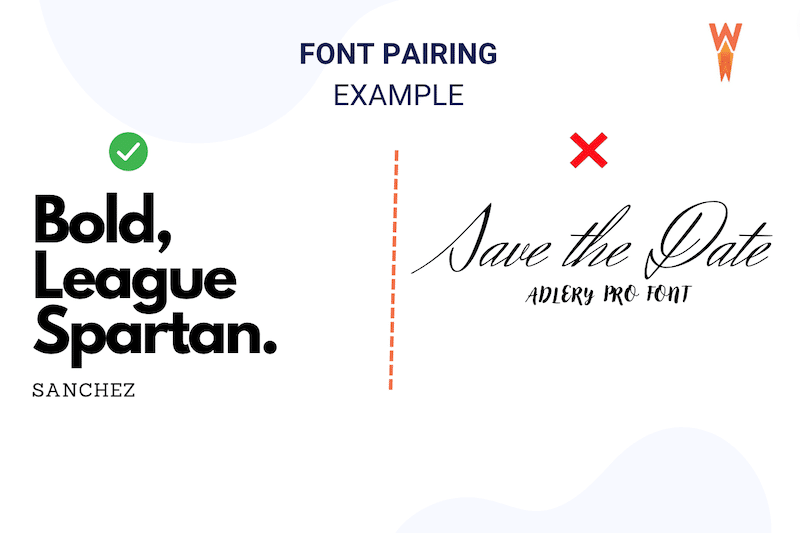 Keep in mind the hierarchy of the information: Use a bold and bigger font for a title and a smaller font for a paragraph. Here's how WP Rocket communicates visual hierarchy through font pairing: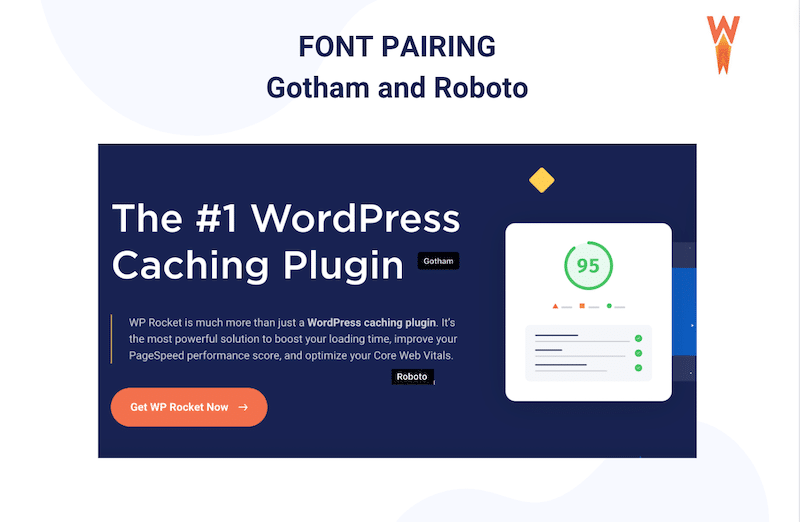 3. Installing Google Fonts With a Plugin
Once you have chosen your favorite Google font(s), you can use a typography plugin to use them on your WordPress site.
The most popular is the free Google Fonts Typography plugin, unlocking all your WordPress site's Google fonts. It also comes with a live preview feature which comes in handy when pairing fonts: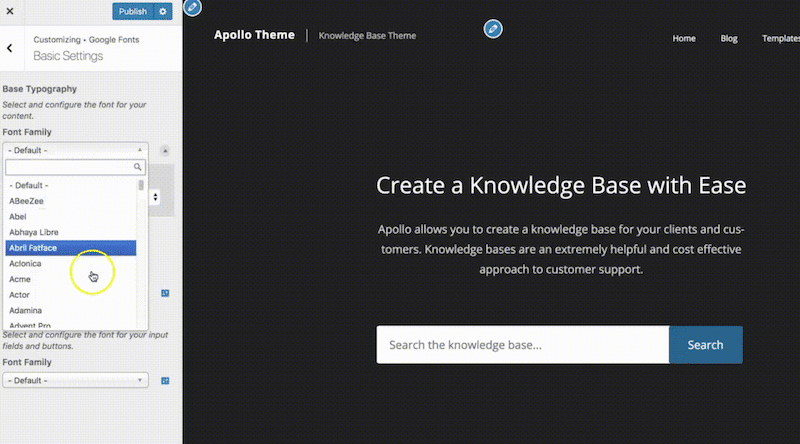 Good to know before installing a typography plugin: Popular page builders like Divi or Elementor offer Google Fonts in each element of their respective builders. Most WordPress themes also use Google Fonts in the core to allow you to use fonts from their library.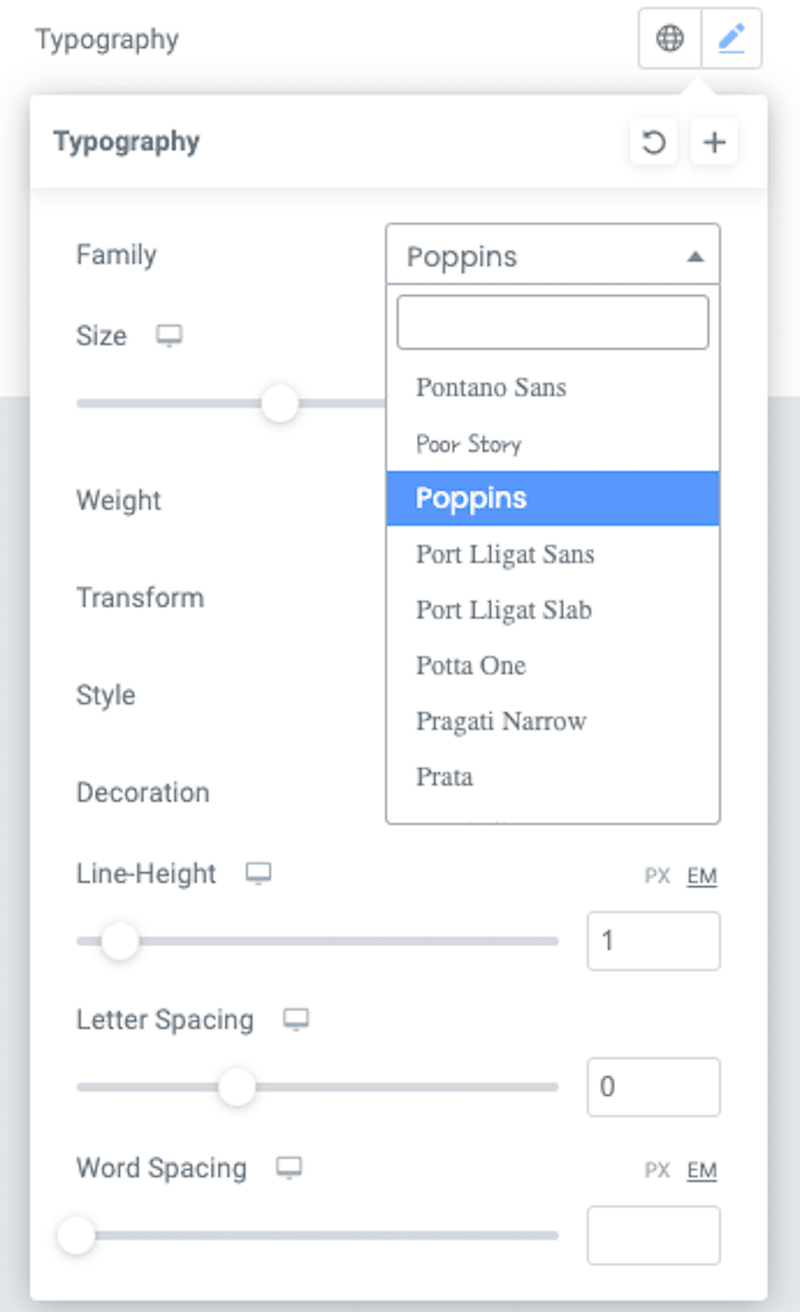 Now that you know what to look for in a font, let's see which are the top Google fonts of 2023!
The Best and Most Popular Google Fonts in 2023
In 2023, the 11 best and most popular Google Fonts for a WordPress site are the following:
💡Hint: You can find that list directly from the Google Fonts website and sort the fonts by popularity: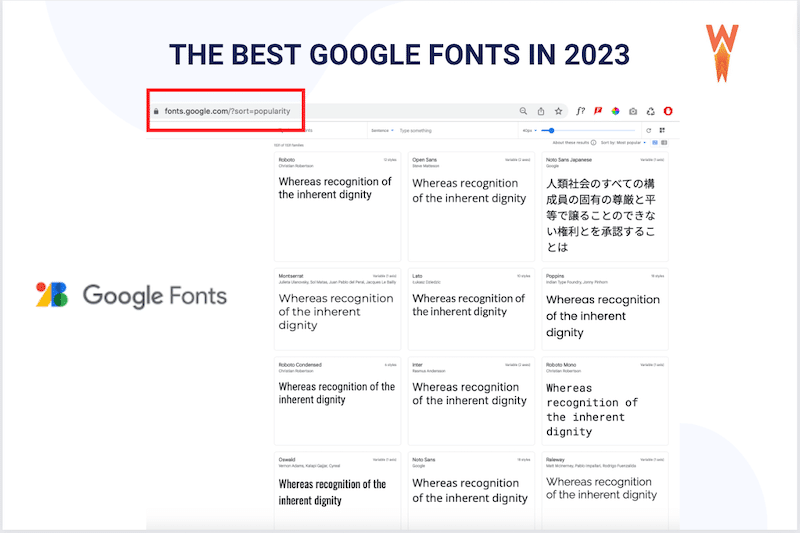 Let's go over the list of the best free Google fonts that are available to use on all your personal and commercial projects (copyright free).
1. Roboto
Roboto has it both geometric but with some friendly open curves.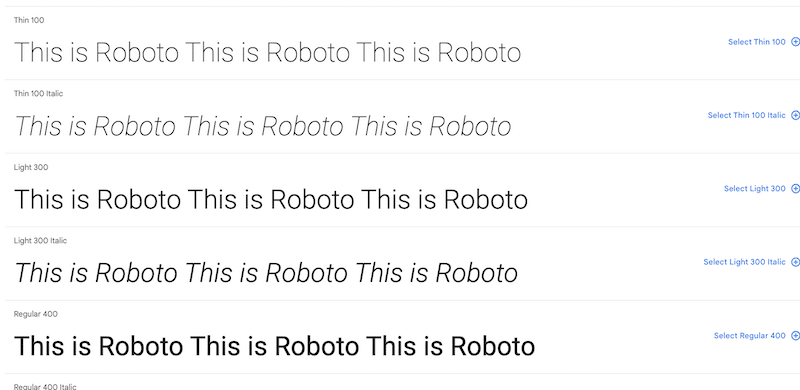 Example of websites using it: Roboto is the default font on Android and other Google services such as Google Play, YouTube, Google Maps, and Google Images.
Type of website or industry using it: Tech, web apps.
2. Open Sans
A clear ultra-readable appearance and versatile font.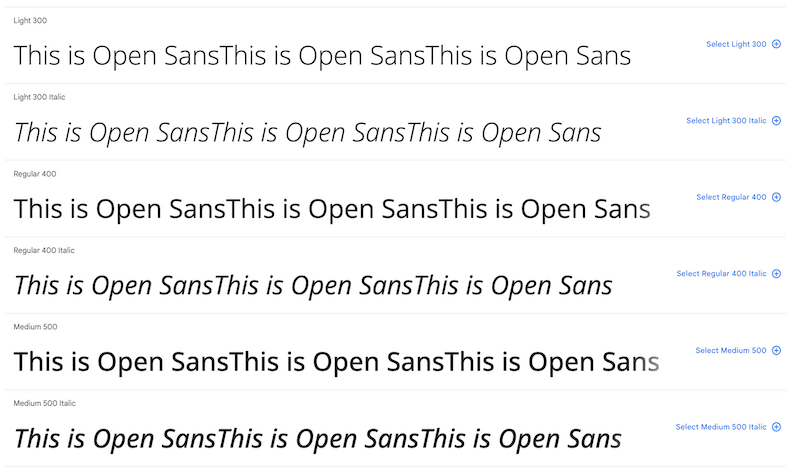 Example of websites using it: WordPress, Dolce and Gabbana, Ikea
Type of website or industry using it: Versatile from tech to fashion
3. Montserrat
From Argentina, it was inspired by posters, signs, and painted windows.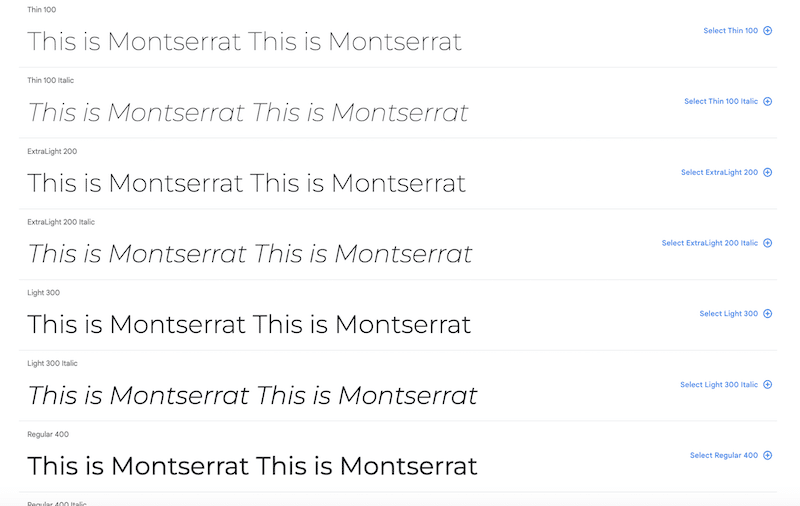 Example of websites using it: hustlerblueprint.com
Type of website or industry using it: Elegant and stable, Montserrat is great for creating a simple and clean-looking web design
4. Lato
A sans-serif font family started in the summer of 2010 in Poland. ("Lato" means "Summer" in Polish).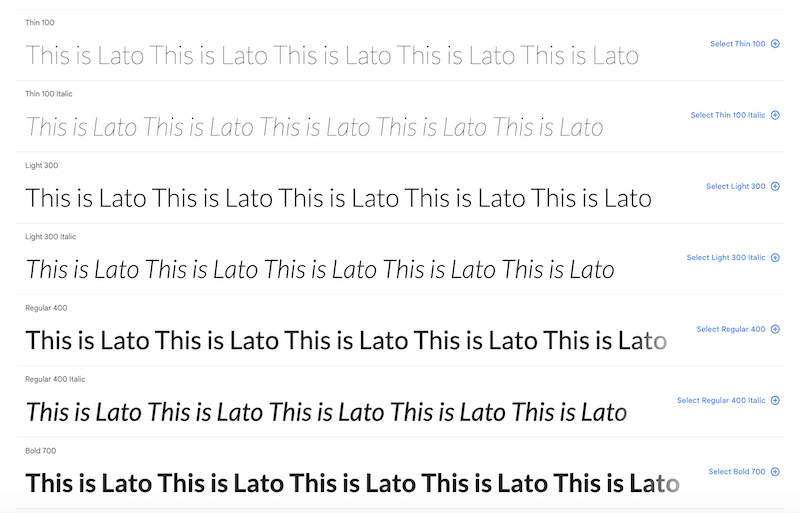 Example of websites using it: Practical-ui.com
Type of website or industry using it: Very versatile, it's a good font for websites because it's readable and comes with different styles. It is also great for printing and can be used anywhere because of the geometric simplicity with a great large x-height (typefaces that incorporate large x-heights generally do so in an attempt to increase legibility and readability).
5. Poppins
Poppins' geometric shapes keep the content readable in small format, while its curves look bold when displayed in headers, big screens, or mobile devices.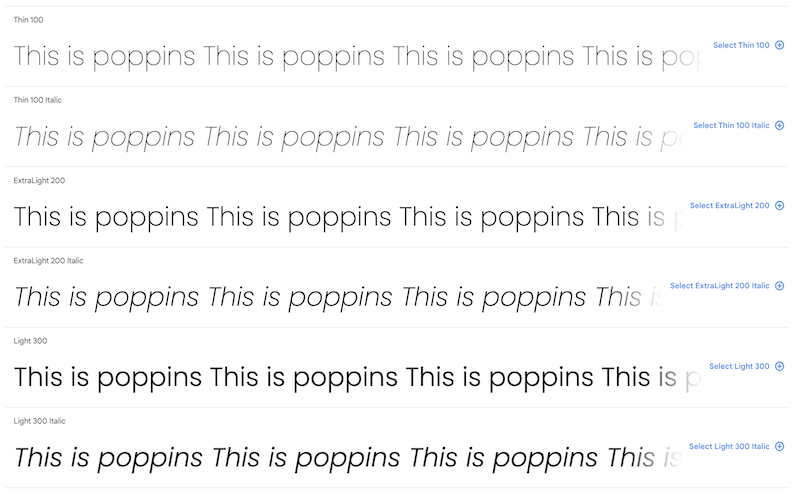 Example of websites using it: monday.com
Type of website or industry using it: Perfect for web and UI designs that need style, clarity, and legibility.
6. Roboto Condensed
It is a member of the largest geometric sans-serif typeface family known as Roboto Font. "Condensed" means narrow and taller characters.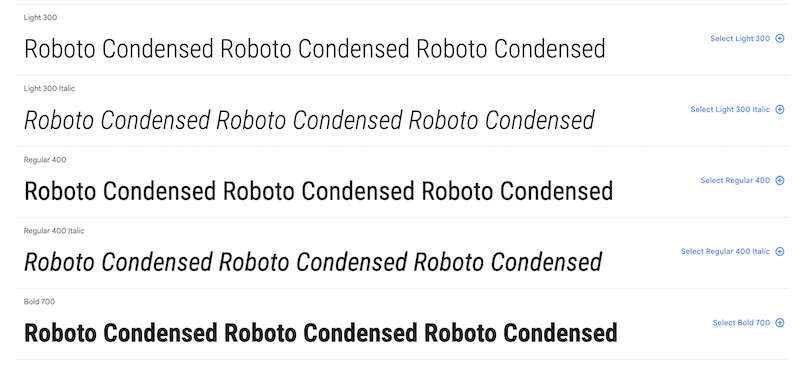 Example of websites using it: Nintendo Switch
Type of website or industry using it: The tall characters and the reduced space between them create a visual effect that can allow your website to stand out and be more memorable (perfect for a tagline or main title).
7. Inter
Another variable font family specially designed for computer screens because it features a tall x-height to aid in the readability of mixed-case and lower-case text.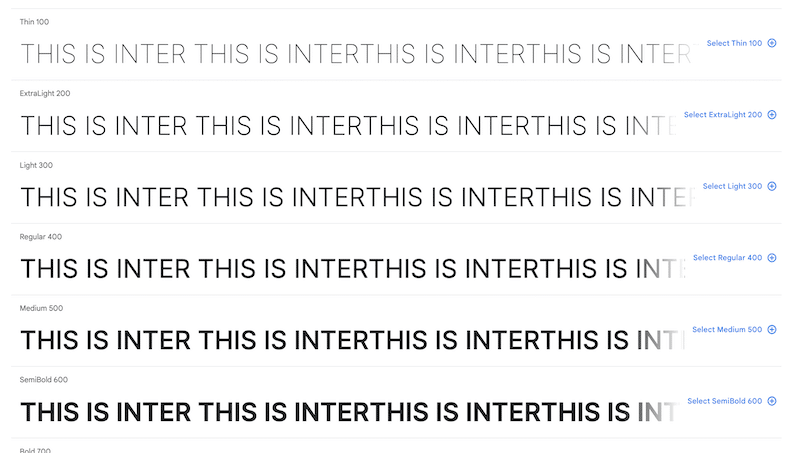 Example of websites using it: Jetpack
Type of website or industry using it: Perfect for responsive design as it ensures your content is easily read on smaller devices.
8. Roboto Mono
Roboto Mono is a monospaced addition to the Roboto-type family.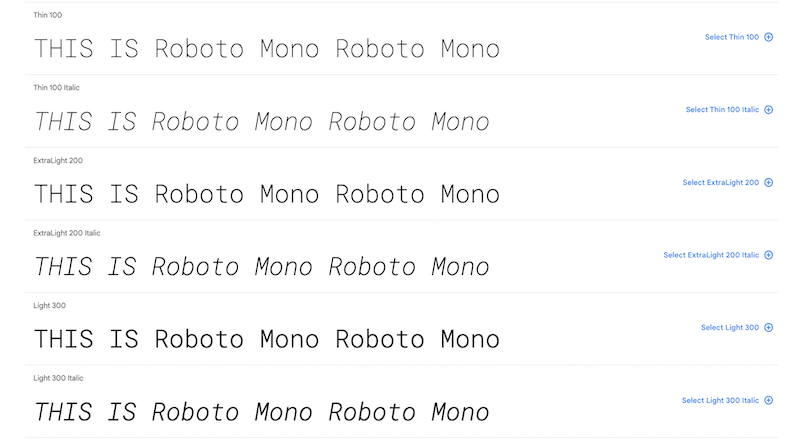 Example of websites using it: Same font family as Google applications.
Type of website or industry using it: Fonts are optimized for readability and responsive design. It's also excellent for programming purposes. It's a "nerdy" font.
9. Oswald
A redesign of the classic style historically represented by the 'Alternate Gothic' sans serif typefaces.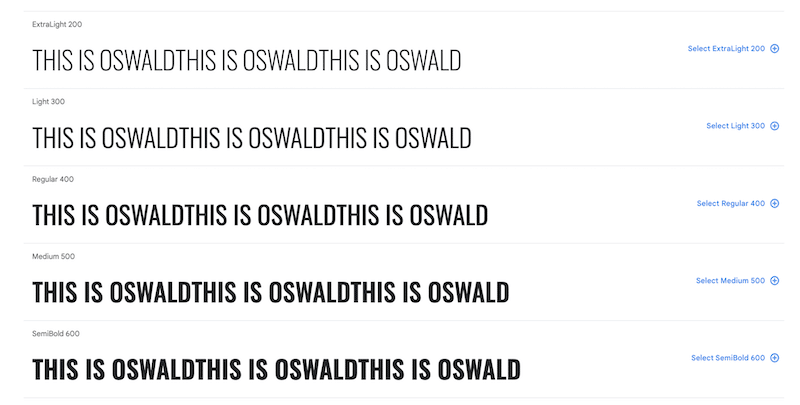 Example of websites using it: secupress.me
Type of website or industry using it: Because it is elongated, it always brings contrast to a typography combination and makes it ideal for designing a logo.
10. Noto Sans
This is a clean, unornamented design with a neutral tone best suitable for online reading and one of the best fonts for pairing.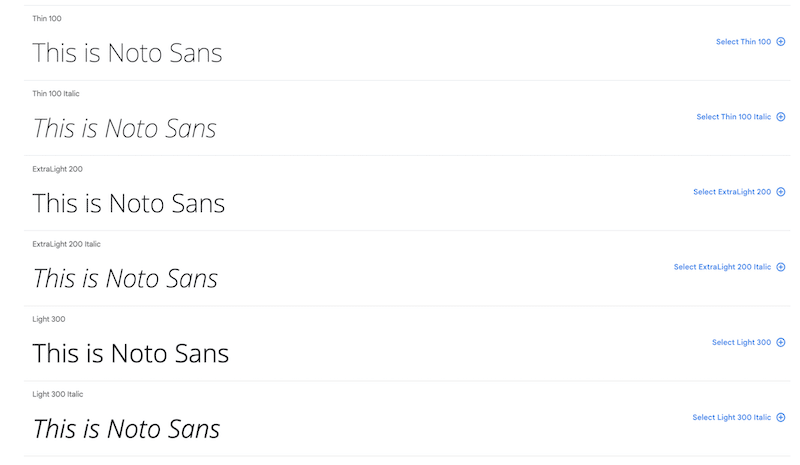 Example of websites using it: dimano.rs
Type of website or industry using it: Perfect for product descriptions or short text.
11. Raleway
A thin and elegant font with a thin weight – the famous 'W' really makes it stand out.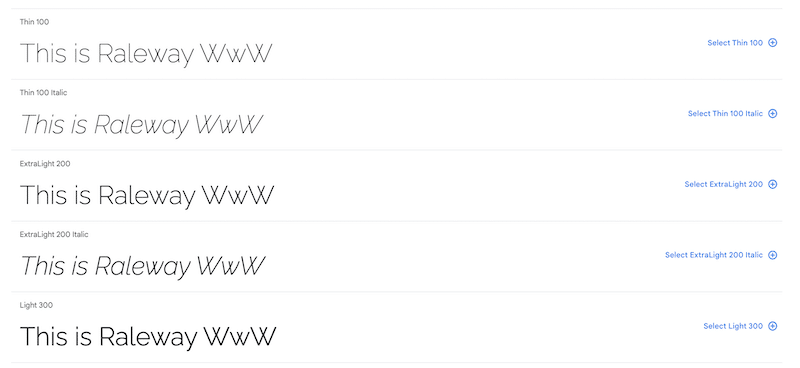 Example of websites using it: Storespark.co
Type of website or industry using it: Perfect for headings, subheadings, or even text body with an elegant feeling.
Now that we've reviewed the best Google Fonts of 2023 let's see how to optimize them so they don't slow down your WordPress site.
How to Optimize Google Fonts
The best way to optimize Google Fonts in WordPress is to use a powerful performance plugin like WP Rocket that applies the optimization best practices right upon activation. If you are tech-savvy, you can do it manually with the font-display attributes and some custom CSS.
But before we dive into the optimization techniques, that's the optimization journey we suggest you follow:
Understand how Google Fonts are correlated with performance.
Audit your WordPress site on PageSpeed Insights to see where your website stands regarding fonts and performance.
Optimize the fonts that need optimization manually or with WP Rocket.

Let's go over the main steps for a complete font optimization process.
Step 1 – Why Optimizing Google Fonts is Important for Performance
Google Fonts are often large files with slow load times, impacting the perceived performance and the user experience. Your Core Web Vitals can be affected, meaning your ranking could also be impacted. Below, we explain the consequences of unoptimized fonts on performance.
Slower website – Unoptimized Google Fonts can have a negative impact on your website performance and your page loading speed. It may be less crucial than image optimization, but remember that each request your WordPress site makes means the user is waiting longer to see the page.

Largest Contentful Paint (LCP) – It calculates when the page's main contents have finished loading. If your LCP is a string of text, you need to ensure that your font is downloaded and rendered as fast as possible.

First Contentful Paint (FCP) – It measures the perceived speed of a page because it marks the first point in the page load timeline where the user can see anything. So if a web font has not loaded, browsers typically delay text rendering, resulting in a bad FCP score. On the contrary, having a great FCP reassures the visitors that something is happening on the screen, and they'll be more likely to wait.

Content Layout Shift (CLS) – It measures the visual stability of a page. Unoptimized web fonts can negatively impact the CLS score because the text string using the font and the surrounding content can shift while the web font loads.
Now that you know the impact of poorly optimized Google Fonts on performance and SEO, you should run your own audit using Lighthouse.
Step 2 – Google Fonts Diagnosis On PageSpeed Insights
Once you have installed the Google fonts, we recommend you run a performance audit on PageSpeed Insights. In the report, Lighthouse ensures you're following web font optimization best practices. Generally, if the fonts are not optimized, those five warnings are likely to be triggered:
The five issues above have a direct impact on page speed, so you may want to fix them as soon as possible to avoid any drop in performance.
Step 3 – WP Rocket Optimizes Google Fonts Automatically
Once you have selected the best Google Fonts for your web design project, you can use WP Rocket to ensure that your pages follow web font optimization best practices over time.
🚀 The "Optimize Google Fonts" feature is automatically enabled upon WP Rocket installation. You have nothing to do!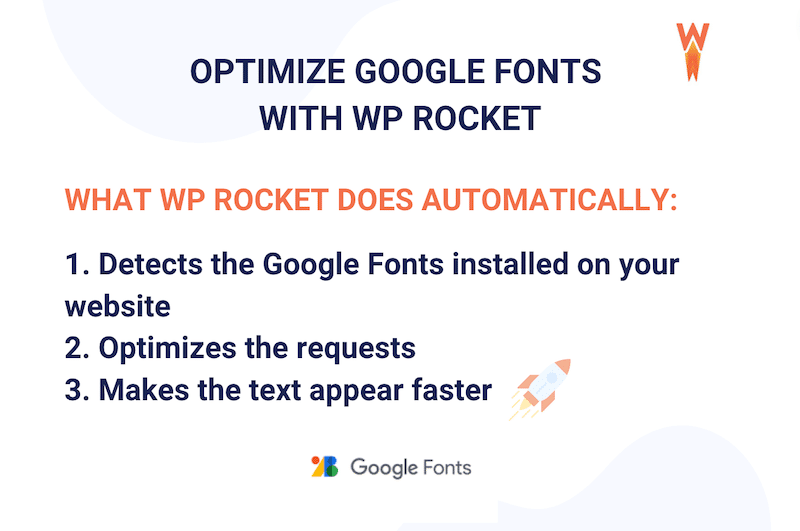 WP Rocket implements caching and improves your Core Web Vitals score. It's one of the best caching plugins for WordPress and will boost your speed and your Core Web Vitals in a few clicks only. It can also be your best ally to optimize Google Fonts and fix the fonts-related issues on PageSpeed Insights: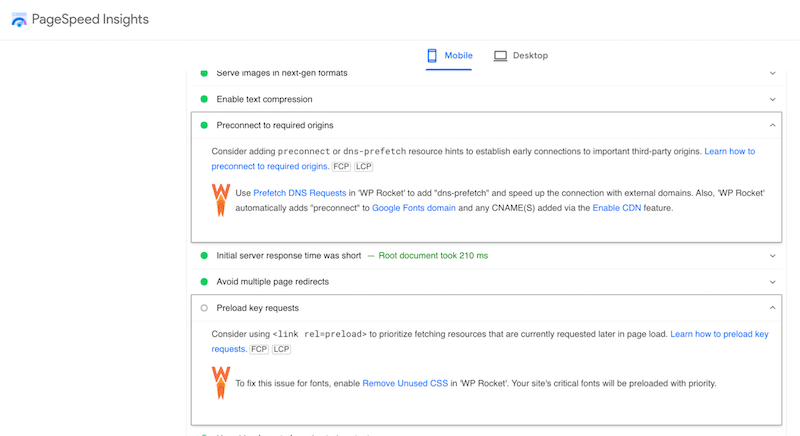 Curious about what's happening behind the scenes? WP Rocket applies the following best practices to optimize the requests from your Google Fonts:
One single HTTP request for multiple fonts. WP Rocket combines the multiple requests to Google Fonts on the page into a single one.
Adds the "display=swap" parameter to the request. This solves the "ensure text remains visible during webfont load" warning from PageSpeed Insights.
Preloads and loads the Google Font file asynchronously. This is done without render-blocking, so it also fixes the "Eliminate render-blocking resources" warning.
Adds the "preconnect" resource hint to the request. It aims at improving the load time of the Google Fonts, boosting performance and the Core Web Vitals.
Going Further: A Few Other Plugins That Optimize Google Fonts
Some other tools are also available to optimize Google Fonts, such as:
OMGF – It reduces DNS lookups thanks to caching and reduces the Cumulative Layout Shift score. You can choose to preload or unload fonts that are not used on your website.
Google Fonts Typography – It allows you to load any Google Fonts to your WordPress site. It also offers some preconnect Resource Hints.
Wrapping Up
You can manually browse more than 1400 fonts, or you can save some precious time and use our guide to select the best Google Fonts for your next project! Remember that your font must be aligned with your brand's personality: serif fonts are popular with brands that want to portray an elegant and sophisticated image. On the contrary, if you want to convey an image that is more modern and edgy, a sans serif is your go-to.
The golden rule is not to use too many fonts and to optimize them as much as possible. If you serve unoptimized fonts, there will be a dual impact on performance and the user experience because of delayed text rendering and important layout shifts.
Use WP Rocket to ensure that your Core Web Vitals are healthy and that the Google Fonts chosen do not slow down your page. It is one the easiest and most reliable ways to optimize font and fix the PageSpeed Insights warnings.
Plus, you don't take any risks with the 30-day money-back guarantee.
---